Administrator April 1st, 2018
The City Witches
Wow, do we have a Gorgeous Box for you this month! This issue we feature a jam-packed recurring Monthly Subscription Box from The City Witches. Their boxes, called Magick Mail, can be bought one at a time & in 3-month, or 6-month subscriptions. Their prices range from $20 for an individual box to $120 for a subscription. The City Witches offer a new theme each month to their fully packed boxes! This month's box … Magickal Workings for the Moons of the Month.
Three Informative Grimoire Pages
When you open your box you are greeted with 3 pages for your BOS. The first page describes the Moon Phases for Magickal Workings. Helpful addition to any Spellsbook. The second page teaches, briefly, how to create your own moon spells. The information suggested on this sheet are helpful and handy to have. The third sheet is a Full Moon Chant.
Purple Bag of Goodies
Next thing that catches my eye from my City Witches Box is a Purple Bag full of goodies!
The first thing I pull from the goody bag is a Star Shaped Wooden Incense Burner & it is adorable. I love how it can hold an incense cone and many sticks. This will be perfect in my next moonspell.
Next we have Amber Sugar Scrub Cubes. Opening the jar I find they are in the shapes of roses. Delightful! Just like their smell. I use them on my hands and the feeling I am left with when I dry off is a lovely softness.
The black little bag is Moon in Sagittarius Bath Salts. The smell is heavenly and I can not wait for the time to be right for it's use. There is enough for a good soak or even two!
The little blue bag is a Mixture of Salts & Herbs to be burned or used in a bath. Unfortunately, I am not sure of it's exact contents. I can smell lavender & see the salts.
A vial of Virgo Moon Oil is included in the bag of goodies. The bottle is a little tight a difficult to open. However, there seems to be a slight glitter to the oil! Glitter is always good to this Gal!
We get a small Vial of Black Salt. Good to add to the stash of supplies and to work moonmagick with!
A Chunk of Charcoal is included for the Bottle of Full Moon Powder Incense.  It comes out as a tuft, like a cloud from the jar. The smell is light, a slight heed to it's sweetness. I think, up-to-date, this has been my favorite homemade incense so far. I just wish I knew what was in it.
Last, a few pieces of Sage to keep handy. Never know when you'll need a quick cleanse. Convenient! It's like a traveling MoonMagick Bag!
Black Candle
Over 7" tall black Blessed Herbal Candle "Drawing Down the Moon" for the New Moon by Coventry Creations, Inc. The candle reads it is for Beginnings, Innocence, and Creativity. The back of the candle explains about what a New Moon is, what it's opportunity holds for you. This candles packaging is amazing. Not to mention the size they send in this box! But, are you ready for this…
White Candle
Another 7" tall white, this time, Blessed Herbal Candle "Drawing Down the Moon" for the Full Moon by Coventry Creations, Inc. The candle reads it is for Magic, Imagination, & Mystery. This candle explains and teaches about the Full Moon. These look very exciting to use.
Sage Smudge Stick

Next up I find SAGE!! A nice hunk of a Smudge Stick! This will last a long time
Clear Glass Bowl
This lovely glass bowl can fit in your hand. It is crystal clear. No blemishes. Beautiful for any altar. I am guessing it is included, being this is a moon box, for maybe moon cleansing. You can clean stones, tools, anything during these meaningful moon moments with your new Altar Bowl.
Three Gemstones in Gauze Bags

In two purple gauze bags you will find 3 large, polished gemstones. The stones are, from left to right; Fluorite, Malachite & Amazonite. The colors are vivid, and the patterns on the stones are sensational.  The sizes they sent are generous.

Huge Moonstone Point
This HUGE, solid, speckled moonstone point is amazing to view and to hold. You can feel the peaceful energy this sizeable piece of stone is bringing. It is a wonderful addition to anyone's gemstone collection.
Moon Incense Sticks
Included in this recurring Monthly Subscription Box is a large box of HEM "The Moon" scented incense sticks. There are 20 sticks in this box. I'm impressed with the size they have included. Usually I see the smaller size, 5-10 sticks, enclosed in boxes. They are HEM so they are of good quality.
Witch's Brew Oil
Crafted with Magic! Witch's Brew Original…by Coventry Creations. Myrrh & Mugwort blend for a scent out of this world. The label reads "Ignite your Magic," and you can smell the power. This is no cut-price blended oil, but an item made with skill.
Druzzy & Moonstone Necklaces
My next find in this amazing box is another little black box. It's exciting to find jewelry inside. Not one piece, but two. Two gorgeous necklaces. A Black Druzzy & a Moonstone Point. Each has been placed on cording and ribbon for a lovely effect. On my path I have not worked with any druzzy stones, so I am not sure what their uses are. This is, however, a gorgeous piece, and I will be sure to look into what it's uses are. The moonstone I do know. This eye-catching, point, suspended in copper is simply luxe.  An elegant way to keep the energy of moonstone with you everyday. They have included two new pieces of ritual jewelry for moon working.

Box of Gemstone Surprises
One more little black box contains a collection of Gemstone Surprises! Hiding in this box we receive another piece of jewelry, a lovely mixed gemstone, beaded bracelet. The beads are of medium size and the bracelet itself is 9 inches and is one size fits all, on stretch cording.
Next up in the box we find two cute moonstones. Perfect for pocket carrying.
Lastly, but not least we have a small selenite wand. Palm size. Shiney. I like the size for travel and easy quick use.
Moon Spell Magic Book
Click Image for Amazon Information

We are getting to the bottom of the box and two things remain…One being a book for our personal libraries on the boxes theme, the moon. Moon Spell Magic: Invocations, Incantations & Lunar Lore for a Happy Life
by Cerridwen Greenleaf. The book teaches the lunar calendar and gives spells for every phase, demonstrates how to set up your own lunar altar, informs you about celestial Gods & Goddesses, and includes a plethora of spells & rituals you can perform on your own.
Journal
Stay Focused Because You Totally Got This. We do! Inspiring words outside, and on the heart bedecked inside, it says more…"I look forward to holding any thoughts, dreams, goals, *brilliant ideas, and AMAZING moments…" This box is sure to bring those, and this journal is now ours to record them. All the spells, rituals and things we learn on our way, about the Moon and all it contains. I think it is a lovely book to use as a Moon BOS.
My Overall Impression…
For the first time I am noticing a trend in the packaging everything comes in. There are bits of sage in them. What a beautiful way to cleanse, purify, & bless all you send. Every single gauze bag, small black box, and even the big box everything comes in itself has sage in it! I am very touched.
Now I want to mention the price. This box is bursting at the seams and I cannot believe how little they charge. Could they really be making money here?
I thoroughly loved this box for celebrating the moon. I feel all the contents went with the flow of the Moon Magick theme. I really found it gratifying how the company did not send you just tools and stash to help you celebrate, like candles & incense, or stones and jewelry to harness the moons power. Instead, they went the whole gambit, and by this I mean they sent you a method to really fully learn about the moon. They send you a book & a journal and tell you learn! They rally you to GO FOR IT! Now I have not reviewed the book. I do not know how good it is, but it is a starting point. The 3 BOS pages that are sent are a great starting point, as well…this box doesn't just give you items, it encourages you!

Who is behind the inspiring Magick Mail Boxes from The City Witches?
None other than Jade Perri & Selene Serket. They were gracious enough to take some time to answer some questions for our readers about Magick Mail Monthly Subscription Boxes, their shop The City Witches, and Themselves. Here's what they had to say…
PaganPagesOrg: How did the idea for a Monthly Subscription Box come to you?
Jade Perri & Selene Serket: The idea of the Monthly Magic Box, came to us, after subscribing to many ourselves and being unhappy with the contents. To us, getting a box monthly, themed for aiding us in our practice was very exciting. Many people do not have access to a metaphysical store near them, or they do not have the time to go shopping, or they do not know what to buy. It seemed to us, that if you could subscribe to a "magick" box each month, it would automatically come to you, and would contain items you could use to practice-not just a box full of random items. Our box contains relevant items to be used together or separately, all based on a certain theme. It is a nice way to also build up your stock, so you have everything you need, if you chose to use at a later date.
PaganPagesOrg: How did you begin your Boxes?
Jade Perri & Selene Serket: We began with a what we thought was a universal and important part of our craft. The Moon Magick Box. The Moon can represent New Beginnings, so we thought that would be perfect as our first box to introduce.
PaganPagesOrg: How do you choose each Box's contents?
Jade Perri & Selene Serket: We choose what is in our Monthly Magick, based on the theme of the month. Each box contains approximately 10 items, that are all relevant to the theme. Normally each box's base contains a ritual, a crystal, herbs or essential oil, items for your home or altar, as well as jewelry, a journal, and candles. Additional items will vary based on the theme of that month.
PaganPagesOrg: How do your Box Subscriptions work?
Jade Perri & Selene Serket: Our box can be purchased monthly, or as a subscription. It is more cost effective to purchase as a subscription box, for example, if you sign up for a 3-month subscription, you pay $75 ($25/per box) instead of $90. If you sign up for a 6-month subscription you pay $120 ($20/per box) versus $180. Boxes can be purchased for $30 individually.
PaganPagesOrg: Who are The City Withes?
Jade Perri & Selene Serket: The City Witches was created by two of us. Selene Serket and Jade Perri.
Selene is a a practicing eclectic High Priestess, who has been practicing for over 30 years. She is an experienced teacher and specializes in numerology, astrology readings, ritual magick, custom spells, and Sabbat rituals. She also has an extensive knowledge of all craft-related topics including Reiki and Chakras. In addition, she offers classes and certifications on many different topics such as A Year and a Day (Year 1-3), Chakra 101, and Crystal Magick. Selene is certified in Wicca High Priestess, Reiki Master and holds various Tarot, Crystal, Herbology and Astrology certifications.
Jade is an eclectic Witch has been practicing for more than 10 years and offers guidance on an array of topics. She specializes in divination from tarot cards, oracle cards, runes, and pendulums, as well as scrying and automatic writing. Jade also practices animal magick, dragon magick, and poppet magick. She is also an enthusiastic teacher and offers classes and certification in many different areas such as tarot classes and dragon magick.
PaganPagesOrg: What do the two of you enjoy besides working in The City Witches :)
Jade Perri & Selene Serket: Jade is married with two children and is the manager of her local animal shelter. She enjoys spending time with her family and advocating for homeless animals.
Selene lives with her furry family of 5 Himalayan Cats, she enjoys reading, spending time gardening, continuing her Wiccan Education through classes, and spending time with her friends.
PaganPagesOrg: What did you feel the Pagan community was missing to make you put your Box out?
Jade Perri & Selene Serket: We felt that with the options people have out there for monthly boxes, we wanted to design a box that was useful , fun, and educational. We wanted to really give our clients the best quality box for an affordable price. We also are lucky enough to work with other small businesses, such as Enchanted Reeveries, who provides items handmade from polymer clay, as well as Valessence Skin Care, who provide handmade bath products. We also include our own brand of handmade candles and essential oils.
We do not use printed boxes, or spend extra money on packaging, however, our boxes are stocked with everything they need for the month. What we save on packaging, we give back to our clients-each and every box contains additional free surprise gifts as a Thank You, to our customers.
The other option we offer, is that we do not pull our boxes once the month is up. They are available to our customers at any time. This is very helpful to customers, if they are unable to purchase during the month, they will not miss out-and can purchase anytime throughout the year.
Thank you Jade Perri & Selene Serket for this great interview. Your Magick Mail Subscription Boxes definitely live up to what you desired them to be and that is to all our benefit.
How can you get your own Magick Mail Subscription, visit The City Witches Shop, or Follow them? Just like this…
For the Direct Link to Magick Mail Subscription Choices & Back Log of Boxes Click HERE.
To Visit The City Witches Shop Online Click HERE.
You Can Like & Follow The City Witches on Facebook by Clicking HERE.
They are, also, on Instagram as thecitywitches.
***
About the Author:
Jennifer Sacasa-Wright is simply a Witch. She runs PaganPagesOrg eMagazine.  She loves hearing your opinions & thoughts on the eMagazine and welcomes comments. You can email her at jenniferwright at paganpages dot org.  When she is not working on PaganPagesOrg she is creating in some other way & trying to make the world a better place with her family.
Review of WitchBox
(WitchBox Logo)
What is a WitchBox exactly? According to WitchBox it is:
"A subscription service for pagan witches based on the Wheel of the Year. A box ships every 6 weeks, 10-12 days before the sabbat."
What this means is that every 6 weeks you will pay a recurring fee of $85 + $10 shipping and you will receive a new Sabbat Box to help you celebrate the upcoming holiday.
There are two versions of these boxes. The $85 WitchBox is called the Major Arcana and is filled with all the Bells & Whistles. They do, however, have a lesser priced Sabbat Box subscription, called the Minor Arcana, and this subscription is only $40 + $7 shipping. This box contains, it seems, a little more than half of what the Major Arcana has.
PaganPagesOrg has received the Major Arcana Box to celebrate the Sabbat of Lughnasadh/Lammas and we will be reviewing this box for our readers.
(Sealed Package)
The package arrives in a nondescript, plain, brown box. The only writing visible on the box are the addresses. The box does not come addressed from WitchBox but from the owner of the company's name Jessica White. Their is no logo or pagan symbolism on the outside of the packaging. This is perfect for those who are still in the broomcloset.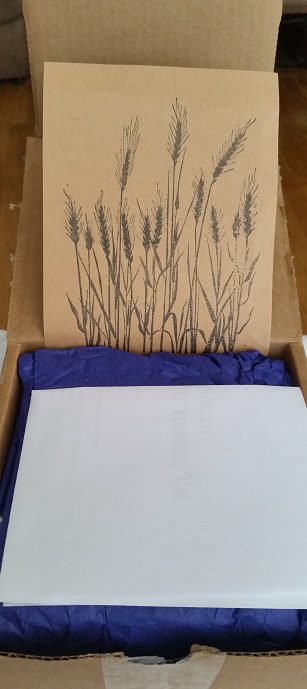 (Freshly Opened)
Upon opening the box my first thoughts were It looks tidy, neat, and organized. The first item you notice is a beautiful card. It definitely brings to mind the sabbat we are celebrating, Lughnasadh/Lammas. When you turn over the card there is a handwritten note. A very personal touch.
(Personal Note)
The second item you notice is a piece of paper. This is the Items List and explains what you will find contained within the box.
(WitchBox Logo Sticker and Packaging)
After you lift the Items List off the top of the box you see the true package begin. The W., WitchBox logo sticker holding together the deep blue tissue paper is an elegant touch to what I am about to find to be a beautifully layered package.
(Scrolls)
Layer one contains a majority of the items. It begins with the 2 Scrolls. There is information on both sides of each sheet. They have a nice antiqued feel to them. There is a pleasant aroma coming from the paper. The paper has been antiqued but it has not weakened the feeling of the paper it still feels substantial. They'd be a nice addition to any Book of Shadows. Their Topics include:
Page 1:
Information about the Holiday.
Correspondences to the Holiday…Gods/Goddesses, Crystals, Herbs,etc..
Page2:
Late Summer Sigil & Poppet Spell
Lughnasadh/Lammas Blessed Bread Charm
(Wrapped Items in Layer One)
Removing the scrolls reveals the rest of layer one which is filled with individually wrapped items, like little gifts. Each beautifully wrapped in blue paper with the W. logo stickers.
(Contents of Layer 1)
The first item I unwrap is a Candle. It is calming & nicely scented. Very smooth to the touch. All items are handmade in WitchBox and the candle looks well handcrafted. The Chamomile is clearly visible in the candle. It is a nice full size not a tiny votive like some would expect.
Next I opened the necklace. It is very pretty but not very precious. However, the value lies inside. It opens up to reveal a good amount of Flying Ointment. It is their recipe. It has the consistency of Vaseline and a soothing scent.
(Contents of Layer 1 Opened)
The last two little packages to open is a Bottle of Incense based on Scott Cunningham's recipe for Lughnasadh and a Self-Igniting Charcoal Disc. Jessica White clearly states on the Item's List that it is Scott's recipe and NOT her own.
The incense is placed in a nice corked, glass bottle that allows you to save and reuse the generous amount they send you. The bottle is even labeled on top with the holiday so you will always know what it is for. The self-igniting charcoal disc is a well thought out accompaniment.
I
(Three Panel Sigil Chain)
Layer two opens to reveal one item, the Three Panel Sigil Chain made with kiln-fired birch rounds seems a bit…well birch is birch, and being birch it is delicate. I thought maybe the panels should be thicker so the chains don't split through the wood. Even though it seems a bit fragile, I believe if I am careful some paint and some free flowing ideas, a beautiful sigil it will make.
(Dried Corn Husk & Blueberry Sprig)
Layer three is the last layer and contains a Dried Corn Husk Bundle for Making Corn dolly with a Wild Blueberry Sprig. It came in such a neatly, tied bundle packaged in the bottom of the box. I like the idea of including a craft in the collection. Something you can, yourself make. It can be a great altar or house decoration. You could also use it to connect with your children and teach them about the sabbat by creating the Corn Dolly with your child. The only thing I might do different is include instructions on how to create a corn dolly, but those could easily be found on Pinterest, doing a Google Search, or other sites.
(Entirety of Box)
Our Overall Thoughts on WitchBox… It's a great box, with a very professional, put together look. The layers were tidy and added excitement to opening the package.
It is definitely filled with items to help you celebrate the Sabbat of the month in the correct fashion. For us it was Lughnasadh/Lammas and I felt every item pertained to the celebration. From information about the sabbat, to spells and rituals you can perform. It gives you materials to correspond with the holiday to use in any of your own workings, a lovely item to make into an altar decoration, and a fun craft to do.
The box does not come with instructions on what to do with the items it contains, that is up to you, what you would like to use them for. For example, you may use the incense in a ritual for the sabbat. It does come with a full comprehensive list of what is in the box, though, and the ingredients are listed for items which is very helpful to know.
The quality of the items is very good, like the large, beautiful smelling candle or the handmade incense. The only thing I mentioned is the birch circles could have been thicker. But overall everything is of very high quality.
Though the box may seem a bit pricey, I do understand why this box would cost as it does. In this business you must spend on packaging and supplies to be able to make your goods. Then there is the crafting/labor side that you do not get paid fairly for. Plus as Jessica White mentions (in the short interview to come), she is out daily foraging for her supplies. That adds even more labor you barely see compensation for. There are a lot of natural pieces in this box, the herbs in the incense, the wild blueberries, the herbs in the candle, the herbs in the flying ointment. The box is almost 100% handcrafted, and as we know handcrafters are never paid fairly.
If you are a witch with the financial means, a monthly subscription to WitchBox for $85 will not hurt your finances. It does come with items for the sabbat you would have to buy or could buy to celebrate the holiday, anyway. Their is a $40 version of WitchBox. It gives you a bit less, of what the $85 box contains. It contains some of the same items, so I am confident in saying they will be of great quality, as well. I would suggest going with the $85 box, however. You really do get more bang for your buck. You can check out both boxes here on WitchBox and decide for yourself.
WitchBox, I feel, is a reputable company PaganPagesOrg can stand behind.
So who is behind WitchBox and all the creative goodies inside?
Jessica White is the Founder & Sole Proprietor of WitchBox.co and an etsy store front, WhiteWitchhh, selling witchcraft supplies.
We recently had the opportunity to ask Jessica White a few questions about herself and her businesses.
PaganPagesOrg(PPO): Can you tell us a little about yourself. Where you are from? What path do you follow?
Jessica White(JW): I'm a Pagan witch and Massachusetts native. My family has been in Massachusetts since 1715, so I feel a strong connection to the early colonists of the new world who lived off the land, but there's an old world element to my practice as well.
PPO: How do you choose what goes into each Sabbat Box?
JW: The contents of each WitchBox depend on what the earth provides in the weeks before each sabbat. The contents are also based on research I do in various compendia of Celtic and Anglo Saxon writings, Ronald Hutton's research (and combing through his sources as well), and the needs of a modern witch.
In many ways, New England serves as a cultural bridge between the old world and new. In the Americas, many of us in the new world have lost touch with our agrarian roots through the generations, so we crave the folklore, traditions, and mysticism of our ancestors. The goal of WitchBox is to get subscribers closer to the land and the seasons, and to walk in our ancestors' footsteps in the modern day. I serve as your mediator with the land: I forage in the wild on an almost daily basis, respectfully harvest what Mother Earth provides in that season, and I use the wild materials in every WitchBox. 
PPO: How did the idea for WitchBox come about?
JW: I had the idea for WitchBox when someone on tumblr posted about wanting a witch subscription service. It was totally a "Eureka!" moment. Having seasonal affective disorder, I've always been very connected to the seasons, so I took the idea a step further and based WitchBox on the Wheel of the Year.
If you would like to contact Jessica White with any questions about WitchBox you can email her at:  [email protected]
To learn more about WitchBox visit: http://www.witchbox.co/
To see her shop WhiteWitchhh visit: https://www.etsy.com/shop/WhiteWitchhh
***
About the Author:
Jennifer Sacasa-Wright is an Eclectic Witch who runs PaganPagesOrg eMagazine. She has many opinions, thoughts, & suggestions, and, at times, has problems holding her tongue. She loves hearing your opinions and thoughts on the magazine and welcomes comments.
When I was at my hungriest for a teacher one did not magically appear with the answers I wanted to know. Well not in the way I expected. In hindsight I had many teachers. I was passionate, curious and worked hard to understand. I picked up two practices from two different authors that served me very well. One was to question. "The right question is a key." The other said "do the work, the rest will come, have faith."
Through my work with spirit in my teens I had already been in a teaching position and I seemed to gather students, or at least people who wanted me to teach them all the time. At first I taught anyone and everyone. I learned a lot from teaching. I still do. When I thought I knew an answer my students would hit me with an interesting curve ball that was not an answer I had thought of.
Teaching can be such a joyful and uplifting thing. It is so educational, healing, and loads of fun. If I give a workshop I have been paid and set a price mostly for the travel, venue and so on, but mostly my teaching has been free. This has led to some really unpleasant situations, ones where I was deeply out of pocket or de-valued. Over the years I've had more broken hearts from students than lovers. For every hour they have put in I've put in three. It was exhausting and draining and as with many teachers, I burned out. So I stopped teaching.
Yet someone would beg me, plead with me, promise me they would do x y and z and sometimes I relented, and sometimes I didn't.
A pattern emerged.
I would teach and then they would learn and when they had learned the lesson they needed (not necessarily the ones I had been teaching) off they went. Sometimes peacefully, sometimes not. I felt like a failure. That I was terrible at picking students. What was I doing wrong? Of course the answer was nothing.
What I teach is not found in books, at least not the ones I didn't write. I give practical spiritual knowledge. Someone's spiritual path is not for me to dictate, and while I am responsible for what I teach, only the student is responsible for what they learn.
The student is responsible for what they learn.
No teacher can open your mind and transplant knowledge and wisdom into it. Sometimes it requires work, effort and time. Sometimes it will just come. Try and balance mirth and reverence. Give it a joyful heart. Try it their way, try it a hundred different ways. Understand that right now you might not see the point but it might make sense in context. For some reason the parable of the Prince popped into my head.
An Eastern Prince went to study at a Shaolin temple. He was given a bucket of water and told to slap the surface. He did as he was told. "Do it again." And so he did. He slapped and slapped until the bucket was empty. Wet and sore the Prince wondered what the point was. "What now?" he asked. "Now go to the well, and refill the bucket." The Prince drew the water, and carried it up the hill. "Now slap the water until it is empty again." Day after day, week after week the Prince spent all day slapping water. He grew bitter at his pointless task, that he, a Prince was being used so. After a year he went home for the Kings birthday. The whole court buzzing with questions about what marvels he had learned. "Show us!" they begged. "Tell us" they called. In a fit of rage the Prince yelled "ENOUGH" and slammed his hand down on the hardwood table. The whole court murmured in surprise and awe. The table had cracked down the middle and slowly fell into two pieces. Of course the crowd was pleased but the Prince stopped and stared at his hand. He humbly returned to the temple and continued to slap water out of a bucket, this time without any bitterness at all.
Some people spend a day slapping water, think it's pointless and leave. Rubbishing the teacher or lesson. New things are hard. The spiritual path is not a straight line. It is a spiral and the lesson you are learning will depend on your mind-set.
There is no" Perfect Teacher"
There is this post-Judo-Christian hangover still in the pagan community, and in culture at large that to be spiritual you must also be x. Old, saintly, male, all powerful, whatever it might be, that the teacher must be perfect.
The truth is there are no perfect people, maybe save the Dali Lama and he's busy. Pagan teachers are human, with all the great and gloriously things that entails. We get sick. We have bad days. We poop. We have complicated relationships. We make mistakes. That doesn't make us bad teachers, or bad people it makes us human. Of course it is nice to be respected but don't put us on a pedestal either. We will always fall off. We will always disappoint you. Not because we are bad at what we do, but because the saintly expectation and constraints of "spiritual" simply have ideals in them that nobody I know has yet to achieve. That means just as you will learn imperfectly so you will have imperfect teachers. That is a lesson in itself. No amount of knowledge or spiritual power divorces you from being human. That to be spiritual is not about being perfect, but still striving to be better.
Have a little faith and give it a bit of time.
Everything is rush, rush, rush in the 21st century. Now, now, now. More, more, more. Spiritual growth is much more like growing a garden. You have no idea which seeds will sprout. Which ones will take in the soil. There will be weather, and seasons and then you just have to wait. Sometimes nothing seems to happen. Sometimes everything seems to happen at once. No amount of prayers or foot stamping are going to make a difference. You just have to wait. If you are not seeing "results" with a teacher, please give it time. Six months a good amount, of course a year is better. Do the meditations even if you don't "get it". Drink the extra water. Talk to the trees and rocks. Spiritual growth takes time. Trust the process. Have a little faith.
Sometimes it just doesn't work.
That said some teachers just rub you the wrong way. As a student I respond will to sarcasm and praise. I don't like being yelled at. I was learning Tae Kwan do and my teacher's teacher took over his class. He yelled. Not if you made a mistake, or were being annoying, I mean he yelled the whole time, like a drill Sergeant. He would just yell, sometimes random instructions without any context. I think I stuck it out three months, maybe a bit longer. He was a bully who didn't care about your opinion and after he signed my daughter up for a pattern competition without my permission (which she hated) I had had enough. Of course I learned a lot from him too. Mostly what not to do. Don't get me wrong there are definitely times I need to get yelled at. I'm a stubborn, pig-headed, red-head and sometimes every once in a while I need someone to call me out.
With every will in the world, some people don't mesh. That's okay too. Just try not to do the blame game either. There are of course terrible teachers out there but in reality they are few and far between. The same with terrible students. Like all relationships the teacher student one is about finding one that works for you.
The BOHO Box
The BOHO Box is a recurring monthly box subscription full of surprises like beautiful boho jewelry, natural beauty products and cosmetics, essential oil-based perfumes, incense, crystals, candles… and surprise gifts like dreamcatchers or leather journals. Their boxes are $39.95 a month.
Right now they are only shipping within the United States, but if you join their Newsletter you get 10% off your first box!
The BOHO Box has sent us a box to review…so let's get right to it.
The Box Arrives…
The BOHO Box comes in a completely plain brown outer box. This is great news to me. Though I am out of the broom closet (and you can find me kissing the tree in front of my house when I borrow from it) I favor this due to the fact that many are in the broom closet and you never know about nosy neighbors seeing things on your front doorstep.
However…
Inside this box is another box and the beginning of the goodies! This box is beautifully decorated with their logo and states proudly "The BOHO Box". You also pull out your first gifts that give you an inkling of what your box will be like.
First, A Bumper Sticker that states "Follow the Moon". Nice, bright, and simple. You can put it on your car, altar, or anywhere.
Next, you pull out a real delight that makes you think. A gorgeous, handcrafted mask. With glorious plumage. The jewels around the eyes give it a festive effect. Great for Samhain, a party, or a fun ritual/spell.
Now I'm really curious. Let's open this box and really dig in!
Included Papers
When the box with The BOHO Box business logo on top is opened you are greeted by a purple wax sealed letter. There are 2 pages to the letter. The first page is a letter that states all the goings on within the company and is very interesting. It tells you the topic of the Box for the month. Our Topic: Moon Goddess! The first letter goes on to detail all that is held within the box and what everything is used for.
The second page is information on different Moon Goddesses from all over the world. (Pictured in full box photo later.)
The letters are printed on beautiful parchment paper. The wax seal adds an elegant touch.
Spooky & Elegant Rhinestone Spider Bracelet
Who would like a spider bracelet? I would! Especially one like this! Elegant is definitely the word for this bracelet. The rhinestones have a wonderful crystal-like feel. Sturdy, not cheaply made or flimsy. The design is gorgeous. Clasps on easily. No fear of falling off. The way it clasps it seems to be able to fit multiple size wrists.
Wild & Free Boho Crescent Moon Layer Necklace
This decorative necklace has a very creative design. It harnesses the moons power in many creative fashions. It definitely has a wild & free feel to it. The short part of the necklace has a choker feel to it, while the long piece gives you a lariat effect. Both work together to give a wonderful appearance.
Anointing Oil Formulated for Rituals & Spells
Given to us is Samhain Anointing Oil for Rituals & Spells by one of the most trusted and best Pagan companies known to us online shoppers, Azure Green. It smells wonderful, like nutmeg and cloves.
Boho Ring with Mandala Inspired Design
It's Large in design size and very pretty. But it's hard to send a ring. The finger size is average to small. It didn't fit me or my young niece. I did find someone for it to fit and she loves it. So that makes me very happy because it really is a very pretty piece. I can see how difficult it is to include a ring in a box. It's a wonderful idea, though.
Black Pouch Containing Gemstones
The black velvet pouch contains 3 raw stones, this means they are not polished down to smooth stones. You get the in their raw energies. The stones are a Black Obsidian, which has a glorious shine to it. An Amethyst and a Moonstone. They are all sparkly, huge pieces. The reasons for sending them and their correspondences are listed on the papers sent.
The Moon Incense Cones
The Moon Incense are from HEM which is a company, if you burn incense on a regular basis, you may know well. They are a great company. Well known and trusted. The scent is relaxing when burned, it gives a clean aroma.
Celtic Inspired Crescent Moon Pendant
Beautiful moon with lovely markings. Almost looks like marcasite. The three bulbs could represent the triple goddess. Choker length. Good medium size.
Silver Nail Polish to Mirror your Jewelry
Now that you shine with your new jewelry, your beautiful mask, and your fully anointed, why not have your nails shine, too!! This is a full size bottle of Silver, shiny polish. Not sample sized. It's silver, also, not like foil, or a gray.
Moonstone Pendulum
Good weight. The peachy color to the pendulum is delicious. The gemstones that run up the chain are brilliant shades. The gemstone chips on the balancing side of the pendulum are a very pretty touch.
Cloth Pendulum Mat
As if a pendulum was not enough, a pendulum mat was sent! I have not seen one of these. I am used to seeing pendulum worksheets on paper. This is a thick cloth. The bottom side has a grip type fabric to it. The top is made of a velvet type fabric. It is a lot fun to work with. We tried it with those new to the pendulum and those who are old hands at the pendulum and they both enjoyed it.
Starry Forest Card to be Framed
A beautiful picture is sent to inspire you. It is of the night sky in the forest. The stars in the background look as if they glow. The picture is for you to save and frame or just hang. It really is breathtaking.
Personal Oracle Card Reading
I found this reading to be something rather incredible because it hit right on what I was going through at the moment. Without the round about mumbo jumbo that could fit any situation. It spoke to me directly. Also, sage advice was given.
The card that was drawn for you, is given to you to keep. The deck the card is taken from is beautiful. The advice is given on parchment paper. I found this part of the box to be the most inspirational.
Over All Impression…
I think The BOHO Box had me from the wax seal! No wait, the mask! It spoke of surprise and whimsy ahead. Boy did they deliver! Each turn had a new surprise and unique gift. This box made me shine in so many ways. It made me feel pretty and good inside and out!
The jewelry and polish made me shine & glow on the outside. The incense and stones had me feeling good spiritually. The pendulum, pendulum mat & anointing oil The BOHO Box provided helped me to be more spiritual in my everyday life.
Now this reading The BOHO Box sent me. Honestly, it blew me away. I don't know how they did it. How they can give a personal reading to touch everyone in a subscription box, but they do. It was personally addressed to me, by name and all. I am very, very impressed. The box is only $39.95 and for all you get, I find this a very fair price.
So who is behind The BOHO Box? Her name is Diana Price and she took some time from her very busy schedule to talk with us at PaganPagesOrg about The BOHO Box and more.
PaganPagesOrg: What brought the idea of The BOHO Box to you? 
Diana Price: Even before I discovered that the box subscription phenomena was a real "thing," I thought it would be cool to create a subscription to some kind of box filled with things to pamper people and make then feel good. Then I discovered a lot of people were already doing that and became a subscriber to a box myself. 
When that box arrived every month, I was downright giddy. That great feeling inspired me to get serious and do it myself. I have many interests, mainly metaphysical, but I was building a boho lifestyle blog and decided to go with The Boho Box first. Ironically, that boho site is being revamped because I discovered that "gypsy" is considered a racial slur, so The Soul of a Gypsy has to be completely rebranded. Fortunately, The Boho Box also has a separate site/domain.
I've also secured domains and social media for an astrology box and may try to create one for my jewelry/metaphysical store, The Midnight Rose, but I'm still learning the ropes with The Boho Box. One at a time…
PaganPagesOrg: How did you begin the process of the subscription?
Diana Price: I joined up on groups with others doing subscription boxes to learn as much as possible and signed up with the selling platform Cratejoy, but the costs of it are high, so I am trying to funnel subscribers directly to my site with the hope of reducing the cost.
I already had a list of suppliers from trying to launch online stores in the past and a small store on my Tarot and Horoscopes site, so I had the resources for the products already.
PaganPagesOrg: How do you choose what to put inside the boxes?
Diana Price: I try to choose monthly themes and sort of match things up, but this last month I think I got a little too caught up in that. I had found these gorgeous crystal lotuses, then choose very sparkly jewelry to go along with it. It didn't go over so well, so lesson learned…. stay BOHO!
I still try to keep with a theme because ideally I want all the jewelry pieces to work together so people can layer, but check myself to make sure I stay in line with the boho style. 
After the jewelry pieces are selected, I browse through my suppliers and start filling in the other goodies. I'm also wanting to create more handcrafted items starting with the February box.
Basically, I try to create a box I'd love and get excited about opening. 
PaganPagesOrg: Is The BOHO Box a recurring monthly box subscription?
Diana Price: Yes, it's a monthly subscription.
PaganPagesOrg: Are you, yourself a pagan?
Diana Price: Yes, although I tend to be a bit of a closeted one, not talking much about that or my tarot and astrology interests with many casual friends because I've been burned in the past by that. Many years ago I worked night shift in a nursing home and would bring books to read in the downtime, often on metaphysical topics. I found out from co-workers the Southern Baptist charge nurse was telling everyone I worshiped the devil and didn't know it, and even said "Suffer not a witch to live."
I was devastated. Unfortunately, many who visit your site will probably have a similar story.
I'm working on being more open about my pagan and Gothic sensibilities. I'm currently on a travel nurse job in Charleston, SC, and as I was driving around, I realized my style and the vibe I REALLY want for my new store and jewelry line, The Midnight Rose, is more witchy southern Gothic and I need to fully embrace that. I had been sort of "mainstreaming" the jewelry line and avoiding anything too pagan or dark, but that's who I am and I need to embrace it.
PaganPagesOrg: What are some of your interests?
Diana Price: I love to travel, although preferably without the nightmare of a temp job I'm currently on, and love photography, tarot, and I've been doing paranormal investigations. I'm also getting serious about candle-making and natural beauty products as well as jewelry design. 
I'm quite the foodie, so I'm trying to cram in as much fine dining as possible while in Charleston and I'm taking next weekend to visit Savannah. I'm sure I'll return inspired!
PaganPagesOrg: Do you sell other products?
Diana Price: Yes, as I touched on, The Midnight Rose will be selling more than jewelry when it's fully up and running – also new and vintage clothing, custom candles, herbs, natural beauty products, and Victorian/Southern Gothic gifts as well as tarot readings and astrology charts/reports. I've also started designing a line of Semicolon jewelry for suicide awareness.
PaganPagesOrg: Is there anything else you would like to add about yourself or your boxes?
Diana Price: Like many other box businesses, I'm just a small, "mom and pop" operation, but I take each box personally and always try to deliver a lot of value and something that makes people happy. I think that's especially important right now in these dark times we're living in. I believe one of the best ways to fight back against that darkness is to spread as much light and positivity into the world as possible.
I'd like to thank Diana Price for talking with us and I wish her so much prosperity on her endeavors. I know I can not wait to see her new ideas. If they are anything like The BOHO Box I know they will be great!!
Helpful Links:
If you are interested in Visiting The BOHO Box Site, Visit:
You can Subscribe for $39.95 a month by Visiting:
http://thebohobox.com/shop/subscription-boxes/the-boho-box-monthly/
For More Information on The BOHO Box, Visit:
http://thebohobox.com/how-does-it-work/
***
About the Author:
Jennifer Sacasa-Wright is a Witch and she runs PaganPagesOrg eMagazine.  She loves hearing your opinions & thoughts on the eMagazine and welcomes comments. You can find her email address in the about section.  When she is not working on PaganPagesOrg she is creating in some other way.
Northern Star Rite
As we approach the Yule season, we are reminded that although we have been in the dark half of the season, we will always return to the light. The Winter Solstice marks the beginning of the return of the sun. Our days will continue to grow longer, and our nights will become shorter. It is a time of quiet reflection, but also joyous celebrations of winter.
This rite is in honor of the North Star that brightens the winter night and offers its power of guidance to all that accept it. The North Star can be found in many traditional stories of the winter holiday season, so this rite may be a comforting childhood reminder of the power of the brightest star in the night sky.
Gather with friends to perform this ritual on an evening before the Winter Solstice. This rite is written as if it would be too cold to perform outside, like it is here in Maine in December! However, you can certainly do all of this ritual outdoors as weather permits.
Disclaimer
Please use caution when burning candles and incense. Never leave candles or incense unattended or in the reach of small children or curious pets. Also, please use caution when handling ritual blades and burning candles. Inform participants ahead of time about the use of incense, and check on possible food allergy issues.
Supplies
Black altar cloth
Small bowl of water
Small bowl of salt
Incense burner with trivet
Charcoal tablet
Loose pinon pine resin
Feather
Athame or ritual blade
Chalice of milk
Plate of star-shaped cookies
One white taper candle in holder
Two red and white striped candles in holders
Several tea lights in holders
Matches
Markers
Thin ribbon and scissors
Gentle, instrumental music
Basket of wooden cut-outs of stars with holes pre-drilled for a hanging ribbon
Altar set-up
Spread out the black altar cloth on the altar. Place the white taper candle in its holder on the center of the altar. Place the bowl of salt (representing earth) to the left of the white candle and the bowl of water (representing water) on the right of the white candle.
Add the incense burner to the left side of the altar and place an unlit charcoal tablet on it (representing fire). Make sure to place the incense burner on a trivet to prevent heat damage to your altar. Have the pinon pine resin (representing air) handy nearby.
Also add the ritual blade to the left side of the altar. Place the chalice of water to the right side of the altar, along with the feather. Have the plate of cookies somewhere on the altar if there is room.
Place one of the red and white striped candles on either side of the altar. These candles represent the God (left) and the Goddess (right).
Place the tea lights in their holders and place them safely around the room. Use enough so you can turn off all the electric lights and still see and safely maneuver around the ritual space.  The tea lights represent the twinkling, starry sky. Light the tea lights right before you are ready to begin.
Rite
Lead the group in a grounding and centering breath exercise.
Sprinkle some of the salt into the bowl of water, and stir three times with your ritual blade or athame.
Light the charcoal tablet and place on the incense burner. Wait until the tablet is smoking, and then add a small amount of the loose incense on to it.
Have the first participant to volunteer approach you at the altar. Dip your finger into the water and draw the shape of a star on the forehead of the participant.  Then use the feather to move the incense smoke in their direction. Repeat with all participants (ending with yourself) while repeating:
Charcoal lit and incense burn
Salt and water stirred in turn
Earth, water, fire and air
Blessed in the name of the sacred pair
Once everyone has been cleansed and blessed, join together around the altar and take each other's hand. Cast the circle by saying together:
Hand to hand, this circle is cast
Be us not in the now
Yet not in the past
From above and below
To dare and to know
Within and without
To whisper, to shout
As the Gods will it
So mote it be
Take a moment to enjoy the energy flowing between you all, and then release your hands.
You can call the four elemental quarters here if you like, but it is not necessary.
Light the Goddess candle (striped candle on the right side of the altar) and invoke the Goddess with spontaneous words.
Light the God candle (striped candle on the left side of the altar) and invoke the God with spontaneous words.
Drawing in the Star Power
Participants should find a comfortable spot to sit or lay down. Start playing the meditation music.  Add more incense to the charcoal, if desired.
Lead the participants through a meditation. Have them imagine themselves standing in a snowy, flat landscape, where are compelled to gaze at the magnificent, clear night sky. The sky is full of beautiful, sparkling stars, yet one stars stands out from the rest. This is the North Star. Spend some time developing the scene for the participants. Don't rush things. Let the description naturally come to your mind's eye and then describe it out loud to the group. When you've reached a full description, ask them to open their eyes.
Pass around a basket of thin wooden cut-outs of stars and encourage everyone to take one.  Then, pass around some markers.
Now, ask them to imagine themselves back at the landscape again. This time, they should imagine reaching out their hands and drawing the energy gently down from the North Star and into themselves.  Explain to them that the North Star's energy is a guiding energy. Ask them to think about where they need guidance in their life.
Allow several minutes of time to pass, before asking them to open their eyes again and hold their stars. Ask them to write down on the wooden stars what they would like guidance on. When everyone is ready, have everyone gather around the altar, and light the middle white taper candle on the altar.  Ask everyone to hold their star between the palms of their hands, while reciting together:
Brightest star of the dark, night sky,
And kin to the sun in the daylight hour,
We reach out to you from on high,
And wish to honor your power.
Finding that within and that without,
Which guides our hearts and minds,
We follow you without any doubt,
Beyond the realm of places and times.
We take your strength within ourselves,
Hold fast to your rays of light,
Where our spirit and hope truly dwells,
With the sincerity of new sight.
We look upon your shining glow,
In need of wisdom, a path we seek
Please help us go, we must know,
At this night hour of your peak.
So mote it be!
Invite participants to come up to the altar, one-by-one and share with the group about how they plan on using their star energy to guide them. You can seal their star tokens by dripping a few drops of wax from the white taper candle onto the tokens and leaving them on the altar to dry. Be careful not to get any candle wax on yourself or the participant.
Allow the tokens to dry before moving them again. Invite the participants to tie a red ribbon on the star for hanging in a Northern-facing window at home.
When everyone is ready, pick up the chalice of milk and hold it out in front of you, saying:
We drink to the Gods, fair and true.
We drink to our kin, those we know and knew.
We drink to the evening sky and the stars so bright.
We drink to the slumbering earth and the cold, dark night.
We drink to honor the moment and times past.
We drink to change the future and help our magick last.
Blessed be!
Pass the chalice around the room and enjoy! Pour the remainder on the ground outside later.
Pick up the plate of cookies and hold it out in front of you, saying:
We partake in the honor our constant companion, the North Star.
Pass the plate around the room and enjoy! Toss the remaining food on the ground outside later.
Give thanks to the God and Goddess in any way you see fit.
Dismiss the four elemental quarters, if you called them.
When you are ready, gather around the altar once more and take each other's hands, saying:
Hand to hand, this circle is broken.
Let us return to the now,
As our magick has been spoken.
Let us find harmony in the work we've done,
With greater good and harming none.
So mote it be!
The art of Seeding
Magick moves strongly through the month of February as Brighid weaves her magick of healing, creativity and preparation for the new life of Spring in just a few more weeks. Each year at this time, I spend some time thinking about what I wish to plant as the seeds of new beginnings and endeavors in the coming year that will become my beautiful garden of creative effort. And, so towards those ends I offer a 2-part magickal pathworking to stimulate the senses and flow of crafting a sanctuary and growing place for your intention. Enjoy…
The Secret Garden
Part One
This meditation can be used to plant the seeds that will bring abundance into your life, whether it is health, financial or personal growth. Form your intent and then enter your Secret Garden.
Part One would be aligned to use at the New Moon and Part Two would be empowered at the Full Moon. You may hold this cycle in place for as long as you need to draw to you what you wish.
Sit in a comfortable position with a white candle lit in front of you a few feet away. As you stare at the flame of the candle allow your gaze to soften and the rhythm of your breath to become slowed and easy of pace. As you continue to gaze at the candle flame allow your eyes to gently close and retain the image of the flame within the center of your higher consciousness. As the flame expands and becomes brighter and luminescent of white light see your physical image standing directly in front of this veil of white light. Give as much detail, shape and form to that image as you can. And when you feel ready step through this white flame of purification.
As you emerge through it's dense veil, you find yourself standing at the outer gate of what appears to be a garden. The wrought iron of the gate is slightly rusted with weathering and is embraced on either side by a brick wall that seems to extend infinitely on either side. As you look upwards the tops of scantily budded branches reach upwards towards a clear blue sky and the promise of lush greenery is just a few months away. It is Spring and time to prepare the ground for new planting and growth in the months ahead. You move towards the Gate and barely reach forward with your hand as the Gate gently swings open, allowing you entrance. This Gate has no need for lock or key for you are the only one who has the powerful energy to open its gate. Your thought, your intent and your will are gatekeeper, gardener and master designer of all that is contained within this sacred space. As you move forward, the Gate closes gently behind you and the warm Spring air embraces you. Each footfall provides the crackle underfoot of stone and dirt and you take a moment to look around and drink in the sights and smells of this place bursting with new life.
As you continue along the Path you can feel the energy of new growth underfoot and surrounding you but that is not your focus this time and your eyes come to rest on a dark patch of earth a few feet ahead of you. This ground will need tilling and clearing so that it may be a place of nurturing for what will be planted soon. You kneel in the center of this ground covered with dried and dead weed, root and thorn that are no longer of use or conducive to new planting. As you sit centrally, take a moment to ground, center and focus your will and intent on clearing and purifying this space.
Now you are ready to begin and as you reach out to pull out the first patch of weed and overgrowth, feel the release of this action. Sense the sigh of the earth as you continue in this manner to un-tether and uncoil dead root. Move around the circle of this space and remove and untangle all unnecessary growth; carefully and completely removing all of it.
When you have removed the last bit of overgrowth take a moment to look around and acknowledge the strength and transformative power of the task you have just finished. You can feel the gratitude of the earth below and the un-constricted flow of the fertile energy of this space. The piles of weed and tangled root you pulled from the ground encircle the space and as you have expected, slowly they begin to be drawn down into the surrounding earth; consumed and absorbed by the Great Mother to be transformed and renewed within her womb. These are no longer of concern or care to you and the plans you have for new growth in this place.
It is now time to complete the last stage of this process of clearing away and preparing. As you rise to a standing position you hear the gentle sounds of the music of the winds playing through the branches of the trees. The music is sweet and gentle and you begin to move rhythmically around the newly cleared earth. Your feet are moving lightly here and there as you move the soil around; aerating, mixing and blending all of its parts. Continue dancing, feeling the soft, pliable earth below as you blend energy and breath. Your heart is light and the feeling of freedom moves throughout your being. You will know when the ground is just right and the foundation lain. And when this moment arrives you slow your movement, catch your breath and close your eyes with arms outstretched at your sides offering thanks for the energy provided and foundation laid.
Your work is done for now and it is time to leave this place. The earth will settle into just the right form and space and the energy of new growth will continue to build as the sun provides nourishment and strength. And, the moon, offers the opportunity for rest and renewal. As you move out of the space you have prepared and step once again onto the path you are filled with joy and anticipation of what potential and opportunity awaits you on your next visit. You continue along the stone path and see the Gate just ahead. Turn and take one last look at your surroundings. You will return to this space again and as the seasons change so will the colors, smells and sights that surround you.
As you approach the Gate it gently swings open and you step through. The soft clanging of metal closing echoing in your ear as it shuts. You turn again to face the front of the Gate and wall and take a moment to give thanks for this space and what is contained within. You turn away feeling the presence of the white veil and its energy and density beckon you. Step through and emerge once again as observer. Allow your focus to move gently from this center of consciousness and return to your physical being, the rhythm of your breath, the rise and fall of your chest and the physicality of yourself sitting comfortably in your room.
Part Two will post next month…..