Administrator July 1st, 2018
Book Excerpt
Love Magic
A Handbook of Spells, Charms, and Potions
by Anastasia Greywolf
Whether you're hoping to catch that person you've been secretly in love with for the past five months, or perhaps an unrequited crush is not getting your subtle hints, the one true adage is that love has no rules and sometimes needs a little help or gentle nudge. To help readers navigate through their amorous adventures, Love Magic makes love of all kinds as easy as simply knowing the right words. Inside, readers will find timeless incantations, mystical concoctions, and homemade talismans that will help them harness their inner love powers to:
• Attract love
• Find out you who you'll marry
• Become a better lover (or make your mate one!)
• Keep your love going strong
• Bring good fortune to your beloved
• End and forget about a love
In addition to traditional spells, Love Magic includes spells from:
Susan Adcox, Gemma Aronson, Jennifer Boudinot, DY Edwards, Elisia G. of Ancient Nouveau, Greta Goldbart, Gabriel Grey, James Benjamin Kenyon, Suzanne Lareau, Savana Lee, Josephine Preston Peabody, Hollen Pockets, Calyx Reed, Jill Robi, Elisa Shoenberger Jeanne de la Ware, Marguerite Wilkinson, Des D. Wilson, Katriel Winter
Here are a Few Spells From the Book:
To Find Love in the Summer
by James Benjamin Kenyon
How beautiful the summer morn,
With billowy leagues of wheat and corn!
The shining woods and fields rejoice;
Each twinkling stream lifts up its voice
To join the chorus of the sky;
O beautiful unspeakably!
In the dry cicada's notes,
In the thistle-down that floats
Aimless on the shimmering air,
In the perfume sweet and rare
Of the sun-steeped, dark-leaved trees,
Dwell the year's deep prophecies.
Hark! the clangor of the mills
Echoes from the drowsy hills.
The foamy clouds, the smiling dale.
The dimpling waves, the laughing flowers,
The low, faint droning of the bees.
Mixed with sweet twitterings from the leas,
Conspire to charm the magic hours.
Under a spell the spirit lies;
Sundered is sorrow's misty veil;
Today life is a glad surprise,
A tranquil rapture, fine and frail.
Wherein to joy-anointed eyes
The old earth seems a Paradise.
To Help Bond You With Someone
TRADITIONAL MAGIC
To make a romantic partner feel bonded to you, use this Gaelic charm. Keep a sprig of mint in your hand till the herb grows moist and warm, then take hold of the hand of the woman you love, and she will follow you as long as the two hands close over the herb. No invocation is necessary, but silence must be kept between the two parties for ten minutes, to give the charm time to work with due efficacy.
To Make Love Last
TRADITIONAL MAGIC
Love will last forever with this charm. Take a bay leaf and split it in half. Kneel with your beloved in front of a red candle. Kiss one half of the bay leaf, then press the other side to their mouth to kiss. They should repeat the same process with the other bay leaf half. Tie the two halves together with one strand of hair from each of your heads. Place it in a green sachet and bury in your yard or another place that has meaning for you.
If you have enjoyed these spells, you will certainly enjoy the many this collection book contains!!
Love Magic: A Handbook of Spells, Charms, and Potions
Dragonfly Medicine Magick
Merry meet.
You can use the dragonfly you made as a craft as part of a ritual or spell by calling on dragonfly medicine.
According to BirdClan.org, "It is a power animal which can help to put us in touch with nature spirits.
"Dragonfly medicine is about the breaking of illusions, especially those illusions that prevent growth and maturity. Dragonfly is the bringer of visions of power."
Dragonfly medicine can both foretell a time of change and help during the transition. So, if you're uncomfortable, overwhelmed and struggling, seek assistance from dragonfly. They can help us see beyond the limits we place on our reality and remind us we can have a world where magic exists.
In her blog on shamansmarket.com, Aleeiah Sura states, "Sometimes seeing a Dragonfly may foretell a time of great change and transition. The first thing that usually happens when a big change is due, is that we put up lot of emotional energy into resisting what's coming, even though on a mental level we may understand that change is very much needed. Dragonfly is an especially helpful guide and ally for those who are resisting change that is overdue, and can teach us to go through change without kicking and screaming."
Part of the reason, I believe, is because dragonflies span two realms. They begun as aquatic larva known as nymphs. and can spend up to five years in fresh water. Water speaks of emotions, the subconscious mind and dreams. The larva then undergo an almost magical series of changes; they move through stages, grow their wings and take flight as an adult. Adults may live from several days to a few weeks. They can fly up, down, left, right, backwards and forwards, making them very adaptable. If they lose one of their two sets of wings, the can still fly. They are often found by water and are capable of crossing oceans. As a creature of the air, they are linked to thoughts and communication.
Because of their short lifespan, dragonflies also help us to value time and not waste it on what does not serve our highest good and greatest joy.
"If you choose to call upon the spirit of Dragonfly to assist your journey, be ready for a shift in perspective. Dragonfly often shows us that things are not as they seem. Look behind the veil of mind created illusion, and be willing to shed some old beliefs. Call upon the Dragonfly for help with transition and when you need the power of adaptation, strength, and resilience to go through big life changes," Sura writes.
A song she wrote in 2017 entitled "Dragonfly Medicine" may be useful in your work. She explains the song "holds vibrational medicine for those who may be resisting change. … It also contains the energy for healing ancestral wounds."
While composing this song, Sura said she became a student of Dragonfly medicine.
"The Dragonfly had quite a few things to teach me about letting go, transitions, and not resisting life's flow."
The lyrics follow & the track can be bought for $1 at the following link:

https://aleeiahsura.bandcamp.com/track/dragonfly-medicine
Dragonfly Medicine
by Aleeiah Sura
Dragonfly, Dragonfly call my name.
It's been far too long since I changed my way.
I need your spirit now to guide this change.
Shine some light now into this pain,
Shine your light now into this pain.
And let these winds blow through your heart.
And let these winds blow through your heart.
Let these winds blow through my heart,
I let these winds blow through my heart,
Shine some light now into this pain,
And let it heal these wounds of ancient days.
Let it heal these wounds of ancient days."
Merry part. And merry meet again.
***
About the Author:
Lynn Woike was 50 – divorced and living on her own for the first time – before she consciously began practicing as a self taught solitary witch. She draws on an eclectic mix of old ways she has studied – from her Sicilian and Germanic heritage to Zen and astrology, the fae, Buddhism, Celtic, the Kabbalah, Norse and Native American – pulling from each as she is guided. She practices yoga, reads Tarot and uses Reiki. From the time she was little, she has loved stories, making her job as the editor of two monthly newspapers seem less than the work it is because of the stories she gets to tell. She lives with her large white cat, Pyewacket, in central Connecticut. You can follow her boards on Pinterest, and write to her at woikelynn at gmail dot com.
The cover states that the book is plain and simple and, also, the only book you'll ever need. The forward of the book was written by Judika Illes, who is, also, an author and I quite liked it. The first chapter informs the reader about Witches and magic. She touches on the different types of Witches like Hedge, Traditional, Gardnerian, etc. It's nice because she just does a quick little description of each, but it's enough to give the reader a good idea of the differences between them. After that, she mentions Covens and how they were formed when Wiccans were persecuted so they had to worship in secret. Then she gets into Angelic Wicca right at the end and how she has personally chosen to follow the Angelic Wiccan path. It's a great first chapter considering all that she mentions, but it doesn't seem overwhelming at any point.
Chapter two breaks down Wicca and positive thoughts. "Life is like a big classroom. With each day, we learn and encounter new experience, and although at times the problems we face are hard, by going through the processes, we climb that spiritual ladder and evolve to a higher plane." Has got to be my favourite quote from the book. It resonated to me as someone who has survived a lot of abuse and it made me feel like maybe my next life may be better due to the struggles I've already endured. She ends the chapter after going over some "Wiccan Ground Rules"
As with almost all Wiccan books, there is a chapter about Tools. That's chapter 3 here. She gives a good list of typical items, touches on colour significance in the candle section and briefly talks about all the things you should have on your altar. This book lives up to its claim of being plain and simple, but in a good way. The way she just touches the tip of everything would make it a great book for a beginner.
Lunar magic is next. I think lunar magic should also be a pretty standard topic in Wicca, as a lot of what we do is based on the moon cycle. "The gravitational field of a full moon changes energy particles that reach the earth, influencing the way that we think and feel by changing the functions of our brain". She informs the reader about the various cycles and the importance of each.
Chapter 5 is a very short chapter about initiation, specifically self-dedication and initiation, with just a few steps. The following chapter is about growing your own garden, the benefits of that and some ideas on which plants to grow and why. It's one of the longer chapters of the book, and for good reason. She writes about what would be good for teas, tonics and superstitions, but again, in a user-friendly way with nothing being too complicated.
Chapter seven delves into animal magic. It's another very short chapter that doesn't get into much. I would have liked this section to be a bit better as half of the chapter is a personal story that is nice, but considering how much space if takes up, there isn't a lot on animal magic itself. The tarot magic chapter is next, and that one is much better, with a lot of good information in a short amount of space and she writes about how "all tarot cards hold a magic of their own, and they can all help to bring about a positive result to your spells."
I really liked chapters nine and ten. Chapter nine is about magnetic magic and chapter 10 is about the power of the pendulum. I, personally, use a pendulum all the time to help me with tough decisions and she suggested a great way to use a dictionary to help with divination, and the way she talks about the healing powers of magnets, I think a lot of readers would like it. She touches on some basic spells as well, which they are plain and simple again, so beginners can feel like these are spells they can do easily.
The rest of the book is spells specifically. There are spells for love, health, wealth, prosperity, happy families, career and willpower. All of the spells are user-friendly, and don't need much for supplies. I am a fan of casting a circle before doing certain types of magic, but the author suggests just sitting and asking for protection. I personally wouldn't feel safe enough to perform some of these spells without a proper circle, but I'm sure a lot of people would be fine with it. I think once a person has had experience with darkness, they are a bit more cautious.
The book overall is only 127 pages, and so it really is "plain and simple", but she touches on a lot of different topics in those few pages. I would recommend this book to anyone starting out, but not really to anyone that has been practicing Wicca for a while. I still took some information out of it, as I do every book and I was really happy with it. The book is a quick and easy read, and I know if I meet anyone who is interested in Wicca I would for sure tell them about this book. I, also, think I will be looking into more of Greenaways' books as it seems like she knows what she is talking about, and I love that she doesn't over-complicate anything. I am happy I had the opportunity to read this book and write a review for it.
Click Image for Amazon Information
Tree Magic
I wrote about the druid moons and the trees of the druid year in my third article quite a while ago, but this time, I just want to tell the story of my love affair with trees and how powerful they truly are. As I playfully experimented with reading the energy of life forms around me over twenty years ago, I gradually came to understand that all trees have a very specific energy, each tree family with a definite focus of help or healing. For instance, heart shaped leaves indicate that tree helps heal issues of emotion, the heart. Palmate leaves, like maples, help to heal issues of action. Leaves with a single straight vein up the middle, like Oaks, help the spine. And the parallel, fountain-like veins of Gingko leaves mean it will open up the root flow of the Goddess. My druid inner guides taught me that trees soak up the watery lessons of the Goddess every season, which flow up from the inner earth into the water tables of the planet. Then each tree breathes these out, specific truths, to all passers by. And I realized over many years, too, that the trees in my own back yard had been chosen very carefully by the universe. Sometimes I wondered if I was led to buy or rent certain homes for the trees in the garden! When you step into a forested space, the world becomes instantly peaceful, calming to the soul, and so very beautiful. And I always feel sheltered from the storms of life during my time there, as if trees hold the peace of heaven in their embrace.
But more than anything else, trees have been my solace along the difficult phases of my spiritual path. When I was in the midst of scary financial times (paying for my three daughter's college educations over ten years) twenty years ago, a big old oak grew up against the balcony of my second story bedroom. And on evenings after particularly challenging days then, I'd sit beside the trunk of that strongest of trees and feel the love of Oghama (the name I use for the high God) flood down around me, His great warmth giving me support, plumping me up from the inside and instantly calming my anxieties. There was a circle of aspens in the woods nearby then, too, and because they are the tree that helps us get beyond our final hurdles into some new expansion of spirit, I'd sometimes go and stand within their circle. And always, I felt a grove of aspen elders awaken within those trunks, enfold me as their leaves sang so joyfully in the wind, and remove whole sheaths of darkness from my being. As magical as can be! But my favorite tree during those years was a young birch I discovered in the meadow on my woodsy wandering one day. It called to me, and I felt a surge of love surround me as I moved through scratchy underbrush to get close to it. This was just after the last of my daughters left home, and I'd closed my therapy practice to begin writing books, instead. But I was often lonely, getting used to solitude, and missed my family. And this little birch became such a friend to me! I went out to see it and share a hug nearly every day, and our spirits grew closer than close over the passing moons. One afternoon towards the end of my time in that home, I heard that birch spirit say quite clearly into my mind that in the spirit world, love is for always, that he would be my friend forever, that he'd send me love even after I moved away (a thousand-mile move!). And this touched me so very deeply, that sweet offering in the midst of my sorrows. I think of him still and send blessings on the wind, even now, fourteen years later. In the tiny cottage I live in now, I have a Rose of Sharon tree, the only one small enough to fit in my little yard. Rose of Sharon is the tree of the virgin goddess, Sìth, and she is regent of peace on earth. And it has been quite peaceful here beside the sea during the four years I've lived in this spot. There is whole language of trees most of us are completely unaware of! Take a moment then, will you? As you're walking, feel the trees you pass by, notice the one that is calling you to come closer, and DO that. Open your heart. LISTEN. You'll be glad you did, I promise.
I feel our tree friends waiting, always, in silent patience to be acknowledged, to connect with us, to speak into our minds and give wisdom or solace, especially during our tough times, to be our once and forever friends again. There is a longing in nature to hold us, guide us, and lead us all Home. Trees are living spirits whose consciousness is simple but profound, connected to angels, gods, goddesses, and guides in the Otherworld in every moment. They are FULL of gentle love, ancient wisdom, knowings that can assist and guide us all. Take their hands along the leaf strewn pathway of your life and let them befriend you.
But perhaps the most startling and life-changing tree moment of my life was when I first began to meditate about twenty-three years ago. I was working as a therapist then, in a marriage that was disappointing in the extreme, raising three girls largely by myself, and taking care of a big old house ever in need of repair. It took great effort to simply find ten minutes a day for my own thoughts! One extra busy morning, I was troubled by something or other and I decided to go outside for a bit of peace and quiet. And I sat under a large white pine beside that house and bent my head beneath it. And in one moment, I felt those branches above me turn into green feathers, the needles softening and wafting gently in the breeze. I could feel them brush my shoulders and greatly ease the burdens of the coming day. They are angels, I thought that morning in great surprise! Trees are angels in disguise! But it was the primordial LOVE that reached into my being in that soft moment which truly changed me, my sudden awareness of the immense and tender power of nature to nurture, hold, and guide, which shifted the very bedrock of my being. The white pine outside my bedroom window in that home was utterly ADORED from then on in return! And the tree sylphs I'd once recognized in childhood, and sadly forgotten in my growing years, opened instantly into my heart and mind again, the whole magical world of spirit ready to embrace me wherever I might need a bit of cheer. I bend the knee of my heart to the tree kingdom, always, a heart full of gratitude and the commitment to care for them tenderly wherever I find them.
***
About the Author:
Jill Rose Frew, Ph.D. is a clinical psychologist, energy healer, workshop leader, and author. She will be opening a school teaching light healing and the Celtic path of enlightenment in 2019. For information, please see www.CelticHeaven.com
She is author of Guardians of the Celtic Way: The Path to arthurian Fulfillment (her name was Jill Kelly then), and Alba Reborn, Alba Reborn, Book One, Revised,  Alba Reborn, Book Two, and Alba Reborn, Book Three.
Lughnasadh (Loo-nas-ah)/Lammas
(Lughnasadh 's Pentacle – Harvest Magic – Lugh's Protection handcrafted by YabYum from the shop PaganOdana on Etsy.)
Major Sabbat (High Holiday) – Fire Festival August 1, 2
Other Names: Lunasa (meaning August), Lughnasaad, Lughnasa (Celtic),First Harvest, August Eve, Feast of Cardenas, Feast of Bread, Tailltean Games(Irish), Teltain Cornucopia (Strega), Ceresalia (Ancient Roman) Harvest Home, Thingtide (Teutonic), Lammas (Christian). Laa Luanys, Elembious, Festival of Green Corn (Native American)
Animals and Mythical beings: Griffins, Basilisks, Roosters, Calves, Centaurs, Phoenix
Gemstones: aventurine, citrine, peridot, sardonyx, yellow diamonds, citrine
Incense and Oils: wood aloes, rose, rose hips, rosemary, chamomile, eucalyptus, safflower, corn, passionflower, frankincense, sandalwood
Colors: red, orange, golden yellow, green, light brown, gold, bronze, gray
Tools, Symbols, and Decorations: corn, cornucopias, red, yellow flowers, sheaves of grain (wheat, barley, oats), first fruits/vegetables of garden labor, corn dollies, baskets of bread, spear, cauldron, sickle, scythe, threshing tools, sacred loaf of bread, harvested herbs, bonfires, bilberries, God figures made of bread or cookie dough, phallic symbols
Goddesses: The Mother, Dana (Lugh&'s wife & queen ), Tailltiu (Welsh-Scottish), Demeter (Greek), Ceres (Roman grain goddess .. honored at Ceresalia), the Barley Mother, Seelu (Cherokee), Corn Mother, Isis (Her birthday is celebrated about this time), Luna (Roman Moon Goddess), other agricultural Goddesses, the waxing Goddess
Gods: Lugh (Celtic, one of the Tuatha De Danaan), John Barley Corn, Arianrhod's golden haired son Lleu (Welsh God of the Sun & Corn where corn includes all grains, not just maize), Dagon (Phoenician Grain God), Tammuz/ Dummuzi (Sumerian), Dionysus, plus all sacrificial Gods who willingly shed
blood/give their life that their people/lands may prosper, all vegetation Gods & Tanus (Gaulish Thunder God), Taranis (Romano-Celtic Thunder God), Tina, (Etruscan-Thunder God), the waning God
Essence: fruitfulness, reaping, prosperity, reverence, purification, transformation, change, The Bread of Life, The Chalice of Plenty , The Ever-flowing Cup , the Groaning Board (Table of Plenty)
Meaning: Lugh's wedding to Mother Earth, Birth of Lugh; Death of Lugh, Celtic Grain Festival
Purpose: Honoring the parent Deities, first harvest festival, first fruits grains & drink to the Goddess in appreciation of Her bounty, offering loaves of sacred bread in the form of the God (this is where the Gingerbread Man originated)
Rituals and Magicks: astrology, prosperity, generosity, continued success, good fortune, abundance, magickal picnic, meditate & visualize yourself completing a project you've started
Customs and Activities: games, the traditional riding of poles/staves, country fairs, breaking bread with friends, making corn dollys, harvesting herbs for charms/rituals, Lughnasadh fire with sacred wood & dried herbs, feasting, competitions, lammas towers (fire-building team competitions), spear tossing, gathering flowers for crowns, fencing/swordplay, games of skill, martial sports, chariot races, hand-fastings, trial marriages, dancing 'round a corn mother (doll)
Foods: loaves of homemade wheat, oat, & corn bread, barley cakes, corn, potatoes, summer squash, nuts, acorns, wild berries (any type), apples, rice, pears, berry pies, elderberry wine, crab apples, mead, crab, blackberries, meadowsweet tea, grapes, cider, beer
Herbs: grain, acacia, heather, ginseng, sloe, cornstalks, cyclamen, fenugreek, aloes, frankincense, sunflower, hollyhock, oak leaf, wheat, myrtle
Element: Fire
Gender: Female
Rose Water
Merry meet.
I have a Zephirine Drouhin – an old Bourbon rose from 1868. It's one of the best-known climbers and is nearly thornless. The reason I love it so much, however, is its scent. Just the memory of its rich, old rose perfume makes me swoon.
When it's in a happy place, it will bloom in Central Connecticut for about three or four weeks beginning in late May and than a second, lesser, shorter bloom in September. The one I had at my house was happy. The one I stealthily planted at my condo has never bloomed a second time, making this spring's flowers that last I expect to enjoy before I move.
To preserve some of it just a little longer, I gathered a pan of petals, added just enough distilled water to almost cover, and then I put the lid on the pan and let it slowly simmer, never letting it boil, for about an hour. When all the color has left the petals, the water will be tinted the color of the roses and it's done.
Strain and keep the rose water in a glass jar in the refrigerator. Consider adding up to one teaspoon of vodka to help preserve it longer than 7-10 days.
The rose water can be used in spiritual and magickal workings.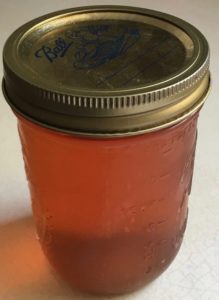 You can use in love magic to anoint yourself, charms, tools or candles. Rose water can also be for a cleansing prior to spell work, rituals and ceremonies by adding it to your bath or misting yourself with it, Sanserae of Yaels Moon said in a YouTube video.
Roses have magical attraction properties that work for love, luck or money, she explained. It can also be used in beauty spells.
A more involved distillation method would probably produce a more intense result. Instructions can be found for a simple hack here: https://www.freshbitesdaily.com/hydrosol-hack/.
A similar method is described here: http://everythingunderthemoon.net/forum/rose-water-rose-hips-magical-uses-rose-t24175.html.
Merry part. And merry meet again.
**
About the Author:
Lynn Woike was 50 – divorced and living on her own for the first time – before she consciously began practicing as a self taught solitary witch. She draws on an eclectic mix of old ways she has studied – from her Sicilian and Germanic heritage to Zen and astrology, the fae, Buddhism, Celtic, the Kabbalah, Norse and Native American – pulling from each as she is guided. She practices yoga, reads Tarot and uses Reiki. From the time she was little, she has loved stories, making her job as the editor of two monthly newspapers seem less than the work it is because of the stories she gets to tell. She lives with her large white cat, Pyewacket, in central Connecticut. You can follow her boards on Pinterest, and write to her at woikelynn at gmail dot com.