Lynn Woike August 1st, 2018
Claws with Crystals
Merry meet.
"Bones are a type of fetish," Sarah Anne Lawless posted on her website. "A fetish is 'an object regarded with awe as being the embodiment or habitation of a potent spirit or as having magical potency (source).' The word fetish originates from the French fétiche which stems from the Portuguese word feitiço meaning 'charm' or 'sorcery.' Feathers, bones, crystals, and stones are all types of fetishes. Skulls and bones have an appeal to witches who perform spirit work and are a necessary and simple way to connect with spirits of the dead and of animals.
"Working with bones is not just for necromancers and black magicians. Practitioners who work with bones are a wide range of healers, diviners, shapeshifters, rootworkers, witches, shamans, druids, and pagans."
When a hunter I respected offered me wings and claws from turkey he had killed, I accepted. I covered the severed ends all with salt, rubbing in, placing them in a box and adding more salt. When more were gifted to me, I placed the fleshy ends in borax. Both were left to dry for several months. (An explanation of a process can be found on many sites.)
When I received them they were already a couple of days old, but the claws were pliable. I was drawn to having them hold crystals. The shape of some of the polished stones I chose made them unworkable. Thankfully, the pagan store I frequent did not mind me bringing in the legs and holding up crystals to determine what would be a good fit. Certain stones seemed to want certain claws, so I went with it.
There is a lot to be said for a more intentional approach, but as I sensed only one was for me, I did not consider uses and intentions that you would if you were making one for yourself.
I positioned each toe and talon to curl around the stone and then began wrapping it all in string to secure it while it dried. In one instance I used tape and while it worked, I think the string was easier to use and adjust.
After a few months had gone by I unwrapped them and found each was stone securely held.
It would be natural to use them as a wand – as is, embellished or attached to another wand – to direct power. A woman who bought one planned to tie it with a cord that went around her neck so it hung almost to her waist.
Bones carry the animal's magical attributes which is one of the reasons I have worked with bear claws, a turtle shell and a coyote's jawbone. Smaller bones have fit in mojo bags created to address various needs.
Turkey is considered a good omen, signaling that gifts are imminent. It's also "a symbol of sacrifice for renewal and that generosity will open the doors to growth and rebirth," according to a few websites posting the same information.
Turkey as a totem animal means you are "the abundance generator" for your community.
"You have a gift for attracting all the bounty of the universe available to you and you are willing to share. You will often meet the needs of others in a giveaway self-sacrifice form simply because all life is sacred to you. You easily translate your life experience into growth and understanding. You recognize that what you do for others you also do for yourself," according to spirit-animals.com and other sites.
Awareness, creation, generosity, harvest, pride, purpose, sacrifice, understanding and virility are also associated with turkey.
Knowing this, if you would like to make something similar, ask the Source and then be ready to receive what the universe brings it to you.
Merry part. And merry meet again.
***
About the Author:
Lynn Woike was 50 – divorced and living on her own for the first time – before she consciously began practicing as a self-taught solitary witch. She draws on an eclectic mix of old ways she has studied – from her Sicilian and Germanic heritage to Zen and astrology, the fae, Buddhism, Celtic, the Kabbalah, Norse and Native American – pulling from each as she is guided. She practices yoga, reads Tarot and uses Reiki. From the time she was little, she has loved stories, making her job as the editor of two monthly newspapers seem less than the work it is because of the stories she gets to tell. She lives with her large white cat, Pyewacket, in central Connecticut. You can follow her boards on Pinterest, and write to her at woikelynn at gmail dot com.
For My Witches in the Wardrobe
Being a Witch can be difficult when you have to hide who you are. It makes it a challenge to practice your Religion or Craft.
I, myself, am "Out of the Broom Closet." Now that is a phrase that leaves a bad taste in my mouth. The thought that a person has to hide who they are turns my stomach! No matter WHAT it is they are made to feel they need to hide about themselves! But, I understand not everyone has the freedoms I do. No, I am not talking american, I am talking the freedoms of everyday life! It could be the freedom of being an adult woman, who can stand on her own and not live in my parents household so can speak for herself. It could be the fact that my family accepts me in all my ways. Not all families are open-minded. Mine really isn't. I'm just a loud mouth. They are used to me. :)
Anyway this column is to you, my Witches. My letters to you, my love letters of sorts. My thoughts, ideas, & expressions of love, faith, and devotion. Ways we can express ourselves in the corners, and cupboards, in locked rooms, or screaming out loud in code, so no one knows.
In this column I will discuss ways to bring Witchdom into your everyday lives. Ways to express your Paganness on the downlow. How to be you, but without shouting, "I am a Witch, Hear me Cast!" I will share ideas, crafts, thoughts, & experiments in hopes that we can all lead more fulfilled lives. Hopefully, I will hear back from our readers on how these ideas help, and maybe hear some of your ideas on how you bring spirituality into your everyday lives in ways that help you in hopes of helping others.
For the first installment where should we begin but with Candles!!! Yes Candles!! What is not the most Witchy item in our toolbox but The Candle?
(Photo by Micheile Henderson)
Now using candles in your daily life without anyone knowing you are a witch can be as simple as burning smelly candles in your house to soothe yourself and others or as deep as coordinating colors, scents, & inscribing sigils on them when no one is around or in the privacy of your bedroom.
Scented Candles & the Witch
You can burn scented candles all day long and no one will assume you are a witch. Scented candles are for everyone. Male or female, young or old!
Every grocery store, internet store, dollar store, & general store sells scented candles. Heck, most stores sell scented candles these days, even bookstores! Many will even tell you what they are for on the wrapping.
You can find nice enough lavender candles for relaxation in your near by dollar stores. Or, if you like to spend a little more on your candles, you can find some like this one that I found in Barnes and Nobles.
It cost $18.95.
Now, a quick lesson here … it says Dream on it and has a quote by Thoreau, but the scent is Bamboo & Green Tea. Bamboo is for wishes and luck. Green tea, also, is for luck and success. So that goes with realizing your hopes and dreams, rather than, having good sleeping dreams. Do not simply go by what a box says. Always look up correspondences for ingredients yourself! That is very important.
Color Coordinating your Candles
Something else to consider with candles for Magickal Purpose is Color. Here is a quick reference guide to Color Magick with candles to help you when choosing the hue of your candles to coincide with what you are preparing:
White – Divining, Purity, Healing, Exorcism
Pink – Love, Friendship, Emotions
Purple – Power, Spirit, Wisdom
Red – Strength, Lust, Courage
Green – Luck, Wealth, Fertility, Ambition
Blue – Tranquility, Health, Patience
Yellow – Learning, Comfort, Confidence, Joy
Black – Banish Negativity, Retribution
Now, these are just a few choice correspondence words to go along with each color. I think from these jump off points, though, you can pick which colors to work with for different goals.
Inscribing Candles for your Purpose
What type of candles do you prefer to use for Magick? I, personally, use Chime Candles for magick.
I like to have my candles burn through for my spells completely, I do not like to put them out. I find that votive, 3-day, or 7-day candles try my patience. Chime Candles burn for approximately 2.5 hours. They are 4.5 inches tall. On the proper day, moon, time, what have you, when I need my magick done, I want it done.
But, me, I like to enhance my Candle Magick by inscribing words or symbols on my Chime Candles for my exact purpose. I feel this carving into them is concentrating energy, focus, and my pure intent of my goal. A meditative moment of sorts.
I do not carve deeply as the candles are not thick. I have used a pin or sewing needle to do the job. I have used my feather quill from my Altar.
What I do, for example, is if a friend is feeling ill, I may take a blue Chime Candle and carve with pin or quill his or her name on one side and the word health on the other with a heart for my love for them and a pentacle to seal the deal. It does not have to be the neatest of carvings as the candles are not the easiest to carve into.
Before lighting my candle I will hold it between my hands and imagine what I want it to manifest. Sometimes a whole story will come to mind. I will let that story play through in my head. I will hold it and dream it for as long as I feel I need to before lighting it. Sometimes a few seconds, sometimes minutes, sometimes longer.
This can all be done in the privacy of your own home, in your private quarters, in a meadow, or a corner of a park. No one need know what you are doing. You can go about your business of doing what you need to do while the candle burns in the room you are in, while you babysit it for the 2.5 hours it takes. Never leave a candle unattended. If need be, you may put it out and relight it later.
I have carved my intentions around the tip in a hurry for privacy. Around the tips of candles and let it burn down passed a certain line to cast the spell, so then you need not wait for an entire candle to burn out. Write your friends name around the tip of candle instead of up and down and let the candle burn down 10 minutes.
Reuse the Old
What to do with all those old candles you may have lying around that you can no longer get to light. You know the ones I mean, with the too short wicks where you can no longer get your hands safely in the jars, or where the wicks have somehow just disappeared for some reason! Here's an idea!!! You can always make new candles from them. These candles you get to infuse with spells or intentions of your own.
There are many ways to DIY candle leftovers. Here are a few sites I found with great ways to do it:
The Summer Sun Candle DIY Way
Another good way to melt the old wax out of candles to make new candles from them is to use the Summer sun! Take your old candles and bring them outside during the heat and leave them out there for some time to melt. Keep covers on them and let nature do it's job. When they are melted remove the old wicks. Place a new wick you have purchased, from either your local craft shop or online, into the new jar or whatever you will be using as your candle holder. Be sure it is safe to use!! Pour the wax into the new holder with the wick. You can use anything you feel fit to hold the new wick in place like a pencil or skewer. Whatever works for you. Then leave it to set. You may need to fill the new candle holder more than once. You can mix scents & colors. Play around. Make your own Witchy Creations! You can even play around with your holders when you learn what is safe to use. Like using sea shells and bottle caps as new candle candle holders for instance!
Until Next Time…
It has been a lot of fun and I look forward to next month's column.
Stay Witchie, even if it's just between you and me -xoxo
***
About the Author:
Jennifer Sacasa-Wright is simply a Witch. She runs PaganPagesOrg eMag.  She loves hearing your opinions & thoughts on the eMagazine and welcomes comments. You can email her at jenniferwright at paganpages dot org.  When she is not working on PaganPagesOrg she is creating in some other way & trying to make the world a better place with her family.
Rose Water
Merry meet.
I have a Zephirine Drouhin – an old Bourbon rose from 1868. It's one of the best-known climbers and is nearly thornless. The reason I love it so much, however, is its scent. Just the memory of its rich, old rose perfume makes me swoon.
When it's in a happy place, it will bloom in Central Connecticut for about three or four weeks beginning in late May and than a second, lesser, shorter bloom in September. The one I had at my house was happy. The one I stealthily planted at my condo has never bloomed a second time, making this spring's flowers that last I expect to enjoy before I move.
To preserve some of it just a little longer, I gathered a pan of petals, added just enough distilled water to almost cover, and then I put the lid on the pan and let it slowly simmer, never letting it boil, for about an hour. When all the color has left the petals, the water will be tinted the color of the roses and it's done.
Strain and keep the rose water in a glass jar in the refrigerator. Consider adding up to one teaspoon of vodka to help preserve it longer than 7-10 days.
The rose water can be used in spiritual and magickal workings.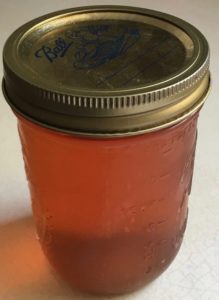 You can use in love magic to anoint yourself, charms, tools or candles. Rose water can also be for a cleansing prior to spell work, rituals and ceremonies by adding it to your bath or misting yourself with it, Sanserae of Yaels Moon said in a YouTube video.
Roses have magical attraction properties that work for love, luck or money, she explained. It can also be used in beauty spells.
A more involved distillation method would probably produce a more intense result. Instructions can be found for a simple hack here: https://www.freshbitesdaily.com/hydrosol-hack/.
A similar method is described here: http://everythingunderthemoon.net/forum/rose-water-rose-hips-magical-uses-rose-t24175.html.
Merry part. And merry meet again.
**
About the Author:
Lynn Woike was 50 – divorced and living on her own for the first time – before she consciously began practicing as a self taught solitary witch. She draws on an eclectic mix of old ways she has studied – from her Sicilian and Germanic heritage to Zen and astrology, the fae, Buddhism, Celtic, the Kabbalah, Norse and Native American – pulling from each as she is guided. She practices yoga, reads Tarot and uses Reiki. From the time she was little, she has loved stories, making her job as the editor of two monthly newspapers seem less than the work it is because of the stories she gets to tell. She lives with her large white cat, Pyewacket, in central Connecticut. You can follow her boards on Pinterest, and write to her at woikelynn at gmail dot com.
_______________________________________________________________
Cover art: Large Brown Fairy Garden decor Door Set with Accessories. Hand cast and painted by Jassmond Masters-Bell of the Etsy shop Fairy Behind the Door, featured in an interview this month with her.
About the door: This Fairy door belongs to Mrs Odina. She owns a Nights Fairy dormitory where she allows the traveling fairy to stop by and sleepover before they continue on their journey. She runs a tight tree house, her fees are fair but you have to bring your own berries and goats milk for breakfast. It says on the Door "Fairies Sleeping" so be quiet when you pass by.
_______________________________________________________________
This month we have visitors! The Fae have come out for the Month of July to join us and our Readers at PaganPagesOrg. So pull up a Toadstool, Make a nice Cuppa, and Have a Great Read because we have brought you a Packed Issue to enjoy filled with Excellent Features Likes…
An

interview

with

Jassmond Masters-Bell

, owner of the Etsy Shop Fairy Behind the Door. Where all types of magickal items can be found created by this

wonderful

molding artisan.

A few new columns we will be adding in PaganPagesOrg are updates and features monthly on our favorite Podcasts. These are the ones we listen to and find to be the most informative and really top notch. We started, already, by bringing back broadcasts of Going Shamanic Radio. Now, we are proud to announce we will be featuring 3 Pagans and a Cat. Personally, I think you will love them from the first episode. How they make you feel secure on your path. The rounded knowledge. No fear in saying I don't know. The learning, the sharing, the laughing. The correctness in information. This podcast is the complete package. A must listen.
An Interview with Astrid Brown. Astrid Brown is a medium, a psychic, and an incredibly prolific author. Her most recent offering, A Psychic Affair, blends the mysteries of psychic development with the romance genre, exploring how long-distance relationships can develop not only through the words and messages we send, but through a true, psychic connection.
This month starts a new column: Mojo Bag of the Month, beginning with a bag that will help to raise your vibration! With the many shifts and changes that are coming, we need to raise our vibration to ride out the wave. Have a read to see what you need for this month's bag.
This month Robin Fennelly reviews the book Moon Magic: Your Complete Guide to Harnessing the Mystical Energy of the Moon by author Diane Ahlquist. Robin breaks down this book for us explaining all this volume has to offer and if it's worth adding to our libraries.
_______________________________________________________________
We would like to thank all our loyal readers for this award. You like us, you really like us!
_______________________________________________________________
_______________________________________________________________
"Friendship is born at that moment when one person says to another: 'What! You too? I thought I was the only one." – C.S. Lewis
Plant Wands
Merry meet.
As the wheel turns to the third harvest, I was moved to harvest some of the energies from the world around me, inspired by the Botanical Spirt Wands made by Rosemari Roast of Walk in the Woods, located in Winsted, Connecticut.
Cleaning up my community garden plot at the end of the season, I gathered a selection of plants, living and dead, adding to it from outside my back door.
o
how-to
Making an assorted bouquet of about eight pieces, I wrapped the stems together with fibers. One I wound with twine. For the other, I tied a scrap of novelty yarn at the top and criss-crossed it front and back down the stalks to form a handle. Red ribbon was used to wrap a single tassel of broom corn.
They are being hung upside down until they are fully dried.
If this inspires you, you might consider making a plant wand for each season, or even for each sabbat.
Merry part.
And merry meet again.
Raising Your Vibration
Your mojo bag for this month is one that will help to raise your vibration! With the many shifts and changes that are coming, we need to raise our vibration to ride out the wave. If we fall below the surface, we will get caught in the undertow!
The first stone shown here is Polychrome Jasper! One of my all-time favorite stones as it is called the "happy energy" stone and it is said to bring good fortune and a happy outlook on life. All jaspers are protective and nurturing, however, polychrome brings emotional balance, is a stress reliever and increases stamina and the ability to adjust to change. This beautiful stone aids quick thinking, promotes organizational abilities and seeing projects through to completion. It stimulates the imagination and helps to manifest ideas into action. Polychrome Jasper is useful for those starting new business pursuits and it also assists in a tuning to and communicating with animals! Also, it just feels really good to hold! *grins*
Mugglestone is the next stone to the right of the Polychrome in this photo. Mugglestone is a cross between Tiger's Eye, Hematite and Red Jasper. Mugglestone incorporates the traits of all three of these stones. Together they provide strength, stamina, focused will, physical energy, grounding, balance and confidence. They strengthen first second and third chakras. It is important to keep your balance as you are raising your physical and energetic vibration. 
Rutilated Quartz is in this mix because it is a vibrational healer. This type of clear quartz contains fine strands of real gold. It promotes spiritual growth, draws of negative energy, cleanses and energizes the aura, aids astral travel and channeling, facilitates contact with the highest spiritual guidance and protects against psychic attacks. The alleviates dark moods and acts as an antidepressant as it relieves fears, phobias, and anxieties, releasing destructive thoughts and counters self-hatred. Excellent for all chakras!
In the photo, below the Rutilated Quartz, you will see Hematite. An extra boost of hematite helps to manifest light, making the spiritual physical, and the balancing of opposites. Also helps to move through adversity and helps us to see the silver lining behind every dark cloud. Enhances first chakra. 
And lastly, Tourminalated Quartz is clear or white quartz with rods of Black Tourmaline shooting through it! As we know, most black stones work well for grounding and protection. Quartz works as an amplifier! So, Tourminalated Quartz helps with purification, recovery and protection from negative influences. It clears out bad vibes and helps to remove blockages. Allows one to receive the full spectrum of light necessary for proper energetic and physical health.  It assists in purifying on a physical, emotional, and spiritual level, so further growth can be undertaken. It "washes" the aura, clearing energy patterns that have created stagnation. It helps to identify emotional patterns that need to be purified and cleansed. It is excellent for healing and clearing rooms, as well. It can also be used to aid in purifying the physical body after substance-abuse and those are attempting to improve their diet. The stone also resonates with our chakras.
***
About the Author:
Tala is a healer of multi-cultural decent and influence. Her heritage is a mixture of Celtic, African, Native American and European decent. However, her spiritual journey began when she and her mother were living throughout Mexico. While exploring one of our world's 'Sacred Power Spots', Chichen Itza in the Yucatan, Tala was struck by a bus and was pronounced dead. She was revived when three indigenous Mayan Shamans appeared from the jungle and proceeded to pass her body between them and chant. They brought her to their hidden jungle village on the mountain to recover and heal for three days. When Tala emerged from the jungle on the fourth day, she told her mother's companion that she had been "given the light of god by the Mayan people". She was five years old when she experienced this N.D.E. (near death experience). This opened the door to her receiving messages and visitations from spirits to this day.
At age 23, Tala was the recipient of Shaktipat, in person directly from Shri Anandi Ma. This is a transmission of energy/ god force through (in her case) physical touch which awakens the Kundalini. It often sets the person on their true spiritual path. Many who receive Shaktipat become healers and teachers.
Over the years, combined with her continuing formal education, she has maintained a balance between the physical sciences and the metaphysical. She was one of the first 60 people in the U.S. to be sent to the Johnson Space Center in Houston, TX to be trained by NASA to educate local teachers about the International Space Station in its beginning stages. She became an R.C. Counselor, Peer Counselor, and an Ordained Minister for the Universal Life Church. She is a Certified Holographic Sound Healer and is a Reiki Practitioner. This year she has become an ordained Minister and Reverend of Our Lord & Lady of the Trinacrian Rose Church and has completed her 2 year apprenticeship in the Pachakuti Mesa Cross-cultural Shamanism and is now a Paco-Shaman. She has made her living for the past years as a powerful energy worker/healer of individuals and groups and a master craftsman of ritual, ceremonial and energetic tools. Her dream is to travel the world and continue her formal and spiritual education with scholars, locals and indigenous peoples.
Tala is a Spiritual Practitioner of the Shamanic arts, she studies Ancient Spiritualities from all over the world and she is a Sacred Toolsmith making tools for Shamans, Pagans and Energy Workers. You can find her at 'A New Page' at 1060 Newfield St., Middletown, CT
You can find the shop's Facebook page at:
Www.facebook.com/anewpagestore For updates and upcoming events, meditations, classes, talks, Fire & Drum Circles and Fairs!