Lynn Woike September 1st, 2018
Balance
Merry meet.
Celebrations are often planned for the sabbats, but don't overlook the power these times add to magical workings. As the world hangs in balance, day equal to the night, we can use its balanced energy to regain our own balance before heading into the dark half of the year.
Gather the materials you'll use: a marker of any kind and a round disk. These can be the wooden ones found at craft stores, a jar or bottle lid, or the top of a deli container.
This spell can be done as part of a ritual in sacred space, or in any area in which you feel comfortable, perhaps adding incense and candles to set the stage.
Sitting in that space, let yourself relax and let go. Give yourself time to begin to feel the balance of this day and breathe it in, absorb it into every cell. If you cannot "feel" it, know that it is there and imagine its vibration. See a sign that, to you, represents this state. It might be the yin yang or an infinity symbol, a line, an equal sign, a representation of scales, or anything else that can trigger the balance you are experiencing. Othello pieces are white on one side and black on the other, and I have used them in the past.
Channel that vision and energy into the sigil as you draw it on your disk.
Sit with it as you think about where you and your life things are out of balance. Does it involve discipline? Nutrition? Boundaries? Is there something you are missing? Something for which you have an overabundance? A situation that lacks its polar opposite for stability? Take the time to visualize each of them balanced.
Feel yourself come into balance on all levels, filled with peace and harmony.
You can choose to add these words Mackenzie Sage Wright included in a Mabon spell she wrote that can be found on exemplore.com:
"As yin is to yang, as dark is to light,
As male is to female, as day is to night,
Find Nature's perfect balance within me
So I may live my life in harmony…
by the powers of three times three,
this is my will, so mote it be!"
Carry the sigil anytime balance is needed – be it spiritual, physical, emotional or mental – and tap into the powerful energy put into the spell it on the equinox.
Although most powerful when done on the equinox, there is no reason this spell can't be done anytime of year.
Merry part. And merry meet again.
**
About the Author:
Lynn Woike was 50 – divorced and living on her own for the first time – before she consciously began practicing as a self-taught solitary witch. She draws on an eclectic mix of old ways she has studied – from her Sicilian and Germanic heritage to Zen and astrology, the fae, Buddhism, Celtic, the Kabbalah, Norse and Native American – pulling from each as she is guided. She practices yoga, reads Tarot and uses Reiki. From the time she was little, she has loved stories, making her job as the editor of two monthly newspapers seem less than the work it is because of the stories she gets to tell. She lives with her large white cat, Pyewacket, in central Connecticut. You can follow her boards on Pinterest, and write to her at woikelynn at gmail dot com.
Welcoming Mabon – The Autumn Equinox
Subtle whispers of the approaching season are everywhere: The night air is cooling, plants are producing seed heads, birds are beginning their migration, animals are storing food and building shelters and leaves are beginning to transform from deep green to richer shades of the autumn harvest. With all this splendor, we welcome in Mabon, the Autumn Equinox, on September 23, 2011, also known as The Witches Thanksgiving.
Being the second of three harvest festivals, Mabon is largely centered around celebrating the unending generosity the earth provides along with the bounty with which you have been blessed.  It is for joining with family and friends to share the wealth of fall crops, tales of the past, plans for the coming months and to remember there are those who struggle and to pass along what you can do without.
The other side of this celebration is balance, being that light and dark are equal on this day.  Balance teaches us that where there is life there is also death. Though we are celebrating our bounty, we are aware that the fields are drying out, the soil losing its nutrients and the crops are going dormant. The wheel of the year turns once again through the seasons. With each coming day, as in the ancient Greek myths of Demeter and Persephone, the sun's strength will diminish as darkness claims its rightful place within the universe. So continues the harmony of the dance of life.
A traditional Autumn Equinox feast would include fall fruits, grains, nut breads, lots of vegetables and wine or apple cider. Apple cider is magical in itself as apple rules the heart and cider is a self-love potion. Add a stick of cinnamon ruled by the sun, and symbolically you are taking in sunlight.
May your Autumn Equinox be filled with an overflowing bounty as you prepare for the coming winter.
MAY-bon, MAY-bun, MAY-bone, MAH-boon or MAH-bawn, – Lesser Sabbat – Fall/Autumn Equinox, September 21-23
Michaelmas (September 25th, Christian), Second Harvest Festival, Witches' Thanksgiving, Harvest Home (Anglo-Celtic), Feast of Avalon, Wine Harvest, Festival of Dionysus, Cornucopia, Equinozio di Autunno (Strega), Chung Chiu (China), Night of the Hunter, Alban Elfed "The Light of the Water"(Caledonii/ Druidic-celebrates Lord of the Mysteries), Winter Finding (Teutonic, from Equinox 'til Winter Night or Nordic New Year, Oct 15th.)
Mabon is considered a time of the Mysteries. It is a time to honor Aging Deities and the Spirit World. Considered a time of balance, it is when we stop and relax and enjoy the fruits of our personal harvests, whether they be from toiling in our gardens, working at our jobs, raising our families, or just coping with the hussle-bussle of everyday life. May your Mabon be memorable, and your hearts and spirits be filled to overflowing!
Purpose:
Second harvest festival, new wine pressing/making preparation for winter and Samhain, rest after labor, Pagan day of Thanksgiving, honoring the spirit world, celebration of wine.
Dynamics/Meaning:
death of the God, assumption of the Crone, balance of light and dark; increase of darkness, grape harvest, completion of the harvest.
Essence:
Beauty, joy; fullness of life, harvest of the year's desires, strength; laughter; power; prosperity, equality, balance, appreciation, harvest, protection, wealth,
security, self-confidence, reincarnation.
Symbolism of Mabon:
Second Harvest, the Mysteries, Equality and Balance.
Symbols of Mabon:
wine, gourds, pine cones, acorns, grains, corn, apples, pomegranates, vines such as ivy, dried seeds, and horns of plenty.
Tools, Symbols & Decorations:
Indian corn, red fruits, autumn flowers, red poppies, hazelnuts, garlands, grains especially wheat stalks, and colorful, fallen leaves, acorns, pine & cypress cones, oak sprigs, pomegranate, statue/or figure to represent the Mother Goddess, mabon wreath, vine, grapes, gourd, cornucopia/horns of plenty, burial cairns, apples, marigolds, harvested crops, burial cairns, rattles, the Mysteries, sun wheel, all harvest symbols.
Herbs & Plants of Maybon:
Acorn, aster, benzoin, cedar, ferns, grains, hazel, honeysuckle, hops, ivy, marigold, milkweed, mums, myrrh, oak leaf, passionflower, pine, rose, sage, solomon's seal, tobacco, thistle, and vegetables.
Foods of Mabon:
Breads, nuts, apples, pomegranates, cornbread, wheat products, grains, berries, grapes, acorns, seeds, dried fruits, corn, beans, squash, roots (ie onions, carrots, potatoes, etc), hops, sasssafras, roast goose or mutton, wine, ale, & cider.
Incense & Oils of Mabon:
Pine, sweetgrass, apple blossom, benzoin, myrrh, frankincense, jasmine, sage wood aloes, black pepper, patchouly, cinnamon, clove, oak moss, & sage.
Colors/Candles of Mabon:
Red, orange, russet, maroon, brown, gold, deep gold, green, orange, scarlet, all autumn colors, purple, blue, violet, & indigo.
Stones of Mabon:
Sapphire, lapis lazuli, yellow agates, carnelian, yellow topaz, & amethyst.
Customs:
Offerings to land, preparing for cold weather, bringing in harvest, cutting willow wands (Druidic), eating seasonal fruit, leaving apples upon burial cairns & graves as a token of honor, walk wild places & forests, gather seed pods & dried plants, fermenting grapes to make wine,picking ripe produce, stalk bundling; fishing,. on the closest full moon (Harvest Moon) harvesting corps by moonlight.
Activities of Mabon:
Making wine, gathering dried herbs, plants, seeds and seed pods, walking in the woods, scattering offerings in harvested fields, offering libations to trees, adorning burial sites with leaves, acorns, and pine cones to honor those who have passed over.
Spellworkings and Rituals of Mabon:
Protection, security, and self-confidence. Also those of harmony and balance. Celtic Festival of the Vine, prosperity rituals, introspection, rituals which enact the elderly aspects of both Goddess & God, past life recall.
Animals/Mythical beings:
Dogs, wolves, stag, blackbird, owl, eagle, birds of prey, salmon & goat, Gnomes, Sphinx, Minotaur, Cyclops, Andamans and Gulons.
Goddesses:
Modron (Welsh), Bona Dea, Land Mother, Aging & Harvest Dieties: the Triple Goddess-Mother aspect, Persephone, Demeter/Ceres, Morgan (Welsh- Cornish), Snake Woman (aboriginal), Epona (Celtic-Gaulish), Pamona (roman), the Muses (greek)
Gods:
Mabon ap Modron (Welsh), Sky Father, The Green Man, Wine Gods, Aging Gods, John Barley Corn , the Wicker-Man, the Corn Man, Thoth (Egyptian), Hermes, Hotei (Japanese), Thor, Dionysus (Roman), Bacchus (Greek) & all wine Deities
Element/Gender:
Water
Threshold:
Evening
Review of WitchBox
(WitchBox Logo)
What is a WitchBox exactly? According to WitchBox it is:
"A subscription service for pagan witches based on the Wheel of the Year. A box ships every 6 weeks, 10-12 days before the sabbat."
What this means is that every 6 weeks you will pay a recurring fee of $85 + $10 shipping and you will receive a new Sabbat Box to help you celebrate the upcoming holiday.
There are two versions of these boxes. The $85 WitchBox is called the Major Arcana and is filled with all the Bells & Whistles. They do, however, have a lesser priced Sabbat Box subscription, called the Minor Arcana, and this subscription is only $40 + $7 shipping. This box contains, it seems, a little more than half of what the Major Arcana has.
PaganPagesOrg has received the Major Arcana Box to celebrate the Sabbat of Lughnasadh/Lammas and we will be reviewing this box for our readers.
(Sealed Package)
The package arrives in a nondescript, plain, brown box. The only writing visible on the box are the addresses. The box does not come addressed from WitchBox but from the owner of the company's name Jessica White. Their is no logo or pagan symbolism on the outside of the packaging. This is perfect for those who are still in the broomcloset.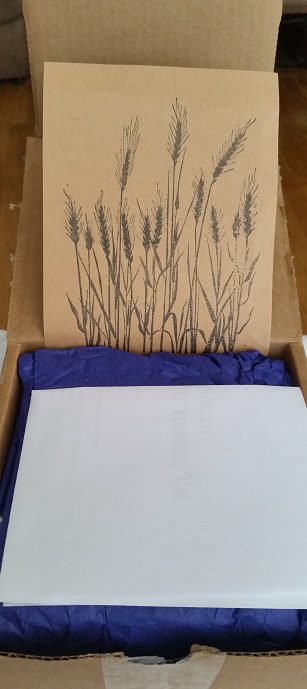 (Freshly Opened)
Upon opening the box my first thoughts were It looks tidy, neat, and organized. The first item you notice is a beautiful card. It definitely brings to mind the sabbat we are celebrating, Lughnasadh/Lammas. When you turn over the card there is a handwritten note. A very personal touch.
(Personal Note)
The second item you notice is a piece of paper. This is the Items List and explains what you will find contained within the box.
(WitchBox Logo Sticker and Packaging)
After you lift the Items List off the top of the box you see the true package begin. The W., WitchBox logo sticker holding together the deep blue tissue paper is an elegant touch to what I am about to find to be a beautifully layered package.
(Scrolls)
Layer one contains a majority of the items. It begins with the 2 Scrolls. There is information on both sides of each sheet. They have a nice antiqued feel to them. There is a pleasant aroma coming from the paper. The paper has been antiqued but it has not weakened the feeling of the paper it still feels substantial. They'd be a nice addition to any Book of Shadows. Their Topics include:
Page 1:
Information about the Holiday.
Correspondences to the Holiday…Gods/Goddesses, Crystals, Herbs,etc..
Page2:
Late Summer Sigil & Poppet Spell
Lughnasadh/Lammas Blessed Bread Charm
(Wrapped Items in Layer One)
Removing the scrolls reveals the rest of layer one which is filled with individually wrapped items, like little gifts. Each beautifully wrapped in blue paper with the W. logo stickers.
(Contents of Layer 1)
The first item I unwrap is a Candle. It is calming & nicely scented. Very smooth to the touch. All items are handmade in WitchBox and the candle looks well handcrafted. The Chamomile is clearly visible in the candle. It is a nice full size not a tiny votive like some would expect.
Next I opened the necklace. It is very pretty but not very precious. However, the value lies inside. It opens up to reveal a good amount of Flying Ointment. It is their recipe. It has the consistency of Vaseline and a soothing scent.
(Contents of Layer 1 Opened)
The last two little packages to open is a Bottle of Incense based on Scott Cunningham's recipe for Lughnasadh and a Self-Igniting Charcoal Disc. Jessica White clearly states on the Item's List that it is Scott's recipe and NOT her own.
The incense is placed in a nice corked, glass bottle that allows you to save and reuse the generous amount they send you. The bottle is even labeled on top with the holiday so you will always know what it is for. The self-igniting charcoal disc is a well thought out accompaniment.
I
(Three Panel Sigil Chain)
Layer two opens to reveal one item, the Three Panel Sigil Chain made with kiln-fired birch rounds seems a bit…well birch is birch, and being birch it is delicate. I thought maybe the panels should be thicker so the chains don't split through the wood. Even though it seems a bit fragile, I believe if I am careful some paint and some free flowing ideas, a beautiful sigil it will make.
(Dried Corn Husk & Blueberry Sprig)
Layer three is the last layer and contains a Dried Corn Husk Bundle for Making Corn dolly with a Wild Blueberry Sprig. It came in such a neatly, tied bundle packaged in the bottom of the box. I like the idea of including a craft in the collection. Something you can, yourself make. It can be a great altar or house decoration. You could also use it to connect with your children and teach them about the sabbat by creating the Corn Dolly with your child. The only thing I might do different is include instructions on how to create a corn dolly, but those could easily be found on Pinterest, doing a Google Search, or other sites.
(Entirety of Box)
Our Overall Thoughts on WitchBox… It's a great box, with a very professional, put together look. The layers were tidy and added excitement to opening the package.
It is definitely filled with items to help you celebrate the Sabbat of the month in the correct fashion. For us it was Lughnasadh/Lammas and I felt every item pertained to the celebration. From information about the sabbat, to spells and rituals you can perform. It gives you materials to correspond with the holiday to use in any of your own workings, a lovely item to make into an altar decoration, and a fun craft to do.
The box does not come with instructions on what to do with the items it contains, that is up to you, what you would like to use them for. For example, you may use the incense in a ritual for the sabbat. It does come with a full comprehensive list of what is in the box, though, and the ingredients are listed for items which is very helpful to know.
The quality of the items is very good, like the large, beautiful smelling candle or the handmade incense. The only thing I mentioned is the birch circles could have been thicker. But overall everything is of very high quality.
Though the box may seem a bit pricey, I do understand why this box would cost as it does. In this business you must spend on packaging and supplies to be able to make your goods. Then there is the crafting/labor side that you do not get paid fairly for. Plus as Jessica White mentions (in the short interview to come), she is out daily foraging for her supplies. That adds even more labor you barely see compensation for. There are a lot of natural pieces in this box, the herbs in the incense, the wild blueberries, the herbs in the candle, the herbs in the flying ointment. The box is almost 100% handcrafted, and as we know handcrafters are never paid fairly.
If you are a witch with the financial means, a monthly subscription to WitchBox for $85 will not hurt your finances. It does come with items for the sabbat you would have to buy or could buy to celebrate the holiday, anyway. Their is a $40 version of WitchBox. It gives you a bit less, of what the $85 box contains. It contains some of the same items, so I am confident in saying they will be of great quality, as well. I would suggest going with the $85 box, however. You really do get more bang for your buck. You can check out both boxes here on WitchBox and decide for yourself.
WitchBox, I feel, is a reputable company PaganPagesOrg can stand behind.
So who is behind WitchBox and all the creative goodies inside?
Jessica White is the Founder & Sole Proprietor of WitchBox.co and an etsy store front, WhiteWitchhh, selling witchcraft supplies.
We recently had the opportunity to ask Jessica White a few questions about herself and her businesses.
PaganPagesOrg(PPO): Can you tell us a little about yourself. Where you are from? What path do you follow?
Jessica White(JW): I'm a Pagan witch and Massachusetts native. My family has been in Massachusetts since 1715, so I feel a strong connection to the early colonists of the new world who lived off the land, but there's an old world element to my practice as well.
PPO: How do you choose what goes into each Sabbat Box?
JW: The contents of each WitchBox depend on what the earth provides in the weeks before each sabbat. The contents are also based on research I do in various compendia of Celtic and Anglo Saxon writings, Ronald Hutton's research (and combing through his sources as well), and the needs of a modern witch.
In many ways, New England serves as a cultural bridge between the old world and new. In the Americas, many of us in the new world have lost touch with our agrarian roots through the generations, so we crave the folklore, traditions, and mysticism of our ancestors. The goal of WitchBox is to get subscribers closer to the land and the seasons, and to walk in our ancestors' footsteps in the modern day. I serve as your mediator with the land: I forage in the wild on an almost daily basis, respectfully harvest what Mother Earth provides in that season, and I use the wild materials in every WitchBox. 
PPO: How did the idea for WitchBox come about?
JW: I had the idea for WitchBox when someone on tumblr posted about wanting a witch subscription service. It was totally a "Eureka!" moment. Having seasonal affective disorder, I've always been very connected to the seasons, so I took the idea a step further and based WitchBox on the Wheel of the Year.
If you would like to contact Jessica White with any questions about WitchBox you can email her at:  [email protected]
To learn more about WitchBox visit: http://www.witchbox.co/
To see her shop WhiteWitchhh visit: https://www.etsy.com/shop/WhiteWitchhh
***
About the Author:
Jennifer Sacasa-Wright is an Eclectic Witch who runs PaganPagesOrg eMagazine. She has many opinions, thoughts, & suggestions, and, at times, has problems holding her tongue. She loves hearing your opinions and thoughts on the magazine and welcomes comments.
Egg Spells
Merry meet.
Eggs are one of Ostara's most prevalent associations. Like all seeds, it contains the promise of a new life. It is a potent symbol of fertility because it contains the power to become something: a chicken, a turtle, a bird, a fish. Eggs are a symbol of abundance, prosperity and the rebirth of nature. In some traditions, the entire universe is portrayed as an egg. That makes them very magickal.
At Ostara, the Wheel of the Year is perfectly balanced. Day and night are of equal length. Masculine and feminine, inner and outer, dark and light are also balanced as the world begins to come alive. Imbolc's whispered hopes become Ostara's actions. At this moment, the light defeats the dark. The power is expansive and exuberant.
To harness Ostara energy in a spell, let an egg be the seed that will bring forth your desires. Inscribe it with symbols, pictures or words for abundance, joy, healing, strength, security, laughter or whatever you can imagine and feel yourself possessing. Consider dying the egg in a corresponding color, such as green for abundance, fertility, or eco-magic; and red for will, strength, passion or purification. Yellow corresponds with laughter, thought, travel, communication, happiness, freedom and beginnings; while blue can be used for healing, compassion, love and dreams.
As you decorate the egg, infuse it with the feeling of already having these qualities, of having reached the goal or of having had the wishes come true. Clear your mind and hold the egg as you continue to add your energy to it with breath, song, dance or words, focusing on your desires and their place in your life.
Then, on Ostara night, bury it, perhaps in a garden, as an offering to Mother Earth, and know that as it transforms and feeds the earth, it feeds and transforms what you wish to manifest.
You can also use an egg as a spell bottle of sorts.
First, make holes at both ends of the egg and blow the contents into a small container to be used for recipes. Rinse out the empty shell and let it dry.
Write your spell on a piece of paper small enough that you can roll it up and slip it into the hole at one end of the egg. You might want to include symbols, anoint it with an oil related to your desires and perhaps include corresponding botanicals before rolling it up.
Once it is inside, seal the holes by dripping melted candle wax on them.
Place the egg at the base of a special tree and ask it to guard your workings, adding its strength to yours.
If you have other spells involving eggs, please share on our Facebook page so that we all might benefit from your experience.
Merry part. And merry meet again.
***
About the Author:
Lynn Woike was 50 – divorced and living on her own for the first time – before she consciously began practicing as a self taught solitary witch. She draws on an eclectic mix of old ways she has studied – from her Sicilian and Germanic heritage to Zen and astrology, the fae, Buddhism, Celtic, the Kabbalah, Norse and Native American – pulling from each as she is guided. She practices yoga, reads Tarot and uses Reiki. From the time she was little, she has loved stories, making her job as the editor of two monthly newspapers seem less than the work it is because of the stories she gets to tell. She lives with her large white cat, Pyewacket, in central Connecticut. You can follow her boards on Pinterest, and write to her at woikelynn at gmail dot com.
Celebrating the Old Ways in New Times Mabon 2017
Bright Blessings!
The harvest is in full force now. It is hard to believe it was just Lammas, and already, it is nearly Mabon!
Some of you are hard at work, gathering the fruits of your labor from your gardens, others, reflecting upon the fruits of your labors in your lives.
At my garden, we've had a very small harvest so far this year, but it's not over yet.
We got six zucchinis, and three cucumbers. One cucumber is left on the vine, and then I think I will be pulling them out of the ground, as they have turned mostly to brown crispy dried up leaves, with a few scattered bright gold blossoms. The sunflowers, however, are the stars of the garden. We planted giant ones that are about eight feet tall now.
Our tomatoes are just now starting to produce. We shall see how well we fare!
Since the last Sabbat, however, I have harvested much more, personally than my garden has. I have somehow been lucky enough to grow closer to some loved ones, and to get back in touch with some I've not visited with in quite some time.
A visit with a friend I met 22 years ago reminded me of how we die back, and rejuvenate ourselves after rest.
This friend is in her mid 70's, and died back for a bit when her husband passed. She's back in full force, the spitfire matron of her family, and she's out there running circles around many of us decades younger!
Not everybody has been as lucky as my friend. She was able to rebound from this horrible tragedy, and is still going strong. I know other people whose tragedies slowed them down much more, and they are still recovering, trying to get their lives back on track.
I told one such friend who is nearly recovered, that we need to strive to be like my matron friend! We have a lot of years ahead of us, hopefully, and we want them to be productive, happy, and blessed with the abundance of love, and prosperity.
It gave me a lot think about in regards to thankfulness, reaping what we sow, and good fortune. It also makes me think of how much we have to be thankful for from our elders.
All the things they did before us are the things we now build upon. Then, what we do adds to the foundations our children build their futures upon. Our elders shaped us so we could further shape others. Where would any of us be today without them?
Mabon is about the dying back of the god, who will be reborn, as does the earth. It is when day and night are equal, and afterwards, nights lengthen, creating shorter days. We move toward Samhain, the beginning of Winter.
The turning wheel of seasons and Sabbats reminds me of how, as human beings, we move through our own personal cycles. Time not being linear, we often come back around to what we began.
One way we do this is that, as we age and grow, we become wise, and share our wisdom with those we are mentoring. They in turn, mentor others. We become, for one another, the eternal and never-ending cycling life, and time, creating, and changing traditions, and sacred ways together.
This month…
I made the mistake of waiting until only a couple days of due date to start thinking of what I wanted to write about for this Sabbat! Likely, I will be a day or two late turning this article in! As usual, I pulled up the past couple years of articles to ensure I don't write about the exact same thing again.
It dawned on me I'd only read of Mabon ap Modron. I knew we called the Sabbat Mabon, and yet I've never met a devotee of his, nor have I attended ritual that specifically venerated him. I was reminded that one of the early Wiccans, Aidan Kelly named the Sabbat Mabon…and lucky for me, he is on my friends list on Facebook. I say that he is one of my elders being what I consider a founder, and I consider him an elder of everybody who calls themselves Wiccan today. We are more than blessed for all he is done, and very lucky he is still there for us.
He was kind enough to agree to let me ask questions and include what he answered in this article.
First, a bit about him.
Aidan Kelly
A picture when Aidan Kelly was younger- even younger than I am!
A more recent photo of him!
Born in 1940, Kelly is known by many as one of the co-founders of Covenant of the Goddess, and the writer and researcher for the New Reformed Orthodox Order of the Golden Dawn.
I, however, first heard about him from my Priest, Lord Shadow, who is a strong believer in dispelling all forms of bullshit. He spoke highly of Kelly's publication Crafting the Art of Magic, which enjoyed a second edition in 2008 as Inventing Witchcraft.
This publication gave evidence that Wicca was created by Gardner, and showed where he got inspiration for certain things used in it. For example, there are some things that were garnered from sources like Crowley, which were in no way an unbroken set of practices from pre-Xtian British practice. Kelly listed plenty of reasons there is no evidence Gardner was actually initiated in 1939 by an established coven as he claimed.
Some people were highly pissed off by this.
Some said Kelly published secret information from Gardner's Book of Shadows, supposed to be for Coven members only.
I always get a kick out of how somebody could be upset by the public having knowledge of Gardner's work since he actively published so "secret" information, himself. There were actually early Wiccans who were quite upset Gardner spoke so publicly about Wicca, and they, personally were concerned about being outed from the broom closet. Much could be written on just this topic itself.
You can find Gardner's Book of Shadows to read for free on Sacred-texts.com. Better yet, I will provide the link here. I am sure plenty of Gardnerians have personal Books of Shadows that are different from this one, however, as some create their own Books.
http://www.sacred-texts.com/pag/gbos/index.htm
Gardner also drew much inspiration from Margaret Alice Murray's writings. She had been a prominent Egyptologist, and her claims the witch trials were persecuting actual practices were not well received by everybody. Gardner was, however, more than inspired by her claims.
While some hold fast the belief what we do in Wicca is what has always been done, others reject the idea that Wicca was the folk religion of ancient Britain that went underground during "burning times". Many assert it is modern practice, created in modern times, and inspired by modern writings, interpretation of ancient lore, and the very creative minds of Gardner and others.
Just because it's neo practice, and an attempt to revive veneration of these old gods does not make it any less valid to many of us. With the evidence out there that Gardner created Wicca, and others like Doreen Valiente helped polish it, I have never understood the need some have to believe Wicca is a carbon copy of pre-Xtian Pagan practice. Wicca today is changing, and means many different things to many different people. Fifty years from now, it will be even more different. Wicca is a living tradition, and that means it evolves, which suits the people who practice it. That's a good thing.
Thankfully, Kelly, himself is still teaching and writing various topics, and he's sharing the beautiful poetry he composes.
Here is the short interview I did with him about Mabon.
Mabon Interview of Aidan Kelly
Saoirse– "Why, specifically did you name the Sabbat Mabon is my big question?"
Kelly– "Archaeological and mythological evidence is that the fall equinox is an ancient ( at least 5k years) fest associated with death and rebirth of a young person (Kore, Issac) . Mabon is the only one I could find in the Northern myths."
Saoirse– " I was marveling that I have NEVER met a devotee to that god, however, I have attended plenty of Mabon rites. I am wondering if you think this is typical these days, and Neo-Pagans have broadened pantheons?"
Kelly– "Actually, he is a minor character in an obscure tale in the Mabinogin, so that's not surprising. But lots of people want to argue that he should be honored on some other Sabbat, because they don't get what question I was asking."
Saoirse– "And what was the question you were asking?"
Kelly– "What myth about a child rescued from death night have been associated with the equinox in Northern cultures?"
Saoirse– "And Mabon was, absolutely. That is interesting that although we don't venerate Mabon specifically, we call it Mabon anyhow in the rites I have seen, the god who dies is not named- he is just called the god."
Kelly– "We have the four Gaelic names for the Celtic Sabbats, but only three Saxon names for the other four, which are far older. I wanted a name poetically parallel to Yule, Eostre, and Litha. I would have preferred a Saxon name, but could not find one. And Mabon ap Modren means "son of the mother" just as Kore (girl) is "daughter of the mother." 
Saoirse– "I am thinking Balder, except he was not resurrected- unfortunately
What initial reactions did people have to your naming it Mabon? Did those reactions change over time?"
Kelly– "I used the name in the "Pagan-Craft" calendar I was putting out in 1974 (first of its kind, AFAIK), sent a copy to Oberon. He liked it, started using it in Green Egg, and it went the 1970s equivalent of viral. I don't remember when I started getting arguments, because they are not important enough to qualify for being remembered."
Saoirse– "I agree! Did you specifically write Autumnal Equinox rites that included Mabon ap Modron? Or had you attended any? I have not, myself, and I am wondering what you feel would be appropriate in ritual?"
Kelly– "No, our Mabon Sabbat is a commemoration of the Eleusinian Mysteries and so is focused on Kore/Persphone, with Demeter, Hades, Hermes, and Hekate and a couple of other gpoddesses in supporting roles."
Then, Kelly was good enough to scan, and send me a copy of the ritual, which I will share here. It is a full eighteen pages long!
So, before I share it, I will share my suggested working if you don't want to use Kelly's, that is!
Before you read the rituals, here is the link to last years article I did for Mabon, which has a little more historic information.
http://paganpages.org/content/2016/09/celebrating-the-old-ways-in-new-times-22/
******************
Saoirse's 2017 Mabon Working
I suggest an honoring of an elder.
How you do this all depends on what your own particular elder appreciates.
For me, I'm baking my Priest a pie. He loves my pies.
Some like to be taken out for dinner. Some just like a visit.
If however, you prefer an actual ritual, I suggest a blessing of your elder.
Unless you have your own way of doing this, I suggest a simple way of doing so.
You may prefer to do this with just the two of you, or you may do so before a group.
I love to do blessing rites at night, and by candlelight, or around a fire outdoors, personally.
Use whatever oil you deem appropriate for anointing. Be aware some people have sensitive skin, and some essential oils will burn skin if applied full strength. You can use a drop or two of your chosen oil with light olive oil, or just use olive oil, itself, which you can easily say a prayer over to bless.
Select the incense you feel is appropriate. I prefer Nag Champa for everything, personally. It's a sandalwood blend which I use to cleanse and bless.
Select the appropriate candle. I use plain old white tealights.
Then, you will need a small bowl of water. Some people buy filtered water for this. I just use tap water, myself.
For this working, I do not suggest blessing the materials used first, because YOU are the one doing the blessing, and the materials you use to represent the elements are just representations of your, personal blessing. I realize not everybody feels his way about magical materials. If you feel more comfortable blessing the items beforehand, I agree you should do so in your own way.
You will light the candle first, then light the incense from the candle. Place the candle, incense, oil, and water on your chosen table, or altar.
Standing or sitting by your elder, tell them how much they mean to you. Tell them how thankful you are to them. (You might want to have a box of kleenex handy!)
Pick up the incense. Smudge your elder with this, and say "You are a lifegiver, breathing your wisdom and words of truth into me. I will never be lost in ignorance or confusion thanks to your words. Because of all you have taught me, I will be as a voice of truth, and teach others. " Put the incense back in its place on your altar.
Then hold the candle up before your elder, and say, "You are a beacon in the darkness, lighting the way for me. I will never be lost in the dark thanks to your love and guidance. Because of all you have done for me, and taught me, I will be as a bright light to guide others." Replace the candle on the altar.
Pick up the water, and you don't want to splash a lot on your elder. Just dab a few dots of it on them here and there, or sprinkle it around them. Say, " You fill me with the waters of life. Because of you, I will never be empty. I will never thirst. Because of all the life you have filled me with, I will go forth, and fill others." Replace the water in its place on the table.
Pick up the oil. Put a little drop of it on your thumb, and trace your sacred symbol on their forehead. Mine is of course, the pentagram, yours might be something else. As you trace your symbol, say, "My beloved elder, I bless you in the name of our faith and our gods. May you be blessed with good health, great wealth, long life, and great love. Blessed Be."
And then feed them something yummy!
****************
Aiden's Kelly's Elusinian Ritual for Mabon Sabbat 
This is a total of 18 pages, and was kindly provided for education including footnotes! Kelly wrote this, including the poetry, and its first full scale performance was in 1973. Blessed Mabon, and Blessed Be!
H. The Eleusinian ritual for the Mabon Sabbat
Celebrants:
Singing parts:
White Priestess, or Priestess of Jana;
Green Priestess, or Priestess of Sophia;
Black Priestess, or Priestess of Persephone;
The Black Man;
Dancing parts:
Kore;
Demeter;
Persephone;
Hades.
After all have been gathered into a circle, the Black Man makes needed announcements, such as about "Rain/Grow" and what to do with candles. The normal NROOGD Opening is then done, down through the Calling of the Quarters. At that point, with the Black Man still holding the sword in the center of the circle, the special ritual begins.
BLACK MAN/HERMES
[First Speech of the Sacred Herald]
It happened one day that the Lord of All Unseen was driving his char­iot around the boundaries of Sicily, checking the firmness of its foundations, to be sure that the giant who is pinned beneath the island could not tear it up, and so expose those who dwell below to the frightening rays of the Sun. As he drove, he was seen by the Lady of Mount Eryx, whom some call Aphrodite, and some call Perse­phone, as she sat upon her airy throne.
WHITE PRIESTESS [Music #1, Venus's Song]1
Here I sit upon my hill,
Maiden of every young man's dream,
But I am living proof, my love,
That women are rarely what they seem.
For here I am the Queen of Death
And yet the Queen of Love:
My right hand holds the pomegranate
And my left, the dove.
I dance in many masks for men,
Sing many songs, play many parts,
And by my hands tell who I am,
Just before I break your heart.
I am the White Lady of your dreams
Whom you both long and fear to seize.
I lead you on through silver lands
Of singing stones and melting trees.
Wherever you look, you see me there:
Aphrodite on her shell,
Luna sailing through the leaves,
Persephone in Hell.
And now, my love, a tale we'll tell
Of lovely wars and witty strife:
As poets always have foretold,
Death will be overcome by life.
This mountain is an organ pipe:
Beneath it Typhon groans and shakes
Where Zeus has trapped him for his crimes,
Breathing fire and belching quakes.
Hades, Lord of All Unseen,
Rides around the island's coasts,
Fearing the quakes will let in light
To terrify his subject ghosts.
So, love, go pierce his gloomy heart
And let him chase me by the shore
Until I turn and capture him
And win the last third of my war.2
BLACK MAN/HERMES
And so, resolving to regain the rest of her former realm, she dis­patched her Eros to pierce his heart. Thus it happened that, heart­sore and lonely, Hades came to Zeus, to ask for the hand of Kore, the only daughter of Zeus and Demeter; and Zeus, for his own reasons, gave his permission.
Soon afterward Kore was out one day, gathering flowers beside the sea with her companions, the daughters of the ocean. Suddenly, wild a wild clamor, there appeared a great golden chariot. Its driver scooped Kore up in his arms, and disappeared with her into a chasm that opened in the earth.
Demeter, her mother, hearing Kore's fading cry, ran to find her, but she was nowhere to be seen. Demeter searched over the entire world, until finally, weary and despairing, she came to Eleusis, in disguise, and accepted a position as nursemaid to the King's infant son. In gratitude for the royal family's hospitality, she began the make the child immortal, by laying him in the fire every night. But one night the Queen came upon them, and screamed in terror. In sud­den anger Demeter cast the child upon the ground, and told the Queen that her child would remain mortal. Then, revealing her true iden­tity, she ordered that a temple be built for her and that the myster­ies of Eleusis be founded.
BLACK MAN/HERMES raises sword and sings the following as recitatif.
[Music #2, Agyrmos]
Keep solemn silence! Keep solemn silence! We sing, to Demeter and Kore, to Her who bears fair offspring, to the nourisher of youth, to the wealthy one, and to the threefold Graces. If your tongue is comprehensible, and no blood is on your soul, attend! Attend! For here we begin the mysteries of the Twofold Goddess, and of Her gift to mankind, that death is no longer our evil. To all who do this with us, abundant good shall come. Io! Evohe!
The BLACK MAN/HERMES steps back to the altar, and the three priestesses step forward.
[Music #3, Kore's Song]
GREEN PRIESTESS
Cora, my child, so gentle and wild,
Dance, while flowers sing praises for you.
Kore dances into center of circle and continues dancing.
Soon you must pass into woman's knowledge;
Dance in your innocence, soon to be lost.
BLACK PRIESTESS
The Gods have their plans, despite those of man,
For all of nature depends on changing.
You have been chosen to turn the seasons:
Soon will the Lord of the Night share his throne.
WHITE PRIESTESS
Behold, He comes, the Lord of the Drum,
Hades dances into circle; he and Kore dance a duet of seduction.
With his brilliant white hair and laughter.
He who rules Death is the perfect lover:
He brings you flowers though snow's on the ground.
ALL THREE PRIESTESSES
Persephone, what do you see
From your throne in the land of secrets?
The flowers of summer have long since faded;
Yet even in winter there's fire in the ground.
Hades and Kore conclude their duet by dancing out of the circle and down to the sea. The priestesses return to the altar.
[Music #4, Demeter's Dance of Grief]
DEMETER
dances into circle and mimes a search for her daughter, then lights her two torches at the cauldron. She gestures all to come forward to light their candles, then leads all down to the sea.
BLACK MAN/HERMES
To the sea! To the sea! Haladay mustai!
At the sea, BLACK MAN/HERMES halts the procession.
DEMETER
plants her torches in the sand, strips, and plunges into the sea. Rising from the sea, she stands briefly between the torches, then her attendants wrap her in towels, then replace her robe. Picking up her torches, she now leads the procession on a devious path to the underworld.
At the entrance to the underworld, all are instructed to put out their candles as soon as they have found a place to stand inside. The next speech is said in the dark, as bullroarers sound.
BLACK MAN/HERMES
Here, in the lands below the earth,
We come to seek a recompense.
A girl is dead. That's clear,
And all too close to home, for every time
We ask "What does it mean?" and, being human,
Cannot rest until we have an answer.
For behold! Demeter, the mother of all life,
In rage at the loss of her daughter,
Has sealed herself up in her temple,
And all life has slowed and stopped.
Here time itself stands still.
But now Zeus nods, the knot unties,
The balance is transcended.
For it is not Kore who's restored, but us:
It is Persephone who comes, and she is every girl
Who faces a door she must go through,
Through which she can never return.
Hear the mystery of Eleusis!
The Queen of the Dead is the source of our life!
sings, to tune of Music #1
Our Lady is the Queen of Death,
And yet the Queen of Love:
Her right hand holds the pomegranate,
And her left, the dove.
[Music #5, Proclamation of the Mystery]
Holy Brimo, the raging slayer, has born the holy child, Brimos, in fire!
The mighty Goddess has given birth to the mighty God!
Io! Evohe!
All sing back "Io! Evohe!" and orchestra immediately breaks into Persephone's Dance.
[Music #6, Hymn to Victorious Persephone]
ALL
Khaire, Persephone Nike!
At the crash of the gong, the underworld is flooded with light; Persephone leaps into view and dances wildly to the music of the hymn.
Who is great in the sheaves of the last of the wheat
When the mowers cut it all down!
She is the one with the power!
She will dance on the skulls of the last of the great
As they turn to honey and wine.
She holds the branch of renewal!
For the sword cuts the branch to the ground in the fall
But the branch will blossom in spring.
Hail to the dance of the Black One!
She has trampled on death and has shown us the path
That will bring us each to rebirth!
BLACK MAN/HERMES
Make way for the Queen of Hell!
Persephone marches out, followed by the BLACK MAN/HERMES. She takes one torch and begins to lead the procession back to the circle.
BLACK MAN/HERMES uses other torch to relight everyone's candles, then joins end of procession, followed by the musicians. Back at the circle site, Persephone continues dancing as the circle reforms. When it is complete, BLACK MAN/HERMES signals the musicians to silence.
Persephone draws an ear of wheat or corn from her bosom and holds it aloft for all to see. Demeter screams in anguish as Hades crawls forward from under her skirt, then leaps to his feet and dances over to join Persephone in their Wedding Dance.
[Music #8, Marriage Song of Moon and Sun]
WHITE PRIESTESS
I am the white and somber wench,
Knife of the hunter,
New of the moon.
I climb the hill of the changing halves
And burn in leaves of the verging trees.
Leap of the shadow,
Flash of the arrow,
Crimson and silver I reap and weave.
BLACK MAN/HERMES
I am the gold and amber man,
Sired by the sun,
Born of the moon.
I slay the Gorgon for my shield
And take the musing Moon to wife.
Sword of the father,
Wand of the mother,
Sunwise and whirling I ride the sea.
GREEN PRIESTESS
I am the green and secret wife,
Fire of the wedding,
Bells of the sea.
I wind the round of the breeding moon,
O furrow the earth beneath my knees!
Blue of the harpers,
Gold of the pipers,
Threefold and singing I plow the seed.
BLACK MAN/HERMES
I am the iron and scarlet man,
Blow of the hammer,
Cry of the steel.
I riddle the secrets of the trees
and lead the dance of the harvest moon.
Forge of the mother,
Spark of the maker,
Fourfold and lightning in every nerve.
BLACK PRIESTESS
I am the black and comely bitch,
Pipes of the crescent,
Beats of the Earth.
I stir the fire of the howling night
and bless the cup of the fertile seas
Gongs of the dancers,
Flames of the banners,
Sunwise in silence I clear and sow.
BLACK MAN/HERMES
I am the black and violet man,
Branch of renewal,
Words of the owl.
I guide the track of the spiral dance
Across the sky and under the waves.
Mask of the hero
Reversed in a mirror,
I am the reaper who stays to sow.
BLACK MAN/HERMES AND GREEN PRIESTESS
now charge the "eggs and tea": chopped hard-boiled eggs in a tambourine or other drum, and the "kykeon" (mixture) tea in a cymbal.
[Music #9, Blessing of the Offerings]
BLACK MAN/HERMES
When Her name is memory, Her voices are a choir.
They stir the cup of music, of poetry and fire.
GREEN PRIESTESS
And when Her name is Mystery, She brews the cup that sings,
"All who drink shall be reborn;
All shall have the gift of kings."
BLACK MAN/HERMES AND GREEN PRIESTESS
She stands before, she stands beside:
The Maiden has become the Guide.
The spiral dance, the egg of life
Replace the apple and the knife.
The priestesses and any helpers now serve the eggs and tea around the circle.
Demeter brings a vessel of water to the center, and three times casts a handful of water into the air. Each time she does so, Black Man/Hermes cries out loudly
Rain!
ALL
Grow!3
[Music #10, Blessing of the Initiates]
BLACK PRIESTESS
There is an immortality
Of the spirit and the body and the mind,
And all three immortalities
Are my gift to mankind.
There is always more; there is no end.
So rejoice! For death cannot win!
BLACK MAN/HERMES
Whenever the serpent begets the bull,
The bull will father the serpent.4
ALL
Blessed be they who have seen beneath the surface of the world.
They have seen the end of life, and its Goddess-sent beginning.
Thrice blessÇd5 are they who have seen these mysteries,
For when they go to the house of the Unseen Lord,
They alone shall live in happiness.
But those who have never shared in such holy rites
Will suffer every sorrow in that house,
Until they fade away into the darkness.6
BLACK MAN/HERMES
Sing each phrase back to me after I sing it to you.
[Music #11, Marturo hos Pepoika]
I have fasted.
I have drunk the kykeon.
I have eaten from the drum.
I have drunk from the cymbal.
I have entered the wedding chamber.
A kid, I have fallen into milk.
I have seen beneath the surface of the world.
I have seen the end of life
And its Goddess-sent beginning
And they are the same.
I am an initiate of mysteries.
I shall not fade away.
Evohe!
ALL
Evohe!
The ritual now ends with the normal NROOGD "Grounding and Opening of the Circle."
Important Links:
Covenant of the Goddess's Facebook Page
Covenant of the Goddess's Web Page
Appendix to the Sabbats: Eleusinian Mysteries
The most important Athenian festival was that of the Eleusinian Mysteries, which have intrigued scholars for centuries: because the contents of the Mysteries were an Athenian state secret, we cannot be sure we have any clear idea of what happened during them. The Mysteries fell into two periods: the earlier, in Anthesterion, was called the Lesser Mysteries, and probably involved a ritual or drama about the life, death, and resurrection of Dionysos; the later, in Boedromion, was called the Greater Mysteries, and was definitely centered on the myth of the Rape of Persephone, as told in the Greek poem called the Homeric Hymn To Demeter. It has often been thought that initiation into the Lesser Mysteries was required before initiation into the Greater Mysteries, but this does not seem feasible, since in Roman times many people came from around the Empire in Boedromion to be initiated at the Greater Mysteries. (Of course, it could be that the earlier requirements were liberalized during the Imperial period.)
The Mysteries, according to both Greek legend and archaeological data, originated around 1500 B.C.E., give or take many decades, and were at least in part imported from Crete. Preserved by the local families, the Mysteries underwent a theological reform, as evidenced by the Homeric Hymn To Demeter, around 700 B.C.E., that is, at about the same time that the Athenians annexed Eleusis to their state and made the Mysteries the official religion of the Athenian empire. The Mysteries remained the central rite of Greco-Roman paganism — every civilized person tried to make the pilgrimage to Eleusis at least once in a lifetime, just as Muslims now make their Hajj to Mecca — until the fifth century C.E., when an army of Christian monks was sent in by the Byzantine emperor to tear the buildings at Eleusis down to the ground brick by brick, in order to prevent the people from going there, as they had continued to do.7
Despite the famous "secrecy" of the Mysteries, it was no more effective than the current "secrecy" of the Craft movement. We have more data about Eleusis than about any other pagan religion of antiq­uity, and we almost certainly do know what was done there. There is a famous story that Aeschylus, who was a native of Eleusis, as soon as his first tragedy had been produced, was called before a council of priests and accused of giving away the secret of the mysteries. Aes­chylus, however, responded, "I didn't know it was a secret"8 — which became a catchphrase in the classical world — and proceeded to dem­onstrate that, since he had never been initiated, it was the council of priests who were giving him information they were oathbound not to reveal (a position I have found myself in relative to the more ortho­dox Gardnerians). He was acquited, of course, and the Eleusinian families then proceeded to adopt the new costumes that Aeschylus had designed for his actors as the official ceremonial robes for the Mys­teries9: even in the classical world, life imitated art. Since this very first tragedy would have enacted scenes perfectly familiar to us from the Greek myths, we do know what happened at Eleusis — but since we don't know even the title of that first tragedy, we don't know exactly which myth holds the secret. Still, it is possible to make some educated guesses, and I believe that Professor Walter Burkert of Zürich has broken the code.
Month 3. Boedromion, "month of helpers," 30 days; began in August or September.
5 — Genesia = Nekusia = Nemesia, the clans' feast of the dead.10 On the Proerosia see Clinton p. 22. In "the ritual of the sacred plowing observed at Eleusis, . . . members of the old priestly family known as the Bouzygai or Ox-yokers uttered many curses as they guided the plough down the furrows of the Rarian plain."11 That "fair-tressed Demeter, yielding to her passion, lay in love with Iasion in the thrice-plowed field" (Odyssey 5.125-7) is the mythic analog to the folk ritual worked at this festival. As Plutarch (Moralia 144) comments about the three sacred plowings, "most sacred of all such sowings is the marital sowing and plowing for the procreation of children." Obviously this Greek ritual, at the beginning of their growing season, is quite parallel to those in northern Europe associated with Beltane.
11 — The epheboi sacrifice a bull to Dionysos, under direction of the archon.12
13 — Preparations for the Eleusinian Mysteries begin: a troop of epheboi, perhaps having been purified at the Nekusia, in their "customary dress," march from Athens to Eleusis.
14 — The epheboi escort the priestesses, and probably the other officials, from Eleusis to Athens. The priestesses carry the sacral items kept at Eleusis to the Eleusinion at the foot of the Acropolis.13 They halt for a rest at the "Sacred Figtree" in the suburbs of Athens.14
15 — This day was the Agyrmos, "assembly," which was, according to Hesychius, the first day of the Mysteries. The Archon Basileus summoned the people to the Painted Porch to hear the Hierokeryx, the sacred herald of Eleusis, in the presence of the Hierophant and the Dadouches, call, "Keep solemn silence. Keep solemn silence. We pray to Demeter and Kore, and to Ploutos and to all the other gods, for here we begin the Mysteries of the Twofold Goddess . . . "15 The Hierophant then declared, "I speak to those who lawfully may hear: depart, all who are profane, and close the gates. . . . If your hands are impure or your tongue unintelligible, I charge you once, I charge you twice, I charge you thrice to stay away from the sacred dance of the chorus of initiates. Let all others who believe in the Two Goddesses perform the Mysteries, under the blessing of Heaven. Lady Demeter, nourisher of our souls, make us all worthy to celebrate your Mysteries."16 He also apparently declared that initiates (at least for the duration of the festival) had to abstain from the flesh of barnyard fowl, eggs, fish, beans, pomegranates, and apples (these seem to be the rules of the nine-day "fast" that probably began on this day), and that touching these things made a person as taboo as touching a woman in childbirth or a corpse.17 He then probably announced, "At our sacred Mysteries, all Hellenes shall offer first fruits of their crops, according to ancestral usage. . . . To those who do these things shall come much good, both good and abundant crops, to whomever does not injure the Athenians, or the city of Athens, or the Two Goddesses," that is, Demeter and Kore.18
16 — Synoekia: sacrifice of 2 oxen to Zeus Phratrios and Athena Phratria, "of the clans."19 On this day the cry was Halade mustai20, "Initiates, to the sea!" All who were going to be initiated had to walk the six miles to Piraeus, driving a piglet before them, be purified in the sea with the pig21, then drive it back to Athens. We can be sure the day's events were not overly dignified. It was to this day that Athenaeus (13, 590) referred when he wrote, "Phryne [a famous courtesan] was even more beautiful in her unseen parts. . . . At the great assmbly of the Eleusinia and at the festival of Poseidon, in full sight of the whole Greek world, she removed her cloak and let down her long hair before she stepped into the water. It was she whom Apelles took as the model for his `Aphrodite Rising from the Sea.'" (This passage is especially valuable in proving Aphrodite's connection with the Eleusinian Mysteries.) Clement of Alexandria, in revealing what he says are the secrets of the Mysteries, begins with Aphrodite, saying, "a cake of salt and a phallus are given to the initiates, . . . who bring the tribute of a coin to the Goddess, as lovers do to a mistress."22
17 — A sow is officially sacrificed to the Two Goddesses in their temple in Athens. Each initiate sacrifices a sheep, whose fleece is needed for the initiation, as well as the purified piglet.23
18 — The initiates remain indoors, preparing the Kykeon, "mixture," a tea of barley and mint, and baking pastries, probably in the shapes associeted with fertility. Outdoors, the uninitiated engage in a procession honoring Asklepios, and pour libations to Dionysos.24
19 — Early in the day the initiates, the Eleusinian officials, and all others gather in the main square of Athens, all wearing myrtle wreaths and white robes or other special garb; the priests and priestesses wore red or purple cloaks, and the Hierophant and Dadouches wore a strophion (a twisted piece of cloth, worn like a sash) and had long hair.25 The statue of Iakkhos (in late class­ical times thought to be Dionysos as an infant) is brought from the Iakkhaion, to be carried on its annual visit to Eleusis. The same band of epheboi (obviously an "honor guard") serve as an escort for the Eleusinian priestesses, carrying the sacra, in baskets on their heads, back to Eleusis to begin the celebration of the Mysteries. The procession is headed by the pais ap' hestia, the "child initiated from the hearth," whose initiation was paid for by the state26, and who represented the entire Athenian people; he or she wore a garment that left the right shoulder bare, and a short chiton (to just above the knee), carried a myrtle staff, and was followed by all the other such children from preceding years who had not yet reached adulthood.27 Everyone in the procession wore a myrtle wreath on his or her head. The 14-mile procession to Eleusis begins, passing out of Athens via the portico at the Keramicos. There are many stops for resting and performing rituals at places along the way thought to figure in Demeter's search for the lost Kore. One is a sanctuary devoted to Zephyrus, Demeter, Kore, Athena, and Poseidon, at the place where Phytalus invited Demeter into his home to rest, in reward for which she give him the fig tree.28
At the Kephisos bridge, the crowd is entertained by a woman who plays the part of Baubo or Iambe, telling "obscene" jokes and performing "obscene" dances (which certainly included exposing her genitals to the crowd).29 There was apparently another purification in the salt lakes, the Rheitoi,30 and after crossing the narrow Rheitos bridge, the Initiates apparently were challenged by priests and had to give passwords, then had a thread tied between the right hand and left foot.31 We can also suppose that Aristophanes' rather mild parody in The Frogs, lines 324-459, gives us a very good idea of what was actually sung during the procession to Eleusis.
20 — At sunset, when the next day began, torches were lit, and because the Greeks would have used a 7/8 rhythm (or something similar) for a procession, it turned into a torchlit dance. It may well be that they now went not directly into Eleusis, but instead down to the beach, where there may have been a ritual concerning Aphrodite, and where the initiates were probably sworn to secrecy by having the Hierophant's key placed upon their lips.32 The torchlit procession then proceeded up from the beach and into Eleusis proper.33
The first event within the sacred grounds of Eleusis was probably a women's dance around the Kallichoron, the "well of fair dances," where Demeter was believed to have sat and mourned. The next would have been the Kernophoria, the offering of first fruits carried in the traditional kernos (a vase with multiple chambers), in the small temples of Demeter, Persephone, and Ploutos in the Eleusinian precinct — and offerings to chthonian deities were normally carried out at or after sunset.34
21 — On the day of the 20th and on through the 21st, the initiates were probably taken blindfolded through a series of purifications and consecrations one at a time. They probably each had a guide who had been initiated in a preceding year35, who could actually now see the procedures and so became known as an Epopt, "wit­ness." We have descriptions and vase paintings of candidates seated on a low throne, with left foot on a fleece, veiled and holding a torch, with a priestess holding a winnowing basket overhead, then with priests and/or priestesses dancing in a circle and singing around them.36 Judging from the "password" quoted by Clement of Alexandria — "I have fasted; I have drunk the kykeon; having worked with what I took from the basket, I placed it in the chest, then back in the basket" — each initiate must have worked some ritual with some of the sacral objects in the baskets that the priestesses carried on their heads in the procession. Clement also lists what these objects were: sesame cakes, pyramidal and spherical cakes, cakes with many navels, balls of salt, a Dionysian snake (which is obviously a phallic symbol), pomegranates, fig branches, fennel stalks, ivy leaves, round cakes, poppies, marjoram, a lamp, a sword, and a "comb," which Clement explains is a euphemism for something that represents the female genitals.37 Perhaps the ritual worked involved placing the phallic symbol in the vaginal symbol, as some scholars have guessed, but obviously innumerable different kinds of rituals were possible with such objects.
22 — The central event in the Mysteries was a night-long ritual in the Telesterion, the Hall of Initiation, and this was the logical night for it to have happened. The initiates stood on raised steps around the edges of the Telesterion, and saw and heard something like a ritual drama.38 As Plutarch describes, "Just as persons who are being initiated into the Mysteries throng together at the outset amid tumult and shouting, and jostle against one another, but when the holy rites are being performed and disclosed, the people are immediately attentive in awe and silence . . . he who has succeeded in getting inside and has seen a great light, as though a shrine were opened, adopts another bearing, of silence and amazement, and, humble and orderly, attends upon" the gods.39 Similarly, Dio Chrysotom says, "This is like placing a man in a mystic shrine of extraordinary beauty and size to be initiated. There he would see many mystic sights and hear many mystic voices, light and darkness would appear to him alternately, and a thousand other things would occur."40 Galen mentions that an initiate would have given himself up "wholly to the things done and said by the Hierophants."41 Lucius of Apulia says of his own initiation, "I approached near to hell, even to the gates of Persephone, and after I was ravished throughout all the elements, I returned to my proper place. About midnight I saw the sun brightly shine. Likewise I saw the Gods celestial and infernal, before whom I presented myself and worshipped them."42 Perhaps this is metaphor, but it could easily be a description of a Craft initiation.
Proklos relates that, "In the most holy Mysteries, the initiates at first meet many sorts of spirits . . ., but on entering the interior of the temple, . . . they genuinely receive divine illumination, and divested of their garments [my italics] they participate in the divine nature."43 (Proklos, as a devout dualist, obviously disapproves, but I think it must look familiar to any modern Witch.)
It is very difficult to assign a sequence to the events that may have taken place in the Telesterion, but I think Harrison's logic holds water: the Sacred Marriage would probably have been celebrated before the birth of the Sacred Child.
Asterius44 wrote, "Isn't there the descent into darkness, the sacred intercourse of Hierophant with Priestess, he and her alone? Aren't the torches extinguished? Doesn't the vast assembly believe that what is done by the two in darkness is their salvation?" He was probably misinformed about Eleusis; yet his words describe precisely the attitude of Witches toward the Great Rite.
Apparently what happened next is that the doors of the central chamber, the Anaktoron, were thrown open in a flood of light from a great fire that could be seen for miles from the open roof of the Telesterion45, and the Hierophant appeared, displaying an ear of wheat to the silent crowd and shouting, "Holy Brimo has brought forth a mighty son, Brimos!"46 We know that the Hierophant displayed the "secret sacred objects" (and that is what his title means) kept in the Anaktoron, into which only he was allowed, as only the High Priest of Jerusalem was allowed into the innermost sanctuary in that temple; and that he had an extensive speaking or singing part in the proceedings, partly from within the Anaktoron.47 He may have carried the sacred objects around the Telesterion in a procession, followed by all the other priests and priestesses48; this would be parallel with the Torah procession in the synagogue. There was also much dancing; Lucian commented that there are no Mysteries without dancing, and that those who violate the secrecy of the Mysteries are said to "dance them out."49 With a rolling beat upon a gong that produces a roar louder than a jet plane,50 Persephone herself appeared — or so her priestess would have appeared, to the eyes of faith.51 Apparently her wedding to Hades was celebrated, for Michael Psellos asserts that the words, "I have eaten from the drum, I have drunk from the cymbal, I have carried the kernos, I have entered the bridal chamber," were sung as an accompaniment to the Anakalypteria of Kore; this term might mean only "unveiling" or "reappearance," but it is the common Greek term for a wedding.52
Walter Burkert also argues that another key event would have focused on the pais ap'hestia, the "child initiated from the hearth," who represented the Athenian people, and who was the ritual analog of the infant Demophon, "voice of the people," in the Eleusinian myth. Burkert argues that the child, doped with opium from Demeter's own poppies, was placed in a swing, and swung through the fire — but when the swing returned, in it was a ram, which was then sacrificed, and its fleece used for the next year's initiates. Obviously this ritual is related to the story of Abraham and Isaac, and it seems fitting that the same story should turn out to underlie both Greek and Hebrew religion, whose roots all go back to the eastern Mediterranean culture of ca. 1500 B.C.E. Burkert also feels that the key to the Greeks' strong feelings about the ritual at Eleusis is that during it they were formally adopted as children of Demeter — perhaps in a ritual that involved marching under her throne53 — so that when they went before Persephone's throne to be judged, they would be judged according to the rules for kin, not those for strangers — and that made all the difference in the world for Greeks.
23 — The final events at Eleusis included the rite of the Plemochoai, top-shaped vases, which were tipped over, one toward the east, the other toward the west, just about at sunset, to pour a libation down into the earth, perhaps into a chasm.54 It was probably also on this last day, and perhaps as part of the same ritual, that "looking up to the sky they cried `Rain!' and looking down at the earth they cried `Grow!'"55
***
About the Author:
Saoirse is a recovered Catholic.  I was called to the Old Ways at age 11, but I thought I was just fascinated with folklore. At age 19, I was called again, but I thought I was just a history buff, and could not explain the soul yearnings I got when I saw images of the Standing Stones in the Motherland. At age 29, I crossed over into New Age studies, and finally Wicca a couple years later. My name is Saoirse, pronounced like (Sare) and (Shah) Gaelic for freedom. The gods I serve are Odin and Nerthus. I speak with Freyja , Norder, and Thunor as well. The Bawon has been with me since I was a small child, and Rangda has been with me since the days I was still Catholic. I received my 0 and 1 Degree in an Eclectic Wiccan tradition, and my Elder is Lord Shadow. We practice in Columbus, Ohio. I am currently focusing more on my personal growth, and working towards a Second and Third Degree with Shadow. I received a writing degree from Otterbein University back in 2000. I have written arts columns for the Arts Council in Westerville. I give private tarot readings and can be reached through my Facebook page Tarot with Saoirse. You can, also, join me on my Youtube Channel.