Saoirse May 1st, 2019
May 2019 for Celebrating the Old Ways in New Times
Bright
Blessings
I
write this with a sore back from beginning the garden. I have planted
seeds for snow peas, radishes, milkweed, and sunflowers so far, and a
few packs of annuals as well. I nabbed more seeds, ordered three more
seed catalogs, and got a couple of hot pink pots!
Not
bad for the first week of gardening.
This
year, I am doing the unthinkable! I am killing a mint plant!
I'm
doing it so I can pull a shrub behind it and use the space for more,
well…PLANTS! The roots of the mint would take over the space the
second the shrub is pulled, so the mint goes first!
I
planted it, against proper advice in the ground, instead of in a pot,
way back in 2006! It's a 13 year old plant, and it's not happy
with me, as I pour pan full after pan full of boiling water on it. I
am determined to do this with no chemicals, and with my bad back,
digging is not an option.
I
also got a start on my fork plantings. You read that right. Forks. I
have a schnauzer mix, and a little cat who like to LAY right on top
of my plants, but they can't if I have forks in the garden around
the plants, can they? Although the seeds have yet to sprout, I placed
48 brand new, shiny white plastic forks in the radish bed today. I'll
gather more later this week and finish.
Then,
I have more soil to buy, more pots, and some soil to lay around a
shady area where I will put more seeds.
A
garden witch never stops gardening!
Beltane
In
years past, I have written about historical observances not only in
Ireland, but also Wales. I've written about doing group, and
solitary ritual.
What
I have not written about, however, is to do a smaller-scale group
ritual for it utilizing some traditional practices, but not all of
them.
Much
focus in groups is on the May Queen and King, and the Maypole Dance.
This
time, I'll write the ritual I am going to use when my small group
of friends arrives.
Beltane
is a lot of things to a lot of different people. For me, it's a
very big deal, and sometimes, the only Sabbat I actually prepare for.
Here is an article from past years outlining a more complex ritual we used, and some more historical information as well.
This year, instead of focusing on historic meaning, I will talk about the things Spring does to our bodies that makes us feel good
Feel
So Good
What
is it about warmer days, and growing things that make us feel so much
better, and that make us look forward to it anyhow? Why do we feel
more energy, get sick less often, get out and do more, and just
overall, feel happier in warmer days?
Science!
Before
I list all of this, I will note I know people who have Seasonal
Affective Disorder in the warm months. Their bodies do not handle the
heat or strong sun well, and they crave Winter. I validate their
struggles, and understand they have these issues. This is called
Reverse Seasonal Affective Disorder.
This article breaks it down nicely, and explains it well.
What
my friends who have Reverse SAD have told me is they cannot
physically endure heat, strong light, and humidity in the humid
regions. Some have issues with insects eating them alive, and others
just can't sleep when it is warm or hot. Allergies from growing
plants can also absolutely destroy people.
For
the people who do not have issues with warmer days, and the things
that come along, several things happen that make us feel better!
More birdsong- It somehow promotes well-being. Further reinforcing the interconnectedness of all life us Witches and Pagans have known all about all along. Hearing that when you first wake up is amazing.
Longer days- Especially folk who struggle with vitamin D deficiency, these days are most welcome. Many of us get enough Vitamin D from food or supplements, but in warmer seasons, the sun gives us even more. Some have issues absorbing vitamins from food, and LIVE for days when they can soak up some sun. According to an awesome article, fair skinned folk can catch a few minutes of sun in the afternoon. People who are a darker tan, 15-20 minutes, and people who are dark need up to six times more sun exposure than fair skinned people. Here is the article I found that information in if you want to read more about the sun and its help with Vitamin D.
We get out and about more- Even though we have paved streets and walks, going out when the weather is yucky is just something we don't do as much of because it's a pain in the butt. There are nice events to attend, including festivals, outdoor concerts, and parties. Sabbats are held outdoors more often in warmer months, and a lot of people enjoy life more when they are going more places, and participating in more things.
Flowers and animals abound- Now, some of us love the look of nature no matter what the season, but you have to admit, unless pollen or allergies are killing you, getting out with flowers, trees, and seeing the animals out and about too creates a sense of well-being. The earth is teeming with life and activity, and as Pagans and Witches, we are sensitive to the life-forces of other beings, and it strengthens us. We are all connected.
Cold triggers pain- If you have injuries, joint issues, arthritis, back problems, etc, cold flares up that pain oftentimes, and warmer weather is easier on your body. Some of you know this all too well, and I wish complete healing, and no more pain for you!
Less illness- Being closed in to avoid cold keeps us in more close quarters with one another, and contagious viruses and bacteria enjoy jumping from person to person. As we are less cooped up when it starts getting warmer, we share less germs.
Basically,
for many of us, nature is easier on our bodies come Springtime than
it was in Winter, and thus we feel better, can do more things, and
enjoy ourselves more.
That's
a big reason to celebrate!
Before
I share my simple Beltane rite, I would like to share an interview I
was fortunate enough to have with a distinguished Pagan, and review
of an amazing Pagan ran establishment.
International
Pagan Radio and Onyx
International
Pagan Radio
International
Pagan Radio, or IPR is something I'd heard about because one of my
elders, Lady Brigid, has her own show, called Ask A Witch, on the
Radio. I knew it was a great organization, but I don't listen to
radio shows, because of my hearing loss.
Here is the online link to find IPR.
I did go and listen to it to review it, and the show I caught was our beloved Raven Grimassi and his loved one talking to listeners not too long before he crossed the veil. They were sharing their love and appreciation for all the support they have gotten from the community. It's like they knew he was about to cross over.
If
that is not enough to make you want to go listen right now, I can
tell you they have good music as well. Today is April 9, 2019, and
the agenda for today is Druidcast, The Magick Jukebox, and The Rift
and others. The available song is Black Swan Blues by SJ Tucker.
Honestly, this is something that every Pagan ought to know about, and
listen to. They have not only educational broadcasts, and music, but
messages from Pagans to Pagans. All for us by us! The best part is
the sound was crisp and clear, and I had no trouble hearing almost
everything, which is very good for me. You must go check out IPR
right away, and tell everybody about it!
Onyx
The
way I did this interview, as I do all my interviews is online. I send
questions, and the people either e-mail, or text me back. It's
worked out well, as I am hard of hearing, and they can send me
answers when they have time. Sometimes, we do a whole interview in an
hour or less, and sometimes, we send messages back and forth over a
course of days. I also get 100% accuracy, as I am not worried about
mishearing what they say! I can be lazy, and copy and paste as
opposed to typing it all out when it is time to submit the interview
to my editor also!
Some
people, most especially film makers, have flat out refused to do
e-mail or text interviewing, and I have found people who write are so
used to writing, that an online interview is right up their alley!
Onyx granted the online interview, and instead of answering one
question at a time, wrote a beautiful statement I am proud to share
with you here. It speaks for itself!
"I
was working as the station manager for another Pagan network that
operated on Blog Talk Radio in 2015. I was approached by a guy to
manage a streaming station as well. This streaming station was to be
launched under my supervision and management as International Pagan
Radio. I agreed to take the job if I could also bring along William
Brigley. William and I had met at another network, and we had been
working together for some time. We had also become very good friends.
The
agreement was that I would manage the station with total autonomy and
our benefactor would pay the bills. William and I set out to create a
website and build the station. The station originally operated with
only donated music. We would approach artists and ask them if they
would allow us to play their music without royalties. The benefactor
wanted us to keep the cost minimal.
About
six months after launch, our benefactor informed us that he could no
longer afford the station. William and I proposed that we take over
ownership to keep the station online. Our benefactor agreed to
release all rights to the station to us.
William
and I changed a few things about the station. We decided that it was
not fair to the artists to only play donated music. We created an
account with Sound Exchange for them to manage the distribution of
royalties. We pay them for this service, and they ensure that the
royalties are distributed properly.
I
am the station manager for IPR. My responsibilities include managing
the Sound Exchange account, the bank account, station schedule,
shows, and any advertisers we may encounter. I also manage the back
end of the website and domain. We do not actively seek advertisers
but do have a rate card available if asked.
William
is the media manager. His responsibilities include more of the
technical aspects, such as website design and implementation,
ensuring that all the songs have the correct metadata embedded so the
reporting system will pick them up properly (for royalty reporting to
Sound Exchange), contacting and maintaining relationships with
artists, image design, and training videos for hosts and artists.
William
and I are co-owners of the station and share the financial
responsibility for all expenses. We pay for the streaming service,
the domain, the website, and all royalties out of pocket. We have
entertained soliciting advertisers, but have not actively done so.
International
Pagan Radio reaches out to all parts of the world, and anyone with an
internet connection can listen to us. Most of the artists whose music
we play are from the United States. However, we have artists from the
United Kingdom, Italy, Germany, Australia, and Spain as well. In
addition to streaming music we also have several shows that can be
heard as well. Our shows are assigned a day of the week and are
streamed three times during that day to help ensure that fans in
differing time zones can catch the shows.
In
addition to our website, we also maintain a large Facebook presence.
We have both a public group and a page. In addition to our public
Facebook entities, we maintain private groups as well. We have one
group that is dedicated to the artists so they can interact with us
and each other. There is also a private group for the IPR team that
consists of the staff and the show hosts.
Neo-paganism
found me over three decades ago. I was raised primarily Southern
Baptist, but could never really internalize the teachings and
doctrine. When I encountered Neo-paganism it was like coming home
(yes, so cliché').
In
the past, I have been among the High Priesthood of a few different
traditions. I have established and ran several temples and covens
over the years. I have trained, initiated and elevated many others
along the way as well. Have officiated handfastings, legal marriages,
funerals, memorials, birthing, and naming ceremonies, and coming of
age rituals.
Currently,
I consider myself more of an Omniest than a Pagan. As an "Omniest"
I feel that wisdom is not limited to one religious form. I find
wisdom in all forms of religious expression. I tell folks that I am
an Omniest that chooses to express his spirituality through Neo-pagan
traditions and ritual.
I
am the father to three (two daughters and a son) and the grandfather
to one (a baby boy). I have lived in the Winston Salem, North
Carolina, area for just over ten years. Most of my childhood was
spent in the upstate area of South Carolina. The first twelve years
of my adult life was spent serving in the United States Army. Since
leaving the Army, I have worn many hats. I owned a metaphysical shop
for a few years until it was destroyed by fire. I have worked in big
box retail management, and also in executive sales.
I
hold both a bachelor's and a master's degree in psychology with a
specialization in conflict resolution. I am enrolled in a doctoral
course. However, I am currently taking a break from school work.
Hopefully, I will return to school shortly and complete the Doctor of
Psychology degree.
I
am not actively involved in the local Pagan community, so the station
is my ministry. I very much like the fact that we have listeners all
over the world and have heard from many of them. Many tell me that
this station is nearly their only contact with the Pagan community."
Many thanks to Onyx for sharing his beautiful story with us, and for all his good work for IPR!
The
Working
As
promised, I am sharing the working I will use when my soul kin come
to gather with me for our Beltane. I will have a team effort to bless
food and drink, and ask the powers that be for some good magic,
healing, and goodness all around at this time of life, beginnings,
and great strength.
Here
is the working.
Have
two volunteers stand at either side of the entryway of where you have
your rite. For me, it will be my front door. You can do male and
female to keep with Wiccan practice, representing Mother Goddess and
Father God, but for me, it is going to depend on who is there and who
wants to volunteer.
These
two people will each hold something to bless with. It could be a
stick of incense for one person, and a candle held by the other.
Instead of having a Priest and Priestess bless these things, we will
all join hands and say a prayer, each of us, for the blessings we
wish for one another. Saying something as simple as "Blessed Be"
as people pass through the fires, or something more like a chant or
song you like can also be used, but as the people have blessed the
things, no words have to be said unless you want to.
After
this, people will form a line and pass between the two people with
their blessed things, emulating the scared practice of passing
between the blessed fires ancient British Pagans used to use.
Once
everybody has passed between the blessing fires, everybody will go to
two others, whoever has volunteered. This will be a blessing of
"cakes and ale". Again, we will all take turns saying the prayer,
over them, blessing them. I am probably not going to have wine or
soda or sweets for this. Let's face it, none of us is getting
younger. There are people coming with dietary restrictions,
allergies, and digestive issues. Plus, we don't need to be drinking
after each other- germs, you know! As we are potlucking it, we will
take food to make a plate from the offerings, maybe even a variety,
so people can hand pick the food THEY choose to eat. Instead of a
communal cup for us all to drink from, individual tiny cups filled
with probably water, will be used. It really does not matter WHAT the
food and liquid is- it's the blessings we will take into us.
Once
all is blessed, each person will approach who is giving the blessed
food, and the person doing this will say "May you never hunger,"
and each person in turn will take their blessed bite of food and eat
it. I've seen people use whole apples for ritual blessing, and I
don't recommend it, as that takes forever. Also, cut the food up
into small pieces, so people can take just a tiny bite. They will
then go to the person who has the water, who will give them a water,
and say "May you never thirst." Again, this should be a tiny bit
of water, enough for one sip. This is not the meal, but just a sip
and a nibble.
A
third blessing can also be given if so desired, by an individual or
individuals. Play it by ear, and see how your soul kin feel. This can
be perhaps the moving party of the rite, most especially when beloved
Priest and Priestess do the blessings. A simple way would be for
everybody to hug one another. You can also break off in twos and go
bless each other for a few minutes, walking away from the group, and
returning to a spot when everybody is finished.
After
each person has passed between the blessed fires, had their blessed
food and drink, and been further blessed if it is wished, the rite is
ended, and the feasting and fellowship begins.
This
rite can be customized as you see fit, as it is simple, and you can
tweak it any way that is meaningful for you. I have had to change how
I do ritual in the past few years. The biggest change is my condo
association has made it clear no fires are allowed on patios. There
went our blessed firepit! I also do rituals at the house as opposed
to at the campgrounds we used to use, so we moved into a smaller
space than before. We manage. Ritual can be meaningful even if you
have to make accommodations and substitute something like two candles
for two bonfires.
May
you and yours have a very Blessed Beltaine.
Blessed
Be!
***
About
the Author:
Saoirse is
a recovered Catholic. I was called to the Old Ways at age 11,
but I thought I was just fascinated with folklore. At age 19, I was
called again, but I thought I was just a history buff, and could not
explain the soul yearnings I got when I saw images of the Standing
Stones in the Motherland. At age 29, I crossed over into New Age
studies, and finally Wicca a couple years later. My name is Saoirse,
pronounced like (Sare) and (Shah) Gaelic for freedom. The gods I
serve are Odin and Nerthus. I speak with Freyja , Norder, and Thunor
as well. The Bawon has been with me since I was a small child, and
Rangda has been with me since the days I was still Catholic. I
received my 0 and 1 Degree in an Eclectic Wiccan tradition, and my
Elder is Lord Shadow. We practice in Columbus, Ohio. I am currently
focusing more on my personal growth, and working towards a Second and
Third Degree with Shadow. I received a writing degree from Otterbein
University back in 2000. I have written arts columns for the s
Council in Westerville. I give private tarot readings and can be
reached through my Facebook page Tarot
with Saoirse. You can, also, join me on my Youtube
Channel.
Bright Blessings!
We have "sprung forward", and are rejoicing that the daylight hours are longer. Some of us are STILL adjusting to the time change, however happy we are about it. Spring officially starts in four days from the time I am writing this, and many have already had their Sabbat celebrations for it.
Like many others, I am coming out of hibernating with the warmer, longer days. My energy levels have increased, and my mood is more enthusiastic. I have been a LOT more busy, and that means that I have forgotten to pace myself. As a result, I have had a couple days when absolutely nothing got done, and I sat around a whole lot.
One thing that has gotten done is massive patio cleanup, and hand fertilizing of the raised garden bed we built some years ago. I have carefully crumbled eggshells, cut up fruit peels, and thrown in both tea grinds, and used coffee grinds.
I am glad I live in modern times and get to "cheat" and throw in store bought soils as well. Soon, peas will be planted in the beds, and after those are spent, pretty flowers, all of which I have seeds for already!
Spring is a big deal at our house!
In Nature, everything is sprouting, and the snowdrops are already glittering through last fall's dead leaves, on the forest floor. Daffodils are about to sprout, and our crocuses came up first, and soon, fritillaries will follow suit.
Birdsong has returned, and gets louder daily. Squirrels, and bunnies are jumping all over the place, reminding us of how very alive the Earth is. I've even seen a couple of mosquitoes already!
Everything in creation from plants, to animals, and even people , are seemingly awakening from Winter's deep sleep, and are raring to get out in the sunshine and enjoy life!
Some of us spend time outdoors, gardening, and "grooving with Nature", as my Priest puts it, but are more into the arts. We create, we dance, we enjoy music and theatre. Many of us LOVE to read! What is better than a nice book, and a hot cuppa' in a cozy room with Spring light streaming in?
Those who are prolific readers are in for a real treat!
A new book was published recently, and let me tell you, it's an exquisite read.
It's called Megge of Bury Down (The Bury Down Chronicles) (Volume 1)
, which is part of The Bury Down Chronicles by Rebecca Kightlinger and is set in Thirteenth Century Cornwall, England. It is magical, chock full of mystery, the Old Ways, and Family Traditions. This book draws you in immediately, and Kightlinger's descriptive narrative voice is so deep, you actually FEEL like you are THERE, watching in person. The firelight flickering in the darkness is so well detailed, you can almost smell the woodsmoke, and the faces of the women are so well described, you can almost reach out and touch them. You need this book, like , yesterday. Step into Bury Down with Kightlinger's book.
I was lucky enough to get the opportunity to speak with Kightlinger via emails, for an in depth, very intimate interview, in which she speaks not only of her book, but her own background, and women's issues.
First, please have a look at her amazing website:
https://www.rebeccakightlinger.com/
And next enjoy the interview! Afterwards, this month's working will be provided below.
Interviewing Rebecca Kightlighter
Saoirse (S)– Bright Blessings, Rebecca. First, tell me a bit about yourself and your work!
Rebecca Kightlinger (R)– My book, Megge of Bury Down (The Bury Down Chronicles) (Volume 1)
, is about the daughter of a midwife in medieval Cornwall. Megge's mother and aunt– a healer and a seer, respectively—each hold an ancient grimoire that they must pass down to their daughters, who will then become their apprentices. The books are companion tomes that together enable the women to harness the knowledge and wisdom of every previous heir to the books. They are able to query these ancestors in order to learn the secrets that enable them to serve the people of their village. The problem is that although Megge wants nothing more than to become a woman of Bury Down and be truly a part of her family, she is frightened of her mother's book. When the time comes for her to accept it, she refuses. 
The stakes are very high for Megge's mother, so she and Megge's aunts must bring Megge to accept her charge and assume her role as a woman of Bury Down.
The themes are the desire to belong while being unable or unwilling to do the one thing that will make you a part of the group; the desire to find and follow your own path despite pressure to follow one laid down for you; and the closeness that can unite two people of different generations, the younger being able to learn from the elder, who brings wisdom and unconditional love.
I was an obstetrician gynecologist for many years; but in  2010, a serious injury to my right hand brought that work to an abrupt end. It was then that I started writing fiction. One day in 2011, when I was writing another story, letting scenes play out in my mind and describing them on paper, I saw not New York City or Amsterdam, where that story was set, but a pastoral scene: a grassy hill where sheep were grazing and a girl dressed in rough, heavy woolens was sitting on a big rock at the top of the hill. The girl seemed to look right at me and said, "When you're done with those Dutch people, I want to go next." And when I had finished the other story, she showed up again and just started telling me about her life and the lives of her ancestors. At the time, I knew very little about Cornwall and even less about the middle ages. But Megge spoke to me clearly, and with humor, showing me the scenes, and I felt this was something very real, though I had never before experienced anything quite like it.
Having been a visitor to Lily Dale spiritualist community many times, I called a medium, Jackie Avis, to talk to her about it. We had a telephone visit, and even before we started to talk about Megge, Jackie said she was seeing near me a big, very old book with a heavy wooden cover carved with symbols. She perfectly described The Book of Seasons, the book Megge was so afraid of. Our long conversation set my mind at ease, making me comfortable inviting Megge into my life. 
I knew that in order to tell this story well, I would need some serious writing skills, so I applied to The University of Southern Maine's Stonecoast MFA program. Poet Annie Finch was the director, and we spoke by phone. It was she who accepted me into the program.
In the summer of 2013, I went to Cornwall to visit the place I thought might be the region Megge had described as home. Arriving at Botelet Manor, where I was staying, was an incredible experience. Everything Megge described was right there. There is even a house on the manor that had been there during Megge's day. The remains of Bury Down hillfort, built thousands of years ago, stood at the site Megge had described as the healer's grove, where women came for healings at night. The church, the village location, and the castle were all as I had seen as she spoke.
Writing this book has been the most rewarding experience, and I hope this comes through in the book. 
S- I will add, I am a psychic advisor/seer/reader, or whatever people choose to call me also. I am thrilled you spoke with a seer! I refer to this as a gift of spirit, as do many others. I feel we all have gifts of spirit including, speaking with the dead, healing, comforting the grieving, ability to use prayer to intervene in other's lives, etc. What are your personal beliefs and views about oracles/seers?  Do you feel you have gifts of spirit, and if so, what are they? It sounds like a spirit showed up and told you her story! Is that right? What is your spiritual path, and how does that influence your writing of this book, and your writing in general?
R- My mother and great-grandmother had strong spiritual gifts, and it may have been their openness to spiritual communication that has enabled me to accept this communication without fear, judgment, or censure. Like you, I think we all have the ability to perceive the presence of some who are now, as Megge says, in the ether. I sometimes feel my mother or father very near and have had communication of a sort with my mom through dreams after she passed. She told us in her final days that she would "stay nearby as long as possible" to comfort us after she passed, and when she did, I felt her spirit in the room with us for a good long time. It was a sense of joy I've never forgotten. 
I believe strongly in the power of intention and prayer, and I know that people's needs are somehow made clear to the person who can help. I've been in that situation many times as a physician, and I know it's true.
Is Megge a spirit? I can't say. All I know is that when I'm ready to write, she seems to come and take me through her story. I don't see or hear her with my senses, but her words come through me onto the page along with scenes as clear as any you'd see in a movie. And the only time this happens is when I'm at my typewriter or keyboard, ready to write. Her home, her village, and all the people in her world are just as vivid and consistent as anything in this world. 
I don't know what my spiritual path is or where it is leading. One thing for sure is that my daily life is much more solitary that it ever was, and this feels right. It's not lonely or boring in any way. The writer's life seems to suit me now, where it would have been wrong for me before this. I used to have a busy practice, which I loved, and I worked with and taught some wonderful, caring, skilled, intelligent people. My patients, mostly middle-aged and elderly women for the last ten years of my practice, were smart, canny, funny, and insightful. I loved being their doctor. I remember talking to a lot of them about matters of the spirit, and I saw that as we all got older we seemed more in touch with it. It stopped seeming like something outside ourselves and became a source of both comfort and, well, interest, for lack of a better word. As I and my patients and friends began to experience more of the spiritual, we began to talk more openly about it and realized that we were having many of the same experiences. 
Other authors, I've learned, experience a similar kind of communication in their writing. One young man related in a lecture that when he sat down to write, he would close his eyes and see his narrator arrive at the door and ring the bell. He would let her in, and she would tell him her story. At a recent book-signing event, I asked the author how he invented his characters, and he kind of laughed and shook his head. "They just show up," he said. "They do whatever they want. I had no control over this story." Other writers have no idea what this means. They construct charts and plot points and have the beginning, middle, and end mapped out before they even start their story. Many search newspapers for inspiration or ideas, or capture snippets of conversation that they write down and build a story around. That sounds harder to me, more cognitive, but is probably a more efficient use of writing time!
For me, the cognitive part begins after a scene is down. I research the era and place–I visited the place Megge described–and cut and splice scenes, sometimes changing names or details where needed. But I don't change the overarching story. I stay true to what I'm seeing so the story can continue to move forward. It may sound funny, but I want my narrators to trust me. I want the narrators who are waiting in the wings to tell their stories to know that I won't mess with them too much. 
It feels like there are countless narrators/spirits out there waiting to tell their stories and searching for someone who can "hear" them. Is this how we return to the living world? Through a storyteller? Is this why many stories somehow just ring true? I can't say. The first novel I wrote was narrated by an entire town. I had asked my husband for a manual typewriter for Christmas one year. He bought me an Olivetti, and I sat down at it for the first time ever and had no idea what to write. So I closed my eyes and thought, "Who has the story?" And in seconds, probably thirty or forty people showed up in my mind's eye, all looking like working-class people and farmers from the 1930s, and all jostling to be the one to tell the story. It seemed they had all come back to tell their part of a horrific event that involved all of them but that that none of them knew the whole story of. Each one ended up telling his or her part, often interrupting each other and correcting details. Every night, at 8 pm, I sat down to write. For an entire year. And the whole story came out, all the details that had been kept secret. When it was done, those narrators disappeared. I've not heard from them again. One day, when Megge's story is done, I'll go back to that one. I hope I will have developed the skills by then to tell it well.
And this is probably much more than you wanted to hear! But it is unusual for me to be able to relate this kind of information about myself and my writing to someone who will understand and not judge. I'll be very interested to learn if others have this experience and how they deal with it. How it first started and how they reacted. To me, it felt natural, inviting. I've never questioned it, and I hope it never stops
S- As somebody with a medical background, how does the past misunderstanding of illness, combined with superstition strike you? What do you have to say about it? Have you ever seen similar attitudes in today's world?
R- There have always been and probably always will be superstitions about illness. Back in the Middle Ages, when so little was known about the body in health or illness, it's understandable that people would confuse association with causality. The scientific method hadn't yet been designed to distinguish between the two. So, when a patient made a spontaneous recovery from illness after taking a remedy or submitting to bloodletting, charms, or prayers, the association of that treatment with recovery meant that it must have worked! Word went out, and the treatment became more widely used.
My feeling is that even today there are treatments that work but whose mechanism of action we don't understand despite considerable scientific research. Additionally, there are many treatments and remedies that might be beneficial but that will never be adequately studied simply because no one has a sufficient stake in the results of controlled, double-blind studies. And if the research might show that the product doesn't work, it's a gamble. For this reason, some approaches that are considered "superstitious" or "magical" may never be scientifically proven safe and effective, even if they are. 
But, while superstitions in healing can sometimes result in harm, I'm less concerned about that than I am about people harnessing the power of superstition to do ill to the most vulnerable in society. We saw this in Megge's story just as many have seen throughout history: the most powerful in society using both superstition and strong beliefs against the most vulnerable.
In the worst cases, superstitions are thinly-veiled excuses for committing violent acts. In The Midwife and the Witch, author Thomas Forbes cites "the crowing hen." From the time of Aristotle until as recently as the late 1800s, a female showing masculine characteristics or behaving "like a man" (i.e., talking) was said to foretell doom. Often, this resulted in the death of the offender.
Whistling maids and crowing hens
Should have their necks wrung early.
(Scheftelowitz, 1913; Jones 1880)
A German proverb prescribed punishment for both hens and women who would dare make their voices heard:
When the hen crows before the cock
and the woman speaks before the man,
then the hen should be roasted 
and the woman beaten with a cudgel. 
(Abbot, 1903)
So, to my mind, the danger of superstition is not so much that the superstition itself will directly harm the believer, it is that others often use the power of belief to control and punish. In the case of Megge and the midwives in her life, someone uses both religious dogma and fanciful beliefs as an excuse to harm both women and children. 
S- Attending University in Maine placed you in New England- not horribly far from Salem, Mass. where one of the most famous accounts of witch scare happened. Have you studied this much, or have any insight into it? 
R- I've studied witch trials from all over the world and in different eras. When I first started looking into the history of this horror, I went to the Cornell University special manuscripts library and studied some original trial transcripts. 
I came away with a picture of ordinary women being tried, often tortured, and put to death after having been accused of witchcraft, sometimes by her neighbors, and often out of fear or retribution. The accusations rarely made sense, and the atmosphere of misogyny and hatred was almost palpable in these documents. Those who controlled communities engaged in witch trials needed a scapegoat for their rage and to control those in their jurisdiction, and this was often either the most vulnerable member of the community or the outsider.
Midwives were often targets of accusations, especially in the Middle Ages, as they treated the most frequently maligned portion of the population–women–and they often did so through techniques and remedies outside the understanding of the medical and religious communities. This made them suspect, and suspicion made them victims.
S- Magic is all around us, and in many forms. Your ladies in your book understand this, and practice well. They understand the power of blood bonds, as well as adoptive family bonds. They understand the power of women working together in a man's world. They understand the power of working in generations. Today's neo-practitioners are 50/50 in love or hate with this idea. Some shun it, and recognize no elders, believing they are born very powerful and don't want anybody telling them how to practice. Some like me value our elders, who are passing our craft on to us. This is more ancient, and what the women of Bury Down are doing. I see value in both, personally. In your historic readings, what have you read about passing traditions down? About mentors and students? About family traditions? What examples can you share from history?
R- Nearly every profession, skilled trade, and educational or spiritual community relies on one generation teaching the next through both formal, didactic education and mentorship or apprenticeship. The alternative to being thought by someone more skilled or educated is to be an autodidact. People will dispute this, but while I understand that many of us possess innate talents and gifts that we can develop to some extent on our own, I think raw talent needs shaping from the outside, otherwise one's learning tends to center on readings and teachings that substantiate our own theories and biases rather than challenging or questioning them with an eye to dispelling misconceptions, arriving at a truth, and honing our skills. 
Living by and passing down traditions is documented in religious, cultural, medical, artistic, and every other societal group or profession I can think of. While there are many short-lived splinter groups organized and led by one person, religion and spiritual traditions probably provide the most universal example of laws, rules, mores, and history transmitted to children through their parents, their schools, and their religious/spiritual leaders and teachers, with didactic learning supplemented by sometimes very intimate, inter-generational mentorship in the home. This is documented throughout history in religious texts and in literature ranging from The Iliad to the Mists of Avalon and The Red Tent. 
Another example of passing down traditions is the oral, storytelling or bardic tradition strikingly manifest in The Mabinogion, a suite of eleven Welsh prose tales passed through generations by storytellers (another profession whose practitioners learned from masters from the preceding generation).
Finally, witchcraft and magic have a long tradition of being practiced by those who draw on ancient knowledge coupled with the skill and insight of a master practitioner. In preparing the manuscript of Megge of Bury Down, I studied numerous grimoires including Picatrix, a compilation of works from the ancient, the medieval and the Renaissance eras, which urges its readers and students to learn from sages: "The wise who are endowed by nature with intelligence never cease nor neglect to seek and inquire that they might learn and understand the secrets of the sages, who sealed them up in their books and wrote them in hidden words, that the aforesaid might search them out by careful investigation until they attain what they desire…" [The Picatrix, Trans. Greer, John Michael, and Warnock, Christopher. Adocentyn Press, 2010, 61.] 
While I am neither witch nor magician, I see in the writings about spiritual practice the value of sages, of teachers, of mentorship. This is the basis of Megge's story and path. She seeks and finds mentors throughout her life; and this, I believe, is what many people have always intuitively known they've needed, have sought throughout history, and continue to seek.
S- What that we have not discussed would you like included in my article, please?
R- Megge of Bury Down is the story of a young girl growing up in another time and place. It is historical in that it takes place in the past. But it is not really about the history. It is magical realism in that Megge's family is charged with passing down two grimoires whose power preserves the spirits of their ancestors. But it is not about the genre of magical realism. 
The historical research and the literary technique here serve story: the story of a girl growing up in a family of women. A girl who wants to be one with the mystical women she admires but whose fear and misconceptions keep her apart. A girl who must find the courage to look past her fears to a terrible truth and find a new path. It is about the love, the traditions, and the teaching that unite generations. It is about the women of Bury Down, but it is mainly about unbreakable bonds, crafted over lifetimes, that precede us into each life, sustain us as we find and do the work we came to do, and then guide us into the next. 
Many thanks, Rebecca for this amazing interview! Blessed Be!
Click Image for Amazon Information
This Month's Working
Our next Sabbat after this is published is Beltaine. For the first time in years, I am not hosting!
I'm also not planning to attend Sabbat anybody else hosts!
"What will I do with myself for Beltaine this year?", I wondered.
I thought on it, and was inspired by some things I saw, and decided to send out an appeal to other women to do a One Month Challenge with me instead of a one-time Sabbat rite.
In Wicca Beltaine, May traditions crown a May King and May Queen, and they represent the Goddess and God in ritual, blessing everybody, and bringing life, growth, and in some traditions, sexuality to the people in the ritual.
There are a lot of "Sabbat Pagans" who attend Sabbat, and seemingly forget they are Pagans until the next gathering.
What can I say? It saves time for some folks.
Not everybody has the time, or ability to do lengthy daily, or even weekly devotions. It is easy to assume that we do, but the truth is, for some people, it's just not happening, and it's not in any way a choice.
What I thought of was a way to, for 30 days, bless other women, and ourselves, thus blessing, venerating, and adorning the Goddess in each of us women. Collectively, then, we adorn the Mother Goddess through the bodies , hearts , and souls of her daughters, the Earthly representations of her.
The topics brought up in the interview, specifically of abuse of women, and children made me think of an ugly truth. We often focus on abuse men direct at women, and completely ignore the toxic competitiveness we have with one another.
"That bitch thinks she is something, doesn't she? I'm prettier than her!" Instead of "You go girl! Shake that tailfeather!" We sometimes become jealous that another woman has pride, and we are afraid if she is proud, she will take away the good things about us. Instead, we need to ALL root for one another.
It is not a competition- we should ALL want to help each other succeed.
I see examples of women who are not fat at all get attacked online, and called fat by women who are obviously jealous. Why does this happen? Because we think we don't look as attractive? Because we would rather she be physically ill and bulimic or anorexic than comfortable in her skin, and healthy?
And why do we make fun of the "scrawny" girls? Maybe they DO have an illness, but this does not mean they should shroud themselves away, unfit to be seen.
Why do we place unfair demands on mothers? If they work, they are accused of putting career before family. If they are stay at home moms, they are accused of being ambitionless freeloaders. If they are tired, and not all made up fancy from keeping up with kids, we accuse them of "letting themselves go". If they do not want children, they are accused of refusing the "responsibility" of being moms. If they have a lot of kids, we ridicule them, calling them breeders, sluts, and baby factories.
These harsh words do not just come from men. They oftentimes come from other women.
We cannot do this.
We need each other.
We need to build one another up.
This is the inspiration for my working.
Without Further adieu, I would like to share my working with you.
If you would like to, do this working with me.
Saoirse's Solitary 30 Day Adornment of the Goddess/Crowning of the May Queen
For thirty days, do these three things. If you forget a day, oh well, nobody will know!
You may journal every day what you do if you like, but you don't have to.
For 30 days, give an honest compliment to one woman per day. Build another woman up with your words. Words are mouth magic, and we create whatever we want to with them. Use your words every day to build one woman up to bless, and adorn the Goddess.

Reach out to one woman in the next 30 days, and do something nice for her that will make a difference in her life. It can be small, or great. Maybe you know a lonely woman who loves coffee. Dedicate one day every other week from now on to sitting down to coffee with her. Say you know a woman who is trying to eat healthier. Encourage her, and share recipes with her if she would like that. Say your neighbor loves plants, but says she has no time to garden this year. Gift her with a hanging basket, and offer to help keep it watered if she needs it. What you do to make a difference in one woman's life can be a great thing or a small thing, but it will make a huge impact.

Finally, do not forget the Goddess in you. It might be easy to do something good for others, but not yourself. It's time to do one of the kindest things for yourself.
We are often our own biggest, and harshest critics, and while yes, others may tear us down, we sometimes internalize toxic voices, and tear ourselves down worse than anybody else.
Think of something you really find frustrating about yourself. This can be something as simple as age spots on your skin, or something big like, having panic attacks. This is to be a thing that always bothers you. Something you are upset with yourself about.
Now, you are to start forgiving yourself of whatever this is.
This is going to be the most difficult part of the challenge, and it will last beyond 30 days. It may entail deprogramming, tears, or the resurfacing of past aches, but it's very important.
While we can easily see the Goddess in others, and nurture that, we also need to see the Goddess in ourselves, and nurture that as well.
Enjoy the Spring, Beltaine and being the Goddess you are.
Blessed Be!
***
About the Author:
Saoirse is a recovered Catholic.  I was called to the Old Ways at age 11, but I thought I was just fascinated with folklore. At age 19, I was called again, but I thought I was just a history buff, and could not explain the soul yearnings I got when I saw images of the Standing Stones in the Motherland. At age 29, I crossed over into New Age studies, and finally Wicca a couple years later. My name is Saoirse, pronounced like (Sare) and (Shah) Gaelic for freedom. The gods I serve are Odin and Nerthus. I speak with Freyja , Norder, and Thunor as well. The Bawon has been with me since I was a small child, and Rangda has been with me since the days I was still Catholic. I received my 0 and 1 Degree in an Eclectic Wiccan tradition, and my Elder is Lord Shadow. We practice in Columbus, Ohio. I am currently focusing more on my personal growth, and working towards a Second and Third Degree with Shadow. I received a writing degree from Otterbein University back in 2000. I have written arts columns for the s Council in Westerville. I give private tarot readings and can be reached through my Facebook page Tarot with Saoirse. You can, also, join me on my Youtube Channel. 
March 2019 for Celebrating The Old Ways in New Times
March
2019 for Celebrating The Old Ways in New Times
Bright
Blessings!
I
cannot tell you how excited I am that it is almost the Spring
Equinox! To prepare, I assembled a precut garden box today, and have
been diligently bagging up the dead leaves from last fall I spread
over the garden beds I already have. I never buy mulch that way! Once
the thaw starts, I dig out the leaves, and just throw them away.
While
I joyously begin celebrating Spring at Imbolc, the fact I can see the
green fingers of garden bulbs pushing up out of the earth reminds me
the growing season is set to begin very soon. I am buying seeds left
and right, and soon, we will start stockpiling the pea gravel and
soil for the new garden bed!
The
undesirable parts of things like cleanup, spending money on supplies,
and lifting and carrying heavy things must be performed to benefit
from the beauty of the victory garden we covet. I, for one, hate the
sight of worms, and have ever since I was a child. I, however know
that without those blind wrigglers, my garden will not grow, and if I
don't see them, I know something is very wrong.
Like
the garden, our lives are made up of all sorts of things. Things we
like, and things we dislike. More than that, we also like and dislike
things about specifically our own selves.
Turn
on the television, and you can almost always find a makeover show, or
some type of advertisement for a service or product that will
completely transform you, supposedly getting rid of some aspect of
yourself you loathe. Our culture supports that self-loathing, as they
use it as excuse to earn money from us.
Now,
I am not saying we ought to forego improving ourselves. What I am
saying is that all of us have something we CANNOT change about
ourselves that we imagine to be some monstrosity. Some hate the shape
of their feet, the sound of their voice, the fact their hair is
naturally curly or straight. Some hate having an adams apple, and
some think their neck is too long or short. Some want to get rid of
freckles, or bleach their skin which they imagine is too dark. Almost
all of us have demonized some aspect of ourselves we simply cannot
help.
But
we are not monstrosities in any way. We simply misunderstand these
parts of ourselves, and radical self-acceptance is the only solution.
What better time for that than the Spring Equinox, which is often
used to get rid of the old and bring in the new? Instead of throwing
out some part of ourselves, why not change our way of thinking
instead?
This
Month's Review
To
fit with this theme. I lucked into an interview with Gabiann Marin,
author of the awesome book, Monsters and Creatures. I
found the book to be well written, well researched, and an easy read.
Of course, she could not include ALL monsters and creatures from all
of time in the book, but she packed in quite a lot into the neat 196
pages.
From
the Basilisk to Zombies, Marin draws readers into the fascinating
world of creatures, and provides more than just lore. She includes
historical anecdotes, and education about real phenomenon.
I highly recommend the book, and it can be had through this link.
Not
only was I fortunate enough to review this good book, but I got to
interview the amazing Gabiann Marin!
Read
on!
The
Interview
Saoirse
– First, let me say, I was impressed with your book Monsters and
Creatures. I never know what to expect from a reference book on
creatures- and I was thrilled because I found your book very well
researched.
You
packed so very much good information into it. How long did it take
you to gather all of that in formation, and what was the process for
research you used? What background in research do you have, and what
is your philosophy about educating your readers as an author?
Gabiann
– Thank you. The research part
was quite interesting. I have grown up with many of the
creatures in the book in so far as I have loved and read mythology
and fantasy and history since I was a small child. In fact the
very first book I bought for myself (at the age of seven) was
The natural history of the vampire by Anthony Masters and I still
have that book. So I guess it took a lifetime to gather all the
information.
The
greater challenge was how to get all the information I wanted to talk
about into such a small book. I didn't want it to just be a
dictionary of fantastic beasts. I'm a writer and the power of
all these creatures are in their stories and I wanted to be able to
share that… Give a context of these creatures in history and
psychology and society.
I
have been a professional writer for a long time as well as an
academic, so I read widely and have a pretty varied interest and
abundant curiosity in just about everything – so I
find researching information pretty easy.
The
process for this book was really to decide what monsters and
creatures I wanted to include. The publisher was pretty adamant
the popular ones were included… Which I agreed with… But
I was also intent on introducing readers to more unusual and lesser
known creatures and tell their stories too.
Saoirse
– What made you decide to write about this topic, specifically? This
appears more like a long-term interest in these beings turned into a
good book to share what you have learned with others. Am I right?
Gabiann
– Yes. I love animals and the natural world and am fascinated
in how we, as humans, connect to and understand nature.
I have always believed the stories of monsters and creatures are some
of the most potent and informative ways that we express our love and
fear of the world around us.
Saoirse
– As I am Pagan, I know a lot of people who embrace belief in human
connection with supernatural beings. One friend said these
"creatures" may be nothing more than manifestation of
spirit people perceive so well, they mistake them for flesh! While we
know about logical explanations like- manatees can be mistaken for
mermaids, etc- what is your take on the theory my friend presented?
Gabiann
– I have a rather unique perspective on people's belief systems and
how they engage with the mystical, the natural and the
supernatural… And that is that however someone perceives these
creatures – as real or imagined, as pyschological manifestations
or as historical creatures… They are probably right.
We
manifest our understanding of the world and ourselves through the
stories we tell and that shapes how we treat each other and the world
around us. Spirit reaches us through story, symbol and
myth.
If
your friend perceives spirit as a unicorn or a dragon.. Then
that is how spirit presents itself to her. She is using these
stories exactly how they were meant to be used – for her to step
beyond the human condition and understand the world beyond herself.
Saoirse
– I want to know all about you! Tell me about your writing in
general, and beyond that, YOU in general? What made you decide to
write? What else are you good at? What projects are you working on,
and what else is in the workings?
Gabiann
– That's a big topic… Where
do I start?
I
suppose I have always been a writer, I wrote my first short story at
the age of eight and won my first literary prize when I was
fourteen. I became a professional writer when I started
University. I was originally going to be a vet but ended up at
the last minute studying writing instead. My mum was surprisingly OK
with this!
I
started my professional writing life writing film and theatre reviews
and then actual plays. I worked as a corporate copywriter for a
few years but realised it was a bit soul destroying so shifted over
and became a writer for charities and causes I believed in… Like
Amnesty International, The Wilderness Society and Greenpeace.
I
also wrote for Australian television for a few years but it was a
hard road back then with very little Australian content being made.
So in 2000 I began writing children's books. In 2003 I
wrote a book for young readers about a child in Australian
Immigration detention called A True Person, which won a few
international awards but most importantly was the first book in
Australia to tackle that issue.
I
still write social justice material in fiction form but moved into
editing and writing non fiction after leaving an academic job in
2016.
Currently
I am dividing my time between teaching writing and film at
University, while editing and writing non-fiction, original and
adapted film scripts and completing a fantasy fiction book about
Medusa.
Saoirse
– Tell me about your personal spiritual path, and if it influenced
your work on this topic.
Gabiann
– I am Wicca and have been since I was quite young, however I am
more a pagan in the classic sense, in that I believe there is a
natural force which guides the world and creates and determines
life. I believe we need to understand and respect this
force… Which currently as a global entity we are not doing.
All
of my work has, in some way, reflected my belief that people are part
of – not in conflict with – the natural world. And the natural
world is actually supernatural, in that it contains spirit as well as
material things. This is hardly controversial, as literally
everyone in the known history of humankind has believed a
version of this – yet for some reason mankind have been
intent on focusing on the differences in this belief and killing each
other over how we individually choose to understand and express that
spiritual essence . To me spirit is nature herself…
Everything in it is amazing. It contains things which we are
only just beginning to understand.
I
don't follow any organized religion because I believe that most of
them limit us into hatred and division with both ourselves and the
other beings we share this planet with. But I have a huge
respect for most religious people who are just trying to find ways to
connect with the bigger sense of power around them. I believe
that when we are in contact with the natural world… Go beyond
the realms of mankind's selfishness, greed and violence, we
can connect to that spirit. But
honestly I do not think we as humans are the most important things on
this planet. Not the single or indeed the main focus of any
spiritual force which may exist. The trees and the rocks and
the mountains have watched us rise and they will watch us fall.
Creatures we can barely imagine have roamed this earth thousands of
years before we were even conceived of.. And other creatures
will no doubt walk across our fossilized bones. And that is a
good thing. Nature is immortal. So the smallness and pettiness
of humanity and our need to find meaning and place has always
underpinned my work. As well as a commitment to kindness,
justice and understanding … Towards each other and all
beings.
Saoirse
– Have you had any personal encounters with creatures or spirits you
would like to share?
Gabiann
– I think there is magic in the world, and spirit… particularly
animal spirits, can help you find your way to that magic.
When
I was in my twenties I had a very hard time. As I believe most
young women in their twenties do in a world that is constantly
telling us that as females we are simply not good enough, pretty
enough, smart
enough. Then one night I had this amazing dream of two tigers who
embraced me when I thought they were going to rip me apart.
I
woke up realizing that I was worthy and strong and loved. I
still believe today they were manifestations of spirit telling me to
stop worrying about all the silliness around me and understand that
my purpose… the purpose for all of us, was simply to
be a good person. Once I realized that, life became much clearer
for me and I was able to follow a path that wasn't so concerned about
whether I fitted in with the very narrow ideology of being a
compliant, acceptable, quiet woman. Which I certainly am
not! And rather tell stories and be part of the world in a way
that expanded, not limited my and other creatures existence.
I
am still very spiritual and have engaged with spirit in many ways
since then. But I remember that dream so clearly even now.
It's why I became a pagan and a feminist.
Monsters
and Creatures, as well as its companion book – Gods and
Goddesses, was written as an introduction into the history of
humankind's need to use story and myth to understand the world.
They are small books but I hope they pack a punch and give people a
bit of an insight into what unites us – which is story… and what
defines us – which is how we understand the world around us.
They
are both written to be fun, informative and easy to read and I
really hope people engage with them. Our continuing fascination
with supernatural creatures is one of the many things that unite us
as people. And sharing these stories is the best way to create
connections between us across time and cultures.
I
am happy to engage with readers but have a limited social media
profile as I find the online world to be somewhat mean-spirited and
focused on conflict. I have a facebook authors page and an
Amazon Author's page through which I am happy to engage with those
wanting more information about me.
If
you are interested in getting a copy of any of my books they are
widely available through Amazon as well as most good book stores.
Saoirse
– What is your FAVORITE Monster/Creature you included in your book,
and why? Any encounters, dreams, or visions of/with it/them?
Gabiann
– This is a bit like asking me to choose a favourite child!
All
of them are my favourite in different ways. I love the more unusual
ones like the Japanese Yokai because they are just so quirky and,
although they can be a bit nasty, they are essentially just really
cool, interesting little creatures who don't bother anyone and just
hang about doing their own thing.
Researching
the book I found the bird-like creatures the most fascinating as
they were probably the ones I knew the least about. Again they are
usually positive, kind creatures who help rather than harm us.
But
I guess if I had to pick a favourite it would have to be Medusa. She
resonates about the power of women and her story is one of injustice.
She was never a monster, just someone who was trying to live her
life. She only harmed those who attacked her and she was a victim of
one of the most heinous and cowardly acts in all of mythology. It is
impossible, I think, to see the story of Medusa as anything but a
parable about male violence against women and the hatred of the
established patriarchy of strong independent females. For that reason
she probably resonates the strongest.
I
am actually writing a fiction book about her – its a crime caper
comedy believe it or not!
For more information on Gabiann Marin Visit:
Gabiann's Linkedin Profile
Her Author Page on Facebook you can follow.
Her Amazon Author Page.
The
Sabbat
The
Sabbat this month is Spring Equinox, known by many Pagans as Ostara.
Many take Bede and the Grimm's word for it that Ostara was a
Germanic goddess who had a hare as companion and eggs were auspicious
to her.
Unfortunately,
no evidence that this was a goddess exists in imagery or writings
prior to Bede.
But
since writings can be lost, and many passed traditions on orally,
there is a chance this is true. It may also be true that Xtianity
absorbed the Pagan rites to Ostara in their Easter practices.
One thing that is NOT true is the ridiculous meme claiming Ishtar was the goddess Ostara because the name is similar to Easter. Ishtar was never venerated in the British Isles, and ancient British pagans had no knowledge of her whatsoever. Xtians converting British Pagans did not adapt Middle Eastern Pagan practice either.
If
Ostara was a goddess, she was, as Grimm, and Bede say, Germanic.
Both
Ostara and Easter are celebrated with the new life of the Earth, and
new spiritual life for worshippers in mind.
But
while Xtians think of it as their god rising from the grave, and
Pagans think of it in earth based terms, another way to look at it is
rebirth of way of thinking.
New
Life
Earlier
in the article, I spoke of the things we loathe about ourselves that
are things we cannot control.
Examples
I shared were of physical things we might not like, but have no
ability to change. Other examples include things such as the presence
of depression that is being treated as well as possible, but is a
lifelong condition, memory problems after stroke, inability to digest
a favorite food anymore, inability due to medical reasons to have
kids, or even being divorced when you did not choose to be.
My
challenge this time is to think of that thing which you cannot
change- and forgive yourself for it.
Believe
me, I do not say this lightly, as I have things I am upset with
myself for. I say things like "I am sorry for the way I am" and
"I wish you did not have to deal with the fact I have X problem."
This
is perhaps the least productive thing we do as human beings. In
essence, we punish ourselves for something we have no control over.
We
make ourselves out to be guilty, when in fact, if we could change
whatever it is we hate about ourselves, we absolutely would.
So,
the self-loathing stops. Now.
It's
going to take a conscious effort to undo your counter productive way
of thinking about yourself, and replacing that with forgiveness, and
amping up the self-love, and it's one a one time, "fling a spell
and forget it" thing. It will take a different amount of time for
each person, and you may have to tweak the working to suit yourself.
I
want you to know that you are a perfect reflection of the creator,
and what WE think of as flaws are sometimes just things our culture
spits at. We have to train our minds to resist this cultural
poisoning, which is basically abuse, and VERY toxic. We have to
sometimes be the goddess or the father god for ourselves, and know
better than the crap we are told.
This
working entails giving a gift to yourself. You are worth it! This is
done in parts. How far apart you space the parts is up to you.
The
Working
To
start, get a plain white candle and a small receptacle to burn paper
in.
Get
paper, and writing materials.
Part
1– You are going to sit down and write a letter to yourself.
You
are going to make it as long as you like. Go into great detail about
the thing you loathe about yourself and go ahead and cry out how much
you wish you could change things. It is okay to type and print out
the letter if you'd prefer not to hand write it. Include in the
letter why you understand you can't change this. Say all you want
to about it and how you feel about it. Just get it all out. You don't
even have to have one sitting be the whole letter. It can be as long
or as short of a letter as you want. It can even be just a paragraph
or less long.
Part
2– Then you are going to write your goal for changing thinking.
You are going to have to really think about what thinking you need to
discard, but also what thinking you need to replace it with. Then,
you need to decide what action after the change of thinking you are
going to take. Be as detailed or as vague as asking your goddess or
god for guidance.
Part
3– Have your initial letter, and then your other papers which
list your goals and planned changes, have your receptacle to burn in
, and light the candle. You can do this at your altar if you want to,
but you can even do this outdoors, or over the kitchen sink, or stove
if you prefer. Do this at the place where you are most comfortable
burning papers.
Read
your letter aloud to yourself. Let it all sink in, and as you are
reading, feel how crucial it is you let this self-loathing go. Then
read the second papers, and truly tell yourself that you are going to
lay aside the old way of thinking, and start the new way of thinking.
When
you have read it all, take one more sheet of paper, and write out a
very short summary of everything on the papers.
Burn
the papers, keeping the summary.
As
the papers burn say, "Out with the old, in with the new, I am the
goddess/god, and I am whole and perfect. So Mote It Be."
Once
the papers have burned, release the ashes to the wind, and let your
candle burn all the way down. Clean your area up, and place your
summary somewhere you can look at it to remind yourself of all the
things you wrote. Because, remember, this is a long-term change, not
something you are going to release and forget. We have to make
conscious efforts to transform, most especially our way of thinking.
There is no "putting it out there to the Universe to manifest".
We are going to do this ourselves, for a permanent change.
Part
4- Gift yourself something representing the change you are making. If
you hate your feet, get regular pedicures or start wearing shoes you
really love but thought you could not wear on "those" feet. If
you are upset you did not reach a goal, and the opportunity is gone,
celebrate a goal you DID make. If you are upset you have a chronic
condition that is never going to go away, pamper yourself somehow and
reassure yourself you are not to blame.
Blessed
Spring, and New Beginnings!
Blessed Be!
Monsters and Creatures: Discover Beasts from Lore and Legends (The Supernatural Series) on Amazon
***
About
the Author:
Saoirse is
a recovered Catholic. I was called to the Old Ways at age 11,
but I thought I was just fascinated with folklore. At age 19, I was
called again, but I thought I was just a history buff, and could not
explain the soul yearnings I got when I saw images of the Standing
Stones in the Motherland. At age 29, I crossed over into New Age
studies, and finally Wicca a couple years later. My name is Saoirse,
pronounced like (Sare) and (Shah) Gaelic for freedom. The gods I
serve are Odin and Nerthus. I speak with Freyja , Norder, and Thunor
as well. The Bawon has been with me since I was a small child, and
Rangda has been with me since the days I was still Catholic. I
received my 0 and 1 Degree in an Eclectic Wiccan tradition, and my
Elder is Lord Shadow. We practice in Columbus, Ohio. I am currently
focusing more on my personal growth, and working towards a Second and
Third Degree with Shadow. I received a writing degree from Otterbein
University back in 2000. I have written arts columns for the s
Council in Westerville. I give private tarot readings and can be
reached through my Facebook page Tarot
with Saoirse. You can, also, join me on my Youtube
Channel.
Review of WitchBox
(WitchBox Logo)
What is a WitchBox exactly? According to WitchBox it is:
"A subscription service for pagan witches based on the Wheel of the Year. A box ships every 6 weeks, 10-12 days before the sabbat."
What this means is that every 6 weeks you will pay a recurring fee of $85 + $10 shipping and you will receive a new Sabbat Box to help you celebrate the upcoming holiday.
There are two versions of these boxes. The $85 WitchBox is called the Major Arcana and is filled with all the Bells & Whistles. They do, however, have a lesser priced Sabbat Box subscription, called the Minor Arcana, and this subscription is only $40 + $7 shipping. This box contains, it seems, a little more than half of what the Major Arcana has.
PaganPagesOrg has received the Major Arcana Box to celebrate the Sabbat of Lughnasadh/Lammas and we will be reviewing this box for our readers.
(Sealed Package)
The package arrives in a nondescript, plain, brown box. The only writing visible on the box are the addresses. The box does not come addressed from WitchBox but from the owner of the company's name Jessica White. Their is no logo or pagan symbolism on the outside of the packaging. This is perfect for those who are still in the broomcloset.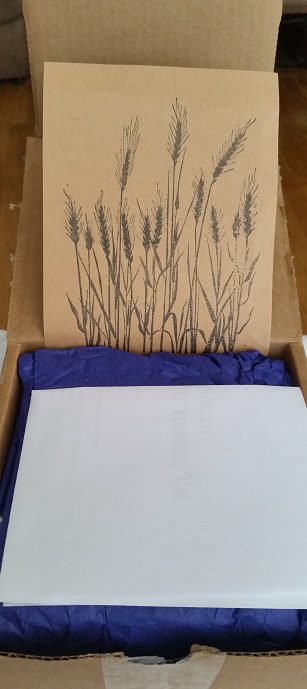 (Freshly Opened)
Upon opening the box my first thoughts were It looks tidy, neat, and organized. The first item you notice is a beautiful card. It definitely brings to mind the sabbat we are celebrating, Lughnasadh/Lammas. When you turn over the card there is a handwritten note. A very personal touch.
(Personal Note)
The second item you notice is a piece of paper. This is the Items List and explains what you will find contained within the box.
(WitchBox Logo Sticker and Packaging)
After you lift the Items List off the top of the box you see the true package begin. The W., WitchBox logo sticker holding together the deep blue tissue paper is an elegant touch to what I am about to find to be a beautifully layered package.
(Scrolls)
Layer one contains a majority of the items. It begins with the 2 Scrolls. There is information on both sides of each sheet. They have a nice antiqued feel to them. There is a pleasant aroma coming from the paper. The paper has been antiqued but it has not weakened the feeling of the paper it still feels substantial. They'd be a nice addition to any Book of Shadows. Their Topics include:
Page 1:
Information about the Holiday.
Correspondences to the Holiday…Gods/Goddesses, Crystals, Herbs,etc..
Page2:
Late Summer Sigil & Poppet Spell
Lughnasadh/Lammas Blessed Bread Charm
(Wrapped Items in Layer One)
Removing the scrolls reveals the rest of layer one which is filled with individually wrapped items, like little gifts. Each beautifully wrapped in blue paper with the W. logo stickers.
(Contents of Layer 1)
The first item I unwrap is a Candle. It is calming & nicely scented. Very smooth to the touch. All items are handmade in WitchBox and the candle looks well handcrafted. The Chamomile is clearly visible in the candle. It is a nice full size not a tiny votive like some would expect.
Next I opened the necklace. It is very pretty but not very precious. However, the value lies inside. It opens up to reveal a good amount of Flying Ointment. It is their recipe. It has the consistency of Vaseline and a soothing scent.
(Contents of Layer 1 Opened)
The last two little packages to open is a Bottle of Incense based on Scott Cunningham's recipe for Lughnasadh and a Self-Igniting Charcoal Disc. Jessica White clearly states on the Item's List that it is Scott's recipe and NOT her own.
The incense is placed in a nice corked, glass bottle that allows you to save and reuse the generous amount they send you. The bottle is even labeled on top with the holiday so you will always know what it is for. The self-igniting charcoal disc is a well thought out accompaniment.
I
(Three Panel Sigil Chain)
Layer two opens to reveal one item, the Three Panel Sigil Chain made with kiln-fired birch rounds seems a bit…well birch is birch, and being birch it is delicate. I thought maybe the panels should be thicker so the chains don't split through the wood. Even though it seems a bit fragile, I believe if I am careful some paint and some free flowing ideas, a beautiful sigil it will make.
(Dried Corn Husk & Blueberry Sprig)
Layer three is the last layer and contains a Dried Corn Husk Bundle for Making Corn dolly with a Wild Blueberry Sprig. It came in such a neatly, tied bundle packaged in the bottom of the box. I like the idea of including a craft in the collection. Something you can, yourself make. It can be a great altar or house decoration. You could also use it to connect with your children and teach them about the sabbat by creating the Corn Dolly with your child. The only thing I might do different is include instructions on how to create a corn dolly, but those could easily be found on Pinterest, doing a Google Search, or other sites.
(Entirety of Box)
Our Overall Thoughts on WitchBox… It's a great box, with a very professional, put together look. The layers were tidy and added excitement to opening the package.
It is definitely filled with items to help you celebrate the Sabbat of the month in the correct fashion. For us it was Lughnasadh/Lammas and I felt every item pertained to the celebration. From information about the sabbat, to spells and rituals you can perform. It gives you materials to correspond with the holiday to use in any of your own workings, a lovely item to make into an altar decoration, and a fun craft to do.
The box does not come with instructions on what to do with the items it contains, that is up to you, what you would like to use them for. For example, you may use the incense in a ritual for the sabbat. It does come with a full comprehensive list of what is in the box, though, and the ingredients are listed for items which is very helpful to know.
The quality of the items is very good, like the large, beautiful smelling candle or the handmade incense. The only thing I mentioned is the birch circles could have been thicker. But overall everything is of very high quality.
Though the box may seem a bit pricey, I do understand why this box would cost as it does. In this business you must spend on packaging and supplies to be able to make your goods. Then there is the crafting/labor side that you do not get paid fairly for. Plus as Jessica White mentions (in the short interview to come), she is out daily foraging for her supplies. That adds even more labor you barely see compensation for. There are a lot of natural pieces in this box, the herbs in the incense, the wild blueberries, the herbs in the candle, the herbs in the flying ointment. The box is almost 100% handcrafted, and as we know handcrafters are never paid fairly.
If you are a witch with the financial means, a monthly subscription to WitchBox for $85 will not hurt your finances. It does come with items for the sabbat you would have to buy or could buy to celebrate the holiday, anyway. Their is a $40 version of WitchBox. It gives you a bit less, of what the $85 box contains. It contains some of the same items, so I am confident in saying they will be of great quality, as well. I would suggest going with the $85 box, however. You really do get more bang for your buck. You can check out both boxes here on WitchBox and decide for yourself.
WitchBox, I feel, is a reputable company PaganPagesOrg can stand behind.
So who is behind WitchBox and all the creative goodies inside?
Jessica White is the Founder & Sole Proprietor of WitchBox.co and an etsy store front, WhiteWitchhh, selling witchcraft supplies.
We recently had the opportunity to ask Jessica White a few questions about herself and her businesses.
PaganPagesOrg(PPO): Can you tell us a little about yourself. Where you are from? What path do you follow?
Jessica White(JW): I'm a Pagan witch and Massachusetts native. My family has been in Massachusetts since 1715, so I feel a strong connection to the early colonists of the new world who lived off the land, but there's an old world element to my practice as well.
PPO: How do you choose what goes into each Sabbat Box?
JW: The contents of each WitchBox depend on what the earth provides in the weeks before each sabbat. The contents are also based on research I do in various compendia of Celtic and Anglo Saxon writings, Ronald Hutton's research (and combing through his sources as well), and the needs of a modern witch.
In many ways, New England serves as a cultural bridge between the old world and new. In the Americas, many of us in the new world have lost touch with our agrarian roots through the generations, so we crave the folklore, traditions, and mysticism of our ancestors. The goal of WitchBox is to get subscribers closer to the land and the seasons, and to walk in our ancestors' footsteps in the modern day. I serve as your mediator with the land: I forage in the wild on an almost daily basis, respectfully harvest what Mother Earth provides in that season, and I use the wild materials in every WitchBox. 
PPO: How did the idea for WitchBox come about?
JW: I had the idea for WitchBox when someone on tumblr posted about wanting a witch subscription service. It was totally a "Eureka!" moment. Having seasonal affective disorder, I've always been very connected to the seasons, so I took the idea a step further and based WitchBox on the Wheel of the Year.
If you would like to contact Jessica White with any questions about WitchBox you can email her at:  [email protected]
To learn more about WitchBox visit: http://www.witchbox.co/
To see her shop WhiteWitchhh visit: https://www.etsy.com/shop/WhiteWitchhh
***
About the Author:
Jennifer Sacasa-Wright is an Eclectic Witch who runs PaganPagesOrg eMagazine. She has many opinions, thoughts, & suggestions, and, at times, has problems holding her tongue. She loves hearing your opinions and thoughts on the magazine and welcomes comments.
The Bad Witch's Guide to Imbolc

I am a bad witch. There are a long list of reasons why I am a bad witch. Having been out of the broom closet for some considerable number of years I would on occasion get asked "but you're a good witch though?" My response to that depending on the person asking but I found I started to say "yes, a very, very good witch" rather darkly as it usually got the point across…

January was called Wolf month in Anglo-Saxon. Where the starving creatures ventured into villages snapping at the young and helpless, just like the bitter winter winds. January stalks through the cold and damp towards the wet helplessness of Imbolc, lambing season.

There is power in that fragility, in the force of hope. Power in the vulnerability to decide to grow and reach towards the light. February can feel more like winter than December weather wise at least in the British Isles. Sometimes we get unexpected sunshine and warmth, but for the most part it's sleet, snow, high winds and driving rain.
(Brigid Imbolc Corn Dollie by Carlie Bodey of GreenWitchGlamour on etsy.)

Imbolc to me makes more sense if it is part Valentine's Day, part Mother's day, part birthing ritual. It is a celebration of hope and the power of love. Sexual love, motherly love and love of life. Brides (Brigid dolls and crosses) are usually the decorations but in truth in our house, we usually finally take our live tree from Yule outside. It is still covered in lights but the ornaments are packed away long ago. We have a Spring clean. I might set up a small altar or temporary shrine to spring.

Breed day, Brides day, all have a sense of sexual expectation I can never seem to muster at this time of year. It is still too cold to shave my legs! I grew up on a farm and much like Lughnasadh represents the frantic hot work of getting the hay harvest in rather than some languid holiday revelry; Imbolc is lambing season. You might have to herd sheep in from one place to another. Bring them in (or let them out, weather dependant) and hunt for stray ewes and small grey bundles abandoned on the luridly green grass. It is cold work. Usually having to be done gloveless. It lacks the communal jovial atmosphere a lot of other seasonal farm jobs have. There is loss and death aplenty. Little miracles happen too.

After all these years I can't get the after-birth off my hands. I can't get my hands warm, my feet either to this festival. I don't hate it. Imbolc is necessary. Birthing is hard. It is dangerous. Liminal and primal. It is a labour. A labour of love. It is where all the loving words are blown away by the roaring wind and your actions really matter. It is what you do, here and now that counts.

I guess this is why I struggle with the whole modern idea of fasting and dieting around January. It feels punitive when everything already feels hard. The weather's awful. A lot of people are sick. It feels counterintuitive to try and throw yourself into some fake "good" mood. I usually like January. For me and my family it is full of birthdays. And yet, and yet this anticipation of the grind, the work ahead feels overwhelming. So this year I am going to give someone who really needs some love some attention: me.
Just do the one thing that needs doing now. Then the next thing. One breath at a time. Keeping your head where your hands are. One step. One moment after the next. I'm going to try and stop myself from berating myself at how much I have not done, and try and celebrate what I do.

My bad witch self is going to clean and bless my space. Then I'm putting on a playlist designed to be impossible to feel sad or sluggish while playing. I might even eat some good stinky cheese (maybe even goat or sheep cheese) to honour the milk, blood and labour. Then I'm going to look at my "to do list" and try not to wince! I might feel up to doing something fancier on the full moon but I'm not going to force myself to "go through the motions" when all I want to do is hibernate!

Self-care and self-love seem to be so far down most folk's lists of stuff to do. I have many of the women I know running families, jobs and education who refuse to stay home when they are sick because they "don't have time to be ill". Women are routinely told to put themselves last and in the spirit of the birthing season I ask you to give yourself the same compassion and support you give others because you cannot fill others from an empty cup. You don't have to be everything to be enough.
Spell- Rite (You are Worthy)

You will need:

Feel good music (the only rule is that it makes you feel happy)
"Naughty" food, be it ice-cream, stinky cheese or a decadent veggie-burger.
Hot bath or shower.
Candle (scented or otherwise)
Incense (something sweet like amber)

Firstly have a long hot shower or soak in a bath. Use your best products, add some salt. Scrub it all off.

Next in your ritual wear. You can either, dress up the nines. Go all out, or put on your most comfortable 'jammies or nightwear.

Light your candle and say

"I light this fire to remind myself to shine. I am of the same radiant light and I am worthy."

Then light your incense and say:

"I light this fire to remind myself to find faith in myself. I am of the same breath and I am worthy."

Just sit for a moment and take in the light and sweet smoke. Then put on your playlist and grab your food and feast. Sing-along, dance, and enjoy.

When you are done extinguish your candle and if you like you can keep this as your self-love candle. You can light it if the day is dark and scary and remind yourself you are worthy. Learning to love yourself is important and honours the gift that the Old Ones have given you.
Book Review
The Fire Rose
The Elemental Masters Series
by Mercedes Lackey
This is the
classic story of a young woman, a man and the trials of living with
magic. The concept might be a norm with fantasy fiction, but with
this addition from Mercedes Lackey, we find magic in the rawest form.
Elemental magic.
I have
personally read this book over a 100 times, no joke. It is one of my
earliest exposures to the actual 'possibility' of magic existing
in our world.
When I
stepped into the world of Jason and Rose, two totally different
personalities and walks of life, I felt a kinship with Rose. She is a
learned scholar and in the time period of the book that is
practically unheard of.
Now,
picture this:
A
university-taught young woman, raised in Chicago, after losing her
father, has found out the full depth of his debt. He made some rather
shady monetary choices and lost it to a charlatan who had managed to
do the same with all of his other backers.
After
watching all of her worldly possessions being carted off by the bank,
she was taken under the wing of a fellow professor of her father's.
Enter
Jason. Besides being a very well known rail baron and millionaire,
living on Nob Hill in California-he is also a Fire Master.
He made a
very foolish choice, after thinking that he had enough magical power,
to attempt a werewolf-loupe Garou (1) spell that would allow him to
change between werewolf form and human form at will; while still
retaining his human mind. This failed in a way he never expected. It
left him unable to read, write or practice magic fully due to the
changes he created.
Enter Paul
du Mond, a selfish and perverse man who is also Jason's protegee –
working to become a Fire Master himself. He is quite prolific in his
various diversions to acquire power. He feels like the elemental
powers should be his without the regular work and patience involved
to rise in power to a Master of Fire as well. He is also Jason's
secretary who handles the business that Jason cannot due to his
hubris (2).
There is
another Fire Master, Simon Beltaire, who believes as Paul does that
magical power can be derived from sex magic and pain. He lives in San
Francisco. After enticing Paul with offers of teaching his way of
magic, he turns Paul against Jason, while turning Paul into a spy.
After
Rose's father passed away, a letter was sent to her "knight of
shining armor" from Jason outlining his need a scholar to help read
for him, under the pretext of needing a governess for children he
didn't have. Feeling like all she was able to do was to teach, this
offer felt too good to be true, she accepted the offer with some
concern.
Off to
California, she goes!
I could
simply say that I love this book, however it's more than that. This
book fueled my teenage years with joy and happiness. A world that I
could travel to and escape my reality.
In addition
to this, I was also just beginning to learn about magic and things of
the occult. This also happened to be the only way I could "learn"
about the Craft in a way that wouldn't upset my parents.(I'm not
advocating hiding anything from parents at all!)
All in all,
this is a good read and a lovely way to spend an afternoon curled up
with a cuppa, and a snack! Read with an open mind and you'll find
magic everywhere!
(1)https://www.merriam-webster.com/dictionary/loup-garou
(2) https://www.merriam-webster.com/dictionary/hubris
The Fire Rose (Elemental Masters Book) on Amazon
***
About
the Author:
My name is Krys, I've been living the Pagan life for 19 years. I am a wife and stay at home mom to one teen. I am an ordained minister/ Priestess, and head of the Cyber Moon Coven of Changes. After many years as a practicing Christian, I found paganism to be a more suitable path, personally. A few years and covens later, I found that being open to the online community was becoming more important to me.
After struggling to find a coven that was not just "rules" and "roles". A few attempts later, I began the Cyber Moon Coven. An online and real life coven, with a 'no strings attached policy'. You can find my group on Facebook. (Cyber Moon Coven of Changes)