Administrator June 1st, 2019
Review of Morrigu's Nest Etsy Shop Products
Morrigu's Nest is a wonderful shop on Etsy that sells a variety of products to cover your magickal demands. Owner, Anne Corrigan, hand makes all her items from talismans & jewelry to candles & oils, there is guaranteed to be something you need or can use! Her recipes are her own secrets and she carries, in Morrigu's Nest, many ways for you to celebrate the holidays.
This past Spring Equinox we celebrated using item's from Morrigu's Nest. (We only took before pictures, as our rituals are private.)
Ostara/Spring
Scented Equinox Candle
Packed
to the brim with all you need for an Ostara/Spring Equinox ritual
this easy to travel with tin held candle is very convenient. Either
for the witch on the go, or the witch in the closet who needs to hide
her magick in her bag till she can find a place to do it, this all in
one kit is a go to all inclusive ritual package! It is filled with
corresponding herbs like honeysuckle
&
orange daylilies; and crystals
like amethyst and rose quartz to name a few. The candle itself
smells like jasmine and spring blossoms. The
pure freshness of it brings thoughts of spring.
Instructions come with the
candle explaining that you are to remove the herbs and gems from the
candle before lighting. Then giving ideas on what you can use your
gemstones for. You are to imbue them with your energy, you can
arrange them around the candle, you can use them in a spell, a
bottle, a sachet, a poppet, there are so many ways. There is a
generous amount of herbs and stones given with the candle. So you
can use them in a few ways.
The
candle is 4 oz hand poured into a tin with a cover. Smooth
looking. It
burns very well. Nice scent. Clean burn. We loved using it during
our ritual. Plan to use the herbs in many ways. Plan
to use the tin, too. Right now I'm saving the herbs in them.
Ostara
Anoninting Oil
100% natural, essential oil, body potion. Loaded with herbs, flowers, oils & crystals. You can see them filling the bottle. The smell is of a sunny spring day in a meadow. The oil is light on your skin and blends in well without leaving any residue. The scent is nice and strong and will stay on you for a long period of time. It has calming scent. You can use this beautiful oil to anoint yourself for ritual and magick work, or just to wear on a beautiful spring day to remind yourself you are the magick.
Morrigu's
Nest, also, has ways to help you celebrate other sabbats, let's
take a look!
Yule Scented ritual candle
Their Yule Candle smells like Yule. The herbal & crystal topping is spectacular. You can see the juniper berries, orange peel, cloves, and so much more. The crystals shimmer. The aroma is warming and of spiced fruits and wood.
In the instructions Morrigu's Nest is clear to state, many times, to remove the herbs and crystals before burning your candle. I wanted to show you how the candle looks without the herbs. Here is the herbs in a bowl. You can see there is a good amount of herbs and stones to work with in spells and a nice 4oz full candle in the tin. It is 100% natural wax.
Yule herb blend
Another wonderful product to
help celebrate Yule is their Yule herbal blend. It is a potent blend
of corresponding herbs, botanicals, spices, barks, & roots.
Morrigu's Nest
has used over a dozen ingredients in her special Yule Winter Recipe.
Some ingredients include: bay laurel, cinnamon bark, yew leaves,
coriander, and much more.
This is intended for magickal
use only, NOT culinary. You man NOT eat this. There are warnings
that come with the package. The ingredients were chosen for their
magickal correspondences only. It is suggested to burn it in small
amounts as the scent may be over powering in large quantities and may
not smell the same when burned.
You get 4oz in a resealable
pouch, which is great. You can keep it fresh! It smells wonderful,
woodsy. You pick up the cinnamon and juniper right away. It is good
to use simply as a magickal Yule potpourri filled with your wishes &
intent for everyone! Give a little sachet maybe to everyone with a
gift? To keep in their homes. A little goes a long way with the
scent & the blessing.
Samhain
Set
This set comes in a Gold Gauze
bag, a peek-a-boo presentation of witchie delights. All of it's
contents are addressed on explanation documents that arrive with your
set. It's a long bag & sticking my hand in I just grab for the
firs thing I feel. Unfortunately I did not take a picture of the
bag…
An herbal Samhain blend
An
herbal blend for Samhain, much like the one for Yule. It is meant to
be used for magick or an incense. However, this one includes such
herbs as rosemary,
wormwood, mugwort, and
others. You receive 1oz of 100% natural herbal blend. The smell is
lovely, but I must admit, it is not as strong as the Yule blend. I
like the Yule blend a bit more, but that is just MY taste.
Dressed
Scented Samhain
Black
Tin Candle & Orange Tin Candle
These two candles are
beautiful. They shine with glitter and smell glorious! Each a
different aroma & color. If I have to guess and say what they
smell like I would say the orange one has a more fall smell to it.
They typical fall smelling candle. The ones you just love to get
when it's that time of year! The black candle smells more, I can
not explain why, but like night to me. Like a sweet night. On the
breeze. Oh so dreamy! Plus you have all the Samhain corresponding
herbs on top to work with.
Bottle
of Witches Black Salt
Morrigu's Nest has included an important tool in this Samhain kit…Black Salt. For those how have never used Black Salt before it is used in workings for protection, banishing, curses, hex breaking, uncrossings, etc… It is a great item witches should have in their cupboards for defending themselves.
Morrigu's Nest recipe is NOT just colored salt. She uses all natural ingredients and NO DYES. She has her own recipe she has formulated of a powerful blend of protective and banishing herbs, roots, seeds, & combined them with ashes from her Samhain ritual fire and sea salt. Then using energy and intense visualization she imbued the intention of protection and fiery defense as she pulverized these ingredients into almost a powder. It is a very fine powder and not the usual chunks of black salt you will find at shops. I like this because a little goes a long way.
After explaining more of her method of making her Black Salt at Morrigu's Nest, she goes on to explain safe ways to use it, including a spell. I found that very handy. I like knowing how it was made. Her secret recipe. Suggestions are always helpful.
4
Thieves Vinegar
Four
Thieves Vinegar is an ingredient found in Hoodoo & folk magic
spells. The recipe has evolved from Western Europe, around the
fifteenth century. Their are many legends about it. The common string
among them is that there was a horrible plague in a village, and the
only people who survived were four thieves. Each of them contributed
one ingredient to a jar of vinegar and garlic, they drank it, and
somehow survived the plague uninjured. Since they were healthy and
everyone else was dying, the four thieves went around the town and
robbed the empty houses. Eventually they were caught, and sentenced
to hanging, but they were able to escape the gallows by sharing their
secret formula. Whether this is true or not is anyone's guess.
Four Thieves Vinegar is a useful item to keep on hand because it can
be used in a wide variety of spells, from healing to protection to
banishing. I have never worked with this stuff before, but I look
forward to it.
Morrigu's Nest version is made with herbs that correspond to protection & banishing. It claims to be very potent. It warns you to NOT INGEST on the bottle boldly. The papers that come with it suggest how you are to use it and state it is toxic!
Samhain ritual oil
Samhain essential oil, 100% natural, body oil. Comes in a .33 oz glass roller ball applicator bottle. It's a unisex scent of autumn mostly cinnamon & orange. Very fragrant. Lovely smell. Definitely unisex. Morrigu's Nest says they oils were chosen based on folklore magickal correspondences as well as their aroma therapeutic traits. It also has notes of patchouli, cedarwood, and other scents. It lasts a long time on the skin and blends in well.
Samhain
Gemstone Clip-On Charm
Genuine gemstones frame a
pretty, bronze, large triquetra charm on a sturdy clip. I actually
pulled on it, cause I can be a jerk like that, to see if it would
fall apart easily. It didn't! I thought it would. I am glad it
didn't because it is so lovely. The suggestion is to wear it on
your backpack, bag, purse, handbag, planner, key ring or belt loop.
You can use this in your ritual wear, or keep it as your everyday
spiritual reminder. The paper it comes with tells you exactly what
stones are on the keychain. It does not tell you what they mean, but
it tells you they were selected intentionally to correspond with
Samhain. It's easy to look up stones, however, if you do not know
the meanings off hand.
How
about when it's not a sabbat & you just need supplies?? Well
Morrigu's Nest
has them for you!
Prosperity
Candle spell kit
Just like all their sabbat
candles, this tin is all you need for a wonderful spell. The
prosperity candle spell kit comes with all you need to cast your
spell. Filled to the top with all the herbs & crystals you will
need to cast and a 4oz candle in a tin that you can travel with.
You can see from the picture
you are given plenty of herbal & crystal supplies with your
candle for your spell. Plus you get a sheet with your kit explaining
exactly what is in your candle, what it's scent it, how it was
made, precautions, and ideas on how to use it! Burn time is approx
25 hours. The smell is springtime greenery, woodsy, & lightly
floral. I love the sparkles on the candle. It adds some flare.
Rosemary Mint herbal bath soak
I would like to lick this it
smells sooo good! You can see the herbs in the salt. The salt is
unlike the usual bath salts you find, it is a fine texture and I love
it!!! Instead of rocks in the tub its a fine grain that blends in
and just rolls over your body and purifies you as the scent cleanses
your mind. I can not recommend this soak more!!!! The relaxation is
blissful!
Protect & Purify herbal ritual salt
For use during your sacred circle casting or for purification rituals. This herbal salt was ground with intention to form a powder-like blend & Morrigu's Nest used traditional protective and cleansing herbs. She pulverized these ingredients into almost a powder.
Even though it is salt it is not edible and comes with a big DO NOT EAT warning. The salt is so fine and a little goes a long way. The container is packed to the tippy top so you have tons in the packed 4oz bottle.
Bring
the Green
This bottle of green powder is for use in prosperity, abundance & money spells and rituals. You can burn it, keep it in your wallet, make poppets, and sooo much more with it. Morrigu's Nest has so many suggestions for its use. It has ingredients like allspice, vervain, basil, marjoram, and so much more in it! Its 2oz and finely ground, so a little bit goes a long way. The bottle is filled to the top. No space for anything. The smell is minty to me. I can't wait to use it! Maybe carry some in my pocket.
Faery
Sight ritual Oil
A 2oz, 100% natural anointing
oil, essential blend, inundated with beautiful herbs and flowers!
Not so much that there is no oil, but you see them floating
beautifully like a garden. Lovely lavender! Rose! To me it has a
slight lemony scent to it. A freshness. It's suggested you anoint
your crystals, and thirdeye, & candles with it. Anything to
attract fae to you. I can definitely see fae being attracted to this
oils ingredients & scent. I would definitely invest in the
larger bottles so you can see the herbs and flowers in the bottle.
Worth it!
Love & Romance herbal blend
This powder is for use in
love, romance, & lust magick. It was pulverized with intention
and a blend of herbs & botanicals was used for love and romance
magick. The bottle is 2oz and finely ground and filled to the top.
A little with this goes a long way! It has ingredients like rose
petals, hibiscus, dill, & so much more! The smell is so pretty.
She
sends information with all her packages explaining the ingredients of
the items, direction on how they are supposed to be used, and ideas
on how to use them. I
love the glitter, the flare to the candles. Everything has such
gorgeous, strong smells, that are not overwhelming and blend nicely.
The oils scents stay on your skin and do not fade quickly.
Everything
is made of great quality & care. The warnings are in bold and
mentioned over and over for safety.
Vervain
Protection Amulet
This is one of my favorite items in the Morrigu's Nest catalog. It is gorgeous way to wear something we can all use a little something extra of everyday…protection. I think putting the half crescent moon, antique brass finish, moon charm on a simple silky, black cord allows the pendant to stand out more as the art piece it is. Giving the corked, spell bottle that square on the side eye-hook is just the perfect touch! The spell bottle is filled, packed tightly & permanently sealed with hand ground vervain that is imbued with intent of protection of wearer. The moon worn sideways & in this phase was chosen to represent The Crone, The Wise One, the Grandmother Moon. It is meant …"to represent the energy of the wise greandmother that loves and protects you and gives you her wisdom as she guides you on your path."
Whatever you think it means to
you it does. I kinda got an Egyptian vibe from it. Soon as I saw
it, and Isis wings. May it be who it will for you & protect you
always!
Another set of items I found to be wonderful and helpful at Morrigu's Nest were their Intention Bottles…
Intuition & divination
You can see this is a really decent size bottle here. We are not talking tiny little bottle to wear. It is almost 2 inches long. So it really has room in there! It comes with a label that tells you all the ingredients like: mugwort, wormwood, flaxseeds, labradorite, amethyst, and more. You can see and make out many of the ingredients. It is securely sealed. It is filled enough to give you just a touch of room to shake it to revitalize it. It arrives in its own gauze baggie. It comes with an explanation note from Morrigu's Nest stating that it is …"ritually crafted with the intention of evoking and aiding."
I am about to take on learning
tarot. Runes were my thing, or so I thought. The tarot is calling…
So this is what I chose to be my aid in the process. I have felt
protected by my other pendant, I believe this will aid me.
Self-Confidence
This bottle is the same size
as the other Intention Bottle. Made, ritually, in the same way.
However, its contents are different, for its purpose. Inside it
holds ingredients, such as; dill, turmeric, citrine, fennel seeds,
basil, & more. All for boosting your self-confidence.
It's lively right? I found
that interesting. Like a punch of color…a punch to your system,
that boost you need. Well, I have been carrying this bottle on me
all day. I would shake it now and then for extra bursts, hold on to
it when I felt I was struggling a little more. Today was one of
those days! It would help me focus. Remind myself to breathe.
Everything inside is bonus to my self-confidence help. Plus the
magic of the intention that was lent to it & mine because I pray
over my things.
Courage
& protection
Just like the previous bottles this, almost 2 inch glass, filled and securely sealed bottle is filled with its own goodies, like: thyme, black pepper, black tourmaline, red jasper, & more. All of which you can clearly read on a removable label that comes attached to its cord.
I
used this bottle on my journey of change. I took it to battle
really. We all have fears we need to overcome. I have plenty. We
went on a hike. I do not like traveling into the forest for too long
or too deeply. It is a personal fear. I know we are on a path. I
know we can turn around. But I still have my fears. I decided to
start making changes in life and facing some fears is one of them.
This bottle and I hiked over 3.5 miles today in the forest. We
weathered panic. We embraced joy. We overcame… with each other.
Every bit helps.
My
Overall Thoughts…
I am so amazed by the workmanship, quality, inspiration, detail, and love put into every item I have reviewed from Morrigu's Nest. Not one item has disappointed me. Every bottle is packed to the brim with quality ingredients. You can smell the herbs. The candles, well, they are brilliant spell kits in themselves. They come with the herbs and gems you will need, and you get the tin after. The amount you get for your money is fantastic. I love that it is their own recipes & handmade, not something I am going to find in every witch shop. My favorite piece, that I have not taken off is the Vervain Protection Amulet. I may feel a little too protected by it, thinking I'm supergirl!
We were lucky enough to get a chance to speak with the proprietress of Morrigu's Nest & creatrix of all things wonderful within, Anne Corrigan.
Jennifer
Wright (JW): Hello Anne, It is such a pleasure to meet you!
I
want to thank you for taking the time to talk with me and our readers
about yourself, your company, and your process…speaking of your
process, where do your ideas come from? Like your gorgeous
Protection Pendant! I think its trendy enough to wear and get
away with magick. LOL!
Anne
Corrigan (AC): Hi Jenn! Thank you so much for reaching out to me,
I truly feel honored to have my shop reviewed by you. And thank you
and your husband Benjamin for all the work you've done to birth
PaganPages.org. Your site is a wonderful resource and nourishes the
pagan community; thank you!
My
inspiration comes from communing with my deities, spirit guides,
scrying, shamanic journeying and trance, magickal folklore,
connecting with nature, and hanging with my witchy friends. All these
muses revisit me during my daydreams and thunderstorms in my head
which I credit to my Attention Deficit Disorder, LOL! Sometimes it's
like popcorn popping in my brain. The downside to that is that it's
hard for me to focus on developing one product at a time and it's a
challenge to bring everything to fruition.
I
do make some products that could be considered staples of a magickal
path that are similar to other companies' products. The difference
is that I really strive to make my offerings unique by putting my own
twist on the traditional standbys. At the moment I am working on my
own Florida Water recipe. I am also preparing DIY witchcraft project
kits for witch ladders, spell bottles, and spirit dolls. I love
crafting and making things with my hands. I also want to empower
others to create their own sacred objects by providing the raw
materials and instructions (coming soon). That way they can really
imbue them with more of their magickal energy. I'm glad you like
the Protection Pendant! Thank you for the compliment! I like the idea
of magick incognito under the guise of fashion, LOL!
JW:
Thank you so much for your kind words about PaganPagesOrg, it really
touches our heart!
You
mention that you use your own secret recipes, are they family
recipes? Will you be passing your recipes down?
AC:
Well, my recipes are not completely secret, I do disclose the
ingredients in my listings, especially anything that is applied to
the skin, such as essential oil blends and ritual bath salts. As for
other items, such as, herbal blends, ritual salts, potions, and
vinegars, I don't list every little detail. Even when using
traditional recipes for inspiration, I always tweak them based on my
intuition, research, and communicating with the spirits of the
plants. My recipes are mine alone, I was raised Catholic, and I have
no idea if there were any pagans or witches in my ancestral line. I
am planning on passing a grimoire down to my daughter. I may also
publish a spell recipe book in the future.
JW:
I really love how your Black Salt is a finer grain then you usually
find with black salts. Why did you decide to go with this
grain?
AC:
I wanted to create a versatile and energy packed black salt.
It's versatile because you can take a pinch in your hand and blow
it at your target, discreetly sprinkle some around your workplace,
home car, anywhere really. Also, the main reason that I pulverized my
black salt is that the process of grinding it allows me to raise
energy while I enchant it with my intent and I believe that when I
use my mortar and pestle to grind and blend the herbs, salts, roots,
seeds, and ashes (I use ashes from our Samhain fires), that the
spirits of the plants are evoked and combine their energies with
mine. We work together to create magick.
In
order to attain such a fine grain, I grind the ingredients first by
hand and then again with a motorized grinder. However, because the
grain is like a powder, sometimes it clumps together and you have to
stick a skewer in the bottle to break it up. Everything in the recipe
is natural. I don't add black dye; the color comes from the ashes.
My black salt is also a little different because of its unique scent
which I attribute to the ground fennel seeds and ginger root. Every
year after Samhain, I create a new batch and change the recipe a
little bit.
JW:
When you are working/creating, do you have your own special sacred
space?
AC:
Wherever I am creating is sacred space, because I create sacred
space by connecting with my spiritual allies and focusing my
intentions. I imbue my products with my energy and intention for the
highest good of the owner. I do have a working altar that I perform
rituals and spells on and a devotional altar dedicated to The
Morrigan where I pray and give offerings as well as charge products
that are specifically dedicated to The Morrigan. Much of my product
crafting takes place in my kitchen for practical reasons. I do have
special magickal wooden spoons and wands that I have dedicated each
one for specific tasks such as candle making, potion stirring, and
mixing herbal blends and salts.
J):
Are there other workers in your company or do you work alone?
Do you hand package & ship your products yourself?
AC: For the most part it is just me. I have a friend who is a Druid that creates some of the ritual bath products for my shop. Her brand is called Blue Moon Sundries. I make my own labels and hand package everything myself. I would like to hire a graphic designer in the future to create some nice labels for my products. For now, I do it myself because I rather invest money in quality raw materials. It's more important to me to have what's inside the packaging to be of the highest quality than looking pretty. I really admire other people's labels though, some are so beautiful, and I get a bit envious, LOL! Morrigu's Nest is a micro-business, but who knows, one day I might have a crew. I would love that!
(W:
How did you start your company, what brought about the idea, did you
feel the pagan community was missing something?
AC:
In 2014 I opened my Etsy shop and named it Phoenix Serendipity.
At that time I didn't have a plan other than to have an outlet for
my creativity and to make a little money to support my crafting
habit. When I would make myself a witchcraft tool or altar decor item
I would make one for my shop as well. In the beginning my shop was
only a hobby.
When I was claimed by The Morrigan I renamed my shop
Morrigu's Nest. I do feel the need to make it clear that my shop is for everyone regardless of their spiritual tradition and not only devotees of The Morrigan. By naming my shop after The Morrigan it is my public declaration of my devotion to her, a reminder to myself of my commitment. My motivation for my shop now is to empower others in their craft by offering a convenient way to access quality supplies, tools, and sacred objects.
The
one aspect of my shop that has remained consistent is my commitment
to serving my customers the best I can! I realize that there are many
other shops to choose from, especially on Etsy, and I feel honored
when people buy my creations.
I
am in the process of developing new items and one of my goals is to
create DIY kits such as witch ladders, spirit dolls, and spell
bottles. These kits will contain all the parts needed along with
instructions. I want to serve our community by giving people a way to
craft their own tools/sacred objects. That way they have an
opportunity to add more of their personal energy into them. I feel
these new products can encourage personal sovereignty and
self-empowerment.
JW:
Do you mind if I ask, what type of path you follow?
AC:
I am a daughter of The Morrigan. I also am dedicated to Cernunnos. My
path is very eclectic though and I combine aspects of multiple pagan
paths and practices that resonate with me. My spirituality is always
evolving, growing, and I am continuously learning. I practice
solitarily as well as with a group. I consider myself a neo-pagan
witch.
JW:
What are some of your other hobbies & interests?
AC:
Anything creative! I just love experimenting with all types of
craft supplies. My group of pagan friends get together about monthly
to work on "witchy-crafts." Just yesterday they came over and we
each made a set of clay moon phases. I also love learning about
herbs, both magickally and medicinally. I also have become interested
in foraging and wild crafting. I feel nourished when I just sit among
the trees, or visit the river, or stroll through the woods. I also
like drumming, although I struggle with rhythm, I just love the
energy of it. Chanting and raising energy with my friends around the
fire pit brings me joy. I also enjoy shamanic journeying while
listening to live drumming. I am drawn to all modes of divination,
especially fire and black mirror scrying. I want to start studying
tarot too. I also am interested in developing my ability to
communicate with spirits, mediumship, and assisting those in need of
crossing over.
When
not doing these things, I'm hanging out with my hubby listening to
him practice bass and guitar, watching movies, or hanging with family
and friends.
Jennifer,
thank you so much for interviewing me. This was my first interview
ever, and I feel very honored and grateful. May your path be
abundantly blessed!
JW:
Anne, THANK YOU for taking the time to answer my questions for our
readers & sharing about, not only your shop, but yourself. I
loved learning about both!
If you are interested in any of the items I've reviewed you can find them on Morrigu's Nest page, plus many other wonderful items. You can contact Morrigu's Nest through any of the links below:
Anne Corrigan personal FB page
Anne Corrigan of Morrigu's Nest is offering our readers only a special 30% off coupon, good through the month of May. Use Coupon Code: PAGANPAGES to receive 30% off your purchase!!!
***
About
the Author:
Jennifer
Wright is
a witch on a path of change that is always winding. She founded
PaganPagesOrg in the hopes of giving Pagans a platform to share and
learn without judgment.
She loves to create in her spare time and you can find her Creations, Jewelry, & Magickal Witch Bottles at: www.facebook.com/TwistedWitchesShoppe/
When not creating she can be found strolling around FB, Twitter, & Instagram looking for an interesting conversation. She's the moderator of a FB Group called Cyber Moon Coven Of Changes and enjoys spending time with it's members.
Book Review
The Fire Rose
The Elemental Masters Series
by Mercedes Lackey
This is the
classic story of a young woman, a man and the trials of living with
magic. The concept might be a norm with fantasy fiction, but with
this addition from Mercedes Lackey, we find magic in the rawest form.
Elemental magic.
I have
personally read this book over a 100 times, no joke. It is one of my
earliest exposures to the actual 'possibility' of magic existing
in our world.
When I
stepped into the world of Jason and Rose, two totally different
personalities and walks of life, I felt a kinship with Rose. She is a
learned scholar and in the time period of the book that is
practically unheard of.
Now,
picture this:
A
university-taught young woman, raised in Chicago, after losing her
father, has found out the full depth of his debt. He made some rather
shady monetary choices and lost it to a charlatan who had managed to
do the same with all of his other backers.
After
watching all of her worldly possessions being carted off by the bank,
she was taken under the wing of a fellow professor of her father's.
Enter
Jason. Besides being a very well known rail baron and millionaire,
living on Nob Hill in California-he is also a Fire Master.
He made a
very foolish choice, after thinking that he had enough magical power,
to attempt a werewolf-loupe Garou (1) spell that would allow him to
change between werewolf form and human form at will; while still
retaining his human mind. This failed in a way he never expected. It
left him unable to read, write or practice magic fully due to the
changes he created.
Enter Paul
du Mond, a selfish and perverse man who is also Jason's protegee –
working to become a Fire Master himself. He is quite prolific in his
various diversions to acquire power. He feels like the elemental
powers should be his without the regular work and patience involved
to rise in power to a Master of Fire as well. He is also Jason's
secretary who handles the business that Jason cannot due to his
hubris (2).
There is
another Fire Master, Simon Beltaire, who believes as Paul does that
magical power can be derived from sex magic and pain. He lives in San
Francisco. After enticing Paul with offers of teaching his way of
magic, he turns Paul against Jason, while turning Paul into a spy.
After
Rose's father passed away, a letter was sent to her "knight of
shining armor" from Jason outlining his need a scholar to help read
for him, under the pretext of needing a governess for children he
didn't have. Feeling like all she was able to do was to teach, this
offer felt too good to be true, she accepted the offer with some
concern.
Off to
California, she goes!
I could
simply say that I love this book, however it's more than that. This
book fueled my teenage years with joy and happiness. A world that I
could travel to and escape my reality.
In addition
to this, I was also just beginning to learn about magic and things of
the occult. This also happened to be the only way I could "learn"
about the Craft in a way that wouldn't upset my parents.(I'm not
advocating hiding anything from parents at all!)
All in all,
this is a good read and a lovely way to spend an afternoon curled up
with a cuppa, and a snack! Read with an open mind and you'll find
magic everywhere!
(1)https://www.merriam-webster.com/dictionary/loup-garou
(2) https://www.merriam-webster.com/dictionary/hubris
The Fire Rose (Elemental Masters Book) on Amazon
***
About
the Author:
My name is Krys, I've been living the Pagan life for 19 years. I am a wife and stay at home mom to one teen. I am an ordained minister/ Priestess, and head of the Cyber Moon Coven of Changes. After many years as a practicing Christian, I found paganism to be a more suitable path, personally. A few years and covens later, I found that being open to the online community was becoming more important to me.
After struggling to find a coven that was not just "rules" and "roles". A few attempts later, I began the Cyber Moon Coven. An online and real life coven, with a 'no strings attached policy'. You can find my group on Facebook. (Cyber Moon Coven of Changes)
Review of WitchBox
(WitchBox Logo)
What is a WitchBox exactly? According to WitchBox it is:
"A subscription service for pagan witches based on the Wheel of the Year. A box ships every 6 weeks, 10-12 days before the sabbat."
What this means is that every 6 weeks you will pay a recurring fee of $85 + $10 shipping and you will receive a new Sabbat Box to help you celebrate the upcoming holiday.
There are two versions of these boxes. The $85 WitchBox is called the Major Arcana and is filled with all the Bells & Whistles. They do, however, have a lesser priced Sabbat Box subscription, called the Minor Arcana, and this subscription is only $40 + $7 shipping. This box contains, it seems, a little more than half of what the Major Arcana has.
PaganPagesOrg has received the Major Arcana Box to celebrate the Sabbat of Lughnasadh/Lammas and we will be reviewing this box for our readers.
(Sealed Package)
The package arrives in a nondescript, plain, brown box. The only writing visible on the box are the addresses. The box does not come addressed from WitchBox but from the owner of the company's name Jessica White. Their is no logo or pagan symbolism on the outside of the packaging. This is perfect for those who are still in the broomcloset.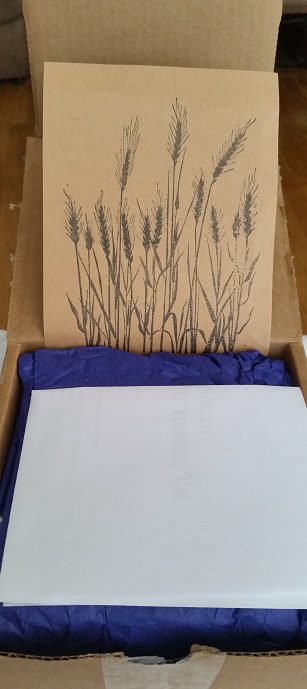 (Freshly Opened)
Upon opening the box my first thoughts were It looks tidy, neat, and organized. The first item you notice is a beautiful card. It definitely brings to mind the sabbat we are celebrating, Lughnasadh/Lammas. When you turn over the card there is a handwritten note. A very personal touch.
(Personal Note)
The second item you notice is a piece of paper. This is the Items List and explains what you will find contained within the box.
(WitchBox Logo Sticker and Packaging)
After you lift the Items List off the top of the box you see the true package begin. The W., WitchBox logo sticker holding together the deep blue tissue paper is an elegant touch to what I am about to find to be a beautifully layered package.
(Scrolls)
Layer one contains a majority of the items. It begins with the 2 Scrolls. There is information on both sides of each sheet. They have a nice antiqued feel to them. There is a pleasant aroma coming from the paper. The paper has been antiqued but it has not weakened the feeling of the paper it still feels substantial. They'd be a nice addition to any Book of Shadows. Their Topics include:
Page 1:
Information about the Holiday.
Correspondences to the Holiday…Gods/Goddesses, Crystals, Herbs,etc..
Page2:
Late Summer Sigil & Poppet Spell
Lughnasadh/Lammas Blessed Bread Charm
(Wrapped Items in Layer One)
Removing the scrolls reveals the rest of layer one which is filled with individually wrapped items, like little gifts. Each beautifully wrapped in blue paper with the W. logo stickers.
(Contents of Layer 1)
The first item I unwrap is a Candle. It is calming & nicely scented. Very smooth to the touch. All items are handmade in WitchBox and the candle looks well handcrafted. The Chamomile is clearly visible in the candle. It is a nice full size not a tiny votive like some would expect.
Next I opened the necklace. It is very pretty but not very precious. However, the value lies inside. It opens up to reveal a good amount of Flying Ointment. It is their recipe. It has the consistency of Vaseline and a soothing scent.
(Contents of Layer 1 Opened)
The last two little packages to open is a Bottle of Incense based on Scott Cunningham's recipe for Lughnasadh and a Self-Igniting Charcoal Disc. Jessica White clearly states on the Item's List that it is Scott's recipe and NOT her own.
The incense is placed in a nice corked, glass bottle that allows you to save and reuse the generous amount they send you. The bottle is even labeled on top with the holiday so you will always know what it is for. The self-igniting charcoal disc is a well thought out accompaniment.
I
(Three Panel Sigil Chain)
Layer two opens to reveal one item, the Three Panel Sigil Chain made with kiln-fired birch rounds seems a bit…well birch is birch, and being birch it is delicate. I thought maybe the panels should be thicker so the chains don't split through the wood. Even though it seems a bit fragile, I believe if I am careful some paint and some free flowing ideas, a beautiful sigil it will make.
(Dried Corn Husk & Blueberry Sprig)
Layer three is the last layer and contains a Dried Corn Husk Bundle for Making Corn dolly with a Wild Blueberry Sprig. It came in such a neatly, tied bundle packaged in the bottom of the box. I like the idea of including a craft in the collection. Something you can, yourself make. It can be a great altar or house decoration. You could also use it to connect with your children and teach them about the sabbat by creating the Corn Dolly with your child. The only thing I might do different is include instructions on how to create a corn dolly, but those could easily be found on Pinterest, doing a Google Search, or other sites.
(Entirety of Box)
Our Overall Thoughts on WitchBox… It's a great box, with a very professional, put together look. The layers were tidy and added excitement to opening the package.
It is definitely filled with items to help you celebrate the Sabbat of the month in the correct fashion. For us it was Lughnasadh/Lammas and I felt every item pertained to the celebration. From information about the sabbat, to spells and rituals you can perform. It gives you materials to correspond with the holiday to use in any of your own workings, a lovely item to make into an altar decoration, and a fun craft to do.
The box does not come with instructions on what to do with the items it contains, that is up to you, what you would like to use them for. For example, you may use the incense in a ritual for the sabbat. It does come with a full comprehensive list of what is in the box, though, and the ingredients are listed for items which is very helpful to know.
The quality of the items is very good, like the large, beautiful smelling candle or the handmade incense. The only thing I mentioned is the birch circles could have been thicker. But overall everything is of very high quality.
Though the box may seem a bit pricey, I do understand why this box would cost as it does. In this business you must spend on packaging and supplies to be able to make your goods. Then there is the crafting/labor side that you do not get paid fairly for. Plus as Jessica White mentions (in the short interview to come), she is out daily foraging for her supplies. That adds even more labor you barely see compensation for. There are a lot of natural pieces in this box, the herbs in the incense, the wild blueberries, the herbs in the candle, the herbs in the flying ointment. The box is almost 100% handcrafted, and as we know handcrafters are never paid fairly.
If you are a witch with the financial means, a monthly subscription to WitchBox for $85 will not hurt your finances. It does come with items for the sabbat you would have to buy or could buy to celebrate the holiday, anyway. Their is a $40 version of WitchBox. It gives you a bit less, of what the $85 box contains. It contains some of the same items, so I am confident in saying they will be of great quality, as well. I would suggest going with the $85 box, however. You really do get more bang for your buck. You can check out both boxes here on WitchBox and decide for yourself.
WitchBox, I feel, is a reputable company PaganPagesOrg can stand behind.
So who is behind WitchBox and all the creative goodies inside?
Jessica White is the Founder & Sole Proprietor of WitchBox.co and an etsy store front, WhiteWitchhh, selling witchcraft supplies.
We recently had the opportunity to ask Jessica White a few questions about herself and her businesses.
PaganPagesOrg(PPO): Can you tell us a little about yourself. Where you are from? What path do you follow?
Jessica White(JW): I'm a Pagan witch and Massachusetts native. My family has been in Massachusetts since 1715, so I feel a strong connection to the early colonists of the new world who lived off the land, but there's an old world element to my practice as well.
PPO: How do you choose what goes into each Sabbat Box?
JW: The contents of each WitchBox depend on what the earth provides in the weeks before each sabbat. The contents are also based on research I do in various compendia of Celtic and Anglo Saxon writings, Ronald Hutton's research (and combing through his sources as well), and the needs of a modern witch.
In many ways, New England serves as a cultural bridge between the old world and new. In the Americas, many of us in the new world have lost touch with our agrarian roots through the generations, so we crave the folklore, traditions, and mysticism of our ancestors. The goal of WitchBox is to get subscribers closer to the land and the seasons, and to walk in our ancestors' footsteps in the modern day. I serve as your mediator with the land: I forage in the wild on an almost daily basis, respectfully harvest what Mother Earth provides in that season, and I use the wild materials in every WitchBox. 
PPO: How did the idea for WitchBox come about?
JW: I had the idea for WitchBox when someone on tumblr posted about wanting a witch subscription service. It was totally a "Eureka!" moment. Having seasonal affective disorder, I've always been very connected to the seasons, so I took the idea a step further and based WitchBox on the Wheel of the Year.
If you would like to contact Jessica White with any questions about WitchBox you can email her at:  [email protected]
To learn more about WitchBox visit: http://www.witchbox.co/
To see her shop WhiteWitchhh visit: https://www.etsy.com/shop/WhiteWitchhh
***
About the Author:
Jennifer Sacasa-Wright is an Eclectic Witch who runs PaganPagesOrg eMagazine. She has many opinions, thoughts, & suggestions, and, at times, has problems holding her tongue. She loves hearing your opinions and thoughts on the magazine and welcomes comments.
_______________________________________________________________
Cover art: Large Brown Fairy Garden decor Door Set with Accessories. Hand cast and painted by Jassmond Masters-Bell of the Etsy shop Fairy Behind the Door, featured in an interview this month with her.
About the door: This Fairy door belongs to Mrs Odina. She owns a Nights Fairy dormitory where she allows the traveling fairy to stop by and sleepover before they continue on their journey. She runs a tight tree house, her fees are fair but you have to bring your own berries and goats milk for breakfast. It says on the Door "Fairies Sleeping" so be quiet when you pass by.
_______________________________________________________________
This month we have visitors! The Fae have come out for the Month of July to join us and our Readers at PaganPagesOrg. So pull up a Toadstool, Make a nice Cuppa, and Have a Great Read because we have brought you a Packed Issue to enjoy filled with Excellent Features Likes…
An

interview

with

Jassmond Masters-Bell

, owner of the Etsy Shop Fairy Behind the Door. Where all types of magickal items can be found created by this

wonderful

molding artisan.

A few new columns we will be adding in PaganPagesOrg are updates and features monthly on our favorite Podcasts. These are the ones we listen to and find to be the most informative and really top notch. We started, already, by bringing back broadcasts of Going Shamanic Radio. Now, we are proud to announce we will be featuring 3 Pagans and a Cat. Personally, I think you will love them from the first episode. How they make you feel secure on your path. The rounded knowledge. No fear in saying I don't know. The learning, the sharing, the laughing. The correctness in information. This podcast is the complete package. A must listen.
An Interview with Astrid Brown. Astrid Brown is a medium, a psychic, and an incredibly prolific author. Her most recent offering, A Psychic Affair, blends the mysteries of psychic development with the romance genre, exploring how long-distance relationships can develop not only through the words and messages we send, but through a true, psychic connection.
This month starts a new column: Mojo Bag of the Month, beginning with a bag that will help to raise your vibration! With the many shifts and changes that are coming, we need to raise our vibration to ride out the wave. Have a read to see what you need for this month's bag.
This month Robin Fennelly reviews the book Moon Magic: Your Complete Guide to Harnessing the Mystical Energy of the Moon by author Diane Ahlquist. Robin breaks down this book for us explaining all this volume has to offer and if it's worth adding to our libraries.
_______________________________________________________________
We would like to thank all our loyal readers for this award. You like us, you really like us!
_______________________________________________________________
_______________________________________________________________
"Friendship is born at that moment when one person says to another: 'What! You too? I thought I was the only one." – C.S. Lewis
Review of Arin Murphy-Hiscock's The House Witch
I received a "review copy" of The House Witch: Your Complete Guide to Creating a Magical Space With Rituals and Spells for Hearth and Home by Arin Murphy-Hiscock just before the Thanksgiving holiday. This handsome book is published by Adams Media, an imprint of Simon and Schuster, and is the twelfth book by Arin Murphy-Hiscock. On Simon and Schuster's author website for Arin Murphy-Hiscock, you can find all the titles of her other published books. Some were known to me and some were not. Some, like Birds: A Spiritual Field Guide, I had borrowed from my local public library and had on my "to-buy" list. So naturally I was elated to get The House Witch. I immediately cracked it open and wrote my name and the date on the inside cover.
But the demands of the Thanksgiving Holiday – cooking the meal and getting together with family in town for just a few days – meant that I wasn't able to sit down and give The House Witch a good read. And then I caught my son's cold. Sick and miserable, I gave up. I took a box of tissues and curled up on the couch under a hand-crocheted afghan for several days in a state of semi-slumber.
When I did finally get back to The House Witch, I was delighted, as I knew I would be. One my very first impressions was, "Gee, I wish there had been books like this back when I was first getting into witchcraft and wicca!" In the 1970's and 1980's, there were only a few books out on the subject and most of them – like Starhawk's The Spiral Dance – were geared toward the large group or the coven but very rarely the solitary practitioner. Not until Scott Cunningham published Wicca: A Guide for the Solitary Practitioner in 1988 that you started to see more attention paid to the solitary witch. While The House Witch is not specifically written for the solitary witch, it addresses the many concerns of those of us who practice alone – whether we live alone or with other people.
I was born in May, under the sun sign of Taurus, my moon in Pisces, with Cancer rising. Issues of home and health and happiness have always been forefront in my spiritual practice, so it is natural that I would gravitate toward creating and maintaining a beautiful home, even if that home is a tiny apartment in a poverty-stricken neighborhood in a rust-belt city. Because of my wonderful grandmothers, I was always aware of the magic in everyday things but many people – especially those born after, say, 1980 – do not have the benefit of the wisdom of their elders. On page 17, Murphy-Hiscock lists four steps that anyone can learn to "recognize the magic" as she terms it, reminding us to keep things simple and always to focus on what we are doing in the house. These steps are: live in the moment, be aware of your intent, direct your energy properly and focus on an action. Anyone who has studied any kind of meditation, magical instruction or spiritual path will recognize these steps. So just what does all of this have to do with the home and the hearth? Murphy-Hoscock writes,
"Opening yourself to the simplest of tasks and allowing them to inspire you with some insight or wisdom, or even a
moment of peace, illustrates that the Divine can whisper to you in the oddest of unexpected places. Hearthcraft is
about communing with the Divine through everyday tasks, not through complicated formal ritual." (page 19)
She talks about home as sacred space. One thing she mentions is the removal of shoes in cultures such as Japan and other parts of Southeast Asia; I don't allow anyone to wear shoes into my apartment and I am always amazed – when I watch TV, for instance – and I see people, not only with their shoes on inside their homes but also on the furniture!
When I was growing up, I always lived in houses that had fireplaces and we usually had a fire most winter evenings, so the idea of a hearth and a hearth fire is not unknown to me – one of our houses actually had a giant hearth built into the wall surrounding the fireplace! But since I have left my parents' house, I have never lived in a house with a fireplace, much to my great sadness. I consider my hearth to be my kitchen oven or perhaps a meditation candle. However, when I was sick a day ago, I had some split pea soup and freshly baked bread and lay down for a nap. I could feel the warmth of the soup and bread in my belly and it occurred to me that my hearth fire was inside of me.
With this in mind, the "Bank Your Inner Flame" ritual on page 45 makes perfect sense. I had a wonderful warmth inside of me and I needed to be able to hold onto that warmth. It wasn't just the soup and bread – it was the sense of being safe and secure in my own home. I love the word "smooring" – I love anything Scottish and Gaelic – I added it to my list of cool words and then I copied the "smooring prayer" (page 46) into my personal prayer book.
This book is filled with jewels.
There is a chapter on "The Magic of the Cauldron" in which she talks about how to find and care for a cast-iron cauldron. "Hearth and Home Deities" is just what it sounds like – a chapter of gods and goddesses of the home and hearth. The next chapter is about the kitchen as a sacred space – something that not many people even think about seriously nowadays. If your idea of cooking is opening up a box of prepared food and popping it into the microwave – or even using something like Hamburger Helper – then I would give Chapters 6, 8 and 9 a very close reading. As I already stated, Chapter 6 is about the kitchen as a sacred space. Chapter 8 is "Magic at the Hearth" and Chapter 9 is "The Spirituality of Food". Recipes included!!!!!
Other topics in this fabulous book are "Using Hearthcraft to Protect Your Home", "Herbs, crafts, and other Hearth-Related Magic Work", and a chapter of various spells, rituals and blessings. Quite naturally, there is an appendix and a bibliography that have quite a bit of information in them as well.
In the "Postscript", Arin Murphy-Hiscock writes, "Several times as I was writing this book, my thoughts moved faster than my fingers, and as a result 'hearth fire' very often came out as 'heart fire.' I wonder, at times, if my subconscious was trying to tell me something." (page 247). I do not wonder at all. This book most assuredly set my heart on fire. In this rich season of Yuletide joy, when all of us decorate our houses with festive lights and traditional ornaments that may only have meaning to our loved ones alone, The House Witch: Your Complete Guide to Creating a Magical Space With Rituals and Spells for Hearth and Home by Arin Murphy-Hiscock is a book which brings together all the spiritual and happiness that home and hearth can represent. I highly recommend it for anyone on any spiritual path.
References
Murphy-Hiscock, Arin. The House Witch: Your Complete Guide to Creating a Magical Space with Rituals and Spells for Hearth and Home. NY: Adams Media, 2018.
The House Witch: Your Complete Guide to Creating a Magical Space with Rituals and Spells for Hearth and Home on Amazon
***
About the Author:
Polly MacDavid lives in Buffalo, New York at the moment but that could easily change, since she is a gypsy at heart. Like a gypsy, she is attracted to the divinatory arts, as well as camp fires and dancing barefoot. She has three cats who all help her with her magic.
Her philosophy about religion and magic is that it must be thoroughly based in science and logic. She is Dianic Wiccan and she is solitary.
She blogs at silverapplequeen.wordpress.com. She writes about general life, politics and poetry. She is writing a novel about sex, drugs and recovery.
May 2019 for Celebrating the Old Ways in New Times
Bright
Blessings
I
write this with a sore back from beginning the garden. I have planted
seeds for snow peas, radishes, milkweed, and sunflowers so far, and a
few packs of annuals as well. I nabbed more seeds, ordered three more
seed catalogs, and got a couple of hot pink pots!
Not
bad for the first week of gardening.
This
year, I am doing the unthinkable! I am killing a mint plant!
I'm
doing it so I can pull a shrub behind it and use the space for more,
well…PLANTS! The roots of the mint would take over the space the
second the shrub is pulled, so the mint goes first!
I
planted it, against proper advice in the ground, instead of in a pot,
way back in 2006! It's a 13 year old plant, and it's not happy
with me, as I pour pan full after pan full of boiling water on it. I
am determined to do this with no chemicals, and with my bad back,
digging is not an option.
I
also got a start on my fork plantings. You read that right. Forks. I
have a schnauzer mix, and a little cat who like to LAY right on top
of my plants, but they can't if I have forks in the garden around
the plants, can they? Although the seeds have yet to sprout, I placed
48 brand new, shiny white plastic forks in the radish bed today. I'll
gather more later this week and finish.
Then,
I have more soil to buy, more pots, and some soil to lay around a
shady area where I will put more seeds.
A
garden witch never stops gardening!
Beltane
In
years past, I have written about historical observances not only in
Ireland, but also Wales. I've written about doing group, and
solitary ritual.
What
I have not written about, however, is to do a smaller-scale group
ritual for it utilizing some traditional practices, but not all of
them.
Much
focus in groups is on the May Queen and King, and the Maypole Dance.
This
time, I'll write the ritual I am going to use when my small group
of friends arrives.
Beltane
is a lot of things to a lot of different people. For me, it's a
very big deal, and sometimes, the only Sabbat I actually prepare for.
Here is an article from past years outlining a more complex ritual we used, and some more historical information as well.
This year, instead of focusing on historic meaning, I will talk about the things Spring does to our bodies that makes us feel good
Feel
So Good
What
is it about warmer days, and growing things that make us feel so much
better, and that make us look forward to it anyhow? Why do we feel
more energy, get sick less often, get out and do more, and just
overall, feel happier in warmer days?
Science!
Before
I list all of this, I will note I know people who have Seasonal
Affective Disorder in the warm months. Their bodies do not handle the
heat or strong sun well, and they crave Winter. I validate their
struggles, and understand they have these issues. This is called
Reverse Seasonal Affective Disorder.
This article breaks it down nicely, and explains it well.
What
my friends who have Reverse SAD have told me is they cannot
physically endure heat, strong light, and humidity in the humid
regions. Some have issues with insects eating them alive, and others
just can't sleep when it is warm or hot. Allergies from growing
plants can also absolutely destroy people.
For
the people who do not have issues with warmer days, and the things
that come along, several things happen that make us feel better!
More birdsong- It somehow promotes well-being. Further reinforcing the interconnectedness of all life us Witches and Pagans have known all about all along. Hearing that when you first wake up is amazing.
Longer days- Especially folk who struggle with vitamin D deficiency, these days are most welcome. Many of us get enough Vitamin D from food or supplements, but in warmer seasons, the sun gives us even more. Some have issues absorbing vitamins from food, and LIVE for days when they can soak up some sun. According to an awesome article, fair skinned folk can catch a few minutes of sun in the afternoon. People who are a darker tan, 15-20 minutes, and people who are dark need up to six times more sun exposure than fair skinned people. Here is the article I found that information in if you want to read more about the sun and its help with Vitamin D.
We get out and about more- Even though we have paved streets and walks, going out when the weather is yucky is just something we don't do as much of because it's a pain in the butt. There are nice events to attend, including festivals, outdoor concerts, and parties. Sabbats are held outdoors more often in warmer months, and a lot of people enjoy life more when they are going more places, and participating in more things.
Flowers and animals abound- Now, some of us love the look of nature no matter what the season, but you have to admit, unless pollen or allergies are killing you, getting out with flowers, trees, and seeing the animals out and about too creates a sense of well-being. The earth is teeming with life and activity, and as Pagans and Witches, we are sensitive to the life-forces of other beings, and it strengthens us. We are all connected.
Cold triggers pain- If you have injuries, joint issues, arthritis, back problems, etc, cold flares up that pain oftentimes, and warmer weather is easier on your body. Some of you know this all too well, and I wish complete healing, and no more pain for you!
Less illness- Being closed in to avoid cold keeps us in more close quarters with one another, and contagious viruses and bacteria enjoy jumping from person to person. As we are less cooped up when it starts getting warmer, we share less germs.
Basically,
for many of us, nature is easier on our bodies come Springtime than
it was in Winter, and thus we feel better, can do more things, and
enjoy ourselves more.
That's
a big reason to celebrate!
Before
I share my simple Beltane rite, I would like to share an interview I
was fortunate enough to have with a distinguished Pagan, and review
of an amazing Pagan ran establishment.
International
Pagan Radio and Onyx
International
Pagan Radio
International
Pagan Radio, or IPR is something I'd heard about because one of my
elders, Lady Brigid, has her own show, called Ask A Witch, on the
Radio. I knew it was a great organization, but I don't listen to
radio shows, because of my hearing loss.
Here is the online link to find IPR.
I did go and listen to it to review it, and the show I caught was our beloved Raven Grimassi and his loved one talking to listeners not too long before he crossed the veil. They were sharing their love and appreciation for all the support they have gotten from the community. It's like they knew he was about to cross over.
If
that is not enough to make you want to go listen right now, I can
tell you they have good music as well. Today is April 9, 2019, and
the agenda for today is Druidcast, The Magick Jukebox, and The Rift
and others. The available song is Black Swan Blues by SJ Tucker.
Honestly, this is something that every Pagan ought to know about, and
listen to. They have not only educational broadcasts, and music, but
messages from Pagans to Pagans. All for us by us! The best part is
the sound was crisp and clear, and I had no trouble hearing almost
everything, which is very good for me. You must go check out IPR
right away, and tell everybody about it!
Onyx
The
way I did this interview, as I do all my interviews is online. I send
questions, and the people either e-mail, or text me back. It's
worked out well, as I am hard of hearing, and they can send me
answers when they have time. Sometimes, we do a whole interview in an
hour or less, and sometimes, we send messages back and forth over a
course of days. I also get 100% accuracy, as I am not worried about
mishearing what they say! I can be lazy, and copy and paste as
opposed to typing it all out when it is time to submit the interview
to my editor also!
Some
people, most especially film makers, have flat out refused to do
e-mail or text interviewing, and I have found people who write are so
used to writing, that an online interview is right up their alley!
Onyx granted the online interview, and instead of answering one
question at a time, wrote a beautiful statement I am proud to share
with you here. It speaks for itself!
"I
was working as the station manager for another Pagan network that
operated on Blog Talk Radio in 2015. I was approached by a guy to
manage a streaming station as well. This streaming station was to be
launched under my supervision and management as International Pagan
Radio. I agreed to take the job if I could also bring along William
Brigley. William and I had met at another network, and we had been
working together for some time. We had also become very good friends.
The
agreement was that I would manage the station with total autonomy and
our benefactor would pay the bills. William and I set out to create a
website and build the station. The station originally operated with
only donated music. We would approach artists and ask them if they
would allow us to play their music without royalties. The benefactor
wanted us to keep the cost minimal.
About
six months after launch, our benefactor informed us that he could no
longer afford the station. William and I proposed that we take over
ownership to keep the station online. Our benefactor agreed to
release all rights to the station to us.
William
and I changed a few things about the station. We decided that it was
not fair to the artists to only play donated music. We created an
account with Sound Exchange for them to manage the distribution of
royalties. We pay them for this service, and they ensure that the
royalties are distributed properly.
I
am the station manager for IPR. My responsibilities include managing
the Sound Exchange account, the bank account, station schedule,
shows, and any advertisers we may encounter. I also manage the back
end of the website and domain. We do not actively seek advertisers
but do have a rate card available if asked.
William
is the media manager. His responsibilities include more of the
technical aspects, such as website design and implementation,
ensuring that all the songs have the correct metadata embedded so the
reporting system will pick them up properly (for royalty reporting to
Sound Exchange), contacting and maintaining relationships with
artists, image design, and training videos for hosts and artists.
William
and I are co-owners of the station and share the financial
responsibility for all expenses. We pay for the streaming service,
the domain, the website, and all royalties out of pocket. We have
entertained soliciting advertisers, but have not actively done so.
International
Pagan Radio reaches out to all parts of the world, and anyone with an
internet connection can listen to us. Most of the artists whose music
we play are from the United States. However, we have artists from the
United Kingdom, Italy, Germany, Australia, and Spain as well. In
addition to streaming music we also have several shows that can be
heard as well. Our shows are assigned a day of the week and are
streamed three times during that day to help ensure that fans in
differing time zones can catch the shows.
In
addition to our website, we also maintain a large Facebook presence.
We have both a public group and a page. In addition to our public
Facebook entities, we maintain private groups as well. We have one
group that is dedicated to the artists so they can interact with us
and each other. There is also a private group for the IPR team that
consists of the staff and the show hosts.
Neo-paganism
found me over three decades ago. I was raised primarily Southern
Baptist, but could never really internalize the teachings and
doctrine. When I encountered Neo-paganism it was like coming home
(yes, so cliché').
In
the past, I have been among the High Priesthood of a few different
traditions. I have established and ran several temples and covens
over the years. I have trained, initiated and elevated many others
along the way as well. Have officiated handfastings, legal marriages,
funerals, memorials, birthing, and naming ceremonies, and coming of
age rituals.
Currently,
I consider myself more of an Omniest than a Pagan. As an "Omniest"
I feel that wisdom is not limited to one religious form. I find
wisdom in all forms of religious expression. I tell folks that I am
an Omniest that chooses to express his spirituality through Neo-pagan
traditions and ritual.
I
am the father to three (two daughters and a son) and the grandfather
to one (a baby boy). I have lived in the Winston Salem, North
Carolina, area for just over ten years. Most of my childhood was
spent in the upstate area of South Carolina. The first twelve years
of my adult life was spent serving in the United States Army. Since
leaving the Army, I have worn many hats. I owned a metaphysical shop
for a few years until it was destroyed by fire. I have worked in big
box retail management, and also in executive sales.
I
hold both a bachelor's and a master's degree in psychology with a
specialization in conflict resolution. I am enrolled in a doctoral
course. However, I am currently taking a break from school work.
Hopefully, I will return to school shortly and complete the Doctor of
Psychology degree.
I
am not actively involved in the local Pagan community, so the station
is my ministry. I very much like the fact that we have listeners all
over the world and have heard from many of them. Many tell me that
this station is nearly their only contact with the Pagan community."
Many thanks to Onyx for sharing his beautiful story with us, and for all his good work for IPR!
The
Working
As
promised, I am sharing the working I will use when my soul kin come
to gather with me for our Beltane. I will have a team effort to bless
food and drink, and ask the powers that be for some good magic,
healing, and goodness all around at this time of life, beginnings,
and great strength.
Here
is the working.
Have
two volunteers stand at either side of the entryway of where you have
your rite. For me, it will be my front door. You can do male and
female to keep with Wiccan practice, representing Mother Goddess and
Father God, but for me, it is going to depend on who is there and who
wants to volunteer.
These
two people will each hold something to bless with. It could be a
stick of incense for one person, and a candle held by the other.
Instead of having a Priest and Priestess bless these things, we will
all join hands and say a prayer, each of us, for the blessings we
wish for one another. Saying something as simple as "Blessed Be"
as people pass through the fires, or something more like a chant or
song you like can also be used, but as the people have blessed the
things, no words have to be said unless you want to.
After
this, people will form a line and pass between the two people with
their blessed things, emulating the scared practice of passing
between the blessed fires ancient British Pagans used to use.
Once
everybody has passed between the blessing fires, everybody will go to
two others, whoever has volunteered. This will be a blessing of
"cakes and ale". Again, we will all take turns saying the prayer,
over them, blessing them. I am probably not going to have wine or
soda or sweets for this. Let's face it, none of us is getting
younger. There are people coming with dietary restrictions,
allergies, and digestive issues. Plus, we don't need to be drinking
after each other- germs, you know! As we are potlucking it, we will
take food to make a plate from the offerings, maybe even a variety,
so people can hand pick the food THEY choose to eat. Instead of a
communal cup for us all to drink from, individual tiny cups filled
with probably water, will be used. It really does not matter WHAT the
food and liquid is- it's the blessings we will take into us.
Once
all is blessed, each person will approach who is giving the blessed
food, and the person doing this will say "May you never hunger,"
and each person in turn will take their blessed bite of food and eat
it. I've seen people use whole apples for ritual blessing, and I
don't recommend it, as that takes forever. Also, cut the food up
into small pieces, so people can take just a tiny bite. They will
then go to the person who has the water, who will give them a water,
and say "May you never thirst." Again, this should be a tiny bit
of water, enough for one sip. This is not the meal, but just a sip
and a nibble.
A
third blessing can also be given if so desired, by an individual or
individuals. Play it by ear, and see how your soul kin feel. This can
be perhaps the moving party of the rite, most especially when beloved
Priest and Priestess do the blessings. A simple way would be for
everybody to hug one another. You can also break off in twos and go
bless each other for a few minutes, walking away from the group, and
returning to a spot when everybody is finished.
After
each person has passed between the blessed fires, had their blessed
food and drink, and been further blessed if it is wished, the rite is
ended, and the feasting and fellowship begins.
This
rite can be customized as you see fit, as it is simple, and you can
tweak it any way that is meaningful for you. I have had to change how
I do ritual in the past few years. The biggest change is my condo
association has made it clear no fires are allowed on patios. There
went our blessed firepit! I also do rituals at the house as opposed
to at the campgrounds we used to use, so we moved into a smaller
space than before. We manage. Ritual can be meaningful even if you
have to make accommodations and substitute something like two candles
for two bonfires.
May
you and yours have a very Blessed Beltaine.
Blessed
Be!
***
About
the Author:
Saoirse is
a recovered Catholic. I was called to the Old Ways at age 11,
but I thought I was just fascinated with folklore. At age 19, I was
called again, but I thought I was just a history buff, and could not
explain the soul yearnings I got when I saw images of the Standing
Stones in the Motherland. At age 29, I crossed over into New Age
studies, and finally Wicca a couple years later. My name is Saoirse,
pronounced like (Sare) and (Shah) Gaelic for freedom. The gods I
serve are Odin and Nerthus. I speak with Freyja , Norder, and Thunor
as well. The Bawon has been with me since I was a small child, and
Rangda has been with me since the days I was still Catholic. I
received my 0 and 1 Degree in an Eclectic Wiccan tradition, and my
Elder is Lord Shadow. We practice in Columbus, Ohio. I am currently
focusing more on my personal growth, and working towards a Second and
Third Degree with Shadow. I received a writing degree from Otterbein
University back in 2000. I have written arts columns for the s
Council in Westerville. I give private tarot readings and can be
reached through my Facebook page Tarot
with Saoirse. You can, also, join me on my Youtube
Channel.