Uncategorized
Review of Coloring Book of Shadows: Planner for A Magical 2019 by Ami Cesari
Review
Coloring Book of Shadows: Planner for A Magical 2019
by Ami Cesari
I was lucky enough to receive a copy of the beautiful "Coloring Book of Shadows-Planner for a Magical 2019" from the author Ami Cesari. I have had both her planner and her magical coloring books in the past and have always thoroughly enjoyed them. I am an avid colorist and a fan of planners, so this combination of the two was right up my alley!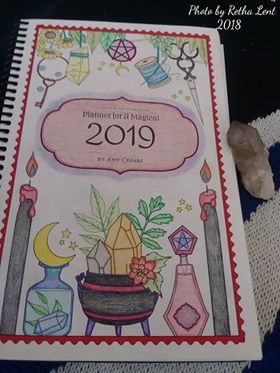 There are two styles available of this book, both a regular bound book and a spiral bound option. I personally prefer spiral bound, as for me I like having the ability to fold the book in half for ease of use when coloring. Her books are available on amazon right now and this planner is available for the very affordable price of $11.69.
This planner/coloring book is just so much fun. It has all the things you want in a planner; full calendar pages, pages with extra room to write your plans for each day, a page for each month for your intentions, moon phase info, other dates such as holidays and sabbats, plus it also includes both a ton of magic themed adorable coloring pages and a lot of informational pages on the sabbats, ritual suggestions, craft ideas, recipes and other topics of interest. There are little pictures included on most of the calendar pages as well, which really adds an element of enjoyment to the task of organizing your schedule. I think it makes me personally much more likely to use the calendar book because I enjoy looking at the beautiful completed pictures throughout. You could color as you go, maybe at the beginning of the month start the images & pics for that month, or you can jump around and color in whatever order you choose.
I immediately as soon as i received this book jumped in (I was so excited to get started!) and I began with the title page of the book, then did the January page, then a couple pages that really called to me. I have included the finished pages here that I have completed thus far. Going forward I think I will color it month by month. And I will read the information in order as well and incorporate the suggestions into my routine when called.
If you are in need of a really fun, functional and aesthetically pleasing planner for this year, I highly suggest this book. I am absolutely in love with it! It has everything you need plus an added bonus of coloring pages, creative ideas and education as well.
I have really enjoyed coloring the pictures I've done so far, and I'm pumped to work my way through the rest of it throughout the year. After the year is over you could remove the pics you choose and frame them or incorporate them into your book of shadows or grimoire (I plan to do this for sure).
If you aren't in the market for a planner, definitely check out her other coloring books! I plan to get them very soon. The illustrations are just so cute, witchy and magical and so much fun to color!! I can't recommend this any higher!! Just a joy from front to back!
Thank you to Ami for sending me her fabulous planner to review!
You can follow her on Instagram @coloringbookofshadows,
On fb (coloring book of shadows)
Or go to her website and get free downloadable coloring pages each month at www.coloringbookofshadows.com/book/
I hope you will check them out! Happy 2019! CrystalBlessings,
***
About the Author:
Retha N. Lent has been married for 17 years to her husband Mark & they have four cats that are their life. She lives in Norristown, Pa. Retha has her Bachelor's of Science degree in Behavioral Counseling Sciences from Drexel University. She is the owner of "Retha's Crystals" & sells sterling silver unique crystal jewelry & specimens on her FB business page. She has a FB group for her customers and those interested in learning more about crystals & all things magical called "Retha's Crystal Circle". She is also an advisor in the Sage Goddess Affiliate Program. She has her Holistic Healing Certificate and Pillars of Priestessing certificates from Sage Goddess. She is also an Ordained Pagan Minister from the Universal Life Church. Retha has a passion for crystals, nature, astrology, working with moon cycles, ritual practices, tarot and oracle cards, runes, essential oils, herbs, manifestation work, ancient cultures, magic & music. Her favorite place is New Orleans, La. Retha has an extensive personal crystal collection and loves sharing her love of crystals with the world. She has been a practicing pagan since she was 16 years old.
You can reach her at [email protected] or on her business page on FB: https://www.facebook.com/Rethas-Crystals-197411227666484/
Or in her FB group:
Her Sage Goddess affiliate link is:
Or follow her on Instagram at @spookygirl16