Tarot Deck Review – The Dreams of Gaia Tarot & Guide Book Created by Ravynne Phelan
Tarot Deck & Guide Book Review
The Dreams of Gaia Tarot & Guide Book

Created by Ravynne Phelan
The Dreams of Gaia Tarot, published by Blue Angel Publishing, 80 Glen Tower Drive, Glen Waverly, Victoria, Australia 3150, is created entirely by Ravynne Phelan, a talented and prolific fantasy artist. This is Phelan's first Tarot deck (although not her first divination deck); she created all the artwork and wrote the guidebook (which was edited by Jamie Morris). I am thrilled to be reviewing this beautiful and powerful deck.
Full disclosure: I purchased my deck directly from its creator back in late 2016, when the deck was first released. I was so impressed with the setup of this Tarot deck and the artwork of the cards that I wanted my deck to come directly from Phelan in Australia. By doing this, I was able to have her sign my guidebook. I have been using this Tarot deck for my own daily card throws since then; yes I like this vibrant, powerful and effective Tarot deck that much.
My deck came in a sturdy 5 1/2" by a little over 7" box with a glossy black finish. The front of the box has a card image and the name of the deck, with the title in gold leaf; the back of the box has five card images and a brief description of the setup of the Dreams of Gaia Tarot. The guidebook is 5" by 7" with a black matt-finish soft cover showing the same card image and gold leaf lettering as the cover of the box, with another card image, the elemental symbols, and the words "To Seek, To Feel, To Grow, To Heal" on the back cover. Simple words that describe the philosophy behind this deck.
The guidebook has 308 pages with black typeface on cream stock, sturdy enough to survive daily use for three years, and insightfully written by Phelan as a companion to her amazing cards. The book begins with a 12-page introduction by Phelan, starting with a description of the purpose of the deck: "for those who desire unity within themselves, their relationships, and with heaven and earth." Next are suggestions for connecting to the deck and to one's Inner Voice, and suggestions for creating a question and performing a reading. A description of the structure of the Dreams of Gaia Tarot is next (more about that in a moment) followed by some sample spreads.
Then we move on to the card description section, which is 279 pages filled with valuable explanations of the symbolism and suggested interpretations of the cards. For the Major Arcana, each card has an entry of about 6 pages, with a black-and-white card image, the card name and number, keywords, key phrases, a general meaning for the card, a Past, Present and Future meaning, and a reversed meaning, with each of the text sections containing several paragraphs of information. The Minor Arcana card descriptions are about 3 to 5 pages, with a black-and-white card image, the card name and number, keywords, key phrases, a general meaning and a reversed meaning, again with each text section containing several paragraphs of information. The guidebook ends with A Few Words From the Author, followed by information regarding other works by Phelan (the Messenger Oracle (her creation) and the Mythic Oracle (her artwork), and Dreams of Magic, a hardcover collection of over 100 of her illustrations along with poems and short stories).
The cards are 3 3/8" by 5 1/8" with a glossy full color image printed on nice card stock, flexible but durable, that is easy to shuffle. The card edges are finished in gold gilt, and after 3 years of daily use the gilt is still in place. The images are intense and breathtaking; Phelan has created powerful artwork that seems to draw you right into the cards. Her palette is brilliant jewel tones, my favorite, and the black border and gold lettering set off the crisp lines and the gorgeous and richly saturated colors of the card images. The back of each card is plain glossy black with a simple gilt frame.
Along with Phelan's rich and beautiful artistic style, her unique interpretation of the traditional Tarot deck structure truly attracted me to this deck. The deck consists of 81 cards: 25 Major Arcana cards and 56 Minor Arcana Cards. Phelan tweaks some of the traditional archetypes found in a traditional deck (for example, Mother and Father instead of Empress and Emperor). The Majors are broken down into four groups, The Choice Card (the most important card in the deck), Stages of Life (Child, Maiden, Youth, Mother, Father, Crone, Sage, and Death/Rebirth), Reasons for Being (Knowledge, Wisdom, Healing, Love, Union, Self, Abundance and Destiny), and Influences (Journey or life experiences, Thought, Emotions, Desire, Perception, Intuition, Integrity, and Faith). The Minors are elemental-focused (another plus in my mind), and the four suits are identified as Earth, Air, Fire and Water, with the cards of each suit addressing concepts traditionally associated with each element. Each suit is numbered from Ace to 10, followed by an "alignment" or "balancing" card and three court cards, a King and Queen, and a "figure that stands beside the throne," The Scribe for Air, The Hero for Fire, The Counselor for Water, and The Seneschal for Earth.
If you are looking for a traditional Tarot deck, this one might not work for you. While there are overall similarities to the traditional Tarot structure, the card meanings often differ from the corresponding cards of a more traditional deck. However, if you have trouble connecting with some of the more traditional Tarot images or interpretations, if you feel your Tarot work is a bit stale and needs something new and exciting, if you are looking for a deck that will assist in exploring and counseling yourself or others, or of you are looking for a deck incorporating earth-based mysticism, the elements, animal symbolism and gorgeous fantasy artwork, including the dragons Phelan is known for, this is a Tarot deck that will mesmerize you with its glowing images and inspire you with its extensive card descriptions.
Phelan has obviously put a lot of love and effort into the creation of this deck and guidebook, and it shows. The Dreams of Gaia Tarot encourages the exploration of our inner processes and our spiritual development, and the integration of personal experiences in order to achieve our potential. I find the Dreams of Gaia deck is very effective for self-counseling, and as stated above, this is the deck I use for my own daily card throws and more in-depth personal spreads. This is my favorite Tarot deck, stunningly beautiful and amazingly powerful.
**Update on the Dreams of Gaia Tarot Deck:
The current version of the Dreams of Gaia Tarot Deck does not have gold gilded edges. Additionally, the back of cards have graphics now, too, as pictured below.

***
About the Author: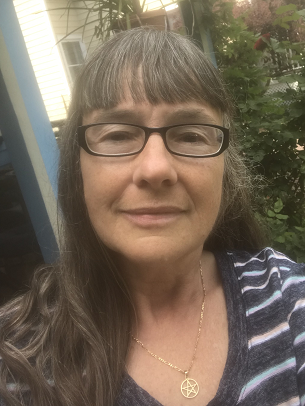 Raushanna is a lifetime resident of New Jersey. As well as a professional Tarot Reader and Teacher, she is a practicing Wiccan (Third Degree, Sacred Mists Coven), a Usui Reiki Master/Teacher, a certified Vedic Thai-Yoga Massage Bodyworker, a 500-hr RYT Yoga Teacher specializing in chair assisted Yoga for movement disorders, and a Middle Eastern dance performer, choreographer and teacher.  Raushanna bought her first Tarot deck in 2005, and was instantly captivated by the images on the cards and the vast, deep and textured messages to be gleaned from their symbols. She loves reading about, writing about, and talking about the Tarot, and anything occult, mystical, or spiritual, as well as anything connected to the human subtle body. She has published a book, "The Emerald Tablet: My 24-Day Journal to Understanding," and is currently working on a book about the Tarot, pathworking and the Tree of Life. Raushanna documents her experiences and her daily card throws in her blog, DancingSparkles.blogspot.com, which has been in existence since 2009. She and her husband, her son and step son, and her numerous friends and large extended family can often be found on the beaches, bike paths and hiking trails of the Cape May, NJ area.