Book Review – The Magical Writing Grimoire: Use the Word as Your Wand for Magic, Manifestation & Ritual by Lisa Marie Basile
Book Review
The Magical Writing Grimoire
Use the Word as Your Wand for Magic, Manifestation & Ritual
by Lisa Marie Basile
176 Pages
…. In The Magical Writing Grimoire I wanted to be able to make space for others to write their truth, to invest in their stories, to write for others'…and to turn a writing practice (one that you have or not) into a sacred, healing, magical act where writing is elevated into transformative ritual. Because when we tap into that power, we find, in many ways, freedom, beauty, light. The only way out is through…Lisa Basile
I am an author, ritualist and Witch and love to write and express my magick through the vibration and power of using words. So, I jumped at the opportunity to review The Magical Writing Grimoire: Use the Word as Your Wand for Magic, Manifestation & Ritual by Lisa Marie Basile. It did not disappoint in offering a fresh perspective on the power of words and the engagement of magic inherently held in their issuance.
The Magical Writing Grimoire: Use the Word as Your Wand for Magic, Manifestation & Ritual is separated into six (6) chapters, beginning with an introduction to the power of words and moving through the various ways in which writing can be used to become a "word witch". Chapter 1: Magical Writing opens with the statement…
… At the intersection of ritual and writing, TMG is an exploration of the inherent magic of language…It encourages you to peek beyond the veil to where your voice lives. It is made for writers and non-writers, witches and non-witches, alike…It was written to help us create better, more magical and empowered lives….
Immediately following this statement is the question, "Is Magical Writing For You?". As the author takes the reader through a litany of experiences, self-identifiers and more, it becomes apparent that the magical writing that Lisa speaks of reaches a broad and far reaching expanse of use and users beyond what our first conception may be. We are reminded that when we write for magical intention we become the embodiment and expression of that magic.
Chapter 2: Conjuring Your Voice guides the reader through the process of creating spells and establishing a writing practice that becomes as sacred as any ritual act. We begin by exploring the why's of ritual and the potency of their energy in both spiritual and academic setting….
… A review in the Journal of Traumatic Stress found that ritual helps us…" contain intense emotions and compartmentalize the review of the trauma (and) provide symbolic enactments of transformation.."
I appreciated the addition of this consideration for ritual affirmation as we often tend to avoid the underpinnings of why a particular ritual may or may not trigger the memories and emotions of past experience, both negative and positive. The author also reminds us that as we begin to write rituals, we are tapping into our personal energy and reserves of reference, making that ritual all the more relevant and transformative in its use. This chapter focuses on "learning how to integrate writing rituals into your life and why they are important". This chapter is very comprehensive in its discussion of spell writing, creating sigils, automatic writing for information and a brief section on graphology as a tool to decode what deeper information about your inner state is displayed in what is being written.
Chapter 3: Healing Magic explores the use of magical writing for Shadow work and trauma recovery. There is a beautiful Waning Moon practice included in this chapter that encourages the reader to use that phase of release and involves the writing of a "Goodbye Letter". This is only one of several rituals that have goal of healing, self-awareness and transformation employing writing and ritual as companions for efficacy of the work. I especially liked this chapter largely because it covered such an expanse of day-to-day experiences that limit or incorrectly define us. Those experiences for which we seek reconciliation and understanding and the power of giving words to these in a non-judgmental way and its effect in creating wholeness.
Chapter 4: Manifestation Magic flows beautifully following the intensity of the previous chapter. After all what use is becoming self-aware if we do not then take the next steps towards bringing it into the reality of manifestation. This chapter interweaves several of the core disciplines of magical working such as tarot, the cycle of the seasons and the alchemical elements with a magical writing practice. The manifest products of this self-work are then brought into the scope of drawing and sharing those gifts you have crafted into the larger community. This was definitely a lovely way to conclude writings of manifestation.
Chapter 5:Mindfulness Magic explores the use of ritual for being more present and receptive to what is intuitively moving through you. Writing prompts for this chapter are directed towards cultivating stillness and awareness at a level of deepening the state of "knowingness".
The Magical Writing Grimoire concludes with Chapter 6: Grimoire Poetica. This chapter brings together all of the practices the reader has developed in previous chapters and now offers the means of empowering and enlivening these as sustainable and diverse tools of word witchery…
… These exercises may be stored in your grimoire, or grimoire poetica, as I call it. It's a creative, poetic, less structured collection of your magical workings and creative writings, part magical-recipe collection, part literary exploration of you: It's the sacred book of self…
I don't want to provide the spoiler for this book and chapter so I will leave it to say, that what emerges from its reading, and of course-writing, will set you on the path of never looking at magic, or writing in the same way.
Would I recommend?
I feel that I cannot remain unbiased in my opinion of The Magical Writing Grimoire: Use the Word as Your Wand for Magic, Manifestation & Ritual. Having been a word witch for most of my life and understanding the power of writing as a synthesis of magic and manifestation, I am thrilled to see this topic given such loving attention and care. Lisa has also managed to pull the ideas and templates of what a magical writing practice could be into an organic and authentic flow of building idea upon idea and thus gently opening the reader to a deeper level of what is possible. Each chapter makes sense in its design and leads the reader through the steps of claiming his/her power in a way that seems neither controlling nor rigid in what "could be". The Resources section provides the reader with more to explore, and I appreciated the Index for quick reference. This title will definitely be a recommended read.
From the Author-Lisa Marie Basile:
What Inspired Me To Write This Book:
This is going to get dark (but I promise there's a silver lining!), so brace yourselves. It was the summer of 2014 — I remember because I was blasting Lana Del Rey's Ultraviolence — when I started writing about my personal experiences with family addiction, separation & my eventual move into foster care. It's wild to think, but before then, I managed to write poetry and essays that rarely if ever touched on it, which meant my voice and my self and my expression was always half-real, half-honest, untouched by the very thing that made me. That trauma was such a big part of my foundation and the lens through which I saw the world.
So one day in 2014 I wrote a piece about how foster kids belonged to no one & everyone, how we existed in a liminal space legally and physically. The thought of sharing this essay made me shook me to my core. Because then the world would know my past. It would reveal me as the traumatized thing I was before I wore a new era over my wounds. Yes, this essay said, I came from somewhere very real.
After finishing it, it was as though a spell were cast. I felt like the weight of a hundred galaxies came off my back. Because some of what I wrote were words I'd never even uttered to myself. And when I did write it, the words fell out of me like rain.
The ability to write is a privilege for many of us, but it's also a free tool that can help save us. I've seen writing help women in domestic shelters, college students move through self-esteem issues, and incarcerated individuals tell their story. It is something sacred in itself because with our words we are taking nothing and making it into something. So I wanted to design a gentle but effective book that people — especially any marginalized community — could use to tap into their truth and self, in a way that felt right for them. It's guided, but it allows space for reinterpretation and individuality so that anyone can tap in."
My Ideas On Writing As Magic:
In a recent chat with The Witchhassle Podcast, I discussed how writing is itself a magical act. This book isn't *solely* a look at magical or occult practices that will encourage creativity (although of course it explores that); it is a book that places the act of writing firmly in the center of the magic itself. When you write, you are already engaged in ritual and conversation with your deeper self. With the divine. With nature. We write to make magic. When we write, we are casting a spell. We are making change. And so, your words (whether you plan on sharing your poetry with the world or keeping a box of journals under your bed!) are your power -Your wand!
The Magical Writing Grimoire: Use the Word as Your Wand for Magic, Manifestation & Ritual on Amazon
***
About the Author: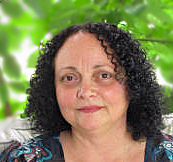 Robin Fennelly is a Third Degree Initiate within The Assembly of the Sacred Wheel Tradition and serves as High Priestess of Coven of the Mystic Path, the 12th Coven within the Assembly of the Sacred Wheel Tradition. She teaches and facilitates classes for the Pagan Experience Study Group that serves as foundation for membership within Coven of the Mystic Path.  
Her spiritual journey is strongly rooted in both Eastern philosophy and the Western Magickal systems from which she has formed a core foundation that is diverse in knowledge and rich in spiritual practice.  A life-long learner, her practice has evolved from the classical and philosophical teachings of books, practical experience and enrichment of this knowledge base by attending workshops of various spiritual traditions presented by master teachers.
Robin formally came to the Wiccan path in 1994. Following practice as a solitary for 2 years, she dedicated to Oak and Willow Coven of The Assembly of the Sacred Wheel Tradition in November of 1996. She received her 1st, 2nd and finally 3rd degrees within the Assembly Tradition and has served as High Priestess of Oak and Willow since Samhain of 2001.

As a teacher of esoteric and magickal studies she has used Energetic Anatomy, Tarot, Astrology, Hermetic Qabala, Eastern Philosophy, and Numerology as the foundations of her diverse selection of workshops and writings for more than 25 years. Exploration of varied energetic protocol has been the focus of her work for some time now and the information gained through direct experience informs all of her magickal and spiritual work.
Robin's writings have been featured online, and in print Internationally.  She has authored several books incorporating her unique style of writing making use of poetry, prose and pathworking to enhance the concepts presented.  She has taught extensively throughout the Pagan community, including Sacred Space Conference, Spring Magick, Between the Worlds Interfaith Conference and Free Spirit Gathering Festival this Summer. Her most recent project is hosting an online blogging community entitled The Pagan Experience.
Robin is the owner of Holistic Embrace providing services for mind, body and spirit such as Tarot readings, Astrology reports, Spiritual Guidance and other related offerings.  She lives in Eastern Pennsylvania and her life is blessed by a 40+- year marriage, five children and the opportunity to work in the field of public education.
Robin's Books
The Inner Chamber, Vol. 1 It's Written in the Stars-Astrology
The Inner Chamber, Vol. 2 Poetry of the Spheres-Qabalah
The Inner Chamber, Vol. 3 Awakening the Paths-Qabalah
The Light of SELF: Consciousness, Spiritual Practice and Learning to Breathe
Magickal Verse: A Collection of Poetry and Prose
A Year of Gaia: The Eternal Cord
The Elemental Year: Aligning the Elements of SELF
Temple of the Sun and Moon: Luminous Devotions
Sleeping with the Goddess: Nights of Devotion
A Weekly Reflection: Musings for the Year
The Magickal Pen: A Collection of Esoteric Writings
The Enchanted Gate: Musings on the Magick of the Natural World
For more info: http://www.robinfennelly.com/books.html
Robin's Website: www.robinfennelly.com
Coven of the Mystic Path, ASW: www.covenofthemysticpath.org