Free Resources for Pagans Right Now
If there's a silver lining in the coronavirus quarantine and lockdown measures, it can only be the way in which it's made communities come together in support of one another. Within the Pagan communities worldwide, this includes a wealth of free resources to help Pagans and their families connect with one another, learn new things, and stay spiritual even in the face of crisis.
Here are the ten best pagan resources I've found this month, please feel free to share your own in the comments or on our social media.
Pagan Federation Online Garden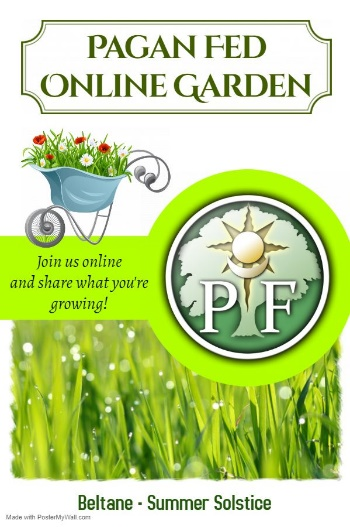 The UK Pagan Federation continues its run of great free events with a virtual garden that's open to all until the Summer Solstice. The Garden is a Facebook event which runs daily, so you can join at any time or pop in and out and enjoy talks, weekly rituals, pictures, videos, quizzes, competitions and more all aimed at bringing the outside, inside! Click here to access the Garden.
Lora O'Brien's Irish Pagan School
Visit irishpaganschool.com and discover a range of well-priced and even free courses exploring different facets of Irish Paganism. I've taken the free Irish Pagan Practice Course, so look out for a review of that in next month's Pagan Pages! So far I'm loving the course and the accompanying videos, available on YouTube. Other free courses include:
3 Truths about Ogham

Foundation class in meditation and guided journeys

The Dagda: Hearth hero and domestic deity
The Kitchen Witch School of Witchcraft
These aren't totally free, but they cost very little and all proceeds go to charity. The Kitchen Witch School is run by experienced witches including author Rachel Patterson, famous for her books on Kitchen Witchcraft and a range of other fascinating subjects. Courses include:
Crystal witchcraft

Celtic gods pathways

Magic of trees
And more! Access the courses here.
Free Copy of The Poetic Edda: A Study Guide
Author Noah Tetzner has made digital copies of his book, The Poetic Edda: A Study Guide, free for the time being. This book explains the saga within the Poetic Edda and helps students get to grips with the tales of the Norse Gods. Click here to access a free copy.
Learn More About Nature
TEDEd has launched a 30 school of nature. These might only be up until June the 5th, World Environment Day, so hurry! There are up to 30 quests, each designed to teach students a little about the natural world or the nature of everyday things. Topics range from biodiversity to deforestation. Fascinating stuff and ideal for homeschooling. Access the TEDed page here.
Free Live Pagan Music
Damh the Bard is performing regular live shows from his home, so you can view and listen from the safety of yours! The videos are all available on his Facebook Page to watch again later, and although they are free, there is a tip jar link if people feel urged to donate.
Free Druidic Movie on YouTube
The movie "A Druid's Pilgrimage" was supposed to premiere in cinemas, but due to the pandemic, the team at Lost Histories decided to show it on YouTube instead, making it free for all. The film follows a young girl's exploration and discovery of spirituality. It's interspersed with accounts from real-life druids, so a fascinating watch for anyone interested in this path. Watch the movie for free here.
Massive Online Pagan Conference

The Scottish Pagan Federation hosted a five day long conference- completely online and completely for free! Speakers included Caitlin Matthews, Merlyn Hern, Danu Forest, Sorita D'Este and more. All the videos from the conference are available to view online here and in the menu on the same website under Online Conference 2020.
Free Online Pagan Magazine for Families
As mentioned in last month's PaganPages, free Pagan magazine Aether is up and available and packed with articles and activities for the whole family. There's stuff for all ages ranging from stories to recipes and more. Click here to access the current issue.
Summer Solstice Live from Stonehenge
Finally, English Heritage has had to ban any gathering at Stonehenge to preserve social distancing and save lives. However, they will be doing a livestream on their Facebook page. Stonehenge director Nichola Tasker urges people not to travel to the sacred site but to join the event on Facebook, from sunset on the 20th June 2020 to sunrise on the 21st. Visit the event to check times and details.
We hope that these resources help keep you entertained and informed whilst staying safe at home, or in between work sessions if you are one of the many keyworkers helping the rest of us stay safe.
***
About the Author:
Mabh Savage is a Pagan author, poet and musician, as well as a freelance journalist.
She is the author of A Modern Celt: Seeking the Ancestors & Pagan Portals – Celtic Witchcraft: Modern Witchcraft Meets Celtic Ways.