Review of Little Naz X- Montero
Bright Blessings, Film Lovers,
I'd like to use space in Witch and Popcorn to review a music video this month instead of a film or TV show.
It's done by an enterprising 22-year-old who was raised by a gospel singer, and self-isolated quite a bit on his teen aged years. Time Magazine named him one of the 25 most influential people for his internet presence in 2019 and he was the first openly gay person to win a Country Music Association Award. He's been nominated for and won Grammys, and was listed as a 30 Under 30 on the Forbes list.
While we should expect such a celebrated, and successful artist to be exalted by all, nothing can be farther from the truth in this man's case.
His name is Lil Naz X, and the song that ruffled feathers is called Montero, and here is the link where you may watch it if you have not seen it already.
In this video, Naz X, portraying Eve, sings about a toxic relationship where he loses himself in a total piece of trash of a human being. It's sad, and many of us can relate to such a willingness to swallow such abuse due to being so head over heels for somebody who just doesn't deserve us.
In the video, the lover is represented as the biblical Satan, and takes advantage of Naz, who is portraying Eve as being seduced by the devil.
Who among us can relate to feeling that we have been used this way? Many of us.
In the video, god chases Eve away in the most terrifying way possible instead of being the supportive father he ought to and helping her heal. When she dies, she is brought to Heaven, but dons her best lingerie and come fuck me boots, and instead slides down the longest stripper pole known to creation to seduce the devil.
She approaches him on his hellish glory, lap dances him until he's tickled pink- not just red- and promptly breaks his neck to steal his crown- and immediately sprouts wings!
Decried as demonic filth by conservatives, this is celebrated by Pagan, Satanic, goth, the LGBTQ community, and metal fans worldwide. Not only a statement of queer sexuality, this is a testament of the abuse Eve has suffered at the hands of literally everybody.
Wrongly said to have been created from the rib of a human male rather than from the womb of the mother goddess, she is blamed for the fall of man, cursed with lifelong pain, and accused of getting everybody kicked out of Paradise, and worse- sentenced to eventually grow old and die.
Eve is not a filthy, heinous temptress, in this portrayal by Naz. But she was happily minding her own business, living her best life, and these men ruined it for her. Initially suffering, Eve takes charge, discarding her childlike innocence that led her to accept an abusive lover- which her so called loving father failed to protect her from- and she assumes her ultimate form- a woman in the drivers seat of her own life who knows her own beauty. And she knows how to use it to her advantage rather than being taken advantage of. She is no longer at the mercy of any god- she rejected his kingdom, and she's not at the mercy of any man who would break her heart- she broke his neck!!!!!
In a refreshing departure from classical myth, Eve wins- finally after all these years. She wins, and she is basically saying "Life's a witch and then you fly!"
Having earned her wings, taking her crown back, and ascending to her throne as Queen of Everything, Eve is the mother of us all, and a woman not to be contended with.
Naz X redefines both gender roles and women's roles, seating them at the top of the hierarchy of creation where they belong- the creatrixes who gave birth to the god! Not the pawn used by the god and abused by his devil.
Then there is the reality that not everybody born with a penis is born to wear pants, flat shoes, and go without makeup. Naz unleashes his gender bending queerness in it's full glory, beautifully smashing stereotypes, and being true to himself. It's a lot of fun to watch conservatives flip their wigs over this, bundling their panties up so much, the knots have to be cut out!
The time of living by other people's rules for women and LGBTQ people has come to an end, and heroes like Lil Naz X are keeping it moving forward.
Be aware there is profanity, and if this offends you, I can't help it. We've all heard these words before, and like The Pogues had to use profanity to express what they had to in Farirytale of New York, Naz X uses just the right words to get the point across.
Oh, not enough can be said about how great this video is. The talented Lil Naz X is an artist to watch, and one we are blessed to have.
Highly Recommended!
Happy Viewing.
Blessed Be!
***
About the Author: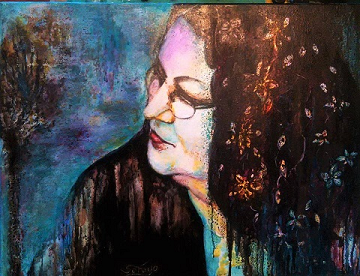 Saoirse is a practicing witch, and initiated Wiccan of an Eclectic Tradition.
A recovered Catholic, she was raised to believe in heaven and hell, that there is only one god, and only one way to believe. As she approached her late 20's, little things started to show her this was all wrong. She was most inspired by the saying "God is too big to fit into one religion" and after a heated exchange with the then associate pastor of the last Xtian church she attended, she finally realized she was in no way Xtian, and decided to move on to see where she could find her spiritual home.
Her homecoming to her Path was after many years of being called to The Old Ways and the Goddess, and happened in Phoenix, Arizona. She really did rise from her own ashes!
Upon returning to Ohio, she thought Chaos Magic was the answer, and soon discovered it was actually Wicca. She was blessed with a marvelous mentor, Lord Shadow, and started a Magical Discussion Group at local Metaphysical Shop Fly By Night. The group was later dubbed A Gathering of Paths. For a few years, this group met, discussed, did rituals, fellowship, and volunteering together, and even marched as a Pagan group with members of other groups at the local gay Pride Parade for eight years.
All the while, she continued studying with her mentor, and is still studying for Third Degree, making it to Second Degree thus far.
She is a gifted tarot reader, spellworker, teacher, and was even a resident Witch at a Westerville place dubbed The Parlor for a time.
Aside from her magical practice, she is a crocheter, beader, painter, and a good cook. She has been a clown and children's entertainer, a Nursing Home Activities Professional, a Cavern Tour Guide, a Retail Cashier, and a reader in local shops. Her college degree is a BA in English Writing. She tried her hand at both singing and playing bagpipes, and…well…let's just say her gifts lie elsewhere! She loves gardening, reading, antiques, time with friends and soul kin, and lots and lots of glorious color bedecking her small home!
On the encouragement of a loved one several years back, she searched for a publication to write for, and is right at home at PaganPagesOrg.
She is currently residing in Central Ohio with her husband, and furbabies.
Saoirse can be contacted at [email protected].