SpellCrafting: Spells for the Craft
Mabon Mandala
Merry meet!
This issue's spell coordinates with Mabon, but is also appropriate anytime you wish to offer gratitude.
Given that a prayer is a spell and a mandala is a prayer, therefore a mandala is a spell.
On the second of three and the most abundant of the harvests, I suggest creating a mandala from seasonal botanicals to thank the Mother for her blessings. In an open space, preferably outside as a gift of beauty to the earth, lay out fruits, vegetables, herbs, flowers, vegetation, and found items in a pleasing way.
Make each piece you place an offering of appreciation for one of the blessings you've received – from pre-dawn bird songs to stars at night. That way what could be considered art therapy becomes a gratitude spell.
You might make it a colorful pattern of petals on the top of a rock or a buffet of seasonal fruits, nuts, seeds, and foods on the ground for area wildlife. If you want to add a witchy feel, place your foods within a traditional nine-foot circle described in Wiccan texts.
Perhaps these photos found on Pinterest will inspire you to make a visual representation of gratitude for this sabbat.
Merry part. And merry meet again.
**
About the Author:
Lynn Woike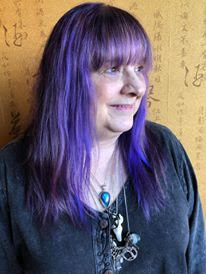 All my life I have known magic was real. As a child, I played with the fae, established relationships with trees and "just knew things." In my maiden years I discovered witchcraft and dabbled in the black-candles-and-cemeteries-at-midnight-on-a-fullmoon magick just enough to realize I did not understand its power. I went on to explore many practices including Zen, astrology, color therapy, native traditions, tarot, herbs, candle magic, gems, and, as I moved into my mother years, Buddhism, the Kabbalah and Reiki. The first man I dated after my divorce was a witch who reintroduced me to the Craft, this time by way of the Goddess. For 11 years I was in a coven, but with retirement, I have returned to an eclectic solitary practice.
When accepting the mantle of crone, I pledged to serve and teach. This is what I do from my skoolie – a 30-year-old school bus converted into a tiny house on wheels that I am driving around the country, following 72-degree weather, emerging myself into nature, and sharing magic with those I meet. Find me at thewitchonwheels.com, Facebook and Instagram.