A Ritual Making Harvest Stew
To celebrate the second harvest, this ritual consists of making a vegetable stew infused with magical intentions. It is written for a solitary practitioner, but can easily be adapted to a group. You will need more than an hour to complete this ritual. Read through it to know what you will need, making changes to suit your circumstances.
Begin by purifying and cleansing your ritual space of any energy not aligned with the highest good; in this case it will most likely be the kitchen. You can sweep the space, ring bells, smudge it with herbs, or asperge the perimeter with water or other liquid. This will typically be done moving in a clockwise, or deosil, direction. Choose the method that works best for you.
You might state, I claim this space for magic, healing, inspiration, clarity, and connection to spirit. And it is so.
Attend to any last-minute details, then cast your circle to define your work area. Using your finger, a cooking utensil, or a tool of your choice, extend a blue flame to the far edges of your area in a clockwise direction. If desired, use this chant as you cast:
I cast this circle round
From earth to sky
And sky to ground
I cast this circle round
To hold and protect
To protect and ground
I cast this circle round
Between the worlds
Where magic is found
Fortify your circle with energy from Source. Spend a moment to feel its protection around you.
Next, honor the directions, inviting them to work with you by using your words or this simple calling:

Calling all forces for good, calling in the elemental energies, the spirits of the land and of the creatures that walk it; the spirits of the waters, and those that dwell within; the spirits of the air, and those who float and take wing on the wind. Calling to the ancient guardians of this planet, and of its people. Calling on the directions: West, North, East, South. Calling on the Above and the Below. Calling on Center. I stand in your presence, grateful for your gifts, your wisdom, and your powers. I ask that you guide and protect me during this ritual and always.
Light a candle, saying, And so it is.
Take a minute to feel and appreciate the space in which you will be working. Bless the ingredients you have prepared earlier, utensils, pot, and stove. Set the pot on medium heat. Beginning with olive oil, recite the words accompanying each ingredient, intentional about the energy you're calling in as you cook up some magic on this celebration of the second harvest.
Three tablespoons olive oil for peace:
Liquid gold from the fruit of a gnarled tree
You bring joy, kindness, and peace to me.
Your magic stretches back to antiquity
Your connection to the divine brings harmony
If you are moved to, let the oil run over your fingertip and anoint yourself to bring peace.
One onion for good health:
Bulb of light, root of health
Wrap me in your psychic wealth
Throughout the coming months of stillness
Protect me from all types of illness
One cup carrots for manifestation:
Fertile root, food of Mars,
For you I thank my lucky stars
Grow my wishes, bless my desires
Your magic is what this stew requires
One cup celery to improve psychic powers:
Stalks of green that tower
Help improve my psychic power
I now have a holy trinity in my pot
With carrots and onions, it's a spiritual lot
Cook for 8 minutes, stirring occasionally. Then add the following:
A pound of mushrooms, halved, to hold duality:
Life and death, pain and pleasure
Help me embrace them with equal measure
Good and evil, dark and light
Mushrooms bring balance to this rite
Six cloves garlic for good health:
Herb of fire, bulb of power
I call to you at this hour
To ward off illness for a life that is long
Keep me healthy, pain free, and strong
Two teaspoons dried thyme to attract good luck:
You make a potent magical queen
With woody stems and evergreen
You bring me luck that is all good
Season my life as this food you would
Half teaspoon sage to increase wisdom:
In many cultures since the times of old
You're an herb of immortality so told
Sage make me wise in magic
So works I do are never tragic
Add two tablespoons of flour and stir to evenly coat everything.
Flour to teach sacrifice:
Shafts of wheat, symbol of life
Made into bread and cut with a knife
Giving of yourself to sustain nations
Demonstrates sacrifice, selfless donations
A few pinches of salt for protection:
A pinch of salt to eliminate the negative
Your powers of protection to me give
I add you to purify all I do
Banish evil that my magic be true
Cook for about a minute while stirring. Add three cups of vegetable broth.
Add a pound of diced potatoes for stability and grounding:
Joyous nightshade, ruled by the moon
Your powers add to this stew a boon
Ground me now in this reality
Thank you for providing stability
Put in two bay leaves for many gifts:
This old cultivated tree has many gifts for me
All of which I accept with with gratitude and glee
Manifestation, healing, protection from harm
Success, clarity, you're a good luck charm
Bring to a simmer over medium-high heat, stirring occasionally. Do not boil. Turn heat to low and simmer gently for 10-15 minutes or until the potatoes are fork-tender.
As the stew simmers, set a place at the table using your favorite bowl, spoon, and table linens, along with an offering bowl. Add seasonal decorations such as pine cones, gourds, vines, apples, and autumn flowers. Choose a bottle of wine, ale, or cider to accompany your meal, along with bread. If time permits, read inspirational passages, count your blessings, or make a simple craft such as coring apples and inserting candles. (See this issue's WitchCrafting column.)
When the stew is ready, garnish with fresh parsley for good energy:
Vibrant and green, a flavorful herb.
The good energy you give is superb
Thank you for your magickal powers
Coming to me this day and this hour
Offer a small portion to the god and goddess while expressing gratitude and homage. Deities corresponding with Mabon include Persephone, Demeter, Snake Woman, The Morgan, Dionysus, Thor, and Hermes. Also offer a bit of the wine or your beverage of choice. Then serve yourself. Before your first bite, say May I never hunger. Before drinking from your cup, say May I never thirst.
After enjoying your meal, prepare to return to the mundane world. Ground yourself, then thank and release the directions with these words or your own:
I am grateful to all energies that participated in my ritual. Center, Below, and Above, as you leave, let me retain your inner calm and clarity. North, West, South, and East, I will continue to look for your support in my waking and for answers in my dreams. Ancient guardians, spirits of fire, air, water, and earth, give me strength for the battles I am fighting and wins for those yet to come.
Open the circle by allowing the light to return to you and Source as you turn counter-clockwise, or widdershins, saying, The circle is open but unbroken.
Store leftovers and clear the table, leaving the decorations to be enjoyed in the coming days. Continue using the candles with each night's meal until burnt down.
*NOTE: Credit goes to Kylie – the food blogger, photographer, and recipe developer behind Midwest Foodie – for her recipe that was the basis of this stew.
**
About the Author:
Lynn Woike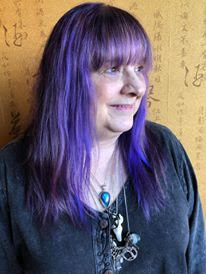 All my life I have known magic was real. As a child, I played with the fae, established relationships with trees and "just knew things." In my maiden years I discovered witchcraft and dabbled in the black-candles-and-cemeteries-at-midnight-on-a-fullmoon magick just enough to realize I did not understand its power. I went on to explore many practices including Zen, astrology, color therapy, native traditions, tarot, herbs, candle magic, gems, and, as I moved into my mother years, Buddhism, the Kabbalah and Reiki. The first man I dated after my divorce was a witch who reintroduced me to the Craft, this time by way of the Goddess. For 11 years I was in a coven, but with retirement, I have returned to an eclectic solitary practice.
When accepting the mantle of crone, I pledged to serve and teach. This is what I do from my skoolie – a 30-year-old school bus converted into a tiny house on wheels that I am driving around the country, following 72-degree weather, emerging myself into nature, and sharing magic with those I meet. Find me at thewitchonwheels.com, Facebook and Instagram.