WitchCrafting: Crafts for Witches
Apples Three Ways
Merry meet!
Apples correspond to Mabon and there are many simple ways to incorporate them into your craft when celebrating Mabon.

I like to use them as candle holders on my altar and table. For tea lights, take an empty candle container and push it into the top of an apple. Scoop out the area and drop in a tea light.
Similarly, core the top of an apple to hold a taper candle, careful that the apple remains stable.
When done using them as candle holders, you can slice the apples horizontally into thin circles, dip them in lemon water, place on a parchment paper-lined sheet, and dry in a 200-degree oven for 1-2 hours on each side. When cool, string them to make a garland or wreath to decorate a window, door, or altar.
Dried apples can also be the base for a seasonal potpourri.
Mix well together:
2 cups dried apples
1 cup cinnamon sticks (measure then break into pieces)
1/2 cup dried orange peels
1/4 cup whole cloves
2 tablespoons grated nutmeg
2 tablespoons dried rosemary
Optional: 2-3 drops vanilla or cinnamon oil
For more surface area, and thus more scent, use a mortar and pestle on the mix, or place it in a sealable bag and run over it with a rolling pin.
Simmer in a pot of water or spoon into individual sachets. Potpourri can also be placed in bowls to freshen up a room. If you do, consider leaving a piece or two of each ingredient whole and add bits of found seasonal elements such as acorns, tree bark, dried berries, and pinecones.
Credit goes to Patti Wigington for her Mabon Harvest Potpourri recipe Found Here.
Merry part. And merry meet again.
**
About the Author:
Lynn Woike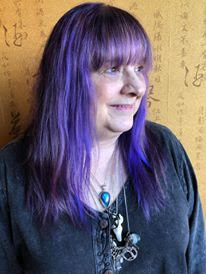 All my life I have known magic was real. As a child, I played with the fae, established relationships with trees and "just knew things." In my maiden years I discovered witchcraft and dabbled in the black-candles-and-cemeteries-at-midnight-on-a-fullmoon magick just enough to realize I did not understand its power. I went on to explore many practices including Zen, astrology, color therapy, native traditions, tarot, herbs, candle magic, gems, and, as I moved into my mother years, Buddhism, the Kabbalah and Reiki. The first man I dated after my divorce was a witch who reintroduced me to the Craft, this time by way of the Goddess. For 11 years I was in a coven, but with retirement, I have returned to an eclectic solitary practice.
When accepting the mantle of crone, I pledged to serve and teach. This is what I do from my skoolie – a 30-year-old school bus converted into a tiny house on wheels that I am driving around the country, following 72-degree weather, emerging myself into nature, and sharing magic with those I meet. Find me at thewitchonwheels.com, Facebook and Instagram.