Uncategorized
Crafting in Sandi's Enchanted Garden
Making answer board for a pendulum
Hello crafty witches! We've already made a pendulum together so now I want to show you how to make an answer board to go with it! It's basically as simple as writing yes and no (and maybe of you'd like) on a piece of paper. However, if you wanted to make something a little bit fancier and don't have a lot of artistic skill there is still a way! This method can be used to do everything from an answer board to a wall plaque to anything your heart desires.
To make one like pictures you will need:
A wooden board (you can get one at Michaels)
Sandpaper
A pencil
A piece of tracing paper
A print out of the board design you want
Paint
Paintbrushes
Spray Sealer
Newspaper to cover your work surface
The first thing we want to do is sand our board clean and smooth.
Next you want to print the picture you want to use for your board. You can trace it from the back of the paper so it will be front ways when you apply it. Trace it with a pencil and be careful not to blow the dust away or put your hand in it.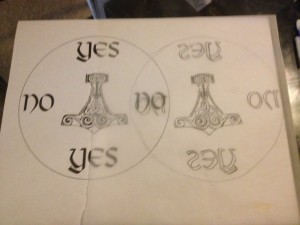 Place the tracing paper on the board in the way you want it to look when it's transferred. The tracing you did with the pencil should be touching the board. Retrace the writing so the lead will transfer to the board.
You can also paint the board first of you'd like but be extra careful as the pencil may smear.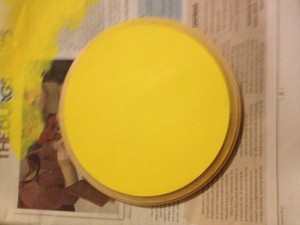 Don't forget to paint the edges of your board!
Now you can paint the details! And then clean up any smears you may have from the pencil.
Spray with a sealer, let dry, and then use away!! Happy crafting