Uncategorized
(life as a christmas cactus)
i was thinking about a dream i once had & realized it really
happened: smooth green elevens everywhere dancing to a laughing song
memories masquerading as dreams: my life in crystal darkness but
the moon tells another story: a wonderful obliteration
once upon a time there was a little girl who liked to sit on the
bridge: moon on the water: constellations that create stories to tell
when the moon is full the flowers bloom at night & sing the nocturnal
sun: pink petals peeling away from the bright yellow perimeter
three times three plus two dream divided by dream squared equals a new dream
memory moon stars sun: clouds rain thunder & lightning rolling over
& over again … oh! here is mary queen of scots riding a white
horse through the mists of my mind: she has something important
to tell me: commands in french & scots & latin & then she is gone
but no matter: i am dreaming i am blooming shiny pink petals
***
About the Author: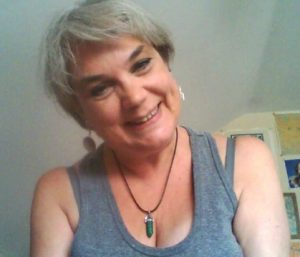 Polly MacDavid lives in Buffalo, New York at the moment but that could easily change, since she is a gypsy at heart. Like a gypsy, she is attracted to the divinatory arts, as well as camp fires and dancing barefoot. She has three cats who all help her with her magic.
Her philosophy about religion and magic is that it must be thoroughly based in science and logic. She is Dianic Wiccan and she is solitary.
She blogs at silverapplequeen.wordpress.com. She writes about general life, politics and poetry. She is writing a novel about sex, drugs and recovery.