Uncategorized
Learning Lenormand
The Lenormand Oracle Cards and Booklet
A few months ago, I received my first set of Lenormand cards. I wrote about them here: http://paganpages.org/emagazine/tag/lenormand-cards/ . If you remember, at the end of that article, I posted pics of the set of cards that I wanted to get and for Yule, I bought them for myself. They arrived in the mail on the third day of Christmas, if I remember correctly. I was so happy to get them!
They are exactly what I wanted. They have the "antique" looking pictures of the original cards but also the playing card inserts that to me, are the essence of the Lenormand. I was quite amazed at their large size but I considered that a plus – it makes the imagery of the cards easy to see. And since I usually lay out any divinatory method on the rug on my living room floor, then the issue of needing an "enormous table when it come to laying out all 36 of them in a Grand Tableau" (Matthews, 8) as Caitlín Matthews cautions in the Introduction of her superb The Complete Lenormand Oracle Handbook – the oriental rug in my living is more than large enough to handle all thirty-six cards.
These new cards are, in fact, quite bigger than the Lenormand Fortune Telling Cards.
As you can see, the little verse that is in the insert in the upper middle of the Lenormand Fortune-Telling Cards has been replaced with a playing card. Other than this, the cards are virtually the same, except for size and the pattern on the back of the card. In my limited study of the Lenormand, I have come to understand that the card on the right is the German version of the Lenormand and the card on the right is the French version. However, I do fear that this is a very simplistic way of looking at the cards and I am probably quite wrong in my assessment. While the Lenormand was most popular in Germany and France, there were also decks in Belgium, Dutch, Russian, Brazilian and even American – all similar and different at the same time. (Matthews, 7). So while I would like to make a definitive statement about these cards – like, it was the French who added the pips – I just can't. I don't have the proof to back up my statement.
The little booklet that came with The Lenormand Oracle cards was written by Laura Tuan, an European author who writes in Italian and French for a variety of publishers, including LoScarabeo, the publishers of these cards. This booklet was written in Italian and translated by Julie Bradshaw. After having read through over half of Caitlín Matthew's book, I found Laura Tuan's booklet mystifying! For openers, she uses reversed cards! On page 9 of The Complete Lenormand Oracle, it states plainly, "Cards always read upright" (Matthews, 9). But this is not so in Tuan's book. Upright cards are marked with a "C" and reversed cards are marked with a "D". I have no idea why this is so. I called a friend of mine who is fluent in Italian and he could not give me a clue as to the meaning of "C" and "D". We both wondered if the letters were arbitrarily assigned by either the author or the translator. But it doesn't really matter – I am going by what Matthews says and reading the cards upright only.
The other thing I found curious is that, unlike the booklet that came with The Lenormand Fortune-Telling Cards, there was no "dictionary" of meaning for the cards. Instead, there are two "guided" spreads – the Horoscope spread and the Gypsy spread – and the meanings of the cards are given in relation to those spreads. In the back of the books, she has several "unguided" spreads, with "positions" for each card to set upon and what they mean at that position. Again – I have to refer back to Matthews – "In Tarot, cards are laid out in redecided or named positions…Each position is an essential part of the reading and helps define or frame how the card laid upon the place is to be read…Conversely, Lenormand cards work by proximity to each other, creating meaning through juxtaposition. This is a more linguistic method…Lenormand cards work together to create different meanings…" (Matthews, 10).
This is not the first booklet for a deck of Tarot or Oracle cards that I read through and decided that it was better off left in the box it came in. I have quite a collection of them. The way I see it, if you have a really good text on the subject, that's what you use. Right now, The Complete Lenormand Oracle Handbook is my basic text for learning the Lenormand – it's my Norton Shakespeare, so to speak. Of course you can't read too much on any subject or have too many books – heaven forbid! – but it's always good to have a good basic text on any subject – something you can refer back to again and again.
I did consecrate the deck as Tuan suggests on page 8 of the booklet. I had to tweak the ritual a little bit, as I didn't have a red table cloth or any incense, but I made do. A red napkin worked just fine for a cloth and some crushed basil burning in a small censor was a fine insence. This, of course, is par for the course in my little witchy world! If you can't improvise, then you can't make magic!
In the upcoming months, I will be working with Caitlín Matthew's excellent book and whatever other books on the Lenormand I may find. But as I said previously, The Complete Lenormand Oracle Handbook is going to be my basic text for this subject. I do hope you find it as fascinating as I do!
Click on Images to View Amazon Information
References
Matthews, Caitlín. The Complete Lenormand Oracle Handbook: Reading the Language and Symbols of the Cards. Rochester: Destiny Books, 2014.
Tuan, Laura. Lenormand Oracle. Torino: LoScarabeo, 2013. Translated by Julie Bradshaw.
**
About the Author: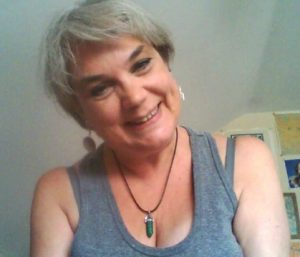 Polly MacDavid lives in Buffalo, New York at the moment but that could easily change, since she is a gypsy at heart. Like a gypsy, she is attracted to the divinatory arts, as well as camp fires and dancing barefoot. She has three cats who all help her with her magic.
Her philosophy about religion and magic is that it must be thoroughly based in science and logic. She is Dianic Wiccan and she is solitary.
She blogs at silverapplequeen.wordpress.com. She writes about general life, politics and poetry. She is writing a novel about sex, drugs and recovery.