Uncategorized
SpellCrafting: Spells & Rituals
Self Dedication
Merry meet.
Many witches practice the Craft as a solitary, so they never get to be initiated into a tradition with a formal ceremony. That leaves the option of performing a rite of self-dedication. Some people choose to wait until they have studied the Craft for a year and a day before holding this rite. Others will choose to do a self-dedication on Imbolc, which is often the time of initiations and dedications in the pagan traditions. New moons are a time of new beginnings, making them another option.
(Phyllis Curott)
Wiccan High Priestess Phyllis Curott said in a video found on Howcast,
"When a witch makes a promise, it must be kept. So a self-dedication ritual is a promise that you make to yourself. It's a promise to go in pursuit of your purpose, the reason that you're here. It's a promise to go in pursuit of the sacred that lies within you and to seek it in the world around you."
Committing to your path and the deities you choose to follow requires devotion, self-discipline, self-care and courage because, Currott explained,
"you are pledging yourself to your future."
Your commitment deserves thought and preparation. The most meaningful and powerful ritual will be one that you write yourself, so let this column be an inspiration and a guide as you find the words and actions that best express yourself.
Write out the ritual, assemble the necessary items and take a purification bath. If you can drip dry and proceed skyclad, so much the better. It could be done in front of your altar or outside in a favorite place of power.
Click Image for Amazon Information
In the ritual she presents in her book "Witch Crafting: A Spiritual Guide to Making Magic," Curott suggests remaining outside the ritual space while you prepare yourself. Write the parts of yourself you wish to release on slips of paper and burn them. Surrender, let go and banish them from your life. Meditate on your path – how and when it started, what it is now and where you want it to take you.
Then, holding your athame, Book of Shadows and chalice, step into the circle, stating your intent to dedicate your true and sacred self, in perfect love and trust, to your Wiccan path. Call upon the Divine energy and offer yourself to it. Surrender and let it flow through you. Feel yourself coming home to your authentic self, your sacred self and your destiny.
(Stoneware Ritual Pentacle Altar Chalice by artists Nels & Judy Olson-Linde of artifactorium)
Now is the time to recite the oath you prepared. Look for inspiration in Curott's book. Anoint yourself with the moon water in your chalice, or with oil or other natural substance such as clay dust.
Proceed as you would to ground and open your circle.
Many self-dedication rituals exist online and in books. In an article on thoughtco.com, Patti Wigington presents a ritual where you sprinkle salt on the ground or floor before an altar, stand on it and light a white candle, feeling the flame's warmth and thinking about the reasons for your dedication.
After asking the gods to bless you, you anoint your forehead with oil saying,
"May my mind be blessed so that I can accept the wisdom of the gods.
Anoint your eyelids saying,
"May my eyes be blessed, so I can see my way clearly upon this path."
Moving down your body, you anoint the each part, speak the appropriate words:
"May my nose be blessed, so I can breathe in the essence of all that is Divine. … May my lips be blessed, so I may always speak with honor and respect. … May my heart be blessed, so I may love and be loved. …May my hands be blessed, so that I may use them to heal and help others. … May my womb be blessed, so that I may honor the creation of life. (If you're male, make the appropriate changes here.) … May my feet be blessed, so that I may walk side by side with the Divine."
Next pledge yourself to specific deities or simply to the God and Goddess with the words,
"Tonight, I pledge my dedication to the God and Goddess. I will walk with them beside me, and ask them to guide me on this journey. I pledge to honor them, and ask that they allow me to grow closer to them. As I will, so it shall be."
The occasion can be used to take your magickal name.
At sacred-texts.com, Vitriol London posted such a ritual in a Book of Shadows section. After preparing for the dedication, calling on the wisdom of the God and Goddess, and the blessings of the elements, he suggests meditating or chanting to reach an altered state of consciousness and gather energy. Standing before the altar, anoint first with oil, with salt and water, and then with wine, saying,
"I am reborn into my true and magickal self, and I take on the name of (Witch name). I ask for the blessings of the Goddess and God on my endeavors, and I vow (make your vows)."
(Aphrodite/Venus Rose Quartz Love Pendant by Sierrablaise of HighVibrationaLiving)
He has individuals present themselves to the quarters, dedicating to their solitary path, and then consecrating and anointing ritual jewelry you will then wear.
(Witches herb Altar Box/Beginners Altar by Shona Winter of TheherbalCabinet)
Tools that you will use in your magickal work can also be blessed before consecrating the wine and cake using an athame through which you channel energy. Eat and drink, ground, thank the entities and open the circle.
While this column discussed dedicating to your spiritual path and the Divine, it is possible to dedicate yourself to anything: learning a new skill, your career, achieving a goal. It can be for a year and a day, until it is achieved or for a lifetime.
Merry part. And merry meet again.
***
About the Author: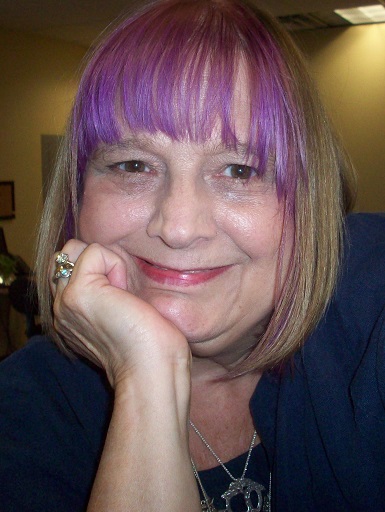 Lynn Woike was 50 – divorced and living on her own for the first time – before she consciously began practicing as a self taught solitary witch. She draws on an eclectic mix of old ways she has studied – from her Sicilian and Germanic heritage to Zen and astrology, the fae, Buddhism, Celtic, the Kabbalah, Norse and Native American – pulling from each as she is guided. She practices yoga, reads Tarot and uses Reiki. From the time she was little, she has loved stories, making her job as the editor of two monthly newspapers seem less than the work it is because of the stories she gets to tell. She lives with her large white cat, Pyewacket, in central Connecticut. You can follow her boards on Pinterest, and write to her at woikelynn at gmail dot com.