Polly Macdavid October 1st, 2018
Homemade Apple Pie for Samhain
I always make a sweet treat out of apples for Samhain. It is one of my long-cherished traditions. If I have the time and enough apples, I like to bake an apple pie. I have been baking apple pies for October 31 long before I celebrated Samhain. I used to enjoy a nice slice of warmed apple pie with a scoop of French vanilla ice cream melting over it as I waited for the doorbell to ring on Halloween evening. Trick'r'treaters don't come to my door anymore nor do I celebrate Halloween like most Americans do. But I still enjoy a piece of luscious apple pie on the thirty-first of every October.
Apple pie is one of those things that I have been making for so many years that I no longer need to use a recipe anymore. That includes making the pie crust. I had to really think about what I was doing as I was making the pie this time, so I could write down the proper amounts for each ingredient, in order to write this recipe. You know how it is when you "just know" how to do something – you just do it. It's good to really have to think about what you are doing and why are you doing it every once in a while.
The first thing I do when I am baking any pie is make the pie crust. I learned how to make pie crust from my mother. My mother always used Crisco shortening for her pie crust. I always hated Crisco. Not because of its bland tastelessness but because it was just a pain in the ass. It stuck to the measuring cups, to the spoons, to your fingers. I know that in terms of calories and cholesterol, using a vegetable-based shortening is probably the best choice when it comes to making pastry. But I just don't like working with it.
I know people who swear by using lard; I used to work in a butcher shop and I would never use pig fat for my pie crust. However, I've eaten pies with crusts made with lard and they've been wicked good. But the only shortening I use is butter.
I have heard that it's harder to work with butter than with a vegetable-based shortening – I have never found this to be the case. In fact, since you want all your ingredients to be as cold as possible when you are making a pastry dough, it seems to me that using butter really makes more sense. But to each their own.
The other thing is salted butter versus unsalted butter. Most recipes call for unsalted butter. I use salted butter and reduce the salt in the recipe. But again – to each their own. Some people might even use margarine (!!)
Pie crust is really simple. It's just flour, a little salt, cut with tiny pieces of butter or some other kind of shortening until it's uniform and then enough cold water added in to make a pliable crust.
I always put a cup of cold water into the freezer before starting to make sure that the water is as cold as possible. Remember – when you are making pastry crust, cold is your friend. I know people who have marble or granite counter tops because they stay cold. You can also get marble rolling pins. You can chill pie crust for up to three days in the refrigerator and a whole three months in the freezer! So you can make it up ahead if you need to and store it.
The next thing I do is measure the flour and salt into my sifter and sift it into my bowl. For a two-crust pie, I use two and a half cups of flour and one-half teaspoon of salt.
Then I take the butter out of the fridge and I cut it up into tiny pieces. I never used to do this – I used to just chop the butter into quarters or eighths or whatever. But over the years, I have found that cutting the butter up into tiny pieces before adding it to the flour-salt mixture makes it easier to cut in with the pastry cutter.
Put the pieces of butter into the bowl with the flour-salt mixture and, using a pastry cutter or a fork, cut the butter into the flour until the mixture looks like small peas. This takes a while and some might complain that it's tedious work but my attitude is that it's meditative and spiritual. Working with any kind of dough makes me think of the various grain goddesses and how vital breadstuffs were to the people who worshiped them – so much so that Isis, for instance, was called "The Lady of Bread". Bread was life.
When the butter is cut into the flour-salt mixture properly, it should look like this:
Now you want to add the water that's been chilling in the freezer. You want to add a tablespoon or two at a time, no more than that. I know it seems like there's barely any water being added to the butter-flour mix at all but believe me, if you add all the water at once, the dough will be tough. You also want to mix the water in quickly and with as few strokes as possible. Add the drops of water around the butter-flour mixture, always dropping them on the driest parts of the dough before mixing quickly.
This is what it looks like when the water is half-way mixed in:
The last thing I do before putting the pie into the oven is cut slits into the top crust to let steam out while it is cooking. Since this pie was being made for Samhain, I made a triple Moon on the top crust. I am not much of an artist, obviously!
The oven is always preheated to 425 degrees. I always put a pizza pan on the rack below the pie, in case the pie drips over during the baking process. This has saved me a lot of cleaning hassle in the past. I leave the pie in the 425 degree oven for five minutes, then turn the oven down to 350 degrees for the rest of the cooking period. It will take about an hour to bake, depending on your oven and the amount of apples you put into your pie and how dense they were. You'll know when the pie is done. The crust will be golden brown and the apples will be glistening inside the slits you made. And the aroma! There is no mistaking that heavenly smell!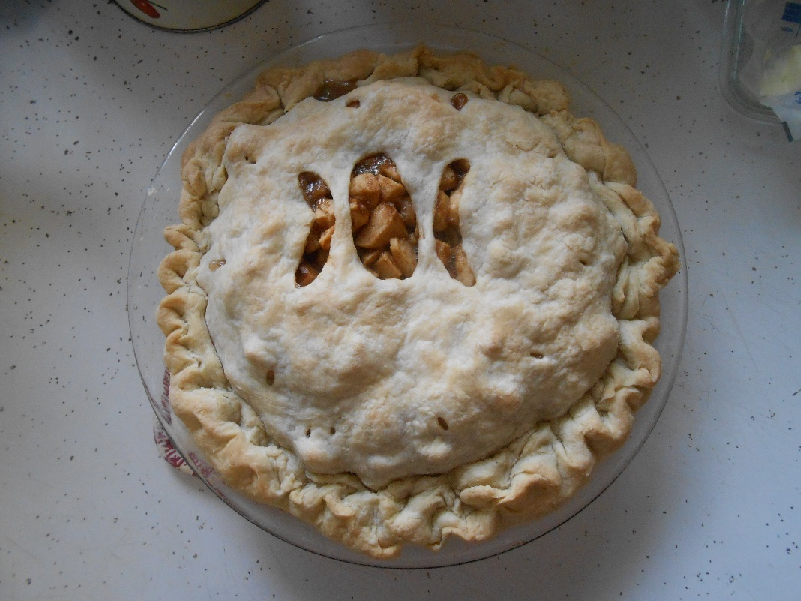 The finished pie.
I waited as long as I could and then I cut myself a nice big piece – you know how the first piece never wants to come out in one piece! – and then added a nice scoop of French vanilla ice cream on top of it. OH SWEET GODDESS HOW YUMMY IS THAT?
So. This is my Samhain Apple Pie. I hope you like it and maybe will try it for yourself. I personally think that this turned out to be one of the very best pies that I have made in a long time. The crust was to die for. I never used to be a "crust person" but now I could eat the crust and leave the filling! I just love that buttery, flaky crust!
Until next month, Brightest Blessings and happy cooking!
***
About the Author:
Polly MacDavid lives in Buffalo, New York at the moment but that could easily change, since she is a gypsy at heart. Like a gypsy, she is attracted to the divinatory arts, as well as camp fires and dancing barefoot. She has three cats who all help her with her magic.
Her philosophy about religion and magic is that it must be thoroughly based in science and logic. She is Dianic Wiccan and she is solitary.
She blogs at silverapplequeen.wordpress.com. She writes about general life, politics and poetry. She is writing a novel about sex, drugs and recovery.
Uncategorized
Comments(0)