Uncategorized
SpellCrafting: Spells & Rituals
Yule Ritual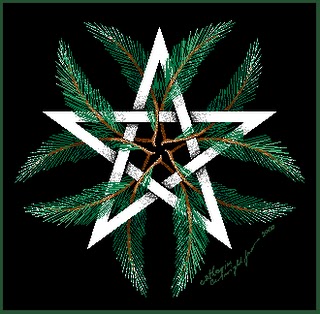 Merry meet.
Below is a Yule ritual written for a group, which can easily be modified to be done as a solitary. Read through, making note of what to gather and how to set it up.
The altar can be a candle on the floor, or raised up in the center on a small table.
Traditional colors for altar cloths are gold, silver, red, green and white.
SET UP:
Set up your altar with seasonal botanicals, directional candles.
Designate a place for guests to put coats and, if desired, shoes
Arrange so that before people enter the ritual space they can place their cares and woes in a burden basket or other receptacle (a lidded casserole dish or cookie jar, a purse that snaps shut, a box) and then step forward and be cleansed with smoke. (A cauldron can be placed where guests can waft the smoke themselves, or a person can be designated to smudge others after being smudged themselves)
Find a seat and listen to soft music
High Priestess:
We gather tonight in perfect love and perfect trust to celebrate the winter solstice. On this longest night of the year, let us accept Yule's gifts of quiet and dark. For a long moment, everything pauses. There is a stillness that settles over the land. A stillness for which there are no words. Darkness rules. Tonight we will sit in this darkness that precedes the light's rebirth.
Take a moment to get here, to feel the surroundings and the welcome with which this place greets you.
I'm going to ring chimes three times. As we all align ourselves with its vibrations, we will meld as a group.
Ring three times, letting each ring fade to silence before doing the next. High Priestess says:
Be here now.
As we cast our circle, see it as an equator, then see the ring flip up and over to become a sphere, pushing the energy to the exterior of this building.
With thumbs facing left, begin by using your left hand to take the right hand of the person to your left and say:
Hand to hand, I cast this circle
Each person does the same. When the circle is complete, the High Priestess says:
See our arms making a circle. With each breath, strengthen the circle. Now, imagine it to be like an equator, and spin the circle up, over and down so that it creates a sphere. Now push that sphere out to encompass this room. Keep breathing, and enlarge the sphere so that it fills this whole unit and extend outside the walls, and into the basement below. Now, see the outer skin of this sphere become soft and foggy, smoky, like a mist rising from a lake in the early morning. When we leave, we will walk though that foggy edge as we reenter the mundane world.
Take another three breaths … and know we are between the worlds. May all we do tonight be for the highest good and greatest joy of all.
Sing "There Is No Time" by Kellianna" three times.
There is no time but now, there is no place but here,
In the sacred we do stand, in a circle hand in hand.
High Priestess:
Let us summon the spirits of the four quarters. We'll start facing north because winter begins with the quarter of the wheel associated with earth.
Person calling North:
Mother Earth, barren trees now decorate the land that has sustained us. In this restful moment, let us find safety and stability. Hail and welcome.
Place greens such as mistletoe, holly and pine boughs on the altar, on the north side of the candle.
Person calling East:
Brother Air, I listen for the cold winds from your winter wings, but tonight all is still. In this quiet darkness, help us find inspiration. Hail and welcome.
Light incense, or place a feather, bells or other representation of East on the altar.
Person calling South:
Father Sun, source of fire, here in the night, awaiting your
return, we ask that the memory of your warmth temper our spirit. Hail and welcome.
Place pieces of lava or other symbol of fire such as chili peppers or coffee beans on the south side of the altar.
Person calling West:
Sister Water, your snow and ice have covered our world.
Beneath this blanket, let our emotions find healing and renewal. Hail and welcome.
Place a container of water from melted snow, a Yule rain or other source, or a representation of water on the west side of the altar.
Person calling center:
We stand in the center, spirit in body and know we are divine. Spirit is a bridge between the physical and the metaphysical, between body and soul. Guide us as we walk in both worlds. Hail and welcome.
Place a symbol of spirit, perhaps a crystal or a butterfly in the center.
Person calling the crones:
Queen of Winter Cailleach Bheur (kall yeck burr), Dark Mother Demeter (da meet her), Keeper of the Cauldron Cerridwen, Kali, Mother Holle (hell her), Nicneven (nick na vin), The Morrigan (more' a gain) – we welcome you crones and ask you to help us transition as you transform to the maiden giving birth to the sun. Hail and welcome.
Place a symbol of crone – a bone, a cauldron, a crescent moon, owl, wolf, crow or raven. – in the center.
Person calling the sun:
Father Sun, Winter King, the Sage, Apollo, Ra, Horus, Ravi, Shamash – we welcome you to our circle. You are reborn tonight, bringing light, bringing life. You demonstrate the endless cycle of birth, life, death and rebirth. Hail and welcome.
Place a symbol of the sun god – gold, a representation of the sun, a baby Oak King – in the center.
High Priestess, in her customary way, invites people to put their names in the circle. If desired, she allows people to put other names in the circle for blessings and energy.
There is a magic in all the seasons. Winter's magic is the most concise, most dense. It is diamond magic, cold and brilliant, focused and precise.
Each season also has its own wisdom, but winter's wisdom includes them all. Everything is clear. What is invisible in growing times becomes plain in the starkness of winter. From winter, you can remember spring, summer and fall by the patterns they've left behind.
There is not yet a call to begin again. Beginnings will come soon enough. This is the fallow time. This is the time of rest. The waiting brings both strength and vulnerability.
When winter comes, we withdraw into the deepest spaces of our inner selves. As the world sleeps, its energy, like yours, turns within. Your inner sight expands. There is much to see beyond appearances. It is bone time. Nothing is hidden. With your winter eyes, let yourself see everything.
This is a time of reflection, insight, visions and wisdom. In the velvet dark are the secrets we keep from ourselves … one of those secrets is who we really are. Find that you hidden in the darkness.
It may appear we are resting, but in winter we are creating a new universe within ourselves, examining and breaking old patterns, destroying what should not be revived, secretly feeding that which needs to thrive. With calm deliberateness, we know what to save and bring into the next season.
When we blow out these candles, feel yourself in this deep, dark space, the place from which all is born. Feel the warmth and safety of this womb on this cold night. This place of darkness is the source of life. Feel that energy waiting, still, quiet, for life to begin. That is the energy of the dark. This is the time of before.
That energy is within you. Sit with it. Be the dark from which all things will come. Be the dark that holds the coiled sleeping snake, the crocus bulb frozen in the ground. All life has moved to the center, hidden in the darkness. In this space, feel the energy of all that is yet to be.
Winter is not all about death, it's also about reflection and insight, and reconnecting to the source deep within the dark. One day in the not too distant future, the dance will begin again. Let that knowledge be a comfort to you, but do not call for it. For now is not its time.
We need the dark to balance the light. Honor its presence.
Offer gratitude for the power it gives us to dream our deep sleep awake.
I will signal when there are 5 minutes left in the meditation
Extinguish candle
Start timer
Give 5-minute notice with rattle, bell or drum
High Priestess:
Welcome back. Take a moment to get here.
We're going to pass the talking stick so that all who wish may share their thoughts or experiences in sacred space.
High Priestess:
Grounding eliminates the excess energy you may have accumulated during a ritual or other working. Take time now to breath three slow, deep breaths as you imagine the energy you do not need draining out of your body, out of your fingers and your feet. Offer it to the earth below.
Food also helps us ground.
Present cakes and ale, speaking only to say
May you never hunger / Nor you
May you never thirst / Nor you
High Priestess:
We are drawing to the end. As we prepare to release the elements, I will light this candle from the spirit candle. We will pass out candles and a drip guard. You'll take them both home with you.
I thank each of you for bringing the gift of yourself to this circle, for adding your energy to the magic of tonight. Let us bring a piece of this quiet calm with us as we return to our mundane lives that we may walk in peace.
After we light the candles, we'll sing "Silent Night, Solstice Night" twice. Then, I ask that you to gather your things, attend to your needs and leave … all in silence … as we return to the mundane world.
Releasing the Crones
Crones we thank you for showing us how to die and be reborn. Stay if you will, go if you must. Hail and farewell.
Releasing the Sun
Father Sun, on this deepest dark night, we welcome back your light. Blessed Be.
Releasing Water
Sister Water, thank you for your presence, love and healing. Blessed Be.
Releasing Fire
Father Sun, source of fire, thank you for your warmth and passion. Blessed Be.
Releasing Air
Brother Air, thank you for your presence and your inspiration.
Blessed Be.
Releasing Earth
Mother Earth, thank you for your presence as we leave grounded and renewed. Blessed Be.
High Priestess: Begin by lighting the candle of the person to your left, saying:
May you embrace the return of the light.
Sing "Silent Night, Solstice Night"
And merry part. And merry meet again.

NOTE: This ritual draws heavily on the poem "The Winter Woman" from "Seasons of the Witch: poetry & Songs to the Goddess" by Patricia Monaghan and Arctic Siren Singers
***
About the Author:
Lynn Woike was 50 – divorced and living on her own for the first time – before she consciously began practicing as a self taught solitary witch. She draws on an eclectic mix of old ways she has studied – from her Sicilian and Germanic heritage to Zen and astrology, the fae, Buddhism, Celtic, the Kabbalah, Norse and Native American – pulling from each as she is guided. She practices yoga, reads Tarot and uses Reiki. From the time she was little, she has loved stories, making her job as the editor of two monthly newspapers seem less than the work it is because of the stories she gets to tell. She lives with her large white cat, Pyewacket, in central Connecticut. You can follow her boards on Pinterest, and write to her at woikelynn at gmail dot com.