Cover artist: Lhox is an illustrator and a gardener, based in the UK, currently writing and illustrating a children's book. Mythology is important to Lhox because she believes it holds the key to the ancient wisdom of our ancestors. Wisdom that we need today more than ever. To see more of Lhox's work visit her gallery HERE.
Free coloring page: This month author & artist Amy Cesari creator of the Coloring Book of Shadows: Planner for a Magical 2019 has blessed our readers with a free coloring page! Just hit the button to download.
We Hope Everyone Had a Safe and Wonderful Imbolc & This Month is Filled With Nothing But Love For You All!! This Month We Have a Heap of Inspiring Reviews, Interviews, & Information to Get You Through the Month!  Such as…
An Interview with Laura Tempest Zakroff & Review of Her Book Sigil Witchery: A Witch's Guide to Crafting Magick Symbols.
Worth the Witch Reviews Infinite Realms Book Box. See How a Simple Box Can Bring Luxury, Happiness, Fantasy, & Great Books into Your Life.
We Review Sacred Mists Shoppe Blessed Gemstone Kit & Have a Sit Down with Lady Lorien of Sacred Mists About Their Products, Classes, & More!
The Goddess is Alive & Everywhere. Learn What a Giving Heart Is, How to Be a Living Saint in Celebrating the Old Ways in New Times.
Have You Ever Wondered About Working With Santa Muerte or Lady Death? Tracey Rollins Teaches You the History, Rituals, and Magic of Our Lady of the Holy Death & We Tell You All About it!
_________________________________________________________________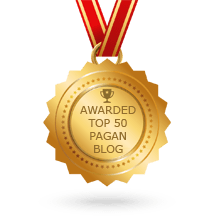 _________________________________________________________________
Facebook, Twitter, Pinterest, Instagram, & YouTube
_________________________________________________________________
Try Audible and Get Two Free Audiobooks on Amazon