Oracle Deck Review – The Goracle: A Dark Oracle Deck by Nick Ribera
Oracle Deck Review
The Goracle
A Dark Oracle Deck
by Nick Ribera
KickStarter
Insert from interview
The Goracle is an oracle deck created by artist Nick Ribera that explores the beauty to be found in pain and death, and their role in learning intimately about the self.
As this deck just began its Kickstarter program on July 1, I only have card samples, a generous 17 of them, to review. They came in a nice black envelope along with a brief description of the theme and design of the deck. The cards themselves are 3 1/2 inches by 5 1/2 inches with color images (mostly black, gray, white and red) and a nice slightly grainy glossy finish that makes the cards slippery enough to shuffle easily. The card stock is not too thick (which would make these large cards a challenge to work with), and they handle nicely, feeling good in my hands. The card images cover the entire face of each card, with a black border and the card name and number superimposed on the image so the image can continue to the card edge. This effect makes those intense images seem even larger.
The card backs in this sample deck contain the card meanings, with the upright meanings presented in black type on a slightly distressed-appearing white background and the reversed meanings in white type with a black background. The left corner of each upright section looks to be smeared with a bit of blood. The complete deck will come with a guidebook of at least 30 pages (or more, if the stretch goals in the Kickstarter project are reached) that will contain card descriptions and three spreads. The author has also developed two games that use the cards of this deck, which will be included in the guidebook; as of this writing, several other stretch goals have been achieved and will be included with the deck.
One of the things I love about this deck is the carefully crafted card meanings, both upright and inverted. These meanings are direct and simple, no mystical phrasing but rather easy to understand messages plainly spoken to the holder of the cards. Just about every card meaning has the word "you" in the first sentence, making it seem as if the card images are speaking directly to each of us in a very personal way. I did not expect to be intrigued by this deck, but both the art and the card meanings presented in these samples have grabbed hold of me, and I am looking forward to adding this deck to my own collection once it is available.
If you are affected in an uncomfortable way by viewing images portraying mutilation, pain and death, perhaps this is not the deck for you. But you should know that by reading the card messages as you absorb the images, you do come to understand the value of becoming familiar with the dark and its many uncomfortable yet empowering and transformative effects. The Goracle can certainly be an effective tool in that exploration.
If you are a fan of horror, games and gaming, and graphic novels, this is an Oracle deck that should be in your collection. The images are artwork and not actual photos, but they are powerful and striking all the same. Each card displaying the effects of violence and death evokes the dread and shock that one expects from the horror genre, particularly psychological horror. I was intrigued by the many expressions of pain, mutilation and decomposition found in the sample deck and the card images on the Kickstarter page. It was as if each card whispered to me that discomfort and darkness are filled with a power of their own, unique and personal to each of us and able to transform us completely if we embrace this power and use it to evolve.
Nick Ribera's art is described on the website chainassembly.com as created "to work against high art sensibilities to push his low-brow, pop, fan, and absurdist art in multiple forms." Currently a resident of St. Petersburg, Florida, his work has been presented in galleries and art museums in Miami, Tampa Bay and Nashville. Besides chainassembly.com, you can also find more about Nick at nickribera.com. You can learn more about The Goracle at The Goracle: a Dark Oracle Deck on Kickstarter.
***
About the Author: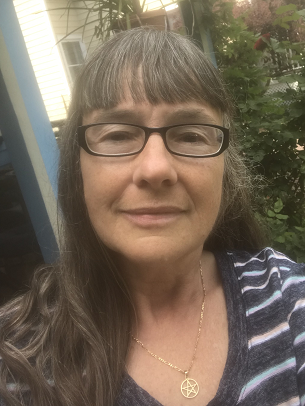 Raushanna is a lifetime resident of New Jersey. As well as a professional Tarot Reader and Teacher, she is a practicing Wiccan (Third Degree, Sacred Mists Coven), a Usui Reiki Master/Teacher, a certified Vedic Thai-Yoga Massage Bodyworker, a 500-hr RYT Yoga Teacher specializing in chair assisted Yoga for movement disorders, and a Middle Eastern dance performer, choreographer and teacher.  Raushanna bought her first Tarot deck in 2005, and was instantly captivated by the images on the cards and the vast, deep and textured messages to be gleaned from their symbols. She loves reading about, writing about, and talking about the Tarot, and anything occult, mystical, or spiritual, as well as anything connected to the human subtle body. She has published a book, "The Emerald Tablet: My 24-Day Journal to Understanding," and is currently working on a book about the Tarot, pathworking and the Tree of Life. Raushanna documents her experiences and her daily card throws in her blog, DancingSparkles.blogspot.com, which has been in existence since 2009. She and her husband, her son and step son, and her numerous friends and large extended family can often be found on the beaches, bike paths and hiking trails of the Cape May, NJ area.