Exclusive Interview With Author of Witch Wisdom for Magical Aging, Cait Johnson
Bright Blessings!
I was lucky enough to get to review Cait Johnson's book Witch Wisdom for Magical Aging: Finding Your Power Through the Changing Seasons, and let me tell you, it is one hell of a great book! I cannot say enough about how very much I loved this book, but I will share the review we published so you can read excerpts of it for yourself: Book Review – Witch Wisdom for Magical Aging: Finding Your Power Through the Changing Seasons by Cait Johnson – PaganPages.org
Cait has authored seven fantastic books, including Witch Wisdom, but that's not all she does! Her bio says:
"She holds an MFA in theatre design, is certified by the Institute of Transpersonal Psychology (now Sofia University), studied with shamanic practitioner Tom Cowan, and is a member emeritus of the Black Earth Institute, a progressive think tank dedicated to the integration of arts, environment, spirit, and social justice.
Before the pandemic, she wrote, directed, and performed in collaborative shamanic theatre pieces that explored transformation of consciousness through ritual, song, movement, and the spoken word.
She lives with her black cat in a cozy two hundred-year-old house in New York's Hudson Valley where she has a private practice as a writing mentor, creative coach, and intuitive counselor. Her adored artist son and his partner have recently made her a doting grandmother."
This is one fascinating lady for sure, and her creative talents are limitless. Read on to see what she has to say about Witch Wisdom, and a bit about herself!
Saoirse- Tell us about yourself. Your background, what you do, and what it is that set you on the path to do all the wonderful things that you do. 
Cait- I was always fascinated by witches even as a little girl, and I somehow knew instinctively that they weren't the evil, cackling monstrosities portrayed in the popular imagination. I met my first "real" witch when I was a young woman and instantly fell in love with doing spells and rituals. A friend gave me my first Tarot deck when I was 16 (it was a bit of a fad at the time) but unlike many of my contemporaries, I never really put it down. In fact, my first book, Tarot Games, written with Maura D. Shaw, introduced a whole new way of using the cards, creatively, in couples and groups. After that, Maura and I wrote a book on pagan parenting, Celebrating the Great Mother, dedicated to our young sons.
Cooking (and eating!) have always been passions of mine, so Witch in the Kitchen, my next book, was a way of restoring a sense of the sacred to food. I had a lot of fun testing the recipes (although I gained ten pounds without even trying). And since I live my life according to the seasons and elements, Earth, Water, Fire and Air was my book celebrating that.
I've been a performer and director from earliest childhood and a few years ago, I started writing magical surreal theatre productions, complete with songs and poems, designed to (gently!) alter audience consciousness. I have a community of creative playmates who are absolutely the best collaborators ever. Of course, that was before covid brought all that to a screeching halt.
So, I wear a lot of hats, and I'm lucky that I love what I do to pay the bills: I midwife people's creative projects with editing and coaching, and have a private practice as an intuitive counselor.
It's a patchwork life, but it keeps me happy and warm!
Saoirse- What was that "a-ha" moment that made you decide to do Witch Wisdom? Was it a moment, or did the project come from multiple experiences? Can you share those experiences with us? 
Cait- My books have always echoed my life: Tarot, mothering, cooking, living with the elements. So now that I'm turning 70, and have started really feeling and noticing the changes that aging brings, it was a logical next step to bring the sense of magic and wonder that are so important to me to the aging process. My friend Rhianna had suggested we write a book together, and we had a couple of great planning sessions, but when the quarantine hit, she was too busy filling online orders for the magical products in her shop (dreaminggoddess.com) so I did it myself, with devout thanks to her for lighting the firecracker under my posterior! Plus, I am lucky enough to have several circles of friends, most of us women of a certain age, and we spend time comparing notes and empathizing (and sometimes cackling) about the whole aging thing. I wrote it for all of us.
Saoirse- I will say I cried my eyes out reading this. I'm no longer a spring chick myself, and my body is changing in ways I never expected. I've accepted gray hair and wrinkles, but back pain and whatnot is a whole other ballpark!  In our stages of Mother and Crone, older women can do things maidens can't- besides have and raise babies, of course! What are the most important things we do as women as we age, not only for ourselves, but for others that make us so amazing? 
Cait- I can so relate! The greatest thing about being an elder, even in this benighted culture, is that we become more self-aware, less desperate to please or to fit in, more unashamedly and fully ourselves. Most of us cultivate directness (along with kindness) and the magical ability to say no. In fact, "NO" is a very short magic spell. We often have more time, as elders, to do the things that can "rewild" a world hungry for magic and wonder. We can become forces for desperately-needed cultural change, not by going on marches or waving placards (unless that's what you love to do!) but by living authentically and in a deeply connected way.
Saoirse- I realized that from the time I was young, I was programmed to revolt against my body, as were the other girls, and to me it drilled into our heads not just by our families, but by advertisers. if we completely accept ourselves as we are, these businesses will not be able to cash in on how ugly they make us feel. "Buy this and it will make you beautiful."  Enough about that! How can we, as older women, ensure today's younger girls don't fall prey to being brainwashed to hate our bodies, and how can we uplift them in ways they reject societal messages against themselves and instead love themselves?
Cait- You are so right! This is NOT a woman-loving culture (as current events show) and it just gets worse as we age: old women become the butt of jokes everywhere, and we are the favorite target of greedy corporations feeding off the insecurities that have been bred in our bones. We are moneymakers, but despised. Thankfully, I think we are finally seeing a real shift in our consciousness; many of us are teaching little girls and teens that there are far more important things than being thin, pretty, and sexy, urging them to love themselves just as they are. Women can be encouraged to live vibrant authentic lives rather than being good little objects. So a possible first step: collect images and stories of positive role models (think Malala and Greta Thunberg). For we older women, find photos (especially of indigenous women, who really seem to get it) where wrinkles are worn with humor and pride.
Saoirse- What things are you working on right now that you would like to share with us?
Cait- I've always been a huge fan of myths and fairy tales, but I wanted to show a different side to the old women in fairy tales that are often evil and scary (because, hey, what's more scary to the prevailing culture than a woman who doesn't give a damn what others think of her? She has gone free) so I'm writing a collection of fairy tales for older women, working title "Crone Tales."
Saoirse What links and photos would you like to share with readers today?
Cait- My website is caitjohnson.com.
Some extras from Witch Wisdom
The artwork for the book by Ania Aldrich is simply gorgeous; she did four full-color paintings of the seasonal witches. And thank you so much for doing this!
Saoirse- What else would you like to add about Witch Wisdom, and what special messages do you have for readers? 
Cait- Getting older is not easy, especially in this society, but we can give ourselves permission to have more pleasure, to create what's in us to create, to find the community that supports and enlivens us, and to be more uniquely ourselves. Witch Wisdom is an invitation to explore and celebrate all that makes life more magical. And I hope readers get a kick out of the four feisty seasonal witches that preside over the book!
I cannot say enough about what a talented, amazing lady Cait is, and I am so thrilled I got the chance to interview her. You can find her books , and get copies for yourself here: Books – Cait Johnson
Until next time, keep reading great books, and Blessed Be!
**
About the Author: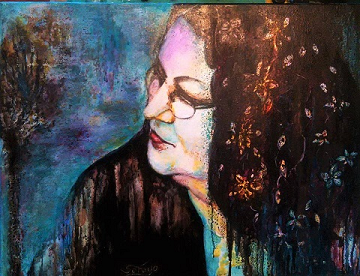 Lady Saoirse is a practicing witch, and initiated Wiccan of an Eclectic Tradition.
A recovered Catholic, she was raised to believe in heaven and hell, that there is only one god, and only one way to believe. As she approached her late 20's, little things started to show her this was all wrong. She was most inspired by the saying "God is too big to fit into one religion" and after a heated exchange with the then associate pastor of the last Xtian church she attended, she finally realized she was in no way Xtian, and decided to move on to see where she could find her spiritual home.
Her homecoming to her Path was after many years of being called to The Old Ways and the Goddess, and happened in Phoenix, Arizona. She really did rise from her own ashes!
Upon returning to Ohio, she thought Chaos Magic was the answer, and soon discovered it was actually Wicca. She was blessed with a marvelous mentor, Lord Shadow, and started a Magical Discussion Group at local Metaphysical Shop Fly By Night. The group was later dubbed A Gathering of Paths. For a few years, this group met, discussed, did rituals, fellowship, and volunteering together, and even marched as a Pagan group with members of other groups at the local gay Pride Parade for eight years.
All the while, she continued studying with her mentor, Lord Shadow, and she became a Third Degree High priestess in 2022. She belongs to the Black Dragon Clan.
She is a gifted tarot reader, spellworker, teacher, and was even a resident Witch at a Westerville place dubbed The Parlor for a time.
Aside from her magical practice, she is a crocheter, beader, painter, and a good cook. She has been a clown and children's entertainer, a Nursing Home Activities Professional, a Cavern Tour Guide, a Retail Cashier, and a reader in local shops. Her college degree is a BA in English Writing. She tried her hand at both singing and playing bagpipes, and…well…let's just say her gifts lie elsewhere! She loves gardening, reading, antiques, time with friends and soul kin, and lots and lots of glorious color bedecking her small home!
On the encouragement of a loved one several years back, she searched for a publication to write for, and is right at home at PaganPagesOrg.
She is currently residing in Central Ohio with her husband, and furbabies.
Saoirse can be contacted at [email protected].