Uncategorized
Worth the Witch
The BOHO Box
The BOHO Box is a recurring monthly box subscription full of surprises like beautiful boho jewelry, natural beauty products and cosmetics, essential oil-based perfumes, incense, crystals, candles… and surprise gifts like dreamcatchers or leather journals. Their boxes are $39.95 a month.
Right now they are only shipping within the United States, but if you join their Newsletter you get 10% off your first box!
The BOHO Box has sent us a box to review…so let's get right to it.
The Box Arrives…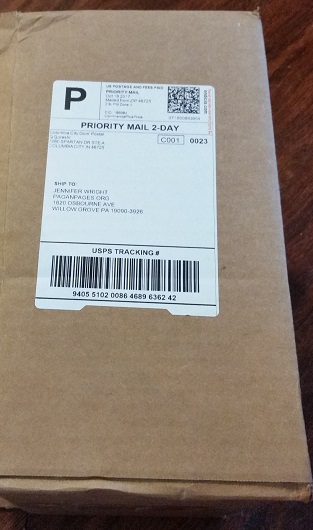 The BOHO Box comes in a completely plain brown outer box. This is great news to me. Though I am out of the broom closet (and you can find me kissing the tree in front of my house when I borrow from it) I favor this due to the fact that many are in the broom closet and you never know about nosy neighbors seeing things on your front doorstep.
However…
Inside this box is another box and the beginning of the goodies! This box is beautifully decorated with their logo and states proudly "The BOHO Box". You also pull out your first gifts that give you an inkling of what your box will be like.
First, A Bumper Sticker that states "Follow the Moon". Nice, bright, and simple. You can put it on your car, altar, or anywhere.
Next, you pull out a real delight that makes you think. A gorgeous, handcrafted mask. With glorious plumage. The jewels around the eyes give it a festive effect. Great for Samhain, a party, or a fun ritual/spell.
Now I'm really curious. Let's open this box and really dig in!
Included Papers
When the box with The BOHO Box business logo on top is opened you are greeted by a purple wax sealed letter. There are 2 pages to the letter. The first page is a letter that states all the goings on within the company and is very interesting. It tells you the topic of the Box for the month. Our Topic: Moon Goddess! The first letter goes on to detail all that is held within the box and what everything is used for.
The second page is information on different Moon Goddesses from all over the world. (Pictured in full box photo later.)
The letters are printed on beautiful parchment paper. The wax seal adds an elegant touch.
Spooky & Elegant Rhinestone Spider Bracelet
Who would like a spider bracelet? I would! Especially one like this! Elegant is definitely the word for this bracelet. The rhinestones have a wonderful crystal-like feel. Sturdy, not cheaply made or flimsy. The design is gorgeous. Clasps on easily. No fear of falling off. The way it clasps it seems to be able to fit multiple size wrists.
Wild & Free Boho Crescent Moon Layer Necklace
This decorative necklace has a very creative design. It harnesses the moons power in many creative fashions. It definitely has a wild & free feel to it. The short part of the necklace has a choker feel to it, while the long piece gives you a lariat effect. Both work together to give a wonderful appearance.
Anointing Oil Formulated for Rituals & Spells
Given to us is Samhain Anointing Oil for Rituals & Spells by one of the most trusted and best Pagan companies known to us online shoppers, Azure Green. It smells wonderful, like nutmeg and cloves.
Boho Ring with Mandala Inspired Design
It's Large in design size and very pretty. But it's hard to send a ring. The finger size is average to small. It didn't fit me or my young niece. I did find someone for it to fit and she loves it. So that makes me very happy because it really is a very pretty piece. I can see how difficult it is to include a ring in a box. It's a wonderful idea, though.
Black Pouch Containing Gemstones
The black velvet pouch contains 3 raw stones, this means they are not polished down to smooth stones. You get the in their raw energies. The stones are a Black Obsidian, which has a glorious shine to it. An Amethyst and a Moonstone. They are all sparkly, huge pieces. The reasons for sending them and their correspondences are listed on the papers sent.
The Moon Incense Cones
The Moon Incense are from HEM which is a company, if you burn incense on a regular basis, you may know well. They are a great company. Well known and trusted. The scent is relaxing when burned, it gives a clean aroma.
Celtic Inspired Crescent Moon Pendant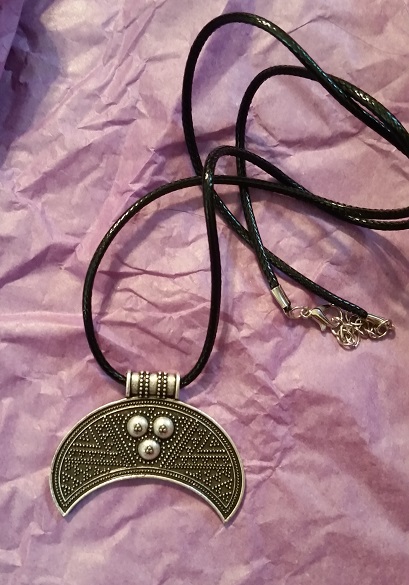 Beautiful moon with lovely markings. Almost looks like marcasite. The three bulbs could represent the triple goddess. Choker length. Good medium size.
Silver Nail Polish to Mirror your Jewelry
Now that you shine with your new jewelry, your beautiful mask, and your fully anointed, why not have your nails shine, too!! This is a full size bottle of Silver, shiny polish. Not sample sized. It's silver, also, not like foil, or a gray.
Moonstone Pendulum
Good weight. The peachy color to the pendulum is delicious. The gemstones that run up the chain are brilliant shades. The gemstone chips on the balancing side of the pendulum are a very pretty touch.
Cloth Pendulum Mat
As if a pendulum was not enough, a pendulum mat was sent! I have not seen one of these. I am used to seeing pendulum worksheets on paper. This is a thick cloth. The bottom side has a grip type fabric to it. The top is made of a velvet type fabric. It is a lot fun to work with. We tried it with those new to the pendulum and those who are old hands at the pendulum and they both enjoyed it.
Starry Forest Card to be Framed
A beautiful picture is sent to inspire you. It is of the night sky in the forest. The stars in the background look as if they glow. The picture is for you to save and frame or just hang. It really is breathtaking.
Personal Oracle Card Reading
I found this reading to be something rather incredible because it hit right on what I was going through at the moment. Without the round about mumbo jumbo that could fit any situation. It spoke to me directly. Also, sage advice was given.
The card that was drawn for you, is given to you to keep. The deck the card is taken from is beautiful. The advice is given on parchment paper. I found this part of the box to be the most inspirational.
Over All Impression…
I think The BOHO Box had me from the wax seal! No wait, the mask! It spoke of surprise and whimsy ahead. Boy did they deliver! Each turn had a new surprise and unique gift. This box made me shine in so many ways. It made me feel pretty and good inside and out!
The jewelry and polish made me shine & glow on the outside. The incense and stones had me feeling good spiritually. The pendulum, pendulum mat & anointing oil The BOHO Box provided helped me to be more spiritual in my everyday life.
Now this reading The BOHO Box sent me. Honestly, it blew me away. I don't know how they did it. How they can give a personal reading to touch everyone in a subscription box, but they do. It was personally addressed to me, by name and all. I am very, very impressed. The box is only $39.95 and for all you get, I find this a very fair price.
So who is behind The BOHO Box? Her name is Diana Price and she took some time from her very busy schedule to talk with us at PaganPagesOrg about The BOHO Box and more.
PaganPagesOrg: What brought the idea of The BOHO Box to you? 
Diana Price: Even before I discovered that the box subscription phenomena was a real "thing," I thought it would be cool to create a subscription to some kind of box filled with things to pamper people and make then feel good. Then I discovered a lot of people were already doing that and became a subscriber to a box myself. 
When that box arrived every month, I was downright giddy. That great feeling inspired me to get serious and do it myself. I have many interests, mainly metaphysical, but I was building a boho lifestyle blog and decided to go with The Boho Box first. Ironically, that boho site is being revamped because I discovered that "gypsy" is considered a racial slur, so The Soul of a Gypsy has to be completely rebranded. Fortunately, The Boho Box also has a separate site/domain.
I've also secured domains and social media for an astrology box and may try to create one for my jewelry/metaphysical store, The Midnight Rose, but I'm still learning the ropes with The Boho Box. One at a time…
PaganPagesOrg: How did you begin the process of the subscription?
Diana Price: I joined up on groups with others doing subscription boxes to learn as much as possible and signed up with the selling platform Cratejoy, but the costs of it are high, so I am trying to funnel subscribers directly to my site with the hope of reducing the cost.
I already had a list of suppliers from trying to launch online stores in the past and a small store on my Tarot and Horoscopes site, so I had the resources for the products already.
PaganPagesOrg: How do you choose what to put inside the boxes?
Diana Price: I try to choose monthly themes and sort of match things up, but this last month I think I got a little too caught up in that. I had found these gorgeous crystal lotuses, then choose very sparkly jewelry to go along with it. It didn't go over so well, so lesson learned…. stay BOHO!
I still try to keep with a theme because ideally I want all the jewelry pieces to work together so people can layer, but check myself to make sure I stay in line with the boho style. 
After the jewelry pieces are selected, I browse through my suppliers and start filling in the other goodies. I'm also wanting to create more handcrafted items starting with the February box.
Basically, I try to create a box I'd love and get excited about opening. 
PaganPagesOrg: Is The BOHO Box a recurring monthly box subscription?
Diana Price: Yes, it's a monthly subscription.
PaganPagesOrg: Are you, yourself a pagan?
Diana Price: Yes, although I tend to be a bit of a closeted one, not talking much about that or my tarot and astrology interests with many casual friends because I've been burned in the past by that. Many years ago I worked night shift in a nursing home and would bring books to read in the downtime, often on metaphysical topics. I found out from co-workers the Southern Baptist charge nurse was telling everyone I worshiped the devil and didn't know it, and even said "Suffer not a witch to live."
I was devastated. Unfortunately, many who visit your site will probably have a similar story.
I'm working on being more open about my pagan and Gothic sensibilities. I'm currently on a travel nurse job in Charleston, SC, and as I was driving around, I realized my style and the vibe I REALLY want for my new store and jewelry line, The Midnight Rose, is more witchy southern Gothic and I need to fully embrace that. I had been sort of "mainstreaming" the jewelry line and avoiding anything too pagan or dark, but that's who I am and I need to embrace it.
PaganPagesOrg: What are some of your interests?
Diana Price: I love to travel, although preferably without the nightmare of a temp job I'm currently on, and love photography, tarot, and I've been doing paranormal investigations. I'm also getting serious about candle-making and natural beauty products as well as jewelry design. 
I'm quite the foodie, so I'm trying to cram in as much fine dining as possible while in Charleston and I'm taking next weekend to visit Savannah. I'm sure I'll return inspired!
PaganPagesOrg: Do you sell other products?
Diana Price: Yes, as I touched on, The Midnight Rose will be selling more than jewelry when it's fully up and running – also new and vintage clothing, custom candles, herbs, natural beauty products, and Victorian/Southern Gothic gifts as well as tarot readings and astrology charts/reports. I've also started designing a line of Semicolon jewelry for suicide awareness.
PaganPagesOrg: Is there anything else you would like to add about yourself or your boxes?
Diana Price: Like many other box businesses, I'm just a small, "mom and pop" operation, but I take each box personally and always try to deliver a lot of value and something that makes people happy. I think that's especially important right now in these dark times we're living in. I believe one of the best ways to fight back against that darkness is to spread as much light and positivity into the world as possible.
I'd like to thank Diana Price for talking with us and I wish her so much prosperity on her endeavors. I know I can not wait to see her new ideas. If they are anything like The BOHO Box I know they will be great!!
Helpful Links:
If you are interested in Visiting The BOHO Box Site, Visit:
You can Subscribe for $39.95 a month by Visiting:
http://thebohobox.com/shop/subscription-boxes/the-boho-box-monthly/
For More Information on The BOHO Box, Visit:
http://thebohobox.com/how-does-it-work/
***
About the Author:
Jennifer Sacasa-Wright is a Witch and she runs PaganPagesOrg eMagazine.  She loves hearing your opinions & thoughts on the eMagazine and welcomes comments. You can find her email address in the about section.  When she is not working on PaganPagesOrg she is creating in some other way.