Uncategorized
Interview with Fiona Horne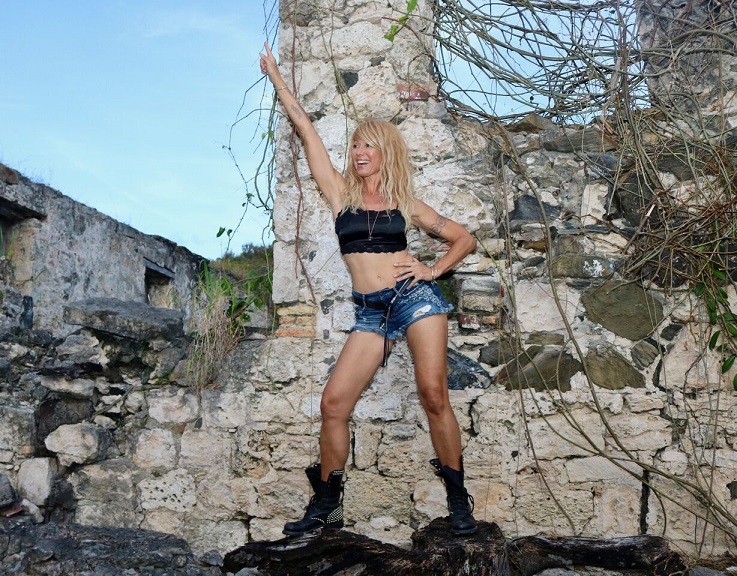 Fiona Horne is a witch of many titles. Lead singer of Def FX and Playboy Cover Girl, just to name a few. Fiona bares all in her new book, "The Naked Witch". I was given the chance to interview Fiona Horne and after reading her newest autobiography, "The Naked Witch," I knew this was an opportunity I could not miss out on!
Deanna Lambert (DA): In your book, The Naked Witch, the reader is taken on a journey when you share all the things you've done throughout your life. Some of these were quite personal, did you find The Naked Witch to be more difficult to write than your previous books?
Fiona Horne(FH): I didn't anticipate how difficult it would be, I thought I had come to a reasonable place of peace and self -acceptance as I embarked on writing the book – but as I plowed through the mess and disappointments of my life all the feelings attached to the memories welled up. It's quite extraordinary how the brain stores life events and when you give yourself permission to revisit them without reservation, it's possible to relive them as if they are happening again for the first time. I cried and I laughed as I wrote the book, but I definitely shed more tears of sadness than joy. I hoped the book would be useful for its readers if they could learn something from all the mistakes I've made – but as it turns out it was a healing and educational experience for me too.
DL: America is currently experiencing an opioid addiction. You've been able kick several addictions. Do you have any advice for anyone battling addiction?
FH: I got sober six years ago in a 12 Step program. I can only share what's worked for me and I've witnessed the most extraordinary miracles in 12 Step works. I can only recommend that.  But I will also say, as Witches its worth considering that we talk about 'Creating change with Will.'   'Will' is a huge part of releasing yourself from the prison of addiction to anything.  It's not 'willpower' – my willpower ran out decades ago.   By 'Will' I mean you've got to really want it – more than anything else.  My sobriety is the most important thing in my life.  Everything comes second to it.  It is the key that unlocked the most crushing prison.  It is a miracle.  I'm just so grateful that I realized I wanted it more than anything and I would go to any lengths to get it.  I continue to work my 12 Step program a day at a time.  It works if you work it.  And I get to truly enjoy my life in all its gifts and all its challenges.
DL: When discussing your childhood, you made the statement "The kids picked on me so I hid from them. Nowadays you'd call it bullying. Back then it was just normal." Bullying has been a hot topic in schools for many years now. We know bullying can affect how a child feels about themselves. Standing where you are now and having completed so much in your life, what would you tell your younger self when it comes to being bullied?
FH: Gosh its interesting thinking about that – what would I have said? I guess I would have given me a hug and said, 'There is nothing wrong or bad about you. When people point the finger there's two fingers pointing back at themselves. Have compassion for them – they are sad inside and trying to make you sad too. Forgive them and don't feel you have to earn their respect or friendship by doing the bad things they tell you to do. It's hard right now, but one day these people will be a distant memory and nothing they have said or done will matter. Focus on the things you love, that make you happy – your reading, your writing – you are a good, smart girl. I'm proud of you and I love you. Forgive these people and let them go.'
DA: One of my favorite parts is when you talked about your childhood in the bush. You called it "my first tangible, magickal experiences" and described yourself as "a little Pagan". If you had not had that childhood in the bush, do you believe you would have still followed a magickal path?
FH: I was blessed to grow up in the bush – I didn't realize at the time how lucky I was to be left alone to run around in it – I just thought everyone got to do that. I think I would have been drawn to esoteric things ultimately – but again I am grateful that the foundation for my spiritual life was laid in a real, tangible physical connection and relationship with nature as it manifests in the rugged, raw, potency of the Australian bush.
DL: Throughout the book, you mention your inner Witch. She seemed to be trying to guide you the best she could through the life events you were dealing with. How is your inner Witch today? Would you say that your relationship is stronger with your inner Witch these days?
FH: I'm just a Witch now – it's not something I hide (as in Inner) or advertise (as in Outer) – it just is. I think right now, I'm more integrated with all the facets of my being than ever before. I don't have to separate them to understand them. I'm a Witch whether I'm flying an airplane, casting Circle with other Witches or free diving with sea turtles. I'm, 'All Witch All The Time' 🙂
DL: Def FX has played a major role in your life. I hear that a reunion tour is happening this year! How are you preparing yourself for being on stage again?
FH: The boys and I rehearse independently – I literally live on the other side of the world to them! Then I arrive about two weeks before the tour and we rehearse as a band and back on the road we go. It's like riding a bike – you never forget. We're all passionate and enthusiastic about touring and that fuels the shows to be a lot of fun 🙂 We're all busy active people, running around all the time so we have energy to spare and we just go for it. The vibe from our fans is awesome too – you just feel that energy rolling towards you when you're onstage. We just go for it and party like its 1996 🙂
DL: You have had a very full life, from Def FX to writing books on magickal subjects to making TV appearances to sky diving to kicking addictions to becoming a commercial pilot.  That's enough to fill a lifetime for one person! Is there anything left on your to do list or bucket list?
FH: I'm about to go to interior Alaska for a couple of weeks to live in a log cabin in subzero temperatures with a good friend who has lived off the land there all his life. Snow and ice and mountains are frontiers I have not crossed …. it's going to be bloody cold but I can't wait!
DL: In today's fast paced world, how do you find time to slow down and connect with your spiritual/magick side? When you do find the time, how do you connect with that side?
FH: I don't need to find time – I just live it all the time as far as being connected to a spiritual/magickal experience of life. Being sober enhances the ability to be really present and grateful in the moment… every single moment. But if I ever feel overwhelmed with my job or just 'stuff'… like going through two catastrophic hurricanes recently on my island home, then free diving helps. There's a lot of peace to be experienced under the ocean on a single breath – physically and psychologically.
DL: In the book, you share quite a few meetings you had with different people. Some of these include Gene Simmons, Gwen Stefani, Britany Spears, among others. Is there anyone out there that you would like to meet?
FH: The people I talk about meeting and having friendships and work relationships with in the book were all relevant to my life's journey at the time. I really love meeting children now. I find them fascinating. I love spending time with them and seeing the world through their eyes.
DL: You have so many titles! Playboy model, Witch, author, Reality TV Star, Lead singer for Def FX, fire dancer, commercial airplane pilot, yoga enthusiast, humanitarian. Do any of these titles still surprise you and is there a title you still want to achieve?
FH: One title I don't have is 'Mother' – I haven't had children. I guess that's why I've had the opportunity to garner so many other titles! Though I guess I am my rescued dog, Fifi's mum 🙂 I want to skydive more again so you could pop that back in the list above 🙂 I have focused on staying in the plane and flying it the last five years. I want to start jumping out of them again!
DL: There are still a lot of witches in the broom closet. What advice would you give a witch that is considering taking a step outside of the broom closet?
FH: You don't have to! Just do what in your heart feels right for you. In another interview, I was asked 'What was your biggest achievement in your magickal career?' And I answered, 'The day it stopped being my career.'
So, stay in the closet if you want – you don't have to prove anything to anyone.
But that being said, it is really fun to be out and hanging out with other Witches and magickal practitioners – I love the annual HexFest event in New Orleans for this reason. This year will be my fourth year in a row appearing. The organizers, Brian Cain and Christian Day, are two of my dearest, wildest and most magickal friends – this event is one of the most powerful, tolerant and celebratory gatherings of Witches and occultists in the world. Please come along this year!  www.hexfest.com
DL: You touched on the things you've learned in 50 years. What do you hope to learn or achieve in the next 50 years? 
FH: Most immediately how to survive in subzero temperatures with this upcoming winter Alaska trip!! Lol. I want to fly more, doing aid work and missions and I also want to fly business jets. I've come so far along the path of business aviation that I might as well keep going. But I will always be a 'stick and rudder' girl at heart.
I also want to die well – in good health, at peace with myself and all things and ready to transition. So, I am educating myself on matters to do with that also. I'm currently reading the wonderful mystic and Wiccan Priest, Paul Beyerl's 'On Death and Dying.' I was lucky to meet him at Hexfest in 2016 – he is such a compelling, knowledgeable and magickal man – his 'Master Book of herbalism' (1984) was one of the first I had on my magickal shelf back in 1984. I'm grateful to be able to learn from him.
So to sum it up in the next 50 years I just want to keep learning, keep adventuring and keep feeling ever more grateful for this magickal mystery tour called Life 🙂
Fiona Horne's "The Naked Witch" releases February 2018. You don't want to miss this one!
Click Image For Amazon Information
You can find more on Fiona Horne at www.fionahorne.com
You can follow Fiona on
Facebook @fionahorneofficial
Instagram @captainfifi
Twitter @fionahorne
Check out Def FX
Facebook @DEFFXOFFICIAL