Polly Macdavid July 1st, 2018
Instant-Pot Meatloaf Dinner
One thing I love about the Insta-Pot Pressure Cooker is that you can cook "comfort meals" in the middle of summer and not heat up your kitchen or your entire apartment, if you live in a small place like I do. My mother's famous meatloaf was made in her old Sherman tank of a pressure cooker but my sister adapted the recipe to use with the Insta-Pot. I've made it several times now, and every time it just gets better. Of course I tweaked the recipe and I invite you to do the same! If you always put ketchup in your meatloaf mix, then throw some in! Or barbecue sauce or steak sauce or whatever. You know how meatloaf is! It's an individual thing.
Here's a scan of my mother's recipe:
My mother's pressure cooker was a Mirro-Matic and she used Crisco exclusively for frying. The handwriting at the bottom is my sister's.
I didn't have any dry bread so I put two pieces of bread into the toaster and dried them out lightly. I didn't bother dampening them with water – they were still a little soft. I put the ground beef into a large bowl and broke the bread into small pieces into over it. I chopped the celery and onion into small pieces and added them.
Instead of regular salt, I used garlic salt and I quadrupled the amount of pepper. I also added chopped parsley and a tablespoon of steak sauce.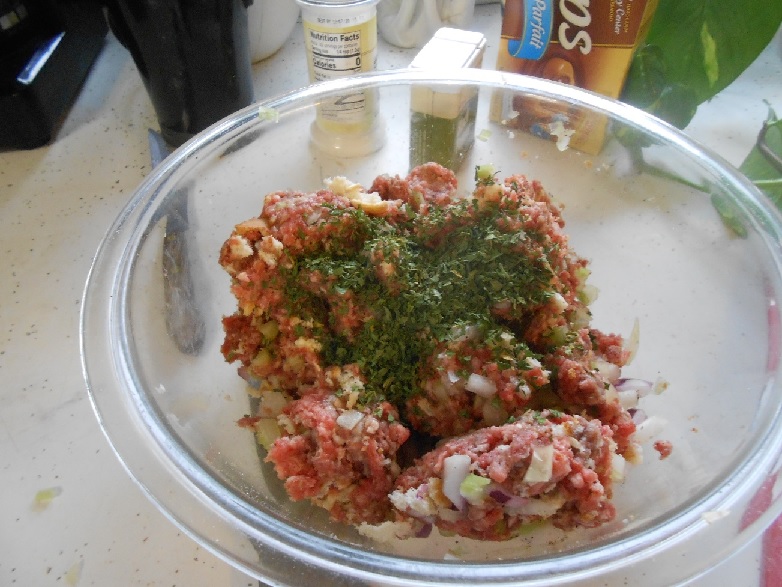 Form into two loaves and wrap in plastic wrap and chill for thirty minutes. This is to set the loaf form so it doesn't fall apart when it is cooking.
Meanwhile, prep your potatoes and carrots. If your potatoes are small enough, keep them whole but otherwise, cut them in half. Cut the carrots on the bias. I generally don't peel the skins off my potatoes or carrots but if you like the skins removed from your vegetables, then of course, do so.
Get out your Instant Pot and turn it on. You want to have it on the "Saute" app. Melt your cooking grease.
Very carefully set the meatloaves into the hot grease.
You want to brown the loaves on both sides. Turning them can be a bit of a challenge! One of my loaves broke in half as I was struggling to get it flipped over but hey – no big deal – it doesn't change the way it tastes, right?
After your loaves are browned, add the potatoes and the carrots and the cup of water. Sometimes I add cut-up onions as well but I didn't this time.
Then turn off the "Saute" app and put on the lid and seal it. Press the "Meat/Stew" app (that's how it works on my machine – maybe yours is different) and then set the timer for 10. And then wait for the pressure cooker magic!
I love hearing the pressure build in the cooker and then the steam escaping from the vent. And watching the numbers descend, knowing that my meal is cooking and it's going to be fabulous – in such a short time! And then releasing the steam and opening the lid and finding my cooked meal:
I put it onto a platter:
This is what my plate looked like:
Believe me, it was YUMMY GOOD. And even though it was a very hot day when I cooked this meal, my kitchen remained cool and comfortable. I can NOT recommend the Instant Pot enough. Every time I use it, I like it better than the time before. It was a birthday present but if I had bought it, I would say that it was the one of the best buys ever. I have to say, it's one of my favorite birthday presents in the last five years – for sure.
If you don't have an Instant Pot, just make up the meatloaf recipe and put it in a loaf pan and bake it at 350 degrees for about forty-five minutes to an hour, depending on your oven. This is a really good recipe. And like I said – tweak it, if you want to. I mean, I did! That's the magic of meatloaf! You can make it totally your own.
Until next month, happy cooking! Brightest Blessings from Polly Applequeen.
***
About the Author:
Polly MacDavid lives in Buffalo, New York at the moment but that could easily change, since she is a gypsy at heart. Like a gypsy, she is attracted to the divinatory arts, as well as camp fires and dancing barefoot. She has three cats who all help her with her magic.
Her philosophy about religion and magic is that it must be thoroughly based in science and logic. She is Dianic Wiccan and she is solitary.
She blogs at silverapplequeen.wordpress.com. She writes about general life, politics and poetry. She is writing a novel about sex, drugs and recovery.
Uncategorized
Comments(0)