Uncategorized
The Bad Witch's Guide to Athames
The Bad Witch's Guide to Athames
Athame rhymes with "a plane" not "ath harm eh".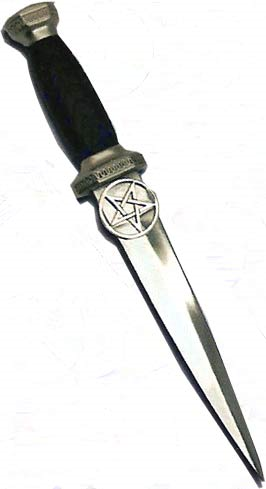 The black-handled knife, the witch's blade, the athame: a ritual knife for casting and cutting energy and power. I've never been uncomfortable with knives (blame She-ra) from my pen-knife I got around 9 years old to the kitchen knives I used all the time from about 11 years of age, yet there is this anxiety about blades, more now than when I was younger most especially with some women.
Much in the same way I think everyone should know how to use a saw, axe, drill and spade (shovels are from moving stuff, spades are for digging) and knife, I believe all magickal practitioners need to learn how to use a magickal knife.
The athame is different from a boline (or white-handled knife) in that it doesn't cut physical things. A good knife is worth its weight and mine is an old pairing or pruning knife. As an avid forager it's a handy tool out and about and in circle.
My athame is not actually black-handled. It is hand turned pear wood, and has a hand forged blade. Where I keep my boline in my handbag or on a shelf my athame is covered and hidden. It doesn't leave my home unless I'm doing ritual somewhere else.
To some it represents air, thought and focus, while for others it represents fire. Both have merit, a blade is after all usually formed of metal which is forged or at least heated to high temperatures, yet it is cool and sharp like a cold wind when formed. I'm in general not usually a fan of crystal knives. Mainly because they are not knife like enough. Made of soft, porous and delicate crystal I find it as useful and ridiculous as a glass hammer. There are exceptions, a friend has a family athame which is a jaw bone (I forget which animal) and a sharp slate blade. Flit, obsidian and other knapped or worked sharp stones are can be rather cool but require a LOT of skill to make and use.
This anxiety of using a knife, a cutting knife as a tool often steams from the same place as women whom are afraid of other "masculine" tools. Unless it is operated with your genitals it is just a tool. Female surgeons don't shun scalpels as "too scary". Cutting things away, letting them go, removing the unhealthy isn't cruel it is necessary. When you are creating anything you must also be able to destroy or dissolve. A witch blade is also a lightning rod for power.
While a wand can and does bring that kind of power in circle it is more insulated, muted or defused. That is to say what it channels feels distinctively different than that of a metal blade. If the staff is warm and nurturing the blade crackles with potential.
I like to use my blade when casting and calling. It is empowering and when I salute after drawing my evocations it feels respectful and powerful. When used in the symbolic Great Rite it channels that powerful masculine presence into the cup or chalice. (You can't do that with a selenite "blade"). When I release the circle I can cut away anything that shouldn't be there. If I need to banish something I take my athame. Apparently there isn't much scary than an irate ginger with a knife, even for dead and icky things. A witch's blade is an extension of their power and connection to the Gods. To touch it of defile it is an act of spiritual desecration and great dishonour. This is why having a simple blade when you begin is not only acceptable but necessary. Better a cheap or simple athame that reflects where you are with your power and connection to the Gods than one that is fancy and unconnected. While precious it is a tool and we become better at handling tools with practice. Likewise you might want something small if you are in a smaller space on a regular basis or if that feel more comfortable in the hand. There is a tradition where you don't haggling the price of an athame. I like this idea. You can buy vintage or exotic blades but some of these can have dark histories and I would never recommend military weapons, like WW2 daggers, however nice they look. These have most likely seen blood and even reproductions can have violent vibration. If you are going to buy second hand cleanse the fuck out of them (a full ritual is best) laying the blade within in a circle of salt and cleansing herbs and even clean with metal safe oils.
Another cool tradition I like about athames is naming them. It should represent itself (the essence of the thing) as well as what you hope it will become. Don't use unknown languages to you, rather keep it crisp and simple. Fin, (some blades have fish scale patterns) Brink, Storm, Courage. Steel, Wolf's Tooth, or whatever you and your Gods find appropriate. It is important to maintain your blade and its name secretly. Privately might be a better way of putting it. This is between you and the Divine.
An athame should never be used to draw blood and ones that have are considered "cursed" and most often destroyed rather than reused. (I worked in the largest pagan store in Manchester for a while and you would not believe the crazy shit I saw, including a husband who cut himself deliberately with his wife's athame as she was leaving him).
My point about athames is this: since before we had fabric, we had blades. We are a tool making species. Drawing a shining blade from heating rocks was as magickal then as it is now. Knives first made from sharp stone, cooper, then bronze, then iron and then steel. Every adult used to own and carry their own knife. While they definitely have a "masculine" energy they are not evil, or inherently violent. They do require some skill and patience to use correctly. Athames are no different in this respect. They, like thoughts can be cutting or healing, kind or cruel. An athame can liberate and empower. It is a double edge one more witch's should feel comfortable wielding.
"Cords and censer, scourge and knife:
Power of the Witch's blade;
Waken ye unto life,
Come ye as the charm is made!"