Uncategorized
The Kitchen Witch
Absolutely The Best Pasta Salad In the World
My family usually has some kind of reunion each summer – one side gathering here and the other side gathering there – and for the last twenty-odd years, I have been bringing "my" pasta salad to every family picnic. It doesn't even have an official name – it's just "Polly's Pasta Salad" – and everyone loves it. But it's not really my salad. Like everything else I make, it's a recipe I got from someone else and then I tweaked it – again and again – until it settled into the form it has today.
It's funny. I don't even use a recipe to make this salad nowadays – I have it memorized and I "do" it off the top of my head. So I was quite surprised to see my own recipe in my own handwriting with my own notes. I had forgotten a few things.
One, I haven't called this salad "Italian Pasta Salad" in years. I just call it "My Pasta Salad" like it's the only pasta salad in the entire world and everyone knows what I am talking about! Also I was amazed to see that I had written down to rinse the pasta after cooking. Did I ever do that? I absolutely never do that now. I do like seeing how I added the additional ingredients along the side – I prefer cherry tomatoes to grape or sundried – but I have also used Campari tomatoes, quartered.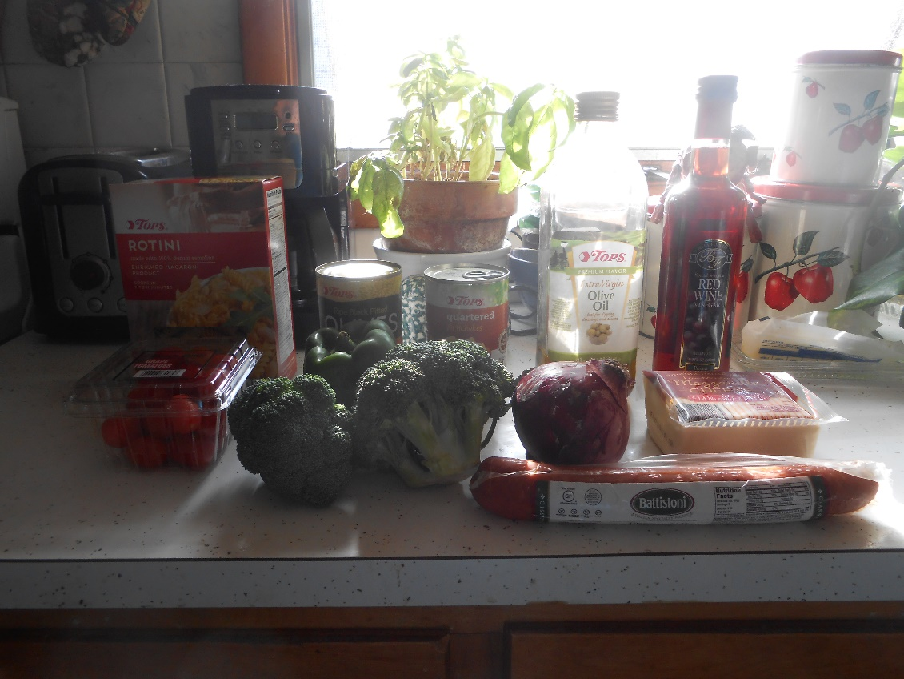 The salad itself was adapted – as it says on the page from my personal cookbook – from The Enchanted Broccoli Forest by Mollie Katzen. This is one of my very favorite cookbooks. All of Mollie Katzen's cookbooks are fabulous. It doesn't matter if you are vegetarian or not, you are going to find great recipes in these books! And they are visually beautiful. The recipes are hand-lettered by Katzen and she does all the drawings, too. I personally can't draw to save my life – unless we are talking about the crudest stick figures – so I have the greatest admiration for Katzen's talents.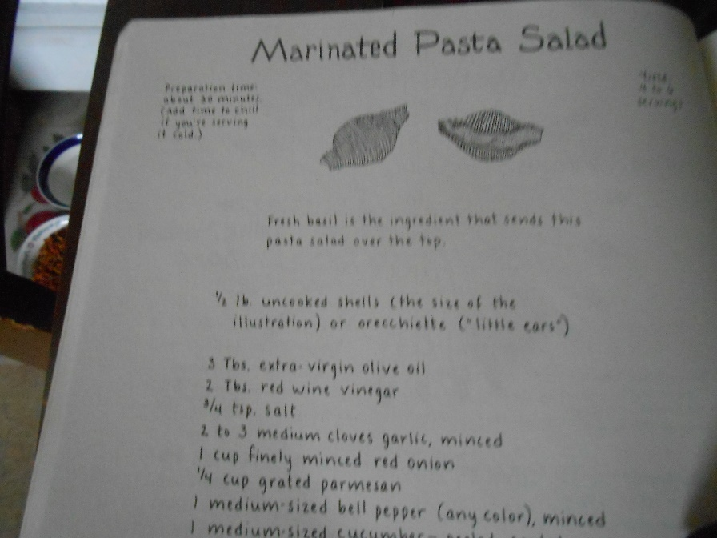 But again, I was amazed when I looked at the original recipe. Did I ever make it the way she wrote it? I don't remember ever using shell pasta – I have always used rotini. And I have never – and I repeat never – used vinegar or any other herbs or spices when dressing the hot pasta. I have never used anything but extra-virgin olive oil. And Parmesan cheese in the dressing mix! I am absolutely sure that I have never included that – although honestly, it's not a half-bad idea and one I'm going to try next time. Why not? It might really rock. But I'm looking at all this and wondering – my copy of The Enchanted Broccoli Forest is a revised edition. Was it different in the original edition – the one from which I copied the recipe? I messaged my friend who owns the original cookbook, and he confirmed that in the original edition, the hot pasta is marinated in nothing other but extra-virgin olive oil. I wonder what prompted Katzen to make the change?
Anyway – none of rambling changes how I make the salad now or how totally fabulous this salad is. But you have to follow instructions. Like certain spells – you can change some of the items you need and it won't change the workings of the spell – in fact, it might make it work even better, since it'll personalize the spell. For this salad, you can change certain vegetables – you can leave out the meat and the cheese if you want a vegan salad – but you have to prepare the pasta exactly as the recipe says – and you have to use fresh herbs. I will confess – I have made this salad with dried herbs and you can get away with dried parsley if you have to. But you are short-changing yourself if you don't have fresh basil. If you don't have basil in your garden, buy it at the store. But it's an integral part of the flavor of this salad.
First start a pot to boil on your stove. When it comes to a full boil, pour a pound box of rotini pasta into it and stir it well.
Pasta cooks by moving, so you want to give it a stir once in a while during the cooking process. This is a great opportunity for circle magic. If it's the waxing moon, stir clockwise and recite out loud everything that you wish to bring into your life. Say affirmations. If it's during the waning moon, stir widdershins and chant the things you want to remove from your world. Remember that now is always the best time for magic!
When the pasta is almost soft, drain in a strainer.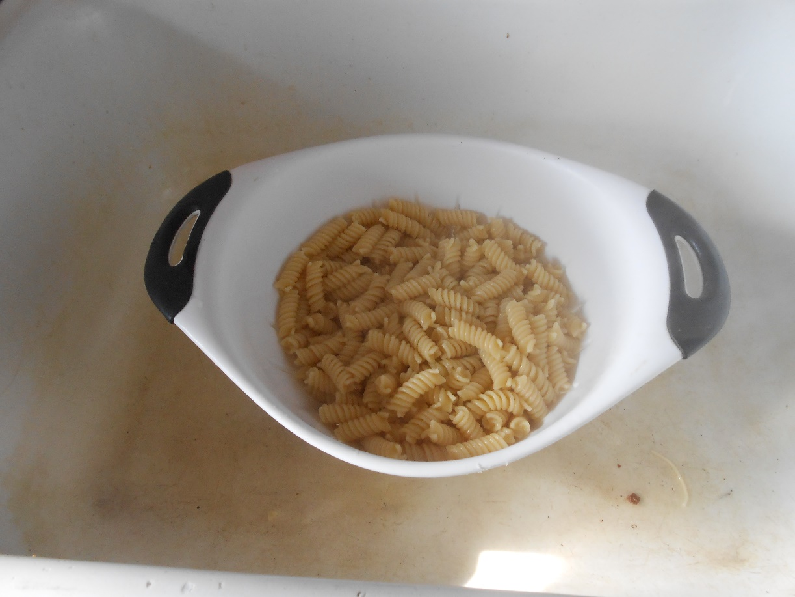 BUT DO NOT RINSE. I cannot stress this enough. DO NOT RINSE THE PASTA. The pasta must be hot to absorb the olive oil. Put the drained pasta in a bowl and pour a third of a cup of extra virgin olive oil over the hot pasta and mix it well. Doesn't it smell heavenly? Let it sit for a half an hour or so to cool. I usually put it in the fridge for twenty minutes or so after that to chill down a little more.
After the pasta is chilled and it's absorbed the olive oil, start adding your vegetables. If you want, blanch the broccoli – it's not necessary but it gives it a brighter green color. Just remember to shock it with ice cold water as soon as the water comes to a boil to stop the cooking process so that the broccoli remains crunchy.
Add the green pepper, the red pepper, the grape tomatoes (all I could get this time around), the olives and the artichoke hearts. Or whatever vegetables you wish to add.
At this point, you could stop – you have a perfectly good salad right here. And if you are vegetarian or vegan, omit the pepperoni or the mozzarella. But if you are making this for omnivores, add the meat and the cheese.
I usually slice the pepperoni in about a half a millimeter-sized slices and then quarter the slices. Naturally, a few slices get popped into my mouth!
I cut the mozzarella into half-inch cubes. I snacked on quite of few of them, too! I love cheese!
At this point I realized that I needed a bigger bowl. I wasn't going to be able to mix the cheese in without spilling out the rest of the salad! Oops! Luckily I have one really large wooden bowl, made for salads.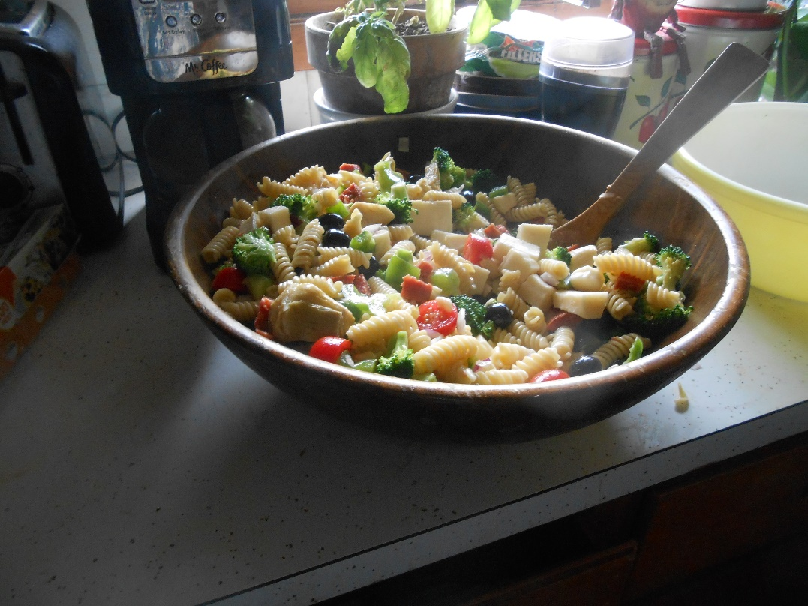 The next thing is to made the rest of the dressing. I generally just add the red wine vinegar and the rest of olive oil "by eye" but for purposes of this article, I measured the vinegar:
For seasonings, I add garlic powder, garlic salt, freshly ground pepper, either fresh chopped parsley or dried parsley or freshly chopped basil. For the basil, what I usually do is take several leaves and cut them into little pieces with a pair of scissors. You really want fresh basil for this salad. If you can get fresh parsley, that's so much velvet but fresh basil is paramount.
Mix the red wine vinegar, additional olive oil, and seasonings into the salad and stir well. Cover with a piece of plastic wrap and chill at least several hours – overnight is better. You want to stir it every once in a while. Stirring keeps the magic alive.
My recipe reads that it serves 4-6 people but that depends on individual appetites and what else is being served at the picnic or reunion. I have taken this salad to Yule parties and Superbowl parties as well – it's a hit wherever I bring it.
So here is the recipe. Try it and love it – I guarantee you will!
"Absolutely The Best Pasta Salad In the World"
One 1-lb box of rotini pasta
2/3 cup olive oil, divided
1/3 cup red wine vinegar
Broccoli crowns, blanched
Cherry or grape tomatoes, halved
1 small green pepper, chopped
1 small red onion, chopped
1 can small black olives
1 can quartered artichoke hearts
1 stick pepperoni, sliced & quartered
One 1-lb block of mozzarella, cut into half-inch cubes
Seasonings: garlic powder, garlic salt, pepper, fresh parsley & fresh basil
Cook the pasta in boiling water until almost soft. Drain. DO NOT RINSE. Put the pasta into a bowl & pour 1/3 cup olive oil over it & mix well. Marinate for at least 30 minutes, stirring occasionally. Add the rest of the ingredients and chill at least an hour or overnight. The longer you chill it, the better it tastes.
References
Katzen, Mollie. ion.The Enchanted Broccoli Forest: New Revised Edit Berkley, CA: Ten Speed Press, 1995.
The New Enchanted Broccoli Forest (Mollie Katzen's Classic Cooking (Paperback))
***
About the Author:
Polly MacDavid lives in Buffalo, New York at the moment but that could easily change, since she is a gypsy at heart. Like a gypsy, she is attracted to the divinatory arts, as well as camp fires and dancing barefoot. She has three cats who all help her with her magic.
Her philosophy about religion and magic is that it must be thoroughly based in science and logic. She is Dianic Wiccan and she is solitary.
She blogs at silverapplequeen.wordpress.com. She writes about general life, politics and poetry. She is writing a novel about sex, drugs and recovery.