Uncategorized
Review of the App UniTarot
UniTarot
By ucdevs, Developer address is Moscow, Russia
100 thousand downloads on many platforms
4.7 stars 5,042 rates
Lifestyle
Similar
Contains ads and
In-app purchases cost $4.95
Version 2.9.3
App Release date is Jan. 7, 2014
I downloaded this app June 5, 2018. This is a cool Tarot app. It is free to download, but you can go VIP and get more from the app. I didn't do that.
Just downloading the app as it is, you get a choice of 8 different Tarot decks. The cards are pictured in HD Quality. You can also hook your phone up to your computer with a USB cable and download your cards to the app. It has 16 different spreads to pick from, or you can develop your own.
I set up the app with a daily reminder for a card for the day. I would do that, with the reminder, then I would also do a weekly reading and a daily three card draw. Each time I would pick different cards for the reading.
Each card has information including Astrology, Numerology, Elements, Colors, Esoteric Title, Intelligence, Correspondence in the Hebrew Alphabet, Position in the Kabbalistic tree of life, and more. I enjoyed reading the card meanings by Rider-Waite, A.E Thierens, and P.D. Ouspensky. Some of these added to what I already knew of the Tarot.
There is even an option in VIP that allows you to compare cards with each other, and that is something I didn't get. I was happy with what I had in the app.
The only drawbacks were in the saving or the emailing of the reading. When you saved the reading, it kept all the information for that reading. I tried doing the email reading, where you pulled the cards and then had them emailed to you, and not all the information came through. It sent a picture of the cards to download into Google, and it only included Color, element, astrology, dates, esoteric title, intelligence, Kabbalah, Tree of Life, numerology, keywords, Rider-Waite meanings and then it was a brief two sentence meaning with a few keywords. So, saving it to the phone was better for this app.
***
About the Author: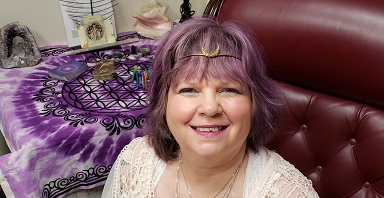 Dawn Borries loves reading and was thrilled to become a Reviewer for PaganPages.Org. Dawn, also, has been doing Tarot and Numerology readings for the past 25 years. Dawn does readings on her Facebook page.  If you are interested in a reading you can reach her at: Readings by Dawn on Facebook at