Uncategorized
Notes from the Apothecary
Notes from the Apothecary: Mandrake
As we approach Samhain, I like to examine an herb or plant that has particular links to the season. Last year I explored the magic of the pumpkin, an obvious choice for the Halloween season. This year I wanted to dive deeper into folklore and magic, and the mandrake has been my mystical plant of choice.
Immortalised by J. K. Rowling in the Harry Potter series as the shrieking stars of herbology, the image of the human-like root screaming actually goes back to at least the 12th century. A medieval manuscript describes how the plant 'shines at night like a lamp' and that iron must be used to circle the plant to prevent it escaping, although the iron should never touch the plant. Other texts note that a dog must be used to pull the root up which, let me tell you, does not end well for the dog. Surrounded by magic, mystery, myth and superstition, this plant has a rich tradition of medicinal use and is a popular tool of modern witches and magical practitioners.
The Kitchen Garden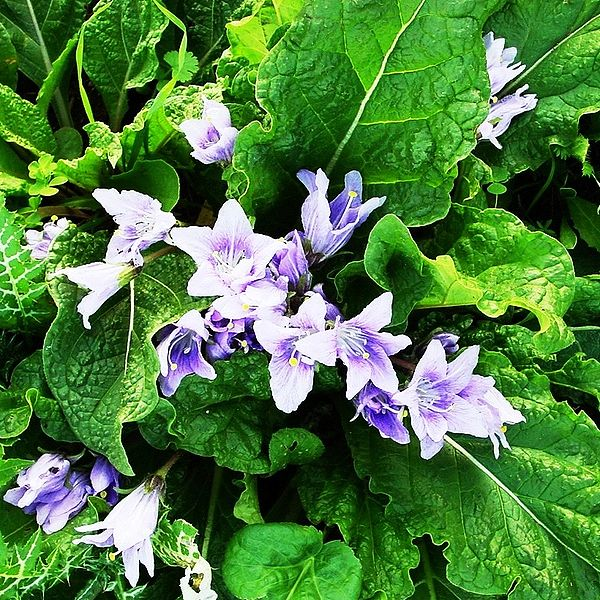 The true mandrake, mandragora officinarum, should never be eaten. It is hallucinogenic and narcotic, and can cause unconsciousness and even death. Sometimes people use bryonia alba, the false mandrake, as a substitute for mandragora. This plant is also highly poisonous. Another substitute is American Mandrake, which is poisonous in parts. Basically, if you come across anything purporting to be mandrake, don't eat it!
The plants are beautiful, with springtime flowers of blue and white, and summer fruits sometimes known as devil's apples. It needs really well drained soil to support those enormous roots, which can grow up to four feet in length. It also needs warm conditions and a good bit of sunshine to thrive, and a good quality compost for nutrients. Grown the plant well away from anywhere children and pets have access to. They can be grown from seed, or by separating the tubers.
The Apothecary
Six cures are described in the mediaeval Harley manuscript. One was for headaches and insomnia, whereby a salve of mandrake leaf juice was plastered to the head. Another was for earaches, and the juice was mixed with oil and poured directly into the ear. Another was a remedy for severe gout, but as it was administered in wine, I'm unsure how effective this would have been! Mandrake was also recommended for epilepsy, cramps and even colds.
Dioscorides, in his materia medica, also advised the plant was used to help insomniacs, but also that it seemed to have sedative and even anaesthetic properties. He did point out that ingesting too much was deadly!
Mrs Grieve states that the leaves are harmless and cooling and used to soothe ulcers, while the root and its bark is a strong emetic.
The Witch's Kitchen
There is a belief that the mandrake only grew under the place where someone had been hanged. This gives it a dark association with death, possibly criminal activity, but also the oddly positive aspects of corporal punishment: law, order and justice. Called 'little gallows man' in Germany, the mandrake can be a symbol of ridding yourself of something you no longer need; of doling out 'punishment' to the things in your life you wish to drive away from you.
Dioscorides believed the root could be used in love potions.
The human like shape of the root speaks of transformation and hidden things. The mandrake reminds us not to judge a book by its cover, and that things are not always how they seem. We should always look twice, or as Terry Pratchett wrote, we should open our eyes, then open our eyes again.
In folklore, the cry of the mandrake caused either madness or death. Mrs Grieve writes that small doses of the root were used by 'the Ancients in maniacal cases', again connecting the root to madness and states of disconnection between the body and mind. Historically it was used to cure demonic possession, indicating it could be used to heal a disconnected body and mind, so there appears to be a contrary nature to this plant.
Mandrake can be used in any magical working to increase the potency of the spell, and in particular to increase psychic powers and prophetic magics.
Home and Hearth
Place a dried mandrake root on your mantelpiece to bring prosperity and joy into your home. Place a piece of mandrake on top of money, so a spare change pot or money box, and more money will enter your life. Hang one above the door to prevent demons or people with negative intentions from entering. Always keep out of the reach of children or pets!
I Never Knew…
As recently as the nineteenth century, mandrake roots were still being sold in Europe as charms to increase the libido.
*Images: Mandrake (Mandragora officinarum) from Tacuinum Sanitatis manuscript (ca. 1390), public domain; mandragora autumnalis, copyright tato grasso 2006 via Wikimedia Commons; folio 90 from the Naples Dioscurides, a 7th century manuscript of Dioscurides De Materia Medica, public domain.
***
About the Author:
Mabh Savage is a Pagan author, poet and musician, as well as a freelance journalist.
She is the author of A Modern Celt: Seeking the Ancestors and Pagan Portals – Celtic Witchcraft: Modern Witchcraft Meets Celtic Ways.
A Modern Celt: Seeking the Ancestors
Pagan Portals – Celtic Witchcraft: Modern Witchcraft Meets Celtic Ways