Uncategorized
Retha's Crystal Reflections
"Super Seven & Auralite Twenty-Three: All You've Ever Wanted to Know"
Hi everyone and Happy New Year!! I want to start off this year telling you a bit about both super seven and auralite twenty-three. These are two of my very favorite crystals because for one they are absolutely stunning, and secondly they are the ultimate multi-taskers as they contain many minerals in both and therefore contain the properties of all the included minerals! How cool is that?! You can wear just one piece of jewelry and gain the metaphysical benefits of all the minerals you need! And to me the patterns and variety of colors included are so very stunning, I have never seen a piece of super seven or auralite twenty-three that I haven't loved!
"Super Seven"
First lets talk about super seven. Super seven, just as the name implies, contains seven minerals. They are amethyst, smoky quartz, lepidocrocite, cacoxenite, clear quartz, rutile and geothite. All of these minerals alone are fantastic crystals to wear or use, but having all seven of these power stones in one is beyond wonderful.
Super seven comes from Espirito Santo (which translates to 'holy spirit') in Brazil. It is still relatively rare and therefore expensive. It is also referred to as "Melodys Stone" and "Sacred Seven". It can be purple, gray, orange, red, brown and clear.This crystal is known as being high vibrational and called a stone of higher consciousness. It is an enhancer of all types. It aids in personal ascension, assists in development of all psychic gifts, aids in channeling, and brings souls into communication with the divine. 
It guides to help change the vibrational level of the whole planet! It links humanity. It aids you in taking the right path. It provides clarity of mind and revitalizes and clears the entire energy field. It clears the mind of distracting thoughts and anxiety and brings you to a sacred and tranquil realm. It clears & aligns all the chakras. It is great for all zodiac signs. 
It attunes you to its abilities to trigger development of psychic abilities to promote further healing of the earth and wellness on all levels. It provides universal protection and universal creativity. It guides and inspires creative life force.
This crystal is healing, grounding, protective, powerful and transformational. A stone of expansion. It is a great stone for sleeping as it creates peace and harmony. It is perfect for crystal healers and meditation as it provides physical, intellectual and spiritual healing. It also creates stability during chaotic times. And it has the added benefit of heightening the vibrations of all other crystals near it. So as you can see, this is a super stone indeed. I could go on, but for lengths sake I will wrap it up….we still have auralite twenty-three to dive into!
"Auralite Twenty-Three"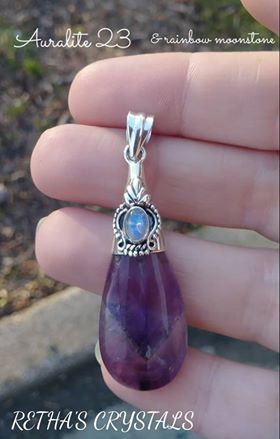 Also known as "Auralite amethyst" and "kindred spirit crystal". Auralite Twenty-three contains 23 minerals. Xray diffraction has identified these 23 minerals, though much is comprised of amethyst, citrine, and a rare type of green quartz. Keep in mind also that scientists cannot identify all of the minerals within, because a meteor dissipated into the crystal over 1.5 billion years ago and the minerals are not of this planet. Here are the 23 we can identify: titanite, cacoxenite, lepidocrocite, ajoite, hematite, pyrite, magnetite, geothite, pyrolucite, gold, silver, copper, platinum, nickel, iron, limonite, sphalerite, covellite, chalcopyrite, gialite, epidote, bornite and rutile. Wow…what a combo!!! This crystal is a newer find and only comes from Canada. It is mined in the "cave of wonders" or Boreal forest in thunder bay, northwestern Ontario. It is one of the very oldest crystals, more than 1.5 billion years old. It can be gray, purple, clear, orange and red in color. It can also display beautiful etching and chevron phantom banding.
This crystal has an extremely high frequency and an abundance of properties. It is a stone of new consciousness. It can even be too strong and intense for some (much like moldavite). Being grounded is important when working with this stone. It is a master healer and is meant to be used. This stone is meant to change both your life and the world around you for the betterment of mankind. Its used for code clearing, DNA healing and cellular activation. It also activates spiritual DNA and the pineal gland. It reminds our bodies of its proper vital functions and brings forth regeneration and rejuvenation.
Auralite 23 aids us in spiritual evolution, and enhances all spiritual and psychic gifts. It helps with communication with spirit guides, angels, ascended masters, and source energy. It is great for astral travel, lucid dreaming and accessing the akashic records and past lives. It can heal the inner child and help release old karmic patterns.
This crystal balances and activates all the chakras and even the chakras above the head and below the feet. It balances and awakens kundalini energy. It aids us in self-acceptance and self-confidence.
It can also revive our lifeforce, relax the body, remove tension, and relieve headaches and muscle spasms and pain.
It can help to end bad relationships and create a healthy long lasting one. It can help to create a divine line from you to your twin flame.
Auralite 23 is perfect for healing, meditation, deep soul work and exploring ones own consciousness.
As you can see from the huge amount of properties each of these power crystals have (and this is only some!), they are both very special crystals. If you can get your hands on one or both I highly recommend you give them a try!
Thanks for taking the time to read and I'll see you back next month!
Crystal Blessings and Happy 2019!
References:
***
About the Author:
Retha N. Lent has been married for 17 years to her husband Mark & they have four cats that are their life. She lives in Norristown, Pa. Retha has her Bachelor's of Science degree in Behavioral Counseling Sciences from Drexel University. She is the owner of "Retha's Crystals" & sells sterling silver unique crystal jewelry & specimens on her FB business page. She has a FB group for her customers and those interested in learning more about crystals & all things magical called "Retha's Crystal Circle". She is also an advisor in the Sage Goddess Affiliate Program. She has her Holistic Healing Certificate and Pillars of Priestessing certificates from Sage Goddess. She is also an Ordained Pagan Minister from the Universal Life Church. Retha has a passion for crystals, nature, astrology, working with moon cycles, ritual practices, tarot and oracle cards, runes, essential oils, herbs, manifestation work, ancient cultures, magic & music. Her favorite place is New Orleans, La. Retha has an extensive personal crystal collection and loves sharing her love of crystals with the world. She has been a practicing pagan since she was 16 years old.
You can reach her at [email protected] or on her business page on FB: https://www.facebook.com/Rethas-Crystals-197411227666484/
Or in her FB group:
https://m.facebook.com/groups/1960619300929876
Her Sage Goddess affiliate link is:
Or follow her on Instagram at @spookygirl16