Uncategorized
Book Review – Italian Folk Magic: Rue's Kitchen Witchery by Mary- Grace Fahrun
Book Review
"Italian Folk Magic: Rue's Kitchen Witchery"
by Mary-Grace Fahrun
Publisher: Weiser Books
Published: Paperback, 2018
Pages: 122
Published: Paperback, 2018
I am of Sicilian descent, as well as German, so I was drawn to this book to learn more about the practices of the country from which my mother's parents came.
By recording oral history, Mary-Grace Fahrun shares what she learned about customs and traditions from the matriarchs of her family. It started by collecting recipes and folk remedies. They came with stories, superstitions, incantations and prayers. She began Rue's Kitchen to preserve these customs and practices as well as those of Italians of all faiths all over the world.
Religious rituals, magical spells, blessings, folk medicine and cooking are all "inextricably woven into the fabric of Italian culture – no matter where Italians are geographically located," and Fahrun, who presents them woven together like a tapestry and a way of living.
"I was taught everything in Italian," wrote Fahrun, who is fluent in Italian and about a half dozen of its dialects. The book is her guided tour through her magical life, presenting the principles so the reader can create their own magical life. Italian witchcraft "is not a religion. It is a practice anyone can incorporate into their spirituality regardless of religious belief," she states, but adds, "There will be strong themes of devotions to saints and earth-based spirituality because they are both important to the fabric."
The first chapter focuses on the kitchen, the most important and sacred room of the house. Here, every element is present. Herbs are magical, and magical tools are the same utensils, dishes and cookware used to prepare meals. You'll learn how to clean, set up and treat your kitchen like the temple it is.
Other chapters deal with sacred spaces and home altars, and the magic in food. When addressing magic or medicine, there are a variety approaches for conditions that range from mental and spiritual intervention to the red ribbon and incantation used to relieve headaches and the ointment made of garlic paste and olive oil to apply to skin infections.
A page explains what she calls the most powerful incantation: "non è niente" or "it is nothing." I remember my grandmother telling me that and thinking, "Well of course it's something. I'm hurt." But Fahrun, who is a nurse, found those three magic words healed even chronic wounds when said with "a detached, almost dismissive, attitude."
There are recipes for days of the week and months of the year, explanations of proverbs and superstitions, and chapters that delve into amulets, divination, spells and charms, rituals and curses.
I came to better understand the meaning of things my grandmother and "the Italian aunts from Hartford" did. It's inspired me to learn more about my grandparents' hometowns – legends, patron saints, customs, history, etc. – from research and from two relatives who have visited.
The book's cover design by Jim Warner also deserves a mention. It honors the book's contents with the hand from the cimaruta, the cornicello (the red horn amulet or talisman worn to protect against the evil eye) and the hand gesture to ward off evil on ribbons wound through a garlic braid studded with blooming rue.
If you are Italian, or drawn to the culture, this book makes a wonderful entry point.
Italian Folk Magic: Rue's Kitchen Witchery on Amazon
***
About the Author: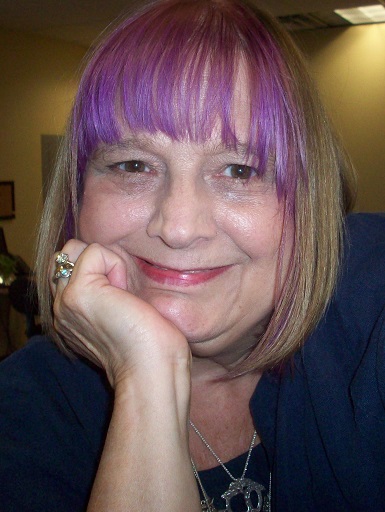 Lynn Woike was 50 – divorced and living on her own for the first time – before she consciously began practicing as a self taught solitary witch. She draws on an eclectic mix of old ways she has studied – from her Sicilian and Germanic heritage to Zen and astrology, the fae, Buddhism, Celtic, the Kabbalah, Norse and Native American – pulling from each as she is guided. She practices yoga, reads Tarot and uses Reiki. From the time she was little, she has loved stories, making her job as the editor of two monthly newspapers seem less than the work it is because of the stories she gets to tell. She lives with her large white cat, Pyewacket, in central Connecticut. You can follow her boards on Pinterest, and write to her at woikelynn at gmail dot com.