Uncategorized
Shop Review – The Makanda Trading Company

If you're a traveling Pagan, especially during the warmer weather, make your way to southern Illinois to a little town called Makanda. Longitude and latitude of Makanda is 37.6179° north, 89.2090° West. According to the website for this small town, is called the "Gateway to Giant City Park," the Shawnee Hills Wine Trail, and the scenic River to River Trail passes through this village. It's also been called the most hippie town in southern Illinois.
It was incorporated February 7, 1888, named after local Native American chief. It once was a bustling town that was closely tied to the railroad and was the major shipping hub for Chicago for fruits and vegetables. Now it's known for its boardwalk, that houses five little stores. Next to that is Mason's building that now houses the Makanda Trading Company.
Starting at the Trading Company, you will find crystals, minerals, and incense. He has everything from crystal singing bowls, to clear quartz crystal raven's skulls, and even some ancient Roman coins. (Brian Beverly runs this, he travels all over the country to get the crystals, minerals, and stones himself. My checkbook always screams at me when I leave here because I spend a little bit of money.)
Visions art gallery, sells sculptures, paintings, jewelry and other items made by local artist owned by Nina Kovar. Unfortunately, the two times I've been there I've not been able to make it into the shop, or it was not open. I am looking forward to going back this summer to try to get into the shop to see what she offers.
PB&J which sells magnets, jewelry, clothing, and other items owned by Pam, Bob and Jackie Baker. They have some unique things in the shop. The clothing is hand died, and the labels will tell you what the color is the material that it is made from and the artisans' name.
There there is Makanda General Store which sells ice cream, coffees, hot sauces, and other items owned by Filbert. Now I have purchased some coffee beans from this place, Highland Grog, and Caramel Kiss. Filbert asked if I would like to have him grind them for me, but I brought them home and ground them up myself. Grinding the coffee filled my apartment with the smell and the smells so good.
And then there's Rainmaker, this shop is owned by David Dardis, who has created a large garden behind his shop, and inside his shop, he has various metal sculptures and creations. He even creates circlets and crowns, for people to wear. Some of the circlets and crowns contain crystals or stones. And he's excellent about making sure if you buy one of them that they fit your head or he will help you find the right one or help fit you to the one you're purchasing.
I am looking forward to going back this summer, so I can sit and relax in the garden behind Rainmaker. Maybe get ice cream from Filbert at the General Store and spend a little too much money at The Makanda Trading Post. Or I might wait until October and see what dates they have the Vulture Fest this year. (I haven't been to the festival yet.)
***
About the Author: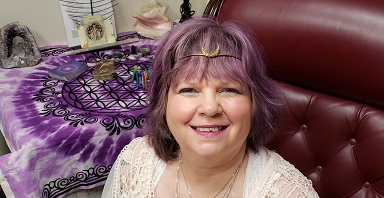 Dawn Borries loves reading and was thrilled to become a Reviewer for PaganPages.Org. Dawn, also, has been doing Tarot and Numerology readings for the past 25 years. Dawn does readings on her Facebook page. If you are interested in a reading you can reach her on Facebook @eagleandunicorn.