3 Pagans and a Cat Podcast Monthly Feature
3 Pagans and a Cat Podcast
Three Paths, One Journey, No Cat
In this highly informative & entertaining podcast, three family members embroiled in wildly divergent traditions gather in one room to discuss, debate, and flat-out argue about their magical, mythical, and mundane lives, all for our education and pleasure.
While Waiting to Hear This Month's Casts, Why Not Catch Up on Last Month's…
Episode 91: Spirit Guides and Familiars – Car, Gwyn, and Ode discuss the nebulous origins of the modern spirit guide, the witch trial origins of familiar spirits, what the difference is, whether it matters, and if these are even useful categories to talk about.
Episode 92: Glossary – Car, Gwyn, and Ode bicker about the definitions of common pagan terms in an attempt to be helpful, and also complain at length about words they don't like.
Episode 93: Spiritualism and Theosophy – Car, Gwyn, and Ode discuss the origins of Spiritualism and Theosophy, as well as recounting Gwyn's experience in a Spiritualist church.
Episode 94: Our Community – Jason Mankey… 2! – Car, Gwyn, and Ode have a pretty directionless chat with Jason Mankey on a range of topics, including his recent and upcoming books, his truthful and satirical renderings of sabbat history, the need for more continuity of pagan history in general, and whatever else happens to come up.
On Another Note…
You can Join Gwyn Daily on 3 Pagans and a Cat Facebook Page for Guided Meditations & Rituals. She is also Known to Share Some Interesting Thoughts. So Head Over to Their Fb Page!
Where Else to Find 3 Pagans and a Cat…
Their Website: http://www.3pagansandacat.com
Their Twitter: https://twitter.com/3_Pagans
Their Facebook: https://www.facebook.com/3PaaC
Their YouTube: https://www.youtube.com/channel/UCJ0GJacu9SUzuumXJNNUZwQ
Remember …
You can always support your favorite podcasts with a donation. Every bit helps to keep them going.
If you haven't noticed…
This is the only podcast that we at PaganPagesOrg currently support and speak of. We believe in its quality, content, & hosts. We hope you enjoy it and learn from it as much as we do. Please support those that you believe in.
***
About the Author: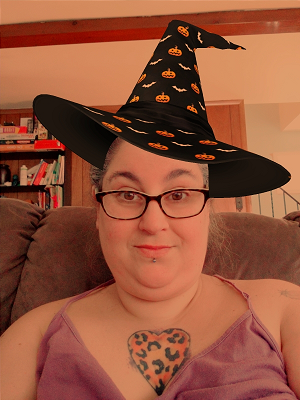 Jennifer Wright is a witch on a path of change that is always winding. She founded PaganPagesOrg in the hopes of giving Pagans a platform to share and learn without judgment.
She loves to create in her spare time and you can find her Creations, Jewelry, & Magickal Witch Bottles at: www.facebook.com/TwistedWitchesShoppe/
When not creating she can be found strolling around FB, Twitter, & Instagram looking for an interesting conversation. She's the moderator of her FB Coven called Cyber Moon Coven Of Changes and enjoys spending time with it's members.