Book Review – Secrets of the Witch: An Initiation Into Our History and Our Wisdom by Julie Légère and Elsa Whyte, Illustrator Laura Perez
Book

R

eview
Secrets of the Witch
An Initiation Into Our
History and Our Wisdom
by

Julie Légère and Elsa Whyte
Illustrator Laura Perez
The Quarto Group
80 Pages
"Dear sister, If this book has found its way into your possession, then it means it is time for you to begin your apprenticeship," are the first words in the book "Secrets of the Witch: An Initiation Into Our History and Our Wisdom."
Chances are readers (the target audience is girls ages 9 to 14) have already sensed some of their powers. The book, which has a feminist slant, is an introductory manual to help develop abilities, "for without knowledge, power is nothing. These pages will explain all you need to know about us and of what went before us," write authors Julie Légère and Elsa Whyte.
This book's intent is to retell the history of witches and reclaim their identity. The short, concise doses of history from ancient Egypt to pop culture include cultural beliefs about magic through the Middle Ages and the Renaissance and how it effected witches.
The book introduces folklore witches from around the world; profiles of notable witches and deities; and magical symbols, tools, and practices. A short introduction to herbs and crystals, plus directions for making talisman, amulets and pendulums are also provided.
Information is easy to comprehend. An airy layout with a multitude of illustrations make the book easy to read despite the often somber truths. For example, the crimes Adrienne d'heur was accused of that led to being burned to death as a witch on September 11, 1646: "Sudden death of a child after she gave it bread; blinding a man, woman, and two children; drying up of a cow's milk; death of a horse; attempted child kidnapping; entering a house by night in the guise of a cat."
My one objection, although I doubt it was intentional, is with the brief mention of the Romani people – referred to as gypsies, a word considered to be a slur – as "romantic, strange, and free" without mentioning the injustices that led to their nomadic life.
This book is good for giving young witches a sense of history and some basic information, and as a review for slightly older witches.
Secrets of the Witch: An initiation into our history and our wisdom on Amazon
***
About the Author:
Lynn Woike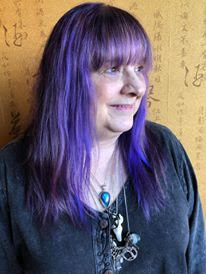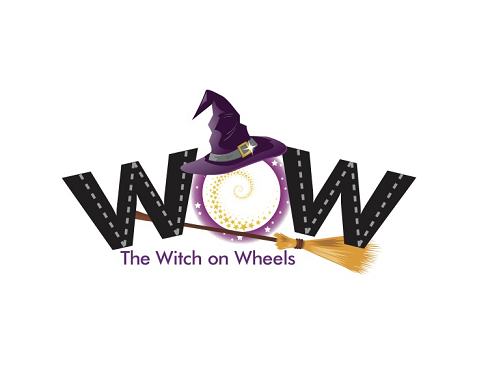 All my life I have known magic was real. As a child, I played with the fae, established relationships with trees and "just knew things." In my maiden years I discovered witchcraft and dabbled in the black-candles-and-cemeteries-at-midnight-on-a-fullmoon magick just enough to realize I did not understand its power. I went on to explore many practices including Zen, astrology, color therapy, native traditions, tarot, herbs, candle magic, gems, and, as I moved into my mother years, Buddhism, the Kabbalah and Reiki. The first man I dated after my divorce was a witch who reintroduced me to the Craft, this time by way of the Goddess. For 11 years I was in a coven, but with retirement, I have returned to an eclectic solitary practice. When accepting the mantle of crone, I pledged to serve and teach. This is what I do from my skoolie – a 30-year-old school bus converted into a tiny house on wheels that I am driving around the country, following 72-degree weather, emerging myself into nature, and sharing magic with those I meet. Find me at thewitchonwheels.com, Facebook and Instagram.