Book Review – In Focus: Auras Your Personal Guide by Joylina Goodings
Book Review
In Focus Auras
Your Personal Guide
by Joylina Goodings
Publisher: Wellfleet Press
144 Pages
Publication Date: 1/12/21
From the Publisher….
…References to the aura can be traced back not only to the glowing halos of spiritual energy used by artists portraying Jesus and the saints, but also to even earlier religious traditions. Energy as the basis of life was a major part of ancient Egyptian religion and art, and similar beliefs were held by ancient Greeks as well as people throughout the Asian continent.
In Focus: Auras Your Personal Guide by Joylina Goodings is part of the 11-book In Focus Series exploring a variety of esoteric subjects. This is a hardcover book and as with each of the In Focus books includes an 18×24 wall chart that outlines each of the auric levels and specific attributes for quick reference. I've had the privilege of reviewing two (2) of the books in this series and find them to be very informative in a small and readable package.
The book is composed into twelve (12) chapters and by the time the reader has reached the Conclusion, there is enough information to ruminate on and actively employ as the journey into auras begins. The Introduction: What is an Aura? makes approach into the esoteric semantic of "auras" using a scientific and established path of energy and the limitlessness and all pervasive nature of energy..
…Everything in the universe is made up of energy, and that energy emits
an energy field around it…. Auras surround all things and interact with all things. A human aura is made up of electromagnetic particles that radiate from the body. It holds all the positive and negative information from our past, our present, and our near future. It's our life-force energy, and from this energy, a sensitive person can pick up on everything about us-physically, mentally, emotionally, and spiritually—because our auras reflect our ever-changing moods as well as our physical, emotional, and spiritual health. (Introduction)
The author states her intention of providing a focus within the book which emphasizes learning more about your personal auric field and the ways in which you may engage and interact with others surrounding you as their energetic fields interact with your own.
Rather than diving directly into the "how to", the author has chosen in Chapter 1: The History of Auras to provide the reader with a background and historical perspective of how some of the earliest religions and civilizations recognized the ephemera surrounding all living things. Given the presumptions of many around discussion of auras, chakras, and other subtle anatomy and questions as to their validity beyond an overly active imagination, I think this chapter serves well in further establishing the actuality and verity of auras.
Chapters 2: Auras and Their Layers and Chapter 3: Auras Relating to the Chakras build incrementally one upon the other taking the reader through each of the auric fields and its relationship to our chakras and other aspects of our energetic anatomy.
Having laid the appropriate foundations and knowledge base, the subsequent chapters of In Focus: Auras Your Personal Guide move the reader into the practice of Sensing Auras (Chapter 5), preceded by discussion of the impact of our sensorial tools, Chapter 4: Auras and Our Senses, in awakening the abilities to actively interact with the auras. Chapter 6: Auras and Chapter 7: Aura Reading
Chapters 8 through 12 provide the reader with the tools to begin the process of having awareness of the auric field and where and when healing, adjustment or other intervention may be necessary to maintain energetic health. I particularly enjoyed Chapter 11: Healing Each Layer of the Aura.
There is a lovely Guided Visualization To A Crystal Healing Pool at the end of Chapter 12: Healing the Aura As A Whole. I found this to be a fitting conclusion and reminder of the power we hold when we claim agency over our personal energetic health and the corresponding energetic anatomy that supports this.
Would I Recommend:
In Focus: Auras Your Personal Guide by Joylina Goodings is a very supportive read for any who wish to know more about themselves beyond the physical. The book is written in easy to understand language, with just enough science to support the case for the reality of auras and energetic anatomy regardless of personal bias against the esoteric and realms of the ephemeral. Between the covers of this title there is a perspective, exercises and rationale for anyone and I am sure that many will find that their preconceived notions about auras will be expanded upon and seen in a different light (no pun intended). There are exercises, correspondences and recommendations aplenty in this book and the gentle guidance of Ms. Goodings takes the reader on a journey of self-discovery.
About Author Joylina Goodings:
Joylina Goodings is an inspirational speaker, life coach, counselor, angel expert, psychic clairvoyant, healer, teacher, and author. She became a Reiki Master Teacher in 1997 and gave up her career in professional services marketing in 2000 to use her life coaching and counseling skills to help people with their personal and spiritual development to live happy, healthy, and rewarding lives through readings, life/soul coaching, teaching, and healing. Joylina taught at the College of Psychic Studies in London and travels widely to many spiritual energy spots around the world to lead spiritual holidays, workshops, and retreats. Joylina was also President of the British Astrological and Psychic Society and was responsible for creating and updating many of their courses as well as assessing new members. She is now a consultant member of MBS Professionals Ltd. She believes avidly in maintaining high ethical standards and integrity within her chosen field of personal and spiritual development and all things Mind, Body, Spirit. Joylina is the author of three books including the acclaimed Your Angel Journey: A Guide to Releasing Your Inner Angel. She has two more in the process of being published by Zambezi Publishing, with one on how to develop psychic ability,  and the other on tarot. Currently, Joylina focuses her energy on writing whilst caring for her parents and grandchildren, as well as developing her online training courses. She lives in the southwest of England and enjoys walking her dogs along the beautiful Jurassic Coast where she has made her home.
About the Series:
The In Focus series applies a modern approach to teaching the classic body, mind, and spirit subjects. Authored by experts in their respective fields, these beginner's guides feature smartly designed visual material that clearly illustrates key topics within each subject. As a bonus, each book includes reference cards or a poster, held in an envelope inside the back cover, that give you a quick, go-to guide containing the most important information on the subject.
In Focus Auras: Your Personal Guide on Amazon
***
About the author: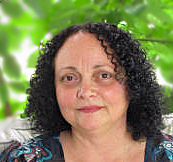 Robin Fennelly is an Elder within The Assembly of the Sacred Wheel Tradition and serves as High Priestess of Coven of the Mystic Path, the 12th Coven within the Assembly of the Sacred Wheel Tradition. She teaches and facilitates classes for the Pagan Experience Study Group that serves as foundation for membership within Coven of the Mystic Path.  
Her spiritual journey is strongly rooted in both Eastern philosophy and the Western Magickal systems from which she has formed a core foundation that is diverse in knowledge and rich in spiritual practice.  A life-long learner, her practice has evolved from the classical and philosophical teachings of books, practical experience and enrichment of this knowledge base by attending workshops of various spiritual traditions presented by master teachers.
Robin formally came to the Wiccan path in 1994. Following a practice as a solitary for 2 years, she dedicated to Oak and Willow Coven of The Assembly of the Sacred Wheel Tradition in November of 1996. She received her 1st, 2nd, 3rd and 4th (Elder) degrees within the Assembly Tradition and has served as High Priestess of two ASW covens since Samhain of 2001 and the Winter Solstice of 2015.

As a teacher of esoteric and magickal studies she uses Energetic Anatomy, Tarot, Astrology, Hermetic Qabala, Eastern Philosophy, and Numerology as the foundations of her diverse selection of workshops and writings for more than 25 years. Exploration of varied energetic protocol has been the focus of her work for some time now and the information gained through direct experience informs all of her magickal and spiritual work.
Robin's writings have been featured online, and in print Internationally.  She has authored several books incorporating her unique style of writing making use of poetry, prose and pathworking to enhance the concepts presented.  She has taught extensively throughout the Pagan community, including Sacred Space Conference, Spring Magick, Between the Worlds Interfaith Conference and Free Spirit Gathering Festival. Her most recent projects include a channel on youtube: A Journey to the Inner Chamber. She also shares audio pathworkings and ritual on her bandcamp site: Teachings on the Path with Robin.
Robin is the owner of Holistic Embrace providing services for mind, body and spirit such as Tarot readings, Astrology reports, Spiritual Guidance and other related offerings.  She lives in Eastern Pennsylvania and her life is blessed by a 40+- year marriage, five children and the opportunity to work in the field of public education.
Robin's Website: www.robinfennelly.com
Coven of the Mystic Path, ASW: www.covenofthemysticpath.org
Her books can be found on Amazon or purchased directly through her website:
For more info: http://www.robinfennelly.com/books.html
The Inner Chamber, Vol. 1 It's Written in the Stars-Astrology
The Inner Chamber, Vol. 2 Poetry of the Spheres-Qabalah
The Inner Chamber, Vol. 3 Awakening the Paths-Qabalah
The Light of SELF: Consciousness, Spiritual Practice and Learning to Breathe
Magickal Verse: A Collection of Poetry and Prose
A Year of Gaia: The Eternal Cord
The Elemental Year: Aligning the Elements of SELF
Temple of the Sun and Moon: Luminous Devotions
Sleeping with the Goddess: Nights of Devotion
A Weekly Reflection: Musings for the Year
The Magickal Pen: A Collection of Esoteric Writings
The Enchanted Gate: Musings on the Magick of the Natural World
The Temple of the Sun: An Astrological Solar Year
Writings in the Shadow: An Exploration of the Shadow Nature