WitchCrafting: Crafts for Witches
Crafts for Witches: DIY Dishes
Merry meet.
When you can't find a dish with the wheel of the year on it, a plate with the moon, a coffee mug with the right words, or a trivet with a pentacle on it, you can make it yourself.
This one was made for me from an unused child's craft kit, adding some acrylic paints before baking it.
Typically, you'd use Sharpie or dry erase markers. Cotton swabs, and rubbing alcohol or a dry marker eraser will be needed to remove mistakes. Non-toxic ceramic paint and pens can be used on microwave-safe dishware, making it safe for serving food.
Clean your plate or other object with rubbing alcohol and a paper towel or rag. Consider drawing your design in pencil before coloring it with permanent markers or oil-based paint pens.
Let your artwork dry for forty-eight to seventy-two hours before baking. Place items in a cold oven and turn it on to 300 degrees. After it reaches temperature, bake for thirty minutes. (Some instructions call for an hour at 425 degrees.) To help prevent cracking, turn off the oven and let pieces cool completely before removing. I have come across the suggestion to bake the pieces twice to really set the artwork. After baking, run them through the dishwasher and then they're safe to use.
Warning: not all colors will end up as they started.
While dollar store mugs and plates are the right price, they might not stand the heat. I try to pick up what seem to be microwave safe white or clear glass plates, bowls, spoon rests, plaques, tiles and platters at tag sales and flea markets.
Transfers and decoupage can also be used to decorate plates that are not used for food unless directions state otherwise. Using an acrylic spray such as Krylon crystal clear will protect design from water, stains and dust while leaving a permanent glossy coating safe for use with food. I have no experience with this and do not know if it's then dishwasher safe, so I suggest you do what I don't often times until it's too late: read the fine print.
The possibilities for witchy dishes are endless. You could make a plate for each sabbat. An offering bowl could be dedicated to a particular deity. A bit of whimsy can be added to your favorite quote or lyrics on a mug or a tile. Like magic, boring becomes blessed.
Merry part. And merry meet again.
***
About the Author:
Lynn Woike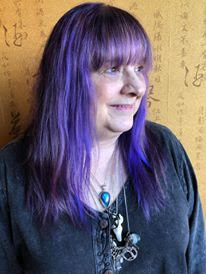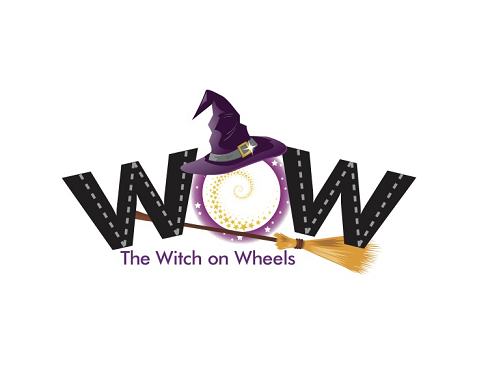 All my life I have known magic was real. As a child, I played with the fae, established relationships with trees and "just knew things." In my maiden years I discovered witchcraft and dabbled in the black-candles-and-cemeteries-at-midnight-on-a-fullmoon magick just enough to realize I did not understand its power. I went on to explore many practices including Zen, astrology, color therapy, native traditions, tarot, herbs, candle magic, gems, and, as I moved into my mother years, Buddhism, the Kabbalah and Reiki. The first man I dated after my divorce was a witch who reintroduced me to the Craft, this time by way of the Goddess. For 11 years I was in a coven, but with retirement, I have returned to an eclectic solitary practice. When accepting the mantle of crone, I pledged to serve and teach. This is what I do from my skoolie – a 30-year-old school bus converted into a tiny house on wheels that I am driving around the country, following 72-degree weather, emerging myself into nature, and sharing magic with those I meet. Find me at thewitchonwheels.com, Facebook and Instagram.