Book Review – Anatomy of a Witch: A Map to the Magical Body by Laura Tempest Zakroff
Book Review
Anatomy of a Witch
A Map to the Magical Body
by Laura Tempest Zakroff
Publisher: Llewellyn Publications
216 Pages
Publication Date: June 8, 2021
The pagan community has a hunger right now for what is innovative and creative in its presentation. More importantly, we are in need of having voices that speak to the younger practitioners of the Craft and witches who will carry forward the groundwork laid by their Elders.
To that end we also need authors and teachers who are adept at not dumbing down the teachings, nor make it a temporary fix for the bored and uninspired who are chasing the perceived glamour and the "look" devoid of the actual work.
Fortunately, there are a new crop of authors who have the foundations firmly integrated into their understanding and practices and are able to weave the all important teachings into just the correct blending of valuable knowledge, practical application of experience and a modern approach that is attractive to this generation of seekers. Anatomy of a Witch: A Map to the Magical Body by Laura Tempest Zakroff fills all of the check boxes and more of what a marriage of quality and reader appeal looks like when applied to modern witchcraft.
PaganPagesOrg was fortunate to receive a special limited offer to reviewers from Llewellyn Books that included copy of the book, Anatomy of a Witch: A Map to the Magical Body as well as a limited edition Sigil stickers and information sheet and a candle and matchbook spell set, and copy of the Witch's Ritual of Dedication found on pgs. 181-183. These were lovely additions to work with as I read through the book for reviewing.
Anatomy of a Witch: A Map to the Magical Body is separated into a lengthy Introduction which gives a complete and clear picture of how this book may be best used and how to more fully incorporate the "body" in all of its parts into your work. The nine (9) chapters that follow move organically aligned with Witch Lungs (breath) – the Witch Heart (pulse and rhythm) – the Serpent (our primal nature) – Witch Bones (strength and structure) and the Weaver (Witch mind) and then continues to build upon these in exploring practical application and cultivating a mindset that establishes the witch's body as Temple, tools and mystery.
… The Witch's body is
a constellation of stars,
eyes that pierce the darkness,
lips that speak in song and silence,
ears attuned to the voice of spirits,
lungs that breathe the liminal,
a heart of fire pulsing in ecstatic dance,
hips that weave the mysteries,
and feet that kiss the earth…. 1.
Use of the alchemical elements, the many five-fold correspondences to be found within the Craft and specific Tarot keys of the Major Arcana serve as entry points for deepening the focus of a particular chapter and finding the points of resonance and understanding already cultivated by the reader in these disciplines. Each chapter is filled with journal prompts, exercises, rituals and sigils (something that the author has become well noted for crafting) and a specific Tarot Key moving as an embodied journey beginning with Key 0, The Fool.
Everything conveyed in this book is constructed in such a way that the reader cannot help but be part of the process of stepping into the mantle of the Witch if that is what is truly desired. In a fitting conclusion to the work the reader has experienced and the anticipation of next steps, the final pages of Anatomy of a Witch: A Map to the Magical Body are reserved for A Witch's Ritual of Dedication….
… There is a sense of validation that comes with having the title of "Witch" bestowed upon you through formal training and being recognized as such by other practitioners. But, as we have learned throughout this book, the only person who can truly make you a Witch is you… 2.
Would I Recommend:
Anatomy of a Witch: A Map to the Magical Body by Laura Tempest Zakroff speaks to the reader at multiple levels. And, the beauty is that regardless of whether one chooses to take up the calling of the Witch, they will come away from this reading more fully integrated in who they are, both physically and magically. I find this to be a true gift, particularly in the current climate where so many are disconnected from themselves, physically-spiritually-psychologically, and as such are unable to connect to others in a meaningful way.
My recommendation would be to read Anatomy of a Witch: A Map to the Magical Body from cover to cover, engage in the exercises, meditate on the sigils and then return to it frequently as a reminder of who you truly are in all of your parts.
Spoiler alert… There is an Anatomy of a Witch Oracle slated for release in 2022.
Notes:
p. 1

p. 181
About Author Laura Tempest Zakroff
Laura Tempest Zakroff is a professional artist, author, dancer, designer, and Modern Traditional Witch. She holds a BFA from the Rhode Island School of Design (RISD) and her myth-inspired artwork has received awards and honors worldwide. Laura blogs for Patheos as "A Modern Traditional Witch," for Witches & Pagans magazine as "Fine Art Witchery," and contributes to The Witches' Almanac. She is the author of several bestselling books, including Sigil Witchery and Weave the Liminal. She is also the creator of the bestselling Liminal Spirits Oracle. Laura lives in New England.
Anatomy of a Witch: A Map to the Magical Body on Amazon
***
About the author: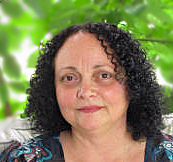 Robin Fennelly is an Elder within The Assembly of the Sacred Wheel Tradition and serves as High Priestess of Coven of the Mystic Path, the 12th Coven within the Assembly of the Sacred Wheel Tradition. She teaches and facilitates classes for the Pagan Experience Study Group that serves as foundation for membership within Coven of the Mystic Path.  
Her spiritual journey is strongly rooted in both Eastern philosophy and the Western Magickal systems from which she has formed a core foundation that is diverse in knowledge and rich in spiritual practice.  A life-long learner, her practice has evolved from the classical and philosophical teachings of books, practical experience and enrichment of this knowledge base by attending workshops of various spiritual traditions presented by master teachers.
Robin formally came to the Wiccan path in 1994. Following a practice as a solitary for 2 years, she dedicated to Oak and Willow Coven of The Assembly of the Sacred Wheel Tradition in November of 1996. She received her 1st, 2nd, 3rd and 4th (Elder) degrees within the Assembly Tradition and has served as High Priestess of two ASW covens since Samhain of 2001 and the Winter Solstice of 2015.

As a teacher of esoteric and magickal studies she uses Energetic Anatomy, Tarot, Astrology, Hermetic Qabala, Eastern Philosophy, and Numerology as the foundations of her diverse selection of workshops and writings for more than 25 years. Exploration of varied energetic protocol has been the focus of her work for some time now and the information gained through direct experience informs all of her magickal and spiritual work.
Robin's writings have been featured online, and in print Internationally.  She has authored several books incorporating her unique style of writing making use of poetry, prose and pathworking to enhance the concepts presented.  She has taught extensively throughout the Pagan community, including Sacred Space Conference, Spring Magick, Between the Worlds Interfaith Conference and Free Spirit Gathering Festival. Her most recent projects include a channel on youtube: A Journey to the Inner Chamber. She also shares audio pathworkings and ritual on her bandcamp site: Teachings on the Path with Robin.
Robin is the owner of Holistic Embrace providing services for mind, body and spirit such as Tarot readings, Astrology reports, Spiritual Guidance and other related offerings.  She lives in Eastern Pennsylvania and her life is blessed by a 40+- year marriage, five children and the opportunity to work in the field of public education.
Robin's Website: www.robinfennelly.com
Coven of the Mystic Path, ASW: www.covenofthemysticpath.org
Her books can be found on Amazon or purchased directly through her website:
For more info: http://www.robinfennelly.com/books.html
The Inner Chamber, Vol. 1 It's Written in the Stars-Astrology
The Inner Chamber, Vol. 2 Poetry of the Spheres-Qabalah
The Inner Chamber, Vol. 3 Awakening the Paths-Qabalah
The Light of SELF: Consciousness, Spiritual Practice and Learning to Breathe
Magickal Verse: A Collection of Poetry and Prose
A Year of Gaia: The Eternal Cord
The Elemental Year: Aligning the Elements of SELF
Temple of the Sun and Moon: Luminous Devotions
Sleeping with the Goddess: Nights of Devotion
A Weekly Reflection: Musings for the Year
The Magickal Pen: A Collection of Esoteric Writings
The Enchanted Gate: Musings on the Magick of the Natural World
The Temple of the Sun: An Astrological Solar Year
Writings in the Shadow: An Exploration of the Shadow Nature