Interview with Nick Ribera – Creator of The Goracle
Interview with Artist Nick Ribera
The Goracle is an oracle deck created by artist Nick Ribera that explores the beauty and power to be found in pain and death, and their role in learning intimately about the self. After reviewing card samples of The Goracle, I was excited to speak to Nick and find out more about this remarkable Oracle deck.
Raushanna (RA): This is quite a striking and intense Oracle deck! My first question is the obvious one: what inspired you to create The Goracle?
Nick Ribera (NR): Hello Raushanna! Thanks so much for speaking with me today. We'll have to go back to 2018. I have a friend with whom I've been playing board games for a long time. While perusing her collection to decide what to play, I came across her Tarot and Oracle collection. I didn't know there was anything past the typical deck you always see in movies, and she explained how she's been collecting them for years and many artists reinterpret the set in their own ways. I learned about the difference between the two decks at that moment and wanted to learn more.
(Eros Tarot)
Later that night I explored kickstarter for tarot and oracle decks, as I was creating coloring books and enamel pin projects via kickstarter at the time. It was at this point that I decided to make a Tarot deck. I decided I'd make an erotic one because that's where my art style was at the time. This ended up being the Eros Tarot, and it became my most successful project on Kickstarter to date. While it was in production I started working on The Goracle. If my first deck explored sex, then my next one would have to explore violence, as it just seemed like a natural progression and good way to pair the two projects.
RA: Your artwork for this deck is potent, bordering on harsh (which is fitting for the theme of The Goracle). You chose a color palette of white, black and red for your card images, different from your Tarot deck, Eros Tarot, and its dream-like feel. Were you consciously making this choice ahead of time, or did the cards themselves guide you and pull you in that direction?
NR: The art style for The Goracle was inspired by Albrecth Durer and his woodblock prints. I wanted it to resemble scratchy black and white pen drawings, which I felt would give the illustrations a timeless feel. I also wanted to numb the violence, and I felt that monochrome aesthetic does that, similar to how the MPAA had Tarantino desaturate the fight with the Crazy 88s in Kill Bill. What good would be a deck if you didn't want to look at the cards? Adding the splotches of blood would also help add drama to the situations without making them as grotesque as they would have had I added full color to the scenes. I later went back and added more variance in the tones to make sure not everyone appeared like a white person with alabaster skin.
RA: The card messages, both upright and reversed, are very direct and precise, rather than the more common card messages that can be tweaked toward the topic of a reading. This style of suggested card interpretations seems to fit nicely with the color palette of the artwork. I would love it if you could share your process for deciding on the messages that go along with each of the card images.
NR: Thank you! I definitely wanted these cards to be specific. I felt it would be a cop out if every card could fit every situation. As for the process, I worked off the same spreadsheet I used for Eros Tarot. On that spreadsheet, Column A was the card's name. Column B was the meaning that was written on the Biddy Tarot website. Column C was a sketch of my initial card design. I then hid column B and wrote descriptors for what I saw in my sketched interpretation. While I was working on the Tarot deck, I noticed that a lot of cards, solely based on the descriptors and not the images, are quite redundant. So when it came to the Oracle deck, I duplicated this spreadsheet and deleted any cards that did not have mutual exclusivity. I also deleted the columns with the card names and the descriptions from the Biddy Tarot. As of writing this, I still have another 5 cards I have not yet defined, as I had to remove a lot of Tarot meanings to get to this place. I have some floating ideas for these remaining cards but want to make sure to include the Kickstarter community in their development.
RA: The sample cards have upright and reversed meanings on the backs of the cards. Will there be a guide book to go with this deck? Or will the meanings be on the finished cards?
NR: The descriptions that appear on the back of the cards are just for the promo pack I sent out to some reviewers/content creators, so please be lenient on the typo if you've found it. The actual product will have all of the descriptions in a manual. All that goes in the manual will depend on how many stretch goals are reached, but at this point it will be at least 30 pages in length.
RA: What are you hoping to offer those who use The Goracle for personal exploration?
NR: The first master this deck will serve is entertainment. I hope people can appreciate the art, the writing, the design, and all the work that went into it. If you can find helpful direction from the predictions it gives, then that is even better. While there wasn't any spiritual guidance behind the creation of it, it was a lot of fun to put together.
RA: What method do you hope to bring to a reader?
NR: The manual includes three spreads I've developed based on simple chakra principles, each one involving the drawing of four cards, but it's really up to the reader to decide how to use the deck. Many cards have meanings that affect those around them- for example "The Alone" will numb the importance of those adjacent to it while "The Immolation" will exaggerate their meanings. I also have a set of five cards in the deck specifically designed to provide context for the previous or next card drawn. For example, "The Blood" indicates the card with which it's paired describes someone in your family.
RA: Which card did you create first? Which will be the last card you create?
NR: The first card I created was The Penetrated. The image of a woman straddling a man on his back, while her arm enters his body beneath his ribcage and comes out through his neck to choke him was in my head and I wanted to draw it. The name, The Penetrated, came next. From the image and the title, I was able to describe the card as a predictor of a situation between two people who might not have the healthiest of a relationship. Since that card, my technique and styling has improved quite a bit, so I'll likely revise the art before going into print.
As for the final card, one of the hardest things in this process is finding out which situations are NOT represented by the cards I currently have. So I plan to ask my backers for situations they have had in their lives in which they wish they could have been forewarned, and from those I'll see if it is worthy of a card.
Meanwhile, I also have some pieces that are not fully fleshed out. I have an illustration of a young girl covered in blood that I've called "The Stained," but which doesn't yet have a meaning. I'm thinking it might mean something related to sins of your past if upright or future deeds if inverted, but I haven't committed to it yet. The pandemic has also given me an idea for a card called "The Contagious" featuring an image of someone in a bloody hazmat suit but I'm not sure yet what it could mean. These are all ideas I want to pose to the community for their feedback as the project proceeds on kickstarter.
RA: This is not your first divination deck, and certainly not your first art project. Any artistic creation is a transformative process for an artist. What did you expect to experience while creating this powerful deck? What unexpected or surprising experiences did you have as the creation process comes to a close?
NR: Experience wise, it has been pretty tough in some situations. I think I have a strong stomach, but some cards require research of violent imagery that you can only take so much of. I try not to use actual images of death as reference where possible, mostly for my own sake. For example, "The Open Mind" is inspired by a scene from the Brazilian film Bacarau, and "The Unburdened" is inspired by a scene from French film "Eyes Without a Face."
For this project I've also been able to expand on what I'm comfortable with on the manufacturing side. Eros Tarot and Satisfy, my most recent Kickstart project, both had pretty simple box designs. With this one I'm exploring using spot UV coating and red foil. I've also designed a metal coin that can be used to charge the deck.
One thing that surprised me the most was how much more difficult it is to design an Oracle deck than a Tarot deck. I first thought that fewer cards and freedom to write your own meanings would be a cinch, but alas it's way more work to design the title, image, and meaning from nowhere then it is to just reinterpret an existing archetypal image.
RA: What role do you anticipate this deck having in your own life once it is completed and set free into the world?
NR: I'm already planning a reprint of the Eros Tarot for next year, as I get a few messages a week asking where to find it (it sold out 400 copies in 4 months). So I'm hoping for a similar situation with this one. I've also noticed that because each card has a title and not a number (such as with a tarot card) they all stand on their own as striking images. I've printed a few on shirts and get inquiries when I wear them around town. One of the add-ons for the kickstarter is a 5-pack of randomly selected postcards- this functions as a kind of reading that you can also send out to friends and family who may benefit from the card or cards you send them. Lastly, I'll probably turn the cards into NFTs. I did the same with Eros Tarot. I hope to keep revisiting this project in the years to come, whether through reprints, or expansions with more cards. I'm also open to eventually working with a publisher down the road, but the do-it-yourself structure has always been my initial go-to on any project.
RA: Besides your own Tarot and Oracle decks, have any other decks had an influence on you and on this creative process?
NR: As I mentioned before, The Biddy Tarot was the biggest influence. The website that goes with it was an immense resource in understanding how cards can interact, and how every little detail in a drawing can have it's own meaning that affects the scene as a whole. I have tackled these as Art projects more so than as Divination projects. So some local artists I'd like to shout out are R. F. Pangborn, Jonathan James, Knee to Face, and Attack Peter.
RA: What is next for you? Any plans for future divination tools?
NR: I've always enjoyed embarking on projects that require lots of design and lots of illustrations. This way I never have to stare at a blank page and wonder what to draw. My last Kickstarter project before this one was Satisfy, an erotic board game for two. I'm 75% done with my next project after this one, Secret Admirers- which is a board game that simulates valentine's day in elementary school- each player decorates their shoebox to collect the most cards from the other students. After this I'm doing a reprint of Eros Tarot and then moving on to a coloring book that celebrates the LGBT+ community in Saint Petersburg, Florida, where I live.
I have a loose plan in place for another Tarot deck, but want to do a similar themed coloring book beforehand as practice for the requisite art style. If you've explored my work before, you'll know that I am a chameleon when it comes to my projects- I use the style that best matches the product.
I would like to thank Nick very much for sharing so much of himself for this interview. Please make sure you check out my review of the sample cards of The Goracle, also in this issue. You can learn more about The Goracle, see sample cards, and back this project (I did!) at The Goracle: a Dark Oracle Deck on Kickstarter. You can also follow Nick on his Instagram: ChainAssembly.
***
About the Author: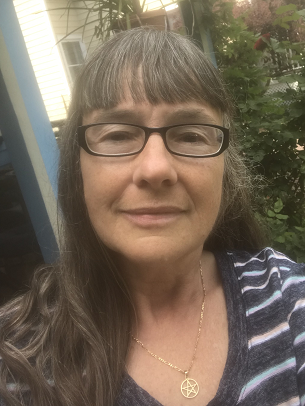 Raushanna is a lifetime resident of New Jersey. As well as a professional Tarot Reader and Teacher, she is a practicing Wiccan (Third Degree, Sacred Mists Coven), a Usui Reiki Master/Teacher, a certified Vedic Thai-Yoga Massage Bodyworker, a 500-hr RYT Yoga Teacher specializing in chair assisted Yoga for movement disorders, and a Middle Eastern dance performer, choreographer and teacher.  Raushanna bought her first Tarot deck in 2005, and was instantly captivated by the images on the cards and the vast, deep and textured messages to be gleaned from their symbols. She loves reading about, writing about, and talking about the Tarot, and anything occult, mystical, or spiritual, as well as anything connected to the human subtle body. She has published a book, "The Emerald Tablet: My 24-Day Journal to Understanding," and is currently working on a book about the Tarot, pathworking and the Tree of Life. Raushanna documents her experiences and her daily card throws in her blog, DancingSparkles.blogspot.com, which has been in existence since 2009. She and her husband, her son and step son, and her numerous friends and large extended family can often be found on the beaches, bike paths and hiking trails of the Cape May, NJ area.