Deck Review – The Deck of Queens by Stephanie Guttenplan (Pookie)
Deck Review
The Deck of Queens
By Stephanie Guttenplan (Pookie)
Self-published
76 card deck and 98 page guidebook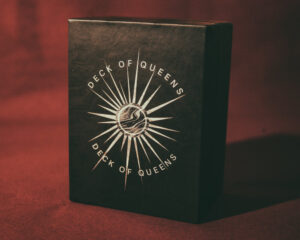 The Deck of Queens is a divination deck created by Pookie, also known as Stephanie Guttenplan, and self-published via Kickstarter by Pookie Artistry LLC. The Deck of Queens comes in a very sturdy and extremely portable 3 inch by 4 inch by 2 inch thick cardboard box with a book-style lid. The box has a black matte finish with silver lettering on the front, and a hand-written message from the author along with her web address on the back.
The first thing we see after opening the box is the guidebook that comes with the deck, a 2 1/2 inch by 3 ½ inch soft cover book with a black cover, white semi-glossy paper, and black print containing 98 pages, a substantial guidebook for such a small kit. The guidebook offers a thank-you from the author, a description of the creation process and the inner workings of the deck, and instructions for using the deck, including some sample spreads. Then comes two pages of information for each of the 76 cards in this deck, including the card name, some keywords, a suggested interpretation for reading the cards, and a question that the goddess associated with the card asks the Seeker. The guidebook ends with the author's contact information.
The cards themselves are 2 1/2 inches by 3 1/2 inches with a beautiful matte linen finish, very nice to hold and touch. Each card has a digital image of its Queen with a colored border containing the card name and number at the bottom. These card images are taken from a collection of portraits that Pookie took as the Photo Editor of Inked Magazine, as well as portraits taken within other venues, all recreated to reveal the divine and sacred found within each woman. The card back is black and white marbling, also with a matte linen finish.
While the traditional major arcana only consists of 22 cards, this Deck of Queens offers more than one card version for many of the major arcana cards, each version focusing on a different personality trait of the traditional card. For instance, there are three cards representing The Magician that are titled The Magician (which is about manifestation, source, and connection), The Timekeeper (which shows us limelight, investigation, and honor), and Queen of Illusion (which offers the concepts of reveal, courage, and authenticity). Each of the cards assigned to each of the traditional majors could stand alone as a valid meaning, but together they add depth and texture to our understanding of the traditional card.
Also included are some cards with non-traditional major arcana connections. For instance, there are cards associated with the four cardinal directions, along with keywords, interpretations and a question for the Seeker.
While this is not a traditional 76-card Tarot deck of major arcana, minor arcana and court cards, the cards and meanings are based on a traditional Tarot major arcana. I think anyone would benefit from working with this deck. Between its focus on the sacred feminine, its multiple facets or traits offered to the reader regarding the traditional major arcana, its sensually pleasing matte linen finish, and its handy, portable size, this deck could be attractive to many readers of all skills. While the focus of the deck is feminine (it is a Deck of Queens!), anyone could work with this deck and deepen their own practice and their reading skills.
Stephanie Guttenplan (Pookie) is an artist, Women Artist Coach, facilitator, and many other roles stemming from being in service to people, who was was born in Atlanta, Georgia and grew up in what she calls a Smorgasbord of heritages and an undiscoverable family tree. Her family of artists, athletes, music lovers and travelers filled her life and encouraged her to travel, and she grew up expressing her adventures through poetry, art, and photography. She received a BFA in Digital Art and Design at Towson University, Maryland, then traveled to Florence, Italy to study
photography and art history. She then attended the School of Visual Arts and attained her Masters in Professional Studies in Digital Photography. She is currently a freelance artist living in Brooklyn, NY who creates by combining photography, design, web and typography. You can find more information about her via Instagram, Twitter, Faceboon and her blog, www.pookieart.com.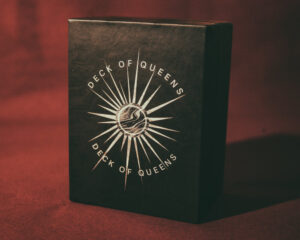 The Deck of Queens on Pookie Art
**
About the Author: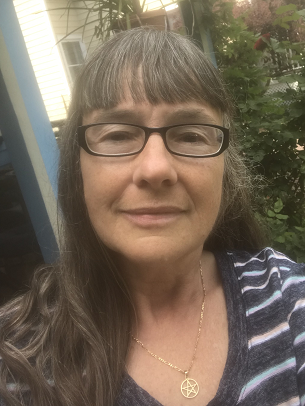 Raushanna is a lifetime resident of New Jersey. As well as a professional Tarot Reader and Teacher, she is a practicing Wiccan (Third Degree, Sacred Mists Coven), a Usui Reiki Master/Teacher, a certified Vedic Thai-Yoga Massage Bodyworker, a 500-hr RYT Yoga Teacher specializing in chair assisted Yoga for movement disorders, and a Middle Eastern dance performer, choreographer and teacher.  Raushanna bought her first Tarot deck in 2005, and was instantly captivated by the images on the cards and the vast, deep and textured messages to be gleaned from their symbols. She loves reading about, writing about, and talking about the Tarot, and anything occult, mystical, or spiritual, as well as anything connected to the human subtle body. She has published a book, "The Emerald Tablet: My 24-Day Journal to Understanding," and is currently working on a book about the Tarot, pathworking and the Tree of Life. Raushanna documents her experiences and her daily card throws in her blog, DancingSparkles.blogspot.com, which has been in existence since 2009. She and her husband, her son and step son, and her numerous friends and large extended family can often be found on the beaches, bike paths and hiking trails of the Cape May, NJ area.
De