Book Review – Higher and Friendly Powers: Transforming Addiction and Suffering by Peg O'Connor
Book Review
Higher and Friendly Powers:
Transforming Addiction and Suffering
by Peg O'Connor
Published by Wildhouse Publications
June 1, 2022
288 pages
I am someone who has struggled with addiction issues for most of her adult life, rotating in and out of AA since 1990. Currently I do not attend any meetings at all, but I do desire to live a clean and sober life so I was excited to get an Advanced Reader Copy of Higher and Friendly Powers: Transforming Addiction and Suffering, by Peg O'Connor, and published by Wildhouse Publications. Very simply, I was dying to transform my addiction and suffering – anyway I could. If I could do it by not actually quitting my partying – just cutting way back – I was open to any and all suggestions. I just didn't want to stop altogether. I had already done that and that was pretty damn boring.
I am well acquainted with the writings of Peg O'Connor. If you visit her website, you'll see links to her writings, and that will take you to her various writings for the New York Times, Psychology Today, and other publications. She is a professor of Philosophy, Gender, Women and Sexuality Studies, as well as the Chair of the Department of Philosophy at Gustavus Adolphus College in St. Peter, Minnesota. She has thirty-four years sobriety and has written extensively about addiction and recovery.
I admit that I like to party. I've always liked to party. Even as a little girl, I liked the taste of alcohol and used to beg sips of whatever drinks my elders were imbibing. I always liked the feeling that alcohol gave me. Of course, I never liked the hangover the next day – who does? – and the main reason I've stopped drinking is so I don't have to deal with the hangover – I like waking up bright and early so I can get to my writing and get a good day's work done. That isn't possible with a hangover. And of course – my age is becoming an issue – what I could handle at age twenty isn't possible at age sixty-two. But when you start drinking, your brain reverts back to your younger self – well my brain does, anyway! I think that's one of the attractions of partying. But it's also one of the detractions.
In Higher and Friendly Powers: Transforming Addiction and Suffering, O'Connor cites the work of American philosopher William James, especially his well-known text, The Varieties of Religious Experience. I read excerpts from The Varieties of Religious Experience when I was taking a World Civilization course at the State University of New York at Buffalo – we also read excepts from The Koran, The King James Bible, Confucius' Analects, The Iliad, and other texts from around the world (it was an awesome class). I was acquainted – of course – with William James as a member of the illustrious James family, of which the author Henry James belonged – as an English major, of course I knew of Henry James, even if I hadn't actually read any of his novels.
Anyone in recovery who knows anything about AA – and that's just about all of us – knows that AA has a passing reference to William James in Appendix II of the "Big Book" – but Peg O'Connor dedicates her entire recovery book to William James and very little to AA or to Bill Wilson. To be sure – she gives them both credit where credit is due – but she is clear that James' view of addiction, the suffering of humankind and how to connect with a "higher and friendly power" is much more expansive and inclusive than anything Bill Wilson ever conceived.
Honestly – it was the idea of a "friendly" power that grabbed me. I've heard of a "higher" power since I was eighteen years old but never a "friendly" power. I started thinking about what a friendly power would look like – what would a friendly power sound like – what would a friend power be – for me?
I liked James' idea of a "misery threshold" (O'Connor, 20). We all have different thresholds of how much misery we can stand; some of us can go through much more punishment than other people we may know. I have friends who drink way more than I could ever attempt; my body couldn't physically withstand that kind of abuse. James' concept of "healthy-minded" and "morbid-minded" people also rang true – as did his assertion that "we are all mixes of healthy-minded and morbid-minded though the proportions vary dramatically between people and even within a person over the course of her lifetime." (O'Connor, 20-21). As someone who has Bipolar 1, and who is a rapid-cycler, I am definitely a mixture of "healthy-minded" and "morbid-minded" – I can swing between the two moods several times within an eighteen-hour period and even when I am sleeping, my dreams reflect this conflict within myself. I believe that this conflict is one of the reasons that I struggle with addiction – I have looked for a resolution for many years and never found a solution to this inner battle.
James uses the language of Christianity although he cites other religions and spiritual traditions and even atheists and agnostics. The language of Christianity persists mainly because at when William James was writing, Christianity of all sects and denominations were prominent in American culture; this was true when Bill Wilson was writing the book that eventually became known as "The Big Book" of Alcoholics Anonymous. The difference between the two men is that the language of Christianity became codified in AA and nowhere in any of James' writings is Christianity put forth as the only religion, the number-one religion; indeed, James "disbelieves and cannot accept an Infinite and All Powerful interventionist God having certain traits." (O'Connor, 181)
I think, as Pagans and Wiccans, some of us struggling on a daily basis to achieve and retain our sobriety, having a writer like Peg O'Connor cite the numerous spiritual writings of William James, and explain their relevance to recovery is a like getting a strong cup of coffee at an early morning meeting when you really need to hear the message. "For James, a life of religion or spirituality is not about theology but about experience. James was content to be a tangent to the wider life of things, willing to live on possibilities and embracing the maybes of life." (O'Connor, 184).
I like that – "embracing the maybes of life."
Bill Wilson's Big Book and his entire AA organization would have been better served if it had paid closer attention to the writings of William James and less to the Oxford Group, from which AA sprang. The Holy-Roller atmosphere of many AA meetings have turned off many a sick and suffering alcoholic, regardless of religious persuasion, and if the lighter spiritual touch of William James had been adhered to, how many more alcoholics and addicts might have been living in recovery?
As Peg O'Connor writes, "Warring selves declare peace", which is what we all desire.
What is most important – whether you believe in the Christian god or a variety of pagan gods and goddesses or no deities whatsoever – is to have faith in life. James writes, "Be not afraid of life. Believe that life that worth living and your belief will help create the fact." (O'Connor, 130) O'Connor adds, "A person who is eager to escape a life in which he is actively addicted still has some hope… Hope paired with willing is a first cousin to faith." (O'Connor, 131). As Wiccans say, "as so I will, so mote it be" – to have the will to change is power – not powerlessness.
I highly recommend Higher and Friendly Powers: Transforming Addiction and Suffering, by Peg O'Connor. This was an e-book but I printed out the entire thing – I kid you not! – just so I could really concentrate on my reading. This book is not to be missed if you are in recovery or you love someone in recovery. Order it today!
For more information about the author, visit https://pegoconnorauthor.com/.

Higher and Friendly Powers on Amazon
**
About the Author: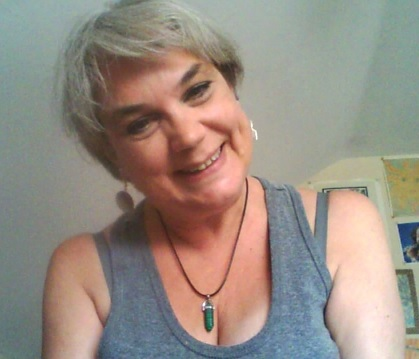 Polly MacDavid lives in Buffalo, New York at the moment but that could easily change, since she is a gypsy at heart. Like a gypsy, she is attracted to the divinatory arts, as well as camp fires and dancing barefoot. She has three cats who all help her with her magic.
Her philosophy about religion and magic is that it must be thoroughly based in science and logic. She is Dianic Wiccan but she gets along with a few of the masculine deities. She loves to cook and she is a Bills fan.
She blogs at silverapplequeen.wordpress.com. She writes about general life, politics and poetry. She is writing a novel about sex, drugs and recovery.