Book Review – A Spell A Day: 365 Easy Spells, Rituals and Magic for the Everyday by Tree Carr
Book

R

eview
A Spell a Day:
365 Easy Spells, Rituals
and Magic for the Everyday
By Tree Carr
Publisher: Watkins
336 pages
Publication Date: June 13, 2023
Tree Carr gives readers 365 spells and rituals in book form, organized by element. There are several ways to choose which spell to cast: by intention, chronologically, synchronized to magical and celestial dates, and using the divinatory art of bibliomancy by opening the book to a page at random.
For each of the five elements – air, fire, water, earth, spirit – Carr presents spells for three new moons, three full moons, three solar returns, sabbats, and a collection of intentions related to that element. For instance, for air there are spells for receiving spiritual insight, curing writer's block, clearing negative thoughts, and protecting social media accounts. Spirit spells address connecting with each of the astrological signs and planets, and initiations for a variety of callings including dowsing and shapeshifting. Each spell begins with lighting a candle and ends with blowing it out.
Carr equates her modern spells to "mini adventures" making mundane days more magical. Incorporating natural materials and mindfulness, creativity and modern technology, they are intended to help readers co-create the life they desire.
Some spells require little more than visualization and speaking two dozen words. More than ninety spells are done with a cellphone and often little more. Sigils, crystals, tarot cards, a charcoal disc, a cauldron, coins, and pen and paper are common in others. On occasion, I found a spell that called for ingredients I did not have – for example, a fertility spell called for the herbs black cohosh, ashwagandha, chasteberry, and shatavari.
Before the spells, Carr introduces readers to the elements, spell craft etiquette, creating sacred space, casting and closing a circle, and some basic tools.
I appreciate there is a spell for each day that does not get torn off and perhaps not found again as would happen when I used a page-a-day spell calendar. I also liked that spells were not assigned to dates; and that they were generally easy, inexpensive, and practical. I do wish the reasons a particular herb or a specific crystal were included because knowing the correspondences would allow for making a substitution easier if the items were not available.
Witches of all levels are sure to find useful spells.
About the Author:
Tree Carr is a published author and TEDx speaker who works in the esoteric realms of dreams, death, and divination. A practicing witch and high priestess, she holds professional certificates in psychedelics, altered states and transpersonal psychology, and as a death doula.
**
About the Author:
Lynn Woike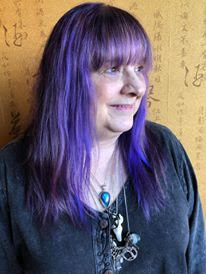 All my life I have known magic was real. As a child, I played with the fae, established relationships with trees and "just knew things." In my maiden years I discovered witchcraft and dabbled in the black-candles-and-cemeteries-at-midnight-on-a-fullmoon magick just enough to realize I did not understand its power. I went on to explore many practices including Zen, astrology, color therapy, native traditions, tarot, herbs, candle magic, gems, and, as I moved into my mother years, Buddhism, the Kabbalah and Reiki. The first man I dated after my divorce was a witch who reintroduced me to the Craft, this time by way of the Goddess. For 11 years I was in a coven, but with retirement, I have returned to an eclectic solitary practice.
When accepting the mantle of crone, I pledged to serve and teach. This is what I do from my skoolie – a 30-year-old school bus converted into a tiny house on wheels that I am driving around the country, following 72-degree weather, emerging myself into nature, and sharing magic with those I meet. Find me at thewitchonwheels.com, Facebook and Instagram.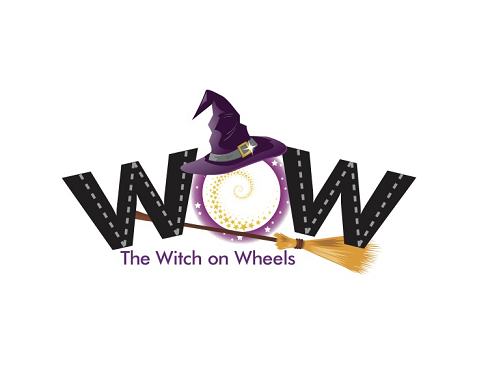 thewitchonwheels.com