Book Review – Wiccan Teas & Brews: Recipes for Magical Drinks, Essences, and Tinctures by Cerridwen Greenleaf
Book

R

eview
Wiccan Teas & Brews:
Recipes for Magical Drinks,
Essences, and Tinctures

By Cerridwen Greenleaf
Publisher: Cico Books
144 pages
Publication Date: May 14, 2023
Cerridwen Greenleaf was a toddler when she learned the importance of herbs from her Auntie Edie, but it took curing a cough that lingered after a bout of flu and did not respond to pharmaceuticals for her to begin evangelizing the drinking of herbal brews.
"Tea conjures a very powerful alchemy because, when you drink it, you take the magic inside of you," she wrote in Wiccan Teas & Brews.
"They have the power to heal when nothing else will," she stated in the introduction.
The first chapter familiarizes readers with types of the brews, including simples (teas brewed from a single herb), floral essences (that treat the emotional body), infusions (plant material that is steeped), digestives, decoctions, tinctures, and tonics.
Chapter after chapter, readers are shown how their kitchen can become a laboratory for alchemy by following recipes for soothing sips, prophetic potions and curative concoctions. Beverages that come with blessings, prayers, and chants are spells. Readers will find recipes for nearly any condition, intention, zodiac sign, and special day. Information is presented in a relaxed, friendly tone. Illustrations add interest to the pages.
I am not an herbalist, but my reference books often list magickal and medicinal properties and associations for botanicals that differ from those used by Greenleaf. And, although growing your own herbs is encouraged, there is no reason not to purchase quality ingredients to brew up mugs of magic.
In all, I found Wiccan Teas & Brews inspiring me to return to drinking teas for mental, spiritual, and physical health – one being a restorative full moon infusion of ginger root, jasmine, and peppermint. There are also spells I'll likely use with minor adjustments. By the time you read this, I hope to have added a cup of tea to my daily practice.
About the Author:
Cerridwen Greenleaf has worked with many notables of the Wiccan world including Starhawk, Z Budapest, Christopher Penczak, and Raymond Buckland. She has led ritual and magic workshops throughout North America. Her graduate work in medieval studies has given her deep insight into ancient spells, making her work unique in the field. Greenleaf is the author of The Book of Kitchen Witchery, The Book of Witchy Wellbeing, and The Modern Wiccan's Guide to Living. She blogs at yourmagicalhome.blogspot.com and lives in San Francisco.
Celtic Tree Mysteries on Amazon
**
About the Author:
Lynn Woike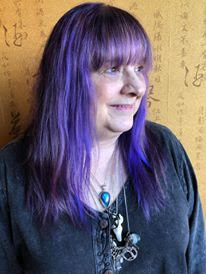 All my life I have known magic was real. As a child, I played with the fae, established relationships with trees and "just knew things." In my maiden years I discovered witchcraft and dabbled in the black-candles-and-cemeteries-at-midnight-on-a-fullmoon magick just enough to realize I did not understand its power. I went on to explore many practices including Zen, astrology, color therapy, native traditions, tarot, herbs, candle magic, gems, and, as I moved into my mother years, Buddhism, the Kabbalah and Reiki. The first man I dated after my divorce was a witch who reintroduced me to the Craft, this time by way of the Goddess. For 11 years I was in a coven, but with retirement, I have returned to an eclectic solitary practice.
When accepting the mantle of crone, I pledged to serve and teach. This is what I do from my skoolie – a 30-year-old school bus converted into a tiny house on wheels that I am driving around the country, following 72-degree weather, emerging myself into nature, and sharing magic with those I meet. Find me at thewitchonwheels.com, Facebook and Instagram.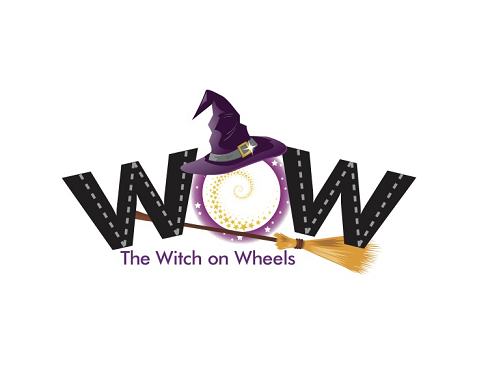 thewitchonwheels.com