Uncategorized
(x the wheel of fortune)
that was the day we ate the fat fable.
grandmother stuffed it with chopped leeks & herbs.
made it savory with the usual
platitudes. a thick rich moral gravy.
later she told us the tale of our
father as a little boy on the stone
steps in albany. wrestling with angels.
we always loved that one. laughter & tears.
she could always spin a stirring story.
once while walking she pointed to a house
& told us of the family that had
lived there. "they won the daily lotto," she
said. "millions of dollars. how far they fell."
the wheel of fortune. from heaven to hell.
***
About the Author: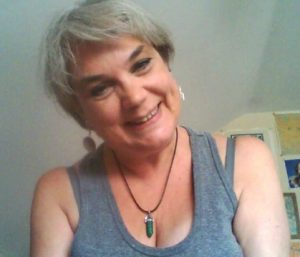 Polly MacDavid lives in Buffalo, New York at the moment but that could easily change, since she is a gypsy at heart. Like a gypsy, she is attracted to the divinatory arts, as well as camp fires and dancing barefoot. She has three cats who all help her with her magic.
Her philosophy about religion and magic is that it must be thoroughly based in science and logic. She is Dianic Wiccan and she is solitary.
She blogs at silverapplequeen.wordpress.com. She writes about general life, politics and poetry. She is writing a novel about sex, drugs and recovery.