Uncategorized
Book Review – The Secret People: Parish Pump Witchcraft, Wise-Women and Cunning Ways by Mélusine Draco
Book Review
The Secret People: Parish Pump Witchcraft, Wise-Women and Cunning Ways
by Mélusine Draco
1st Publication 2016
By Moon Books
Text Copyright: Mélusine Draco 2015
I have read one other book by Ms. Draco. I love the way she writes, and it is so relaxed and laid-back. She doesn't complicate her words. She is able to keep a reader fascinated about the subject she is writing about
This book, "The Secret People" is a complete recipe book. It gives some great insights into foods, herbs and linen cupboard. There are subjects in this book that I have not seen written in others. It was a pleasure to read and visualize how this used to be the way people lived, and in some places still can.
There is a chapter called The Goodwife Ms. Draco writes about everything that would have been of importance to the Goodwife, from the Kitchen to the Stillroom. She gives household hints that are still relevant today.
The chapter on The Parish Healer is full of great cures that are now being brought back by people who want to get back to using what the earth gives us. My grandmother always told me, "There is no illness on this earth, that doesn't have a cure on this earth." I can believe that and wish I would have gotten more of my grandmother's recipes. That is where all our knowledge should have come from, our grandmother's old hand-written recipe cards and books.
The chapter that was interesting to me was, The Poacher. Ms. Draco talks about how the poachers of old, lived off the land. They could step outside their front door and find the nights meal. And it was through their trade (at one time it was an honorable trade too) helped to feed the Healer or the Fortune Teller.
The village (Parish) worked together, and there was no jealousy or fear of someone having more than another. They had their role in society to play. The whole village worked together to help each other out. And the Wise-Women of the town knew all that was happening, but they were quiet about what they heard or saw, they were not gossips.
The Cunning people traveled and knew all the plants in the area they moved. They brought their children along so that the herbal lore could be passed down to the next generation.
Ms. Draco writes that most Wise Women and Cunning People would have never thought of themselves as the witch we envision them today. The Wise Women and Cunning People of old attended mass at the church. They were seen as upstanding community members, who worked to help everyone around them.
It wasn't until the creation of Men of Medicine that the Wise Women and Cunning People were seen as a threat. And that was only due to the greed of these men and fear of the church leaders that the respect that they had was stripped away.
I found this book to be inviting and informative. I am now trying to locate and purchase some of the source books Ms. Draco quotes in this book. I find this to be one of the best recipe and informative books I have read in a while.
The Secret People: Parish-Pump Witchcraft, Wise-Women and Cunning Ways
***
About the Author: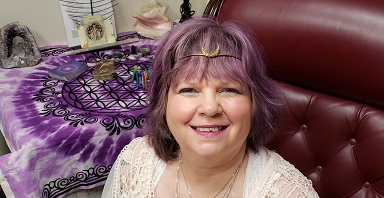 Dawn Borries loves reading and was thrilled to become an E-Book reviewer for PaganPages.Org. Dawn, also, has been doing Tarot and Numerology readings for the past 25 years. Dawn does readings on her Facebook page.  If you are interested in a reading you can reach her at: https://www.facebook.com/Readings-by-Dawn-1608860142735781/