Uncategorized
A Shop Review – Beads N Botanicals
Beads N Botanicals is a shop on the corner of N. Broadway Ave and W. Water St. in Urbana, Illinois. The first question most new visitors, to the shop, notice is a wonderful aroma and they ask: "What is that smell?" This question always elicits a big smile from either the owner, Catherine, or her longtime helper, Ethel, and a giggle from me if I am standing in the sales space. And the answer is: "The shop!"
Catherine is a Certified Medicinal herbalist, Hypnotherapist, and Reiki Master. She teaches on a variety of Health, Creative and Spiritual subjects. Catherine has been using her Herbalist knowledge to create some beautiful incense. (I have asthma and so does my husband, but the incense she creates I can burn in my home with no issues.) She is also a wonderful Tarot Reader and has been doing energy healing for 25 plus years. Catherine is also knowledgeable when it comes to all the crystals she carries in the shop.
Ethel is a wonderful and knowledgeable woman. She can be a hoot to have around. Ethel can tell you where to find just about anything in the store. And she is excellent for advice for what book to read on subjects of the Craft or Pagan Spirituality.
On weekends you may find a wonderful woman named Deb working in the shop, too. She is a kind and patient soul if you have questions on just about anything.
The shop is full of beautiful hand dipped incense, shop made candles, soaps and oils (that can be worn on the skin), as well as, straight essential oils. There are several books shelves full of books, Tarot and Oracle cards. If you are looking for Gem/Crystals beads, and jewelry making supplies, they are in the shop, too.
The shop hours are Sunday and Monday closed. (this may change in the future)
Tuesdays by appointment only (with Catherine)
Wednesday thru Friday 11 AM to 6 PM
Saturday 11 AM to 5 PM
Catherine has Classes throughout the year on different subjects, all listed on Beads N Botanicals Facebook Page.
There are also Psychic & Health Fairs at different times of the year, again these are listed on the Beads N Botanicals Facebook page or this link:
I am there doing readings on most Wednesdays. So if you are in the Urbana, Illinois area, be sure to go by the shop. You are sure to find something that spirit leads you to purchase.
***
About the Author: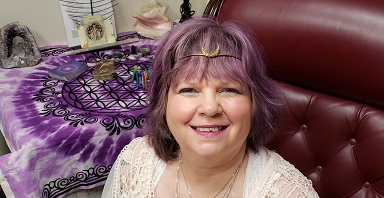 Dawn Borries loves reading and was thrilled to become a Reviewer for PaganPages.Org. Dawn, also, has been doing Tarot and Numerology readings for the past 25 years. Dawn does readings on her Facebook page. If you are interested in a reading you can reach her at: Readings by Dawn on Facebook at facebook.com/Readings-by-Dawn-1608860142735781/