Uncategorized
Book of Shadows: As the Wheel Turns
Ostara – New Beginnings
My March divider is a reminder to myself to "Never Lose Your Sparkle" and I made every effort to bling the reminder as hard as I could because sometimes the mundane aspects of living actually dull my shine. It is my belief that every time I get out of bed, I am presented with the opportunity to shine; to potentially be the light that someone else sees and reflects in their own lives. Kindness is free, presenting someone with a smile is free and in March, I intend to be deliberate in passing along a lot of free smiles and kindness. I am also trying something new in my working Book of Shadows. I am trying a new dashboard idea that my friend Suzy Mesa made for me. I am using a wet erase marker on the back for reminders that I do not necessarily have to do today but need to be done in relatively short order. The dash board moves with my weeks and can be erased. But she is too cute, and I needed to share this with you!
Of course, there are always the weekly inserts for my Tarot Tracking, and each coordinate with the respective weekly layout.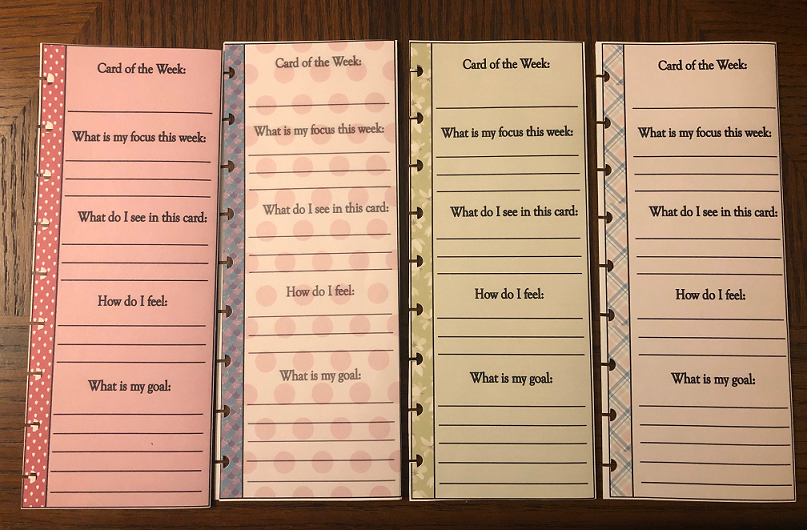 March ushers in the first day of Spring, the Spring Equinox, or Ostara (whichever you celebrate) on the 20th of the month. This is a time for new beginnings, a time for fresh starts, to nourish the seeds that we planted on Imbolc. My seed has begun to emerge from the bulb, a small and happy little green sprout peeking up from the tightly closed bulb; nevertheless, there is life emerging and a healthy seed is one that is well-tended, well-watered, and well fertilized.
As a daily reminder, I speak my seed work to the bulb, I repeat it three times, and I work hard at manifesting the seed into a sprout that will eventually become a stalk, then a leaf, and, with hard work and dedication, it will produce a healthy and plump bud that will burst open with intention and volition. Spring will begin the work of manifesting the seed into the healthy harvest that I hope to bring this year. Completion. That is the work at hand for me.
Ostara also marks the day when most everything is perfectly balanced. The Spring Equinox brings balance to night and day. Darkness and Light are equal. Balance is present. The seeds are beginning to rise up from the soil, and the hopes planted at Imbolc are becoming realities. The animals are beginning to stir in their dens and readying themselves for mating. In Celtic tradition, one of the symbols of Ostara is the Hare, which is sacred to many lunar Goddesses such as Hekate, Freyja, and Holda; however, the Goddess most associated with the Hare is Eostre, the Goddess of Spring.
Another of the symbols for Ostara are eggs. The egg represents promises and new life, as well as fertility. In some traditions, the egg is symbolic of balance as well. In those traditions, it is believed that all of the energies such as male and female; God and Goddess; and light and dark, manifest as balance in the egg as the yolk and the white. The Sun God, represented by the yolk, is in balance with Maiden Goddess, the white of the egg.
There is a very special tale about the Goddess and the Hare and how the egg became a sacred item during Ostara. It goes something like this…
The Goddess was coming to the forest to visit the animals. The were all very excited for Her visit. They decided to throw Her a party and to bring Her gifts as a show of their love and respect.
(Luna Dashboard and Custom Shaker Cards by Suzy Meza.)
During the preparations for the party, the animals were excitedly running around, gathering gifts. As in any other society, there are animals who are better off than some and had greater and more opulent treasures to offer to the Goddess. The Hare seemed very excited to see the Goddess, but he knew he had nothing to offer. He hopped to his den and he looked around, but after a very harsh and cold winter, he had used all of his food sources and had nothing to offer Her. Until, that is, he noticed that he had one egg left in his den. He took that egg and he shined it and then he set about decorating that egg the best way that he knew how. He poured his heart and soul into making that egg as beautiful as he could. When it came time for the party, Hare quietly watched as the other animals approached the Goddess and laid beautiful treasures at Her feet. Hare became nervous that his egg was not going to win favor with the Goddess because it was simple, but it was all that he had, and he made it everything that he could with his decorations.
(Luna Dashboard and Custom Shaker Cards by Suzy Meza.)
So, after all of the other animals had gifted the Goddess with their opulent treasures, Hare quietly hopped forth and laid his beautiful egg at the feet of the Goddess. When the Goddess saw the egg at Her feet, She recognized Hare above all of the other animals in the forest, for they had given the Goddess only what they wanted, but Hare had given Her all that he had.
All of the animals in the forest are special to the Goddess, but none are more favored during Ostara than the Hare. In our lives, when we give of ourselves, in service to our Deities, we should be mindful to give all that we have in order to manifest in our lives those things that are in our highest and best good. As with anything else in life, we must work toward manifesting what we want in our lives by focusing on things such as light and kindness and, whenever possible, we should emulate Hare in every aspect of our lives as we strive to find the balance in our own world.
RESOURCES:
MAMBI® CHP Extension Packs
Luna Dashboard and Custom Shaker Cards by Suzy Meza.
March Monthly and Weekly Stickers by Shirley Lenhard are free at the Pagan Plannertarium.
March Cover Page – Shoot for the Stars – Recollections® "Constellations" paper pad & Miscellaneous Washi tapes:
Available at Michael's and other craft retailers
***
About the Author:
Shirley Lenhard has been a practicing Witch and a Pagan since 1983 and lives in New England with her husband. She is employed full time in the legal field and has her Masters Degree in Psychology from the University of South Florida. Shirley looks forward to living her best possible life by giving back to the Pagan Community and has created the Facebook group "Pagan Plannertarium" where she provides a safe home for fellow pagans to have discussions about their path and to get free planner stickers and layouts. Shirley is a past writer for Llewellyn Publishing and The Peace Paper.