Uncategorized
Book Review – The Mixology of Astrology: Cosmic Coctail Recipes for Every Sign by Aliza Kelly Faragher
Book Review
The Mixology of Astrology
Cosmic Cocktail Recipes for Every Sign
by Aliza Kelly Faragher
Publisher- Adams Media
The first ten pages of the book are about astrology and mixologist terms, in defining types of glassware used in serving refreshments.
From there Ms. Faragher breaks each chapter down into the astrology signs. Each sign has a page dedicated to explaining some of the characteristics of each symbol. Then each sign is paired with 16 different drink recipes. Each recipe gives a bit of an explanation why each goes with that sign, the recipe, serving size, and directions on mixing ins for serving suggestions (kind of glass and garnish) included.
There are 192 (yes that number is correct) recipes, 16 different rings for 12 different zodiac signs. Not a single recipe is repeated.
So, to see how good this book was I invited some friends over. I assigned different things for them to bring based on their zodiac sign. Being a Pisces, I gathered Raspberry vodka and some berries for "Love Potion #Nine." My husband, the Scorpio went for hard cider and lager for a drink called "Snake Bite" (said to be so potent it is outlawed in the United Kingdom.) A Libra we know brought Gin and Champagne for "French 75", her husband a Gemini brought Absinthe, Gin, and Grenadine for a "Monkey Gland."
Now, I decided I needed to do this Mixology of Astrology in two different ways. This first time was the small gathering at my place. So, next I decided to go with my husband to an "Open MIC Night" at a local bar where we knew some of our friends hung out, they are regulars there.
I asked some of them what their sign was and let them look at a list of drink names for their astrological sign. This experiment ended up becoming a lot of fun; people were enjoying changing their pace from their usual drink.
For the most part, the drinks that Ms. Faragher listed in each sign, was pretty much spot on for the person with that astrological sign. Most of the people that agreed to my experiment said they had never thought about trying a mixed drink different than what they always drink. Only three people that I asked to try this stated, they would stick to their beers.
This book would be great for small get-togethers, or at a Bachelorette\Bachelor party. While the cover of this book is pink and looks a bit feminine, it has some drinks that our fellas would like.
The Mixology of Astrology: Cosmic Cocktail Recipes for Every Sign on Amazon
***
About the Author: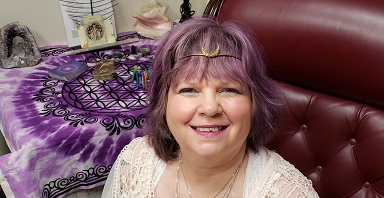 Dawn Borries loves reading and was thrilled to become a Reviewer for PaganPages.Org. Dawn, also, has been doing Tarot and Numerology readings for the past 25 years. Dawn does readings on her Facebook page. If you are interested in a reading you can reach her at: Readings by Dawn on Facebook at