Uncategorized
Wreathing the Wheel
March
I've been working with astrology a lot in my craft lately, and it's starting to work its way into all my designs! Here, I've added the planets associated with each day of the week in a flow of stardust — this is pretty, but it's also a way of labeling the days and reminding me of the planetary associations.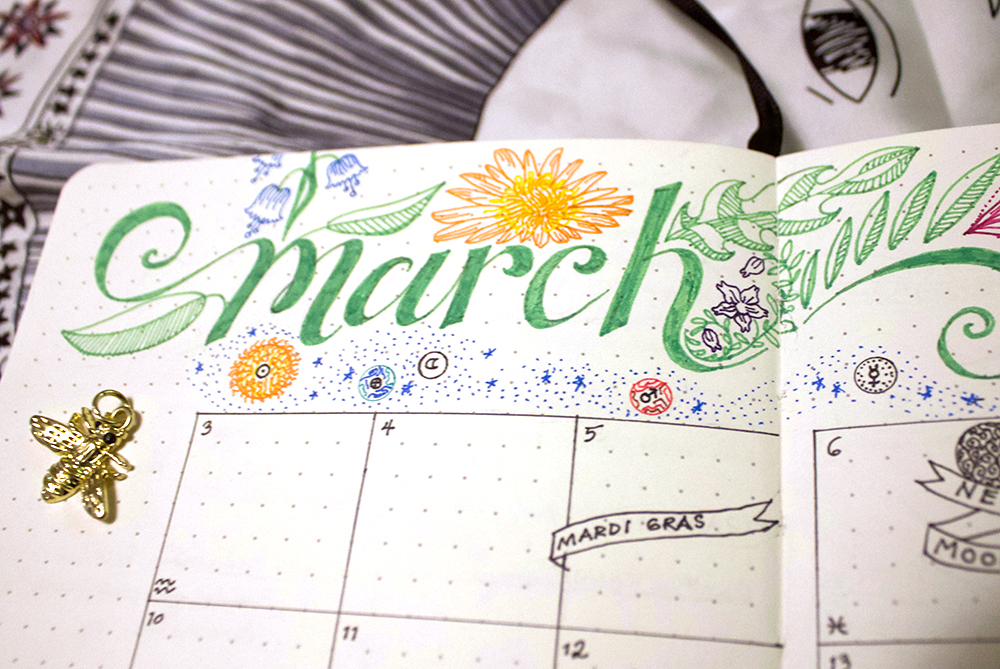 This March, the full moon is on Ostara, the Vernal Equinox. It brings with it a great potential for manifestation of personal works. To harness this power and celebrate the season, I'm making a renewed effort to spend time on my garden. My husband and I moved a little over a year ago from a large house that had a lot of garden space to a townhouse with fairly little garden space, and I haven't done much with it yet. I brought several potted houseplants and a few garden herbs, a few of which are in the ground already — carnation, spearmint, rosemary, and valerian — but there's room for plenty more
At right, I've made a detailed listing of the plants I'm growing or planning to grow, with notes about what type of soil they need, how much sun they should get, how often they should be watered, how large they are likely to get, and any other care information that seems relevant. There are a few spots to add plants, but since I don't have much space, I'll probably do so slowly
At left, I have a log to track my progress and schedule important dates, and a small map of my garden in the middle of the spread. Because I have such little space, I have to have the plants spread out into several different locations, and it's important that I don't confuse them. Some of the plants I'm growing need to be treated carefully and grown inside a terrarium due to their toxicity; some will do better outside than in. In this case, organization is extremely important!
The final step in this process is to carry the theme forward through the rest of my journal so that I can return to this intention on an appropriate schedule and don't forget what I'm doing or get lost in my plans. With most of these plants, weekly observation should be sufficient for me to determine their needs, but there is still quite a bit of work to be done to get everything set up, and I'll need to be very careful when I'm starting my seeds. I can't wait to see what grows!
***
About the Author:
Sarah McMenomy is an artist and witch. Her craft incorporates herbalism, spellwork, trance, divination, auras, and more. Her work can be found at https://sarahmcmenomy.tumblr.com