Cover artist: Marcia Stewart of RocknGoddess on Etsy. Collecting river stones becomes a vision to create spiritual art, goddess, and altar stones.Back in 2012, when my husband and I were living on the river, I had a vision inspired by nature to create spiritual, goddess, and altar stones to share peace, love, light, and blessings with the world. I started out as the Simplified Witch, the original goddess on stone artist, which has evolved into RocknGoddess which I feel is a more appropriate name for my art. Each piece contains a heart which represents Universal Love Energy. Creating spiritual art is also my way of sharing my late husband's eternal love. To see a more detailed story about my art, please check out my full story at: www.etsy.com/shop/RocknGoddess. Check them our on FB, Twitter, Instagram, & Pinterest.
Free coloring page: This month's free coloring page is given to you by artist Lauralee. Lauraleeis a self taught artist, she matriculated & got a n5 in financial management before she started to draw art for colorists. Drawn to pagan art but not exclusively. She loves humor & wit, her mom and little brother are her biggest fans & colorists. She recently opened an Etsy shop and sells her coloring pages. Check her out at www.etsy.com/au/shop/LlauraleeDesign, also on facebook at LlauraleeDesign.
_________________________________________________________________ A
So Many Great Features In This Issue…
This Month We Review, Woman Owned, SHA MAMA'S Little Helper Subscription Box in "Worth The Witch". A Box That is Filled with Self Care & Magick From It's Maker, Miré Molnar, You Can Feel! Then we Dig Into Miré Molnar's World with An Interview
Saoirse, Takes us Through A Beautiful Etsy Shop Called "The Closet Pagan" & Shows off Jewelry & Gems She Received,then Shares an Interview with Shop Owner Anna Pierce.
In SpellCrafting: Spells & Rituals This Month, Lynn Woike Has Taken a Great Suggestion from a Recent Review She Did & Reinvented it into a Wonderful Group or Solo Spell/Ritual for Banishing the Negative & Gaining Positivity.
In Crone's Corner, Shirley Reminds us How Time & Phases of Womanhood are Different in its Many Stages as She Contemplates Just What it is to Be a Pagan Woman and to Head into Cronehood. See How in Any Phase of Womanhood This Piece Will Resonate with You.
_________________________________________________________________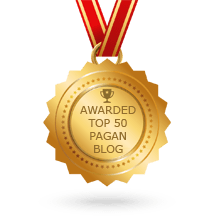 _________________________________________________________________
You Can Follow Us On:
Facebook, Twitter, Pinterest, Instagram, MeWe, & YouTube